SIP Nordic – Råvaruguiden – augusti 2012
Det är inte bara vi människor som tar semester under sommaren. Råvaror har också en tendens att lugna ned sig och dessutom backa en del under sommarens sista månader.
Sommarmånaderna, med augusti i spetsen, är historiskt sett svaga månader för råvaror. Faktum är att endast två råvaror, av de tretton som vi bevakar, historiskt har presterat bättre under augusti månad jämfört med utvecklingen under sept-dec (hösten).
Med nedtrappningen i den västerländska industrin under slutet av sommaren kommer även större lager av råvaror med sjunkande priser som följd. Till exempel har koppar under de senaste 27 åren haft stigande lager under 24 av dessa i augusti månad. Vilket också visar sig historiskt då koppar underpresterat under augusti jämfört med de fyra sista månaderna av året.
Lägg därtill den minskade aktiviteten från spekulanter vilket till viss del sänker volatiliteten under dessa månader.
De fyra sista månaderna har även historiskt sett varit positiva för de övriga råvaror vi bevakar. Hela 11 av råvarorna har sedan 1997 haft en positiv utveckling under sept-dec. Med ökad industriell aktivitet, återkomsten av spekulanter på marknaden och ett potentiellt QE3 kan vi få se detta mönster upprepa sig under 2012.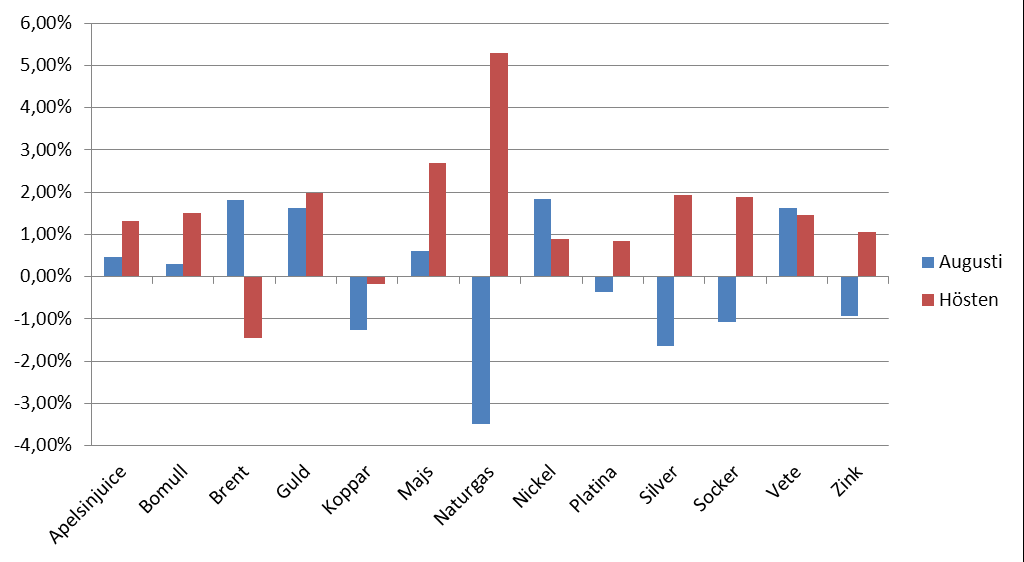 Råvaror – Energi
Brent olja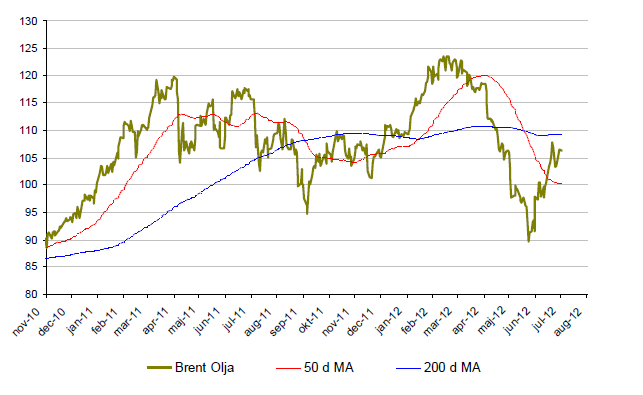 Brentoljan har under 2012 åkt berg och dalbana. För året är brent ned ca 2%.
Brent har haft en stark period sedan mitten av juni. Brent har sedan mitten av juni stigit med 20%.
Spekulationer om ett eventuellt QE3 eldar på utvecklingen i oljan. Om Ben Bernanke bestämmer att det krävs en kvantitativ lättnad kan oljan leta sig upp mot topparna i mars.
Oroligheter i mellanöstern kan också driva brentoljan till högre nivåer.

Naturgas
Naturgas fortsätter sin klättring uppåt och befinner sig nu i en kortsiktigt positiv trend. Naturgas är för året upp drygt 1%.
Sedan botten i mitten av april har priset på naturgas ökat med drygt 60%.
En stor anledning till uppgången är att många spekulanter, däribland hedgefonder ligger i korta positioner. Detta kan fortsatt driva priset uppåt.

Råvaror – Metaller
Guld
För året är guld upp ca 3%.
Juli månad resulterade inte i några större rörelser. Guld är upp 1,4% under juli månad.
Thomson Reuters släppte förra månaden sin rapport om ädelmetaller där analytikerna reviderade sin syn för guldpriset under 2012-2013. Analytikerna spår att guldpriset kommer att ligga på samma nivå året ut för att sedan öka något under 2013.
Guldpriset har i år varit starkt korrelerad med hur den europeiska och amerikanska centralbanken har agerat.. Ett eventuellt QE3 kan få guldet att röra på sig ordentligt.

Silver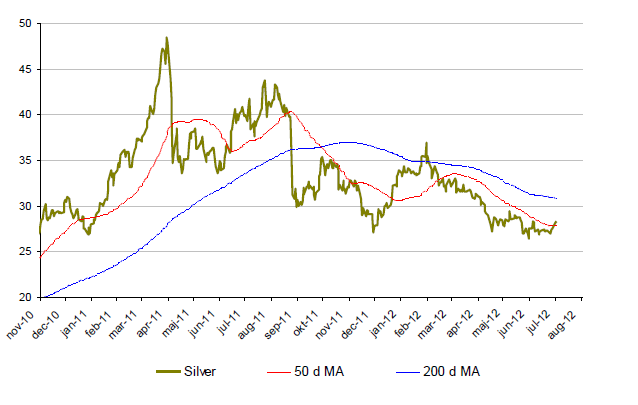 Silver är för året upp knappa 1%.
Sedan slutet av februari har silver tappat mer än 25,9 %.
Likt guldet kommer silvers utveckling till stor del styras av huruvida den amerikanska centralbanken trycker nya pengar eller inte.
Andelen spekulanter som tror på nedgång i silver ökar. Andelen långa kontrakt i silver är nu 2 195 ton. Den lägsta siffran sedan i slutet av 2001.
Om QE3 blir verklighet kan många spekulanter ligga på fel sida vilket kan få silver att få samma utveckling som under april 2011.
Platina
Platina är för året upp nästan 3 %.
Sedan toppen i februari har dock platina tappat nästan 18 %.
Platina fortsätter at handlas till en billigare kurs än guld.
Likt silver ökar andelen spekulanter som tror på nedgång i platina.
Tillgången av platina spås vara oförändrat under 2012 samtidigt som konsumtionen väntas sjunka med 0,2 %.
Koppar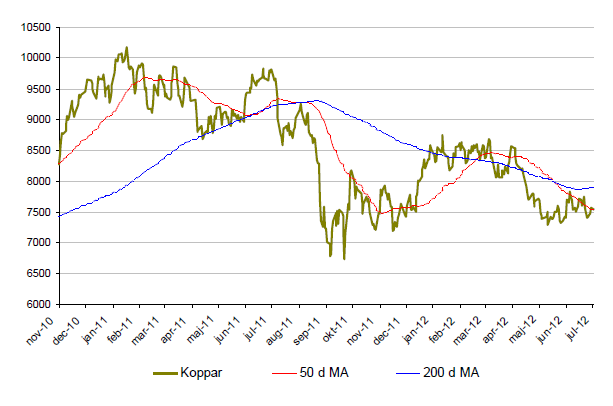 För året är kopparpriset i princip oförändrat. Upp 0,5 % sedan slutet av december 2011.
Sommarmånaderna innebär industrisemester vilket historiskt har pressat priset på koppar under augusti månad. Återstår att se vad som händer i år.
Det finns fortsatt en rädsla för minskad kinesisk tillväxt. Kina står för 40 % av världskonsumtionen.

Zink
Zink är upp knappa 1,3 % för året.
Under juli månad har zinkpriset ökat 0,5 %.
Likt andra metaller har zinkpriset fallit kraftigt sedan månadsskiftet januari/februari.
Tillgången på zink är stort och priset påverkas negativt av rapporter om stigande lager. Detta kan trycka ned priset ytterligare.

Nickel
Nickel presterade sämst av alla basmetaller under 2011.
Nickel fortsätter sin kräftgång under 2012 är för året ned nästan 13 %.
Sedan toppen i februari har nickel tappat mer än 27 %.
Nickelmarknaden är mättad med ökande lager.
Många stora projekt inom nickelproduktion är redan finansierade och irreversibla vilket kommer att öka tillgången av nickel ytterligare.

Råvaror – Jordbruk
Socker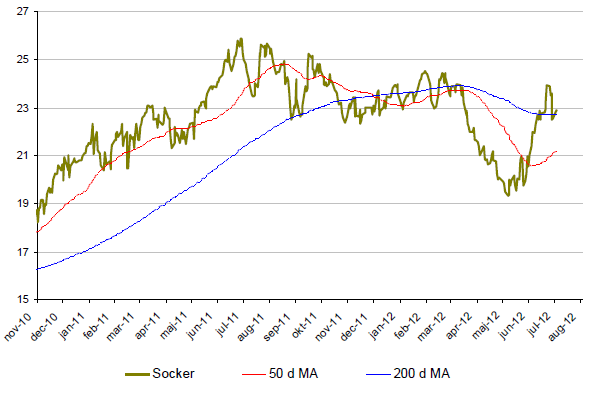 Jordbruksråvarorna sommarutveckling fortsätter att vara stark.
Sedan början av juni är socker upp närmare 20 %.
För året är dock sockerpriset ned dryga 4 %.
Många spekulanter ligger fel i sina positioner. Många hedgefonder ligger i stora korta positioner vilket pressar priset på socker uppåt.

Bomull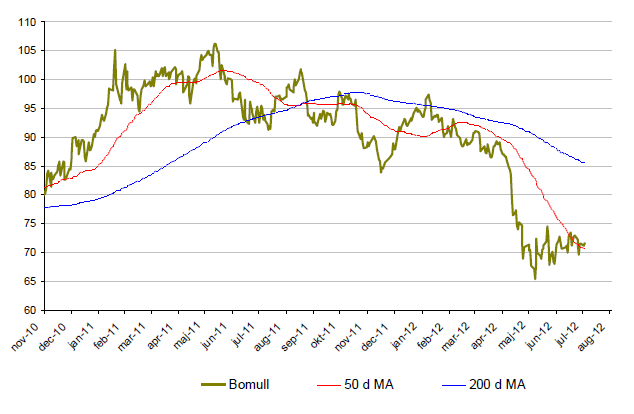 Bomull är för året ned ca 24 % där merparten av nedgången kom i maj. I maj föll bomullspriset med närmare 20 %.
Rekordexport av bomull från Indien pressar priset.
Bomullspriset konsoliderar nu kring 71 cents. Viktig nivå hittar vi kring 66 cents.
Trots att bomullspriset fallit kraftigt under 2012 är det fortfarande nästan dubbelt så högt som priset för några år sedan. Fallhöjden är således stor.

Majs
Priset på majs har ökat kraftigt sedan i början av juni. +51 %.
För året är majs upp 28 %.
Tidigare spekulationer visade att skörden av majs i USA skulle vara mycket god. Extrem torka gör dock att kommande skörd ser ut att vara mycket dålig vilket driver priset på majs till de högsta nivåerna sedan juni 2011.
Knappt 40 % av skörden spås vara av god kvalitet.

Vete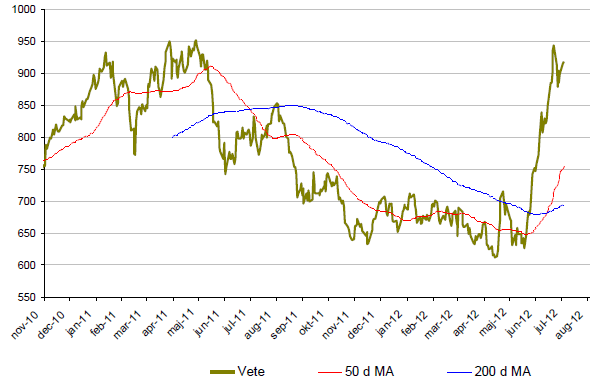 Likt majs rusade vete under juni och juli månad. Upp nästan 51 % sedan mitten av juni
För året är priset på vete upp 40 %.
Torkan i USA gör att den kommande skörden inte blir så stor som förutspått.
Gemensamt för både majs och vete är att de kraftiga uppgångarna skett mycket snabbt vilket har resulterat i en liten rekyl nedåt. Nu konsoliderar vete kring 900. Med viktig nivåer kring 950 och 875.

Apelsinjuice
Efter återhämtningen under maj-juni har priset på apelsinjuice tappat under juli.
Apelsinjuice är ned ca 10 % under juli månad vilket gör att priset på apelsinjuice nu har tappat 36 % för året.
Priset på apelsinjuice är fortfarande 85 % högre än botten 2009. Fallhöjden är således hög.
[box]Denna uppdatering är producerat av SIP Nordic och publiceras i samarbete och med tillstånd på Råvarumarknaden.se[/box]
Ansvarsbegränsning
Detta produktblad utgör endast marknadsföring och har sammanställts av SIP Nordic Fondkommission AB.
Innehållet ger inte fullständig information avseende det finansiella instrumentet. Investerare uppmanas att del av prospekt och slutliga villkor, vilka finns tillgängliga på: www.rbsbank.se/markets, innan ett investeringsbeslut tas.
Förekommande exempel är simulerade och baseras på SIP Nordics egna beräkningar och antaganden, en person som använder andra data eller antaganden kan nå andra resultat. Administrativa avgifter och transaktionsavgifter påverkar den faktiska avkastningen.
The "normal" oil price is USD 97/b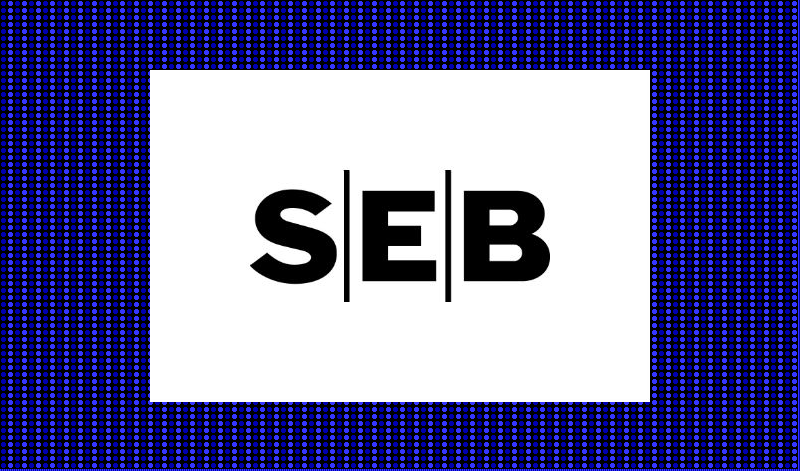 The Dated Brent crude oil price ydy closed at USD 96/b. Wow, that's a high price! This sensation however depends on what you think is "normal". And normal in the eyes of most market participants today is USD 60/b. But this perception is probably largely based on the recent experience of the market. The average Brent crude oil price from 2015-2019 was USD 58.5/b. But that was a period of booming non-OPEC supply, mostly shale oil. But booming shale oil supply is now increasingly coming towards an end. Looking more broadly at the last 20 years the nominal average price was USD 75/b. But in inflation adjusted terms it was actually USD 97/b.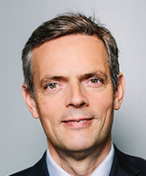 Saudi Arabia's oil minister, Abdulaziz bin Salman, yesterday stated that its production cuts was not about driving the price up but instead it was preemptive versus the highly uncertain global economic development. In that respect it has a very good point. The US 2yr government bond rate has rallied to 5.06% which is the highest since 2006 and just a fraction away of being the highest since December 2000. The Chinese property market is struggling and global PMIs have been downhill since mid-2021 with many countries now at contractive, sub-50 level. Thus a deep concern for the health of the global economy and thus oil demand going forward is absolutely warranted. And thus the preemptive production cuts by Saudi Arabia. But killing the global economy off while it is wobbling with an oil price of USD 110-120/b or higher is of course not a smart thing to do either.
At the same conference in Canada yesterday the CEO of Aramco, Amin H. Nasser, said that he expected global oil demand to reach 110 m b/d in 2030 and that talk about a near term peak in global oil demand was "driven by policies, rather than the proven combination of markets, competitive economics and technology" (Reuters).
With a demand outlook of 110 m b/d in 2030 the responsible thing to do is of course to make sure that the oil price stays at a level where investments are sufficient to cover both decline in existing production as well as future demand growth.
In terms of oil prices we tend to think about recent history and also in nominal terms. Most market participants are still mentally thinking of the oil prices we have experienced during the shale oil boom years from 2015-2019. The average nominal Brent crude price during that period was USD 58.5/b. This is today often perceived as "the normal price". But it was a very special period with booming non-OPEC supply whenever the WTI price moved above USD 45/b. But that period is increasingly behind us. While we could enjoy fairly low oil prices during this period it also left the world with a legacy: Subdued capex spending in upstream oil and gas all through these years. Then came the Covid-years which led to yet another trough in capex spending. We are soon talking close to 9 years of subdued capex spending.
If Amin H. Nasser is ballpark correct in his prediction that global oil demand will reach 110 m b/d in 2030 then the world should better get capex spending rolling. There is only one way to make that happen: a higher oil price. If the global economy now runs into an economic setback or recession and OPEC allows the oil price to drop to say USD 50/b, then we'd get yet another couple of years with subdued capex spending on top of the close to 9 years with subdued spending we already have behind us. So in the eyes of Saudi Arabia, Amin H. Nasser and Abdulaziz bin Salman, the responsible thing to do is to make sure that the oil price stays up at a sufficient level to ensure that capex spending stays up even during an economic downturn.
This brings us back to the question of what is a high oil price. We remember the shale oil boom years with an average nominal price of USD 58.5/b. We tend to think of it as the per definition "normal" price. But we should instead think of it as the price depression period. A low-price period during which non-OPEC production boomed. Also, adjusting it for inflation, the real average price during this period was actually USD 72.2/b and not USD 58.5/b. If we however zoom out a little and look at the last 20 years then we get a nominal average of USD 75/b. The real, average inflation adjusted price over the past 20 years is however USD 97/b. The Dated Brent crude oil price yesterday closed at USD 96/b.
Worth noting however is that for such inflation adjustment to make sense then the assumed cost of production should actually rise along with inflation and as such create a "rising floor price" to oil based on rising real costs. If costs in real terms instead are falling due to productivity improvements, then such inflation adjusted prices will have limited bearing for future prices. What matters more specifically is the development of real production costs for non-OPEC producers and the possibility to ramp up such production. Environmental politics in OECD countries is of course a clear limiting factor for non-OPEC oil production growth and possibly a much more important factor than the production cost it self.
But one last note on the fact that Saudi Arabia's energy minister, Abdulaziz bin Salman, is emphasizing that the cuts are preemptive rather then an effort to drive the oil price to the sky while Amin H. Nasser is emphasizing that we need to be responsible. It means that if it turns out that the current cuts have indeed made the global oil market too tight with an oil price spiraling towards USD 110-120/b then we'll highly likely see added supply from Saudi Arabia in November and December rather than Saudi sticking to 9.0 m b/d. This limits the risk for a continued unchecked price rally to such levels.
Oil price perspectives. We tend to think that the nominal average Brent crude oil price of USD 58.5/b during the shale oil boom years from 2015-19 is per definition the "normal" price. But that period is now increasingly behind us. Zoom out a little to the real, average, inflation adjusted price of the past 20 years and we get USD 97/b. In mathematical terms it is much more "normal" than the nominal price during the shale oil boom years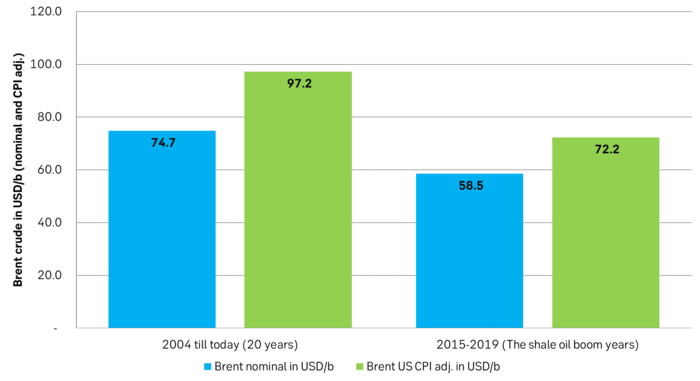 Is global oil demand about to peak 1: OECD and non-OECD share of global population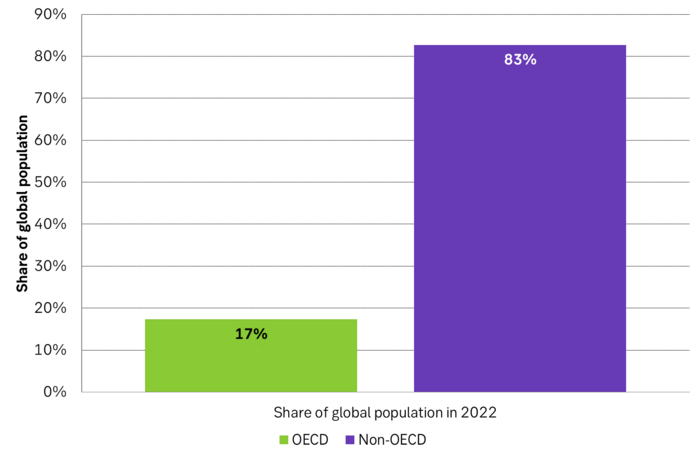 Is global oil demand about to peak 2: Oil demand per capita per year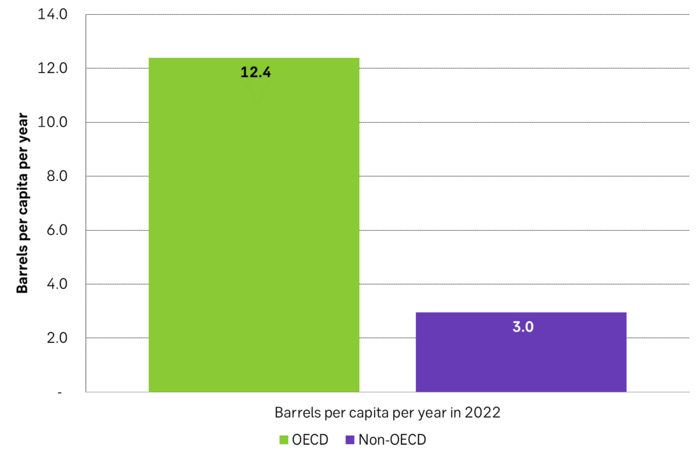 USD 100/b in sight but oil product demand may start to hurt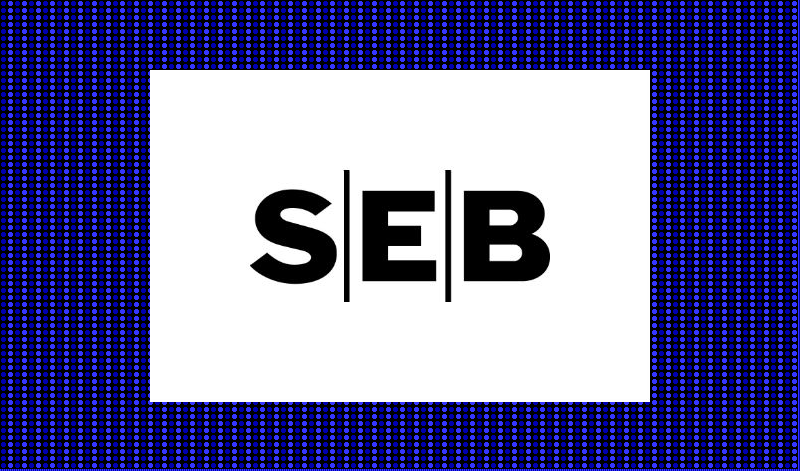 Some crude oil grades have already traded above USD 100/b. Tapis last week at USD 101.3/b. Dated Brent is trading at USD 95.1/b. No more than some market noise is needed to drive it above USD 100/b. But a perceived and implied oil market deficit of 1.5 to 2.5 m b/d may be closer to balance than a deficit. And if so the reason is probably that oil product demand is hurting. Refineries are running hard. They are craving for crude and converting it to oil products. Crude stocks in US, EU16 and Japan fell 23 m b in August as a result of this and amid continued restraint production by Saudi/Russia. But oil product stocks rose 20.3 m b with net draws in crude and products of only 2.7 m b for these regions. Thus indicating more of a balanced market than a deficit. Naturally there has been strong support for crude prices while oil product refinery margins have started to come off. Saudi/Russia is in solid control of the market. Both crude and product stocks are low while the market is either in deficit or at best in balance. So there should be limited down side price risk. But oil product demand is likely to hurt more if Brent crude rises to USD 110-120/b and such a price level looks excessive.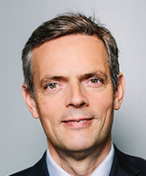 Crude oil prices have been on a relentless rise since late June when it became clear that Saudi Arabia would keep its production at 9 m b/d not just in July but also in August. Then later extended to September and then lately to the end of the year. On paper this has placed the market into a solid deficit. Total OPEC production was 27.8 m b/d in August and likely more or less the same in September. OPEC estimates that the need for oil from OPEC in Q3-23 is 29.2 m b/d which places the global market in a 1.4 m b/d deficit when OPEC produces 27.8 m b/d.
The proof of the pudding is of course that inventories actually draws down when there is a deficit. A 1.4 m b/d of deficit for 31 days in August implies a global inventory draw of 43.4 m b/d. If we assume that OECD countries accounts for 46% of global oil demand then OECD could/should have had a fair share of inventory rise of say 20 m b in August. Actual inventory data are however usually a lagging set of data so we have to work with sub sets of data being released on a higher frequency. And non-OECD demand and inventory data are hard to come by.
If we look at oil inventory data for US, EU16 and Japan we see that crude stocks fell 23 m b in August while product stocks rose 20.3 m b with a total crude and product draw of only 2.7 m b. I.e. indicating close to a balanced market in August rather than a big deficit. But it matters that crude stocks fell 23 m b. That is a tight crude market where refineries are craving and bidding for crude oil together with speculators who are buying paper-oil. So refineries worked hard to buy crude oil and converting it to oil products in August. But these additional oil products weren't gobbled up by consumers but instead went into inventories.
Rising oil product inventories is of course a good thing since these inventories in general are low. And also oil product stocks are low. The point is more that the world did maybe not run a large supply/demand deficit of 1.5 to 2.5 m b/d in August but rather had a more balanced market. A weaker oil product demand than anticipated would then likely be the natural explanation for this. Strong refinery demand for crude oil, crude oil inventory draws amid a situation where crude inventories already are low is of course creating an added sense of bullishness for crude oil.
On the one hand strong refinery demand for crude oil has helped to drive crude oil prices higher amid continued production cuts by Saudi Arabia. Rising oil product stocks have on the other hand eased the pressure on oil products and thus softened the oil product refinery margins.
The overall situation is that Saudi Arabia together with Russia are in solid control of the oil market. Further that the global market is either balanced or in deficit and that both crude and product stocks are still low. Thus we have a tight market both in terms of supplies and inventories. So there should be limited downside in oil prices. We are highly likely to see Dated Brent moving above USD 100/b. It is now less than USD 5/b away from that level and only noise is needed to bring it above. Tupis crude oil in Asia traded at USD 101.3/b last week. So some crude benchmarks are already above the USD 100/b mark.
While Dated Brent looks set to hit USD 100/b in not too long we are skeptical with respect to further price rises to USD 110-120/b as oil product demand likely increasingly would start to hurt. Unless of course if we get some serious supply disruptions. But Saudi Arabia now has several million barrels per day of reserve capacity as it today only produces 9.0 m b/d. Thus disruptions can be countered. Oil product demand, oil product cracks and oil product inventories is a good thing to watch going forward. An oil price of USD 85-95/b is probably much better than USD 110-120/b for a world where economic activity is likely set to slow rather than accelerate following large interest rate hikes over the past 12-18 months.
OPEC's implied call-on-OPEC crude oil. If OPEC's production stays at 27.8 m b/d throughout Q3-23 and Q4-23 then OPECs numbers further strong inventory draws to the end of the year.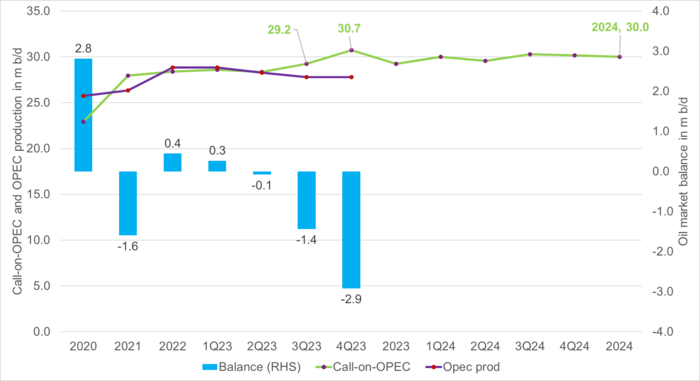 Net long speculative positions in Brent crude and WTI. Speculators have joined the price rally since end of June.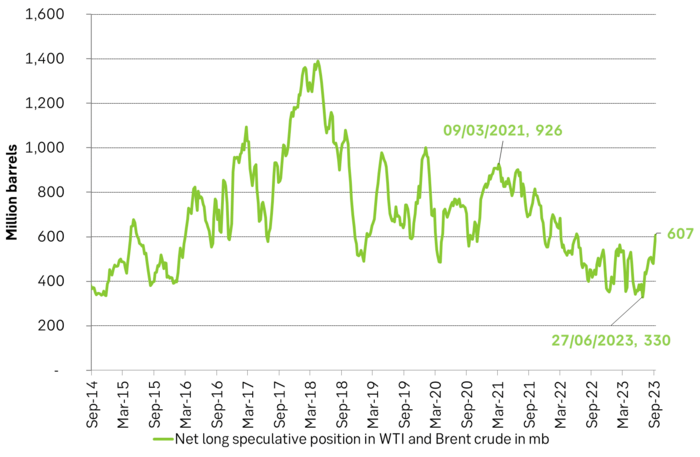 End of month crude and product stocks in m b in EU16, US and Japan. Solid draw in crude stocks but also solid rise in product stocks. In total very limited inventory draw. Refineries ran hard to convert crude to oil products but these then went straight into inventories alleviating low oil product inventories there.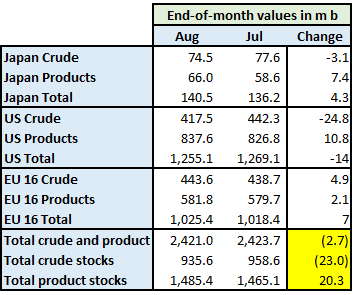 ARA oil product refinery margins have come off their highs for all products as the oil product situation has eased a bit. Especially so for gasoline with now fading summer driving. But also HFO 3.5% cracks have eased back a little bit. But to be clear, diesel cracks and mid-dist cracks are still exceptionally high. And even gasoline crack down to USD 17.6/b is still very high this time of year.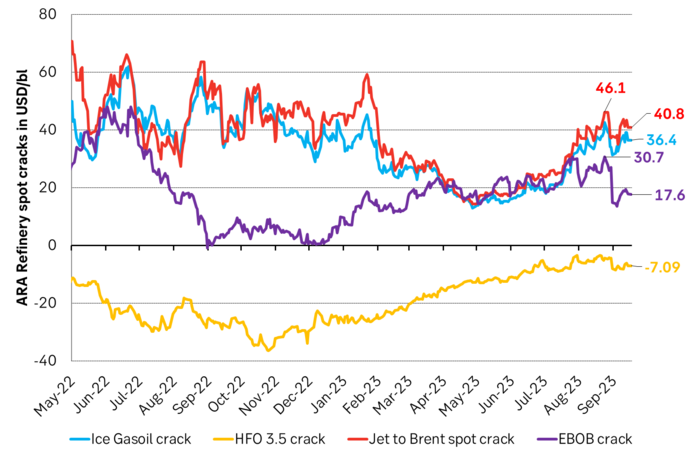 ARA diesel cracks in USD/b. Very, very high in 2022. Almost normal in Apr and May. Now very high vs. normal though a little softer than last year.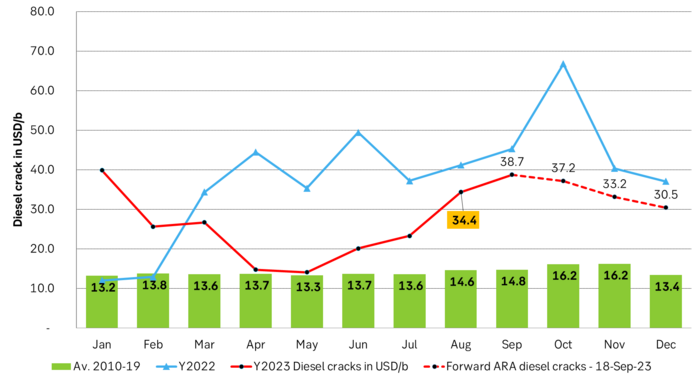 US crude and product stocks vs. 2015-2019 average. Still very low mid-dist inventories (diesel) and also low crude stocks but not all that low gasoline inventories.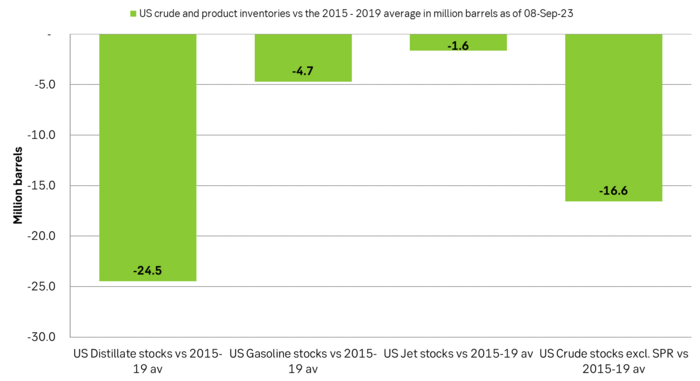 US crude and product stocks vs. 2015-2019 averages. Mid-dist stocks have stayed persistently low while gasoline stocks suddenly have jumped as gasoline demand seems to have started to hurt due to higher prices.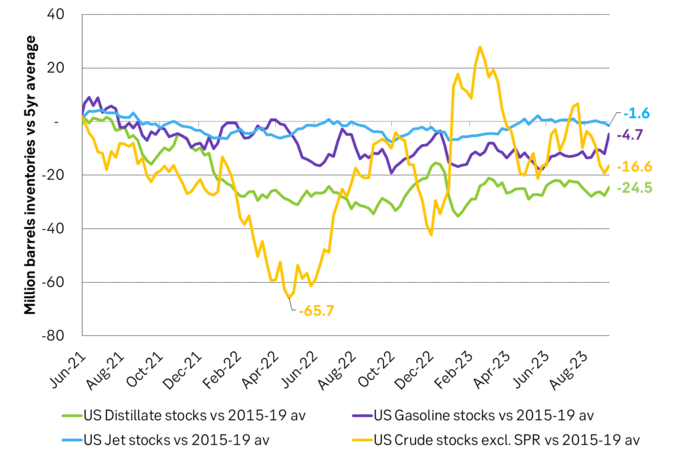 Total commercial US crude and product stocks in million barrels. Rising lately. If large, global deficit they should have been falling sharply. Might be a blip?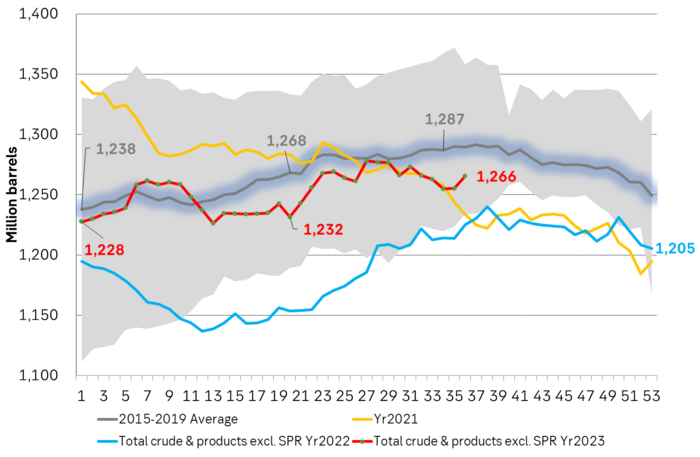 USD 85/b or USD 110/b is up to Saudi/Russia to decide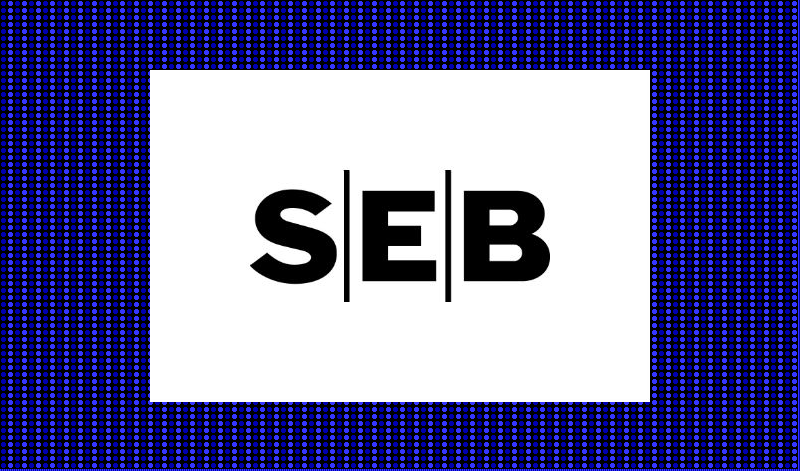 The market is bewildered and cannot quite figure out whether the latest extension of Saudi Arabia's unilateral cut to the end of the year is 1) A reflection of weakness to come and an effort to preemptively trying to avoid the oil price from falling below USD 85/b amid coming weakness, or 2) An effort do drive the oil price to USD 100-110/b by the end of the year. If the IEA's latest calculations for global demand in Q3 and Q4 are correct and Saudi sticks to its cuts then global inventories will indeed decline by 250 million barrels by year end and Brent crude will rally to USD 100-110/b. And Saudi Arabia will get a lot of blame. One thing which is very clear though is that Saudi Arabia together with Russia is in comfortable control of the oil market and we'll just have to accept the oil price they are aiming for.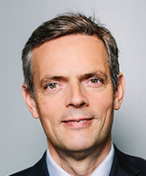 OPEC produced 27.8 m b/d in August. The IEA in its latest OMR has calculated call-on-OPEC to be 30 m b/d in Q3-23 and 29.8 m b/d in Q4-23. So on paper the global market is running a deficit of 2.2 m b/d or 15.4 m b per week. If so we should see a decline in US oil inventories as they are impacted by the global balance. Maybe on par with US oil demand share of the world being close to 20%. I.e. we should expect to see an inventory decline in the US of at least 3 m b per week. Maybe more. And indeed that is also what we have seen. Ydy the US API released partial US inventory data indicating that US crude inventories declined 5.5 m b last week while gasoline inventories declined 5.1 m b. That is big and a clear signal that the market today is running at a significant deficit. Other signs of a tight market is the elevated level of backwardation in crude and oil product forward curves, rising official selling prices by Saudi and also the fact that Dubai crude is trading at a premium of close to USD 1/b versus Brent crude rather than the usual discount of USD 1-2-3/b.
In this perspective the extension of Saudi Arabia's unilateral production cut to the end of the year is shocking. If the IEA is correct in its assessments then we would get a global inventory draw of about 250 million barrels from now to the end of the year. And if so the Brent crude oil price would indeed move to USD 100 – 110/b by the end of the year. Speculators can then doubt the market as much as they want. But such a physical deficit would most definitely drive the price up, up, up.
This deliberate action of driving the oil price to USD 100 – 110/b can then squarely be blamed on Saudi Arabia's unilateral production cuts. Together with Russian export curbs of 0.3 m b/d of course. Everyone can accept that the oil price rallies to USD 100/b and higher due to unforeseen events. But here we are talking about deliberate action of driving the oil price higher in the face of a western world fighting hard to curb inflation while the Biden administration is also preparing for a re-election in 2024. Gasoline prices higher and higher. Hm, that is not at all what the US consumers wants, what Biden wants or what the Fed wants. So the latest action from Saudi Arabia, if it drives the oil price to USD 100/b or higher must indeed lead to political heat from the US.
But there is a possible excuse. We know that interest rates have been lifted rapidly over the past 12-18 months and that this is leading to global economic cooling for the year to come. Add China's struggling housing market to this. Western consumers are buying less stuff from China. Chinese consumers are buying less stuff because they fear the economic situation. Chinese exports are down 8.8% YoY and imports are down 7.3% YoY.
Saudi Arabia has one of the biggest physical oil books in the world. As such it can see the cards of its oil purchasing clients on a 1-2-3 months forward basis. It can see what they are booking and ordering for the coming 1-2-3 months. IEA's calculations is the global balance on paper. It is a static snapshot. But the world is dynamic and changing all the time. So it is possible that the extension of Saudi Arabia's unilateral cut is a counter to weakness to come and an effort to avoid the oil price from falling below USD 85/b rather than an effort to drive the oil price to USD 100/b or higher. It is impossible to know for sure. What we can be pretty confident about however is that Saudi Arabia together with Russia are comfortably running the show.
Another twist here is also that even if Saudi Arabia now has pledged to keep its production at 9 m b/d (vs. normal 10 m b/d) to end of December, it always has the option to change the course in October and November. I.e. if it turns out that the cuts are too deep and the market is overly short oil, then it can lift production November and December if need be.