Along with the market, we expect an extension of oil production cuts from OPEC and Russia at the upcoming OPEC meeting in Vienna on November 30. OPEC is sailing with a strong tailwind, as a draw on global stocks has started, and compliance reached more than 100% in both OPEC and non-OPEC in October for the first time. For H1 2018, we see compliance with proposed cuts as less of a problem; instead, market focus will move to global stocks, which will likely start to flatten as the seasonal tailwind has swept through and there is higher activity in US shale after oil traded above USD 60.
High expectations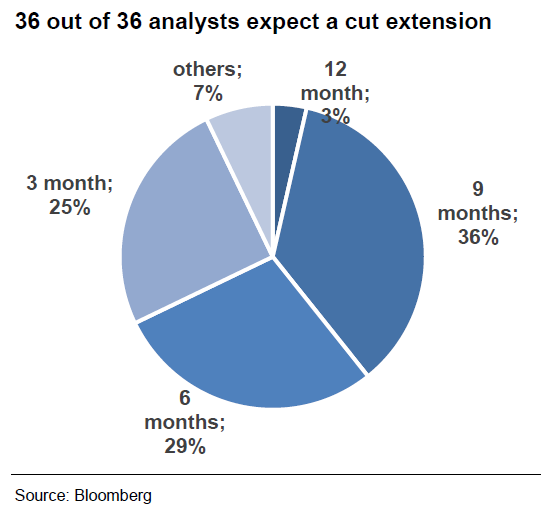 According to a Bloomberg survey, oil traders and analysts unanimously expect OPEC and Russia to prolong their production cuts on Thursday. Behind the scenes, however, it seems as though Saudi Arabia and Russia are still debating what course to follow, particularly regarding the duration of the extension.
Russia's economy minister said last week that the OPEC/non-OPEC production cuts hurt Russia's economic growth on October, through lower oil production, and indirectly, through lower investment activity. That was the first negative comment about the pact from a high-ranking Russian official. Despite the signs that Russian policy makers may be having second thoughts, they will agree to an extension in the end, in our view. Anything but an extension supported by Russia would have a significant negative impact on prices.
Putin crowns himself OPEC king
OPEC gatherings still influence oil prices, but Saudi Arabia's voice no longer matters most in the media. Since he engineered Russia's pact with OPEC 12 month ago, President Vladimir Putin has emerged as the group's most influential player, in our view. Putin is now calling all the shots.
Cuts implemented successfully
Over the past year, OPEC and several other key producers, including Russia, have agreed to cut production by 1.8 million bbl/d to reduce a global glut, formally defined as returning global stocks to normal levels, i.e. their five-year average. The group reached more than 100% compliance for the first time in October. That's a striking and surprising fact, in our view, and the market has reacted to OPEC's success by trading oil at higher prices.
Will not reach target
Given the impressive compliance, it is striking, in our view, that OPEC is so far from its target of draining global stocks. Inventories are lower, but we believe the strong seasonal effect of the US driving season this year is the key factor behind that. The target should have been reached in May, but will not be reached by the November meeting, and it would be surprising if normal stock levels were reached before OPEC's spring meeting in May/June 2018.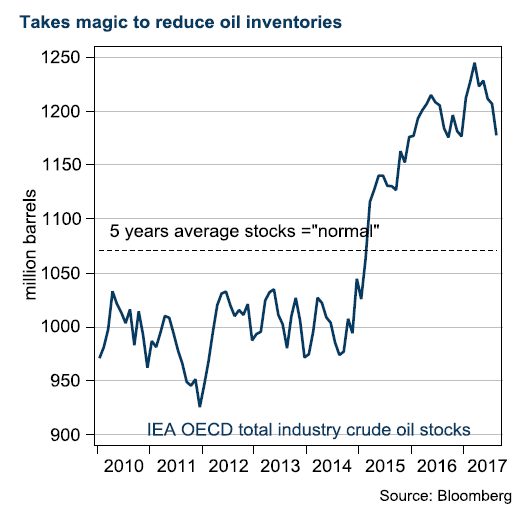 Saudi Arabia supports an extension
It has become obvious that Crown Prince Mohammed bin Salman, who has emerged as Saudi Arabia's leading economic force, was the architect of the Saudi policy U-turn in Doha in 2016, leading up to the cut at the meeting in Vienna in November 2016. In our view, this was confirmed by the replacement of Ali al-Naimi, after two decades as oil minister, with the more politically-oriented Khalid al-Falih.
Prince Mohammed has put the divestment of Aramco at the top of his agenda, and that is the basis of Saudi policy and its willingness to cut production in return for a short-term rise in the oil price. The Aramco IPO should top the board's agenda and will take place during the second half of 2018, according to al-Falih during a state visit to Russia earlier this autumn.
Costly mistake
The savvy players recognise the danger of cutting production. History is repeating itself. Higher prices have triggered a reverse in the US production drop, extending the time it takes for the market to balance, and pushing the volume share away from OPEC and toward two non-cut participants, the US and recently also Libya.
US shale flattening
In our model, which has served us well since the cycle collapse in 2014, we see around an 80-day lag from peak to trough in prices, before a new activity direction in rig count, and we see around 80 more days before an impact on production. In other words, a 160-day lag in production from a new price direction. After the recent oil price rally, rig counts will start to increase in our model, and early data are already confirming this new trend, which will have a negative impact on oil prices.
Research disclaimer
Risk warning
All investments involve risks and investors are encouraged to make their own decision as to the appropriateness of an investment in any securities referred to in this report, based on their specific investment objectives, financial status and risk tolerance. The historical return of a financial instrument is not a guarantee of future return. The value of financial instruments can rise or fall, and it is not certain that you will get back all the capital you have invested.
Research disclaimers
Handelsbanken Capital Markets, a division of Svenska Handelsbanken AB (publ) (collectively referred to herein as 'SHB'), is responsible for the preparation of research reports. SHB is regulated in Sweden by the Swedish Financial Supervisory Authority, in Norway by the Financial Supervisory Authority of Norway, in Finland by the Financial Supervisory Authority and in Denmark by the Danish Financial Supervisory Authority. All research reports are prepared from trade and statistical services and other information that SHB considers to be reliable. SHB has not independently verified such information and does not represent that such information is true, accurate or complete. Accordingly, to the extent permitted by law, neither SHB, nor any of its directors, officers or employees, nor any other person, accept any liability whatsoever for any loss, however it arises, from any use of such research reports or its contents or otherwise arising in connection therewith.
In no event will SHB or any of its affiliates, their officers, directors or employees be liable to any person for any direct, indirect, special or consequential damages arising out of any use of the information contained in the research reports, including without limitation any lost profits even if SHB is expressly advised of the possibility or likelihood of such damages.
The views contained in SHB research reports are the opinions of employees of SHB and its affiliates and accurately reflect the personal views of the respective analysts at this date and are subject to change. There can be no assurance that future events will be consistent with any such opinions. Each analyst identified in this research report also certifies that the opinions expressed herein and attributed to such analyst accurately reflect his or her individual views about the companies or securities discussed in the research report.
Research reports are prepared by SHB for information purposes only. The information in the research reports does not constitute a personal recommendation or personalised investment advice and such reports or opinions should not be the basis for making investment or strategic decisions. This document does not constitute or form part of any offer for sale or subscription of or solicitation of any offer to buy or subscribe for any securities nor shall it or any part of it form the basis of or be relied on in connection with any contract or commitment whatsoever. Past performance may not be repeated and should not be seen as an indication of future performance. The value of investments and the income from them may go down as well as up and investors may forfeit all principal originally invested. Investors are not guaranteed to make profits on investments and may lose money. Exchange rates may cause the value of overseas investments and the income arising from them to rise or fall. This research product will be updated on a regular basis.
No part of SHB research reports may be reproduced or distributed to any other person without the prior written consent of SHB. The distribution of this document in certain jurisdictions may be restricted by law and persons into whose possession this document comes should inform themselves about, and observe, any such restrictions.
The report does not cover any legal or tax-related aspects pertaining to any of the issuer's planned or existing debt issuances.