US oil rig count dropped for the 21st consecutive week
OPEC oil production rose to the highest level in more than 2 year in April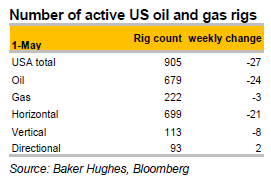 As the new week of trading gets underway, oil prices are trading only marginally below the multi-month highs they recorded at the end of last week. Friday saw Brent climb to as much as almost $67 per barrel and WTI to just shy of $60 per barrel. In both cases, these were the highest levels in nearly five months. In the past month alone, Brent has risen by 21% and WTI by 25%, the steepest monthly increase in each case since May 2009. There is no fundamental justification for the oil price surge of recent weeks, which is attributable first and foremost to speculation about lower supply in the second half of the year. This speculation is based on the still declining oil rig count in the US, which according to Baker Hughes fell last week for the 21st consecutive time and now find itself at its lowest level since September 2010. Nonetheless, there has yet to be any noticeable drop in US oil production. According to a Reuters survey, OPEC on the other hand scaled up its oil output in April to a good 31 million barrels per day, bringing it to its highest level since the end of 2012. The oil market thus remains considerably oversupplied given that the call on OPEC this year is estimated by the International Energy Agency at a mere 29.5 million barrels per day. At a good 10 million barrels per day, Saudi Arabia produced only slightly less than last month, when a record level was achieved. What is more, there was additional supply from Libya, Nigeria and Iraq. According to the Iraq Oil Ministry, the latter exported more than 3 million barrels per day in April for the first time.