SHB Råvarubrevet 17 februari 2012
Våra vyer:
Energi: Positiv
Basmetaller: Positiv
Ädelmetaller: Negativ
Livsmedel: Neutral till Positiv
Bra makro och snart mer pengar från ECB
Vi fortsätter att vara grundpositiva till råvaror och risktillgångar i allmänhet baserat på centralbankers starka vilja att ge marknader stöd (senast var det Bank of Japan som gav en injektion i marknaden) samt förväntningar om fortsatt förbättring i makrodata.
Under den senaste veckan har bakslaget i förhandlingarna mellan Aten och EU/IMF/ECB-trojkan påverkat risksentimentet negativt. De närmaste dagarna lär bli avgörande för Grekland. Vår hållning är dock att en default i Grekland bör kunna hanteras av marknaden. Däremot får inte en sådan utlösa spekulationer om Greklands utträde ur euron. Vi tror att samtliga politiska krafter kommer att verka för att förhindra en sådan dramatisk utveckling.
Den senaste gynnsamma trenden i makrodata är mest tydlig i USA, men syns också i Europa och Sverige. I den eviga rundgången mellan finansiella marknader och realekonomin avspeglar detta delvis återhämtning på världens börser och överlag lägre finansiell turbulens under de senaste månaderna. Vi räknar med att trenden fortsätter.
LTRO2 ger stöd trots förväntningar
ECB kommer med sin andra 3-års repa den 29e februari (LTRA2). Inför LTRO2 är konsensus syn att den ska ge ytterligare stöd till riskaptiten, man skulle därför kunna hävda att utrymmet för fortsatta riskpositiva rörelser är uttömt. Erfarenheten från Feds QE-åtgärder är dock att även välannonserade åtgärder ger stöd till tillgångspriser. Vi räknar med att så blir fallet också nu trots att vi har en mer modest syn på storleken på LTRO2 än många banker. Den första repan i december fick en imponerande huvudsiffra, EUR 489mdr. Dock var det bara ca 200mdr som var nya pengar, resten var löptidsförlängningar. Inför den andra repan är estimaten spridda och många ligger på en högre siffra än i december. Vår bedömning är dock att vi snarare kommer att landa betydligt lägre. Vårt estimat är 330mdr och bygger på en bottom up-analys av eurobankers finansieringsaktiviteter 2012. Även om det finns risk för besvikelse på huvudsiffran så kommer sannolikt även 330mdr euro att räcka till att göra mars och delar av april till en period med stigande priser på riskhandlade tillgångar såsom råvaror.
Energi (positiv)
Olja
Oljepriset (Brent) fortsätter att stärkas och stängde upp 2,5 % till 120.2 USD/fat denna vecka jämfört med samma tid förra veckan. Efter Europa meddelade sitt embargo mot Iran, har Iran svarade att de skär utbudet av olja sex europeiska länder. Spänningen kring Irans ökade ytterligare den här veckan efter bombattentaten mot israeliska mål i Indien och Georgien samt arresteringarna av två iranska män i Bangkok. Spänningen blev inte mindre av Iran meddelat att de har utvecklat en ny generation av centrifuger för att producera uran vid universitetet i Teheran. SWIFT (Society for Worldwide Interbank Financial Telecommunications) har sagt att de kan komma att klippa banden till de iranska finansinstitut så snart detta är förberett med EU-lagstiftningen. Om detta genomförs kommer det förmodligen vara mer effektiv än EU:s embargo eftersom det kommer att hindra handel med Iran för alla länder. I så fall kan all iransk export av 2.4 miljoner fat / dag i riskzonen och inte bara de 0,8 fat per dag som går till Europa. Oljepriset har också fått stöd av ökad riskaptit och ljusare makroekonomiska utsikter, framsteg kring Greklands skulder och den positiva utvecklingen i den amerikanska ekonomin.
Amerikanske lagerstatistik kom in lägre än väntat den här veckan. Råoljelager sjönk med 0,2 miljoner fat (väntat 1,5 miljoner fat) , destillat föll med 2,9 miljoner fat (förväntad 1,1 miljoner fat) och bensin steg med 0,4 miljoner fat (0,8 miljoner fat). Rapporterad efterfrågan på olja ökade med 1miljoner fat / dag till 18.7miljoner fat / dag, efter en serie datapunkter för låg efterfrågan. Men det fanns allvarliga tvivel om antaganden om de sista veckorna av data på grund av höga exportförhållanden.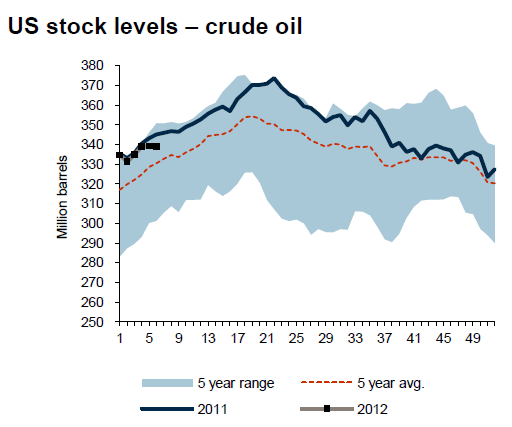 Elmarknaden
Spotpriset har kommit ner på normala nivåer igen, EUR 41.7 i snitt den senaste veckan mot EUR 69.6 förra veckan. Blötväder och mildare väder fortsätter att pressa elmarknaden vilket resulterat i en nedgång om 6.72% för andra kvartalet Q2 2012 (underliggande för våra investeringsprodukter). De senaste väderprognoserna indikerar nederbörd om upp till 9.5 TWh vilket är ca 5.5 TWh över normalen för perioden. Snittemperaturen för börsområdet förväntas landa strax under nollstrecken vilket är ca 2 grader varmare än normalt . Det våta och milda vädret förväntas således bättra på den hydrologiska balansen (magasin+ markvatten och snö för tillrinning). Energibalansen förväntas närma sig 6TWh efter vecka 8.
Med ett stabilt läge i magasinen och god tillgänglighet på kärnkraft samt ett stort utbud av energikol ser vi därför ingen större risk för att marknaden stiger kraftigt även om det skulle komma in lite kyla i prognoserna efter helgen. Det enda som verkat för uppsidan är egentligen utsläppsrätterna som stigit med hela 18.5 procent efter att EU Parlamentets Industriöverskott signalerat en minskad tillgång på rätter inom handelssystemet för fas 3. Anledningen till att EU-parlamentet driver frågan är den kraftiga nedgången i pris som skett senaste tiden (se graf). Parlamentarikerna anser att nuvarande (låga) nivå inte skapar rätt incitament för att dra ned på de europiska koldioxidutsläppen. Föga förvånande har den energiintensiva industrin protesterat kraftigt och menar att slumpmässiga ändringar av spelreglerna i en marknad kommer att få den sluta fungera på sikt. Det råder fortfarande en viss osäkerhet kring detta vilket gör att få vågar lägga sig korta och mer information väntas efter omröstningen den 28 februari följt av en kammaromröstning den 17 april. Elmarknaden är åter i balans utan någon drivande faktor varför vi ändrar den kortsiktiga vyn från kort till en mer neutral position.
Basmetaller (positiv)
Basmetallerna har haft en vecka med fallande priser. Mycket på grund av osäkerheten kring Grekland och med en starkare dollar som följd. Vi behåller vår långsiktigt positiva syn för basmetaller i helhet medan vi just nu ser en risk på nedsidan för nickel (läs mer nedan).
Indonesien har i veckan bekräftat att de har för avsikt att införa ett exportförbud av obearbetad metall till 2014. Den huvudsakliga exporten består av Bauxit och nickel malm och 90 % av exporten går till Kina. Om detta blir verklighet betyder det med stor sannolikhet stigande priser på framförallt aluminium (som produceras från Bauxit) och nickel. Övriga metaller så som guld, koppar, nickel, bauxit och järn påverkas även. Anledningen till förbudet är att landet vill stimulera förädlingen av metaller och initiativ för att det ska byggas fler smältverk i landet. Något datum för när detta ska träda i kraft är inte satt men redan under 2012 kan regeringen introducera en skatt för exporterad metall. Indonesien står för 10 % av global produktion av nickel och är en viktig exportör för Kina som kan behöva hitta nya sätt att importera malmen.
LME:s lager på Aluminium forsätter att växa och nådde all time high i veckan på 5,121 miljoner ton. Priset på metallen under veckan tappat 4,5 % och handlas i skrivande stund 2159 USD/ton. En annan metall där lagret tros öka är nickel som väntas på från ett underskott under 2011 till ett överskott under 2012. Anledningen är att det är många nya gruvor (Ambatovy, Onca Puma, Barro Alto, Raventhorpe) som kommit igång eller är väldigt nära att kunna starta sin produktion. Global gruvproduktion av nickel väntas öka med 11 % i år och 9 % för 2013. Detta dämpar sannolikt prisutvecklingen något.
Ädelmetaller (negativ)
Ännu en oerhört lugn vecka på ädelmetallfronten, lika tight range som förra veckan och i stort sett oförändrade nivåer på Handelsbankens Sektorindex Ädelmetaller. Guldet handlar i skrivande stund kring 1728 USD/ounce, jämfört med förra fredagens 1722, och silver är helt oförändrat under veckan.
En hel del social oro och strejker i världens största platinagruva i Sydafrika ledde till att militären sattes in för att återupprätta lugn, en ganska ovanlig åtgärd även i Sydafrika nuförtiden. Gruvan har stått still ett par veckor vilket orsakat produktionsbortfall i storleksklassen 60 000 ounce, och det kan dröja ytterligare tre till fyra veckor att starta upp produktionen efter den senaste utvecklingen. Platinapriset har stigit ca 2 % sedan produktionen i gruvan stoppades, och den senast utvecklingen har inte haft någon större påverkan på priset. Vi bibehåller vår negativa syn på ädelmetaller, motiverat av lång positionering och en ljusare syn på konjunkturen för 2012 än vad marknaden prisar.
Livsmedel (neutral till positiv)
Kakao
Priset har stigit cirka 10 procent den senaste veckan, exporten fortsätter att minska markant från Elfenbenskusten och Indonesien. Det rapporteras även om mindre export från de andra västafrikanska regionerna. Mindre skörd som följd av kraftiga vindar och torrt väder den senaste tiden i området kring Elfenbenskusten pekar på att efterfrågan kan komma att överträffa utbudet den här säsongen och vi står fast vid vår tidigare vy om möjlighet till en uppsida av kakaopriset.
Apelsinjuice
Apelsinjuice har fallit till sex veckors lägsta som en följd av spekulationer om välfyllda amerikanska lager. Dessutom bekräftar amerikanska Food and Drug Administration att man fortsätter att testa all import av apelsinjuice mot sjukdomar. Florida, världens andra största odlare av apelsinjuice har snart passerat frostperioden och går mot bättre väder. Vi ser denna marknad något svårbedömd i dagsläget då marginella väderförändringar, nya testmetoder och importförbud har stor påverkan på juicepriset och det återstår att se utvecklingen i dessa regioner.
Kaffe
Arabicakaffet har fallit till 14 månaders lägsta efter en starkare dollar men också p.g.a. signaler från USA som pekar på att den ekonomiska återhämtningen kan komma att dröja. Dessutom har priset pressats ned ytterligare under veckan som följd av en större försäljning av delar av en fond. Däremot har Robustakaffet blivit dyrare som en följd av sämre skörd. Priset har stigit ca.20 procent sen årsskiftet efter siffror på minskad export från Vietnam.
Vete
Terminspriser på vete är upp något på Matif sedan förra veckan och nästan oförändrade på Chicagobörsen. Största delen av Europa har nu temperaturer strax över noll under dagarna, vilket minskat oron för ytterligare försämring av skicket på höstvetet. Att viss utvintring skett redan är säker men frågan är hur mycket – åsikterna om detta varierar starkt. Stöd till priserna i Chicago har i veckan givits av att Egypten köpt amerikanskt vete, med priser klart under konkurrenternas – från Ryssland kom inga erbjudanden alls förmodligen som följd av logistiska problem. Dessa logistiska problem har gjort att den ryska exporten under januari och februari varit låg, när de väl kommer igång lär det ge press nedåt på priserna – det kan bli ganska stora volymer som ska ut innan ny skörd ska in. Vad som ytterligare talar för press nedåt på vetepriserna framöver är att de officiella siffrorna för den australiensiska veteskörden säsongen 2011/12 justerats upp till rekordhöga 29,5 miljoner ton – upp från tidigare prognos om 28,3 miljoner ton. Exporten från Australien uppskattas nu till 22,3 miljoner ton, att jämföra med förra årets även det höga 18,6 miljoner ton.
Majs
Majsen i Chicago har gått upp något i pris sedan förra veckan, påverkat bland annat av högre priser på råolja men även höga exportsiffror för USA. Förra veckans export uppgår enligt USDA till 1,07 miljoner ton – den högsta siffran på omkring fyra månader. Bland köparna finns bland annat Egypten, Mexiko och Sydkorea. Regn i Argentina, och mer regn på väg, gör att oron för fortsatta nedjusteringar av skörden avtagit. Höga exportsiffror rapporteras även från Ukraina och än så länge märks inget större skift från majs till konkurrenskraftigt fodervete. Låga lagernivåer begränsar nedsidan för majsen men eventuellt prisfall för vetet lär dra ned även majsen något.
Sojabönor
Sojapriserna i Chicago har stigit sedan förra veckan, delvis som följd av varmare och torrare väder i södra Brasilien och den oron detta medför för ytterligare nedjusteringar av skörden – vilket till viss del dock kompenseras av ett mer gynnsamt väder i centrala Brasilien och i södra Argentina. Skörden i Mato Grosso, den delstat i Brasilien som producerar mest sojabönor, uppges vara till 24 procent avklarad – med ett resultat ungefär som väntat. Ytterligare stöd till sojapriserna kommer från högre råoljepriser och höga exportsiffror för USA – med köp av bland annat Kina. I sin första officiella prognos uppskattar det argentinska jordbruksministeriet kommande skörd till 43,5-45,0 miljoner ton, klart lägre än USDA:s senaste uppskattning om 48 miljoner ton. Fortsatt ogynnsamt väder i Brasilien kan pressa upp priset något, men väderutvecklingens betydelse avtar ju närmare skördens slut vi kommer.
Handelsbankens Råvaruindex
[box]SHB Råvarubrevet är producerat av Handelsbanken och publiceras i samarbete och med tillstånd på Råvarumarknaden.se[/box]
Ansvarsbegränsning
Detta material är producerat av Svenska Handelsbanken AB (publ) i fortsättningen kallad Handelsbanken. De som arbetar med innehållet är inte analytiker och materialet är inte oberoende investeringsanalys. Innehållet är uteslutande avsett för kunder i Sverige. Syftet är att ge en allmän information till Handelsbankens kunder och utgör inte ett personligt investeringsråd eller en personlig rekommendation. Informationen ska inte ensamt utgöra underlag för investeringsbeslut. Kunder bör inhämta råd från sina rådgivare och basera sina investeringsbeslut utifrån egen erfarenhet.
Informationen i materialet kan ändras och också avvika från de åsikter som uttrycks i oberoende investeringsanalyser från Handelsbanken. Informationen grundar sig på allmänt tillgänglig information och är hämtad från källor som bedöms som tillförlitliga, men riktigheten kan inte garanteras och informationen kan vara ofullständig eller nedkortad. Ingen del av förslaget får reproduceras eller distribueras till någon annan person utan att Handelsbanken dessförinnan lämnat sitt skriftliga medgivande. Handelsbanken ansvarar inte för att materialet används på ett sätt som strider mot förbudet mot vidarebefordran eller offentliggörs i strid med bankens regler.
[If demand] "comes around as forecast, Hallelujah, we can produce more"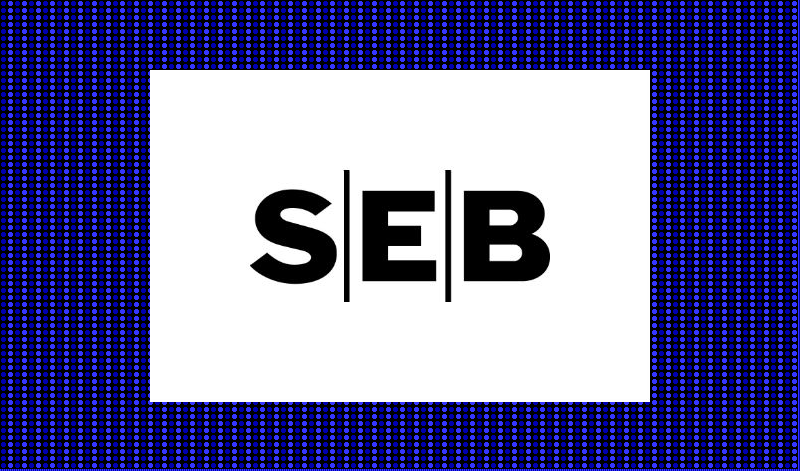 Saudi Arabia's oil minister, Prince Abdulaziz bin Salman, last week stated at a conference in Calgary: "I believe it when I see it. When reality comes around as it's been forecast, Hallelujah, we can produce more" (Reuters, John Kemp). So Saudi Arabia wants to and will produce more once it is confident that there really is demand for additional crude. Saudi Arabia has good reason to be concerned for global oil demand. It is not the only one struggling to predict global demand amid the haze and turmoil in the global oil market following the Russian invasion of Ukraine and sanctions towards Russian crude and product stocks. Add a shaky Chinese housing market and the highest US rates since 2001. Estimates for global oil demand in Q4-23 are ranging from 100.6 m b/d to 104.7 m b/d with many estimates in between. Current crude and mid-dist inventories are low. Supply/demand is balanced to tight and clearly very tight for mid-dists (diesel, jet fuel, gasoil). But amid current speculative bullishness it is important to note that Saudi Arabia can undo the current upwards price journey just as quickly as it created the current bull-market as it drop in production from 10.5 m b/d in April to only 9.0 m b/d since July. Quickly resolving the current mid-dist crisis is beyond the powers of Saudi Arabia. But China could come to the rescue if increased oil product export quotas as it holds spare refining capacity.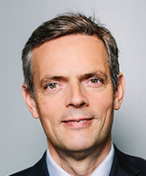 The oil market is well aware that the main reasons for why oil has rallied 25% over the past months is reduced production by Saudi Arabia and Russia, global oil demand holding up better than feared together with still declining US shale oil activity. US oil drilling rig count fell by 8 rigs last week to 507 rigs which is the lowest since Feb 2022.
The big question is how strong is global oil demand and how will it hold up or even maybe increase in the coming quarters? And here the spread of estimates are still all over the place. For Q4-23 we have the following range of estimates for global oil demand in m b/d: 100.6; 101.8; 103.1; 103.2 and 104.7 from main oil market research providers. This wide spread of estimates is mindbogglingly and head-scratching both for analysts and for oil producers. It leads to a wide spread in estimates for Call-on-OPEC. Some say the current market is in a 2-3 m b/d deficit while others calculate that the global oil market today is nicely balanced.
The sanctions towards Russian crude and oil product exports with a ban on imports to the EU and UK has led to a large reshuffling of the global oil market flows which again has created a haze through which it is hard to gauge the correct state of the global oil market.
We have previously argued that there may be a significant amount of "pent-up-demand" following the Covid-years with potential for global oil demand to surprise on the upside versus most demand forecasts. But there are also good reasons to be cautious to demand given Chinese property market woes and the highest US interest rates since 2001!
The uncertainty in global oil demand is clearly at the heart of Saudi Arabia's production cuts since April this year. Saudi Arabia's Energy Minister, Prince Abulaziz bin Salman, last week stated at a conference in Calgary: "I believe it when I see it. When reality comes around as it's been forecast, Hallelujah, we can produce more" (Reuters, John Kemp).
So if it turns out that demand is indeed stronger than Saudi Arabia fears, then we should see increased production from Saudi Arabia. Saudi could of course then argue that yes, it is stronger than expected right now, but tomorrow may be worse. Also, the continued decline in US oil drilling rig count is a home-free card for continued low production from Saudi Arabia.
Both crude stocks and mid-dist stocks (diesel, jet fuel, gasoil) are still significantly below normal and the global oil market is somewhere between balanced, mild deficit or large deficit (-2-3 m b/d). The global oil market is as such stressed due to low inventories and potentially in either mild or large deficit on top. The latter though can be undone by higher production from Saudi Arabia whenever it chooses to do so.
What is again getting center stage are the low mid-dist stocks ahead of winter. The war in Ukraine and the sanctions towards Russian crude and product stocks created chaos in the global oil product market. Refining margins went crazy last year. But they are still crazy. The global refining system got reduced maintenance in 2020 and 2021 due to Covid-19 and low staffing. Following decades of mediocre margins and losses, a lot of older refineries finally decided to close down for good during Covid as refining margins collapsed as the world stopped driving and flying. The global refining capacity contracted in 2021 for the first time in 30 years as a result. Then in 2022 refining margins exploded along with reviving global oil demand and the invasion of Ukraine. Refineries globally then ran as hard as they could, eager to make money, and reduced maintenance to a minimum for a third year in a row. Many refineries are now prone for technical failures following three years of low maintenance. This is part of the reason why mid-dist stocks struggle to rebuild. The refineries which can run however are running as hard as they can. With current refining margins they are pure money machines.
Amid all of this, Russia last week imposed an export ban for gasoline and diesel products to support domestic consumers with lower oil product prices. Russia normally exports 1.1 m b/d of diesel products and 0.2 m b/d of gasoline. The message is that it is temporary and this is also what the market expects. Russia has little oil product export storage capacity. The export ban will likely fill these up within a couple of weeks. Russia will then either have to close down refineries or restart its oil product exports.
The oil market continues in a very bullish state with stress both in crude and mid-dists. Speculators continues to roll into the market with net long positions in Brent crude and WTI increasing by 29 m b over the week to last Tuesday. Since the end of June it has increased from 330 m b to now 637 m b. Net-long speculative positions are now at the highest level in 52 weeks.
The market didn't believe Saudi Arabia this spring when it warned speculators about being too bearish on oil and that they would burn their fingers. And so they did. After having held production at 9 m b/d since July, the market finally believes in Saudi Arabia. But the market still doesn't quite listen when Saudi says that its current production is not about driving the oil price to the sky (and beyond). It's about concerns for global oil demand amid many macro economic challenges. It's about being preemptive versus weakening demand. The current oil rally can thus be undone by Saudi Arabia just as it was created by Saudi Arabia. The current refinery stress is however beyond the powers of Saudi Arabia. But China could come to the rescue as it holds spare refining capacity. It could increase export quotas for oil products and thus alleviate global mid-dist shortages. The first round effect of this would however be yet stronger Chinese crude oil imports.
Brent crude and ARA diesel refining premiums/margins. It is easy to see when Russia invaded Ukraine. Diesel margins then exploded. The market is not taking the latest Russian export ban on diesel and gasoline too seriously. Not very big moves last week.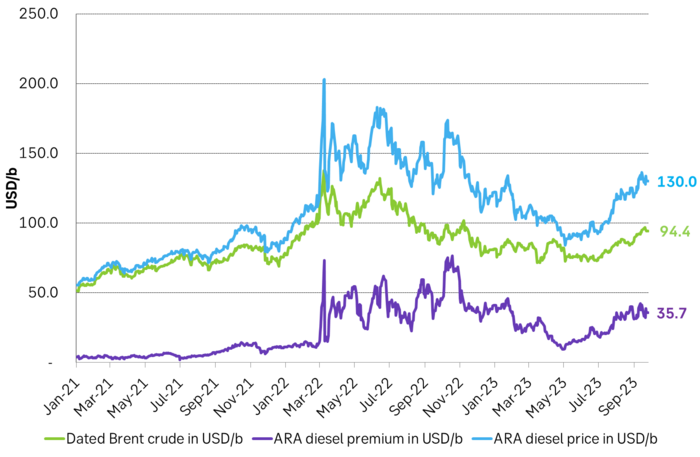 ARA mid-dist margins still exceptionally high at USD 35-40/b versus a more normal USD 12-15/b. We are now heading into the heating season, but the summer driving season is fading and so are gasoline margins.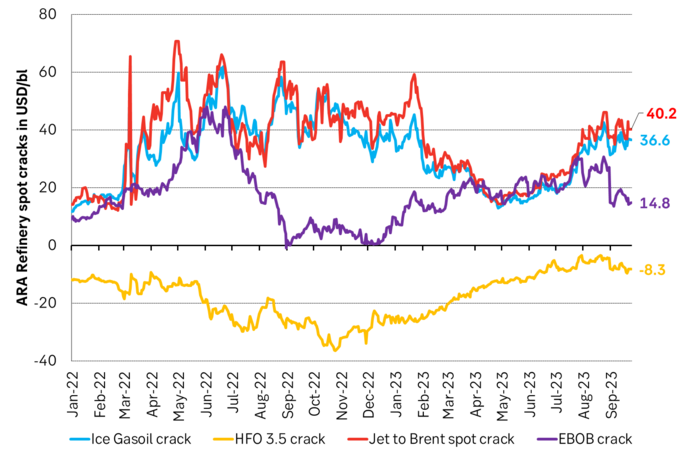 ARA mid-dist margins still exceptionally high at USD 35-40/b versus a more normal USD 12-15/b. Here same graph as above but with longer perspective to show how extreme the situation is.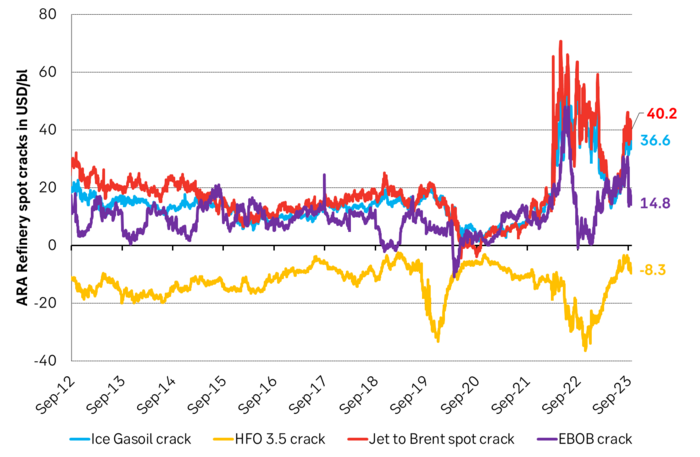 US crude and product stocks vs. the 2015-19 average. Very low mid-dist stocks.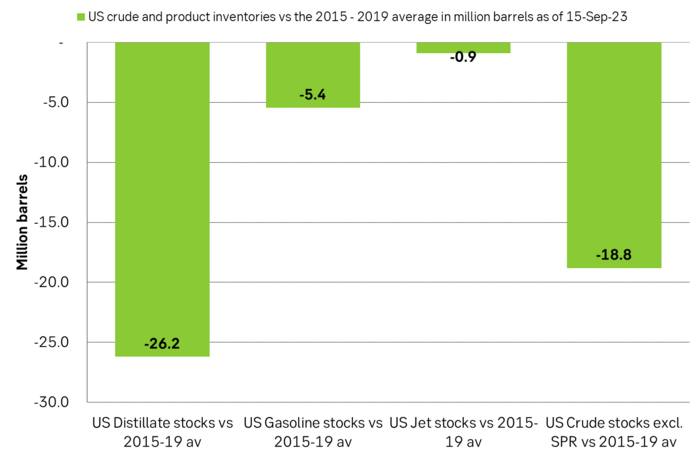 Speculators are rolling into long positions. Now highest net long spec in 52 weeks.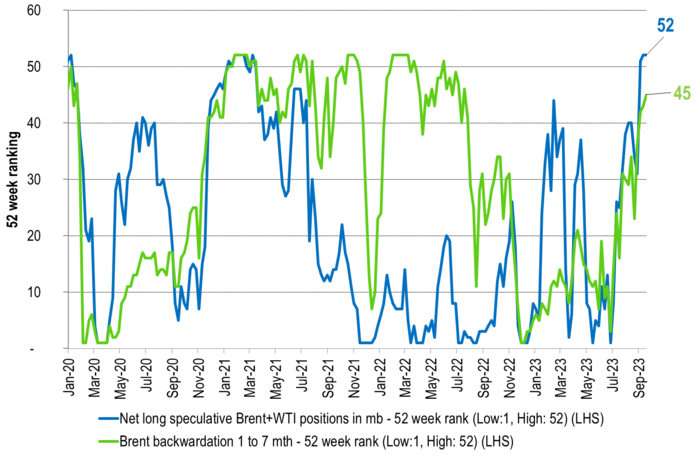 The "normal" oil price is USD 97/b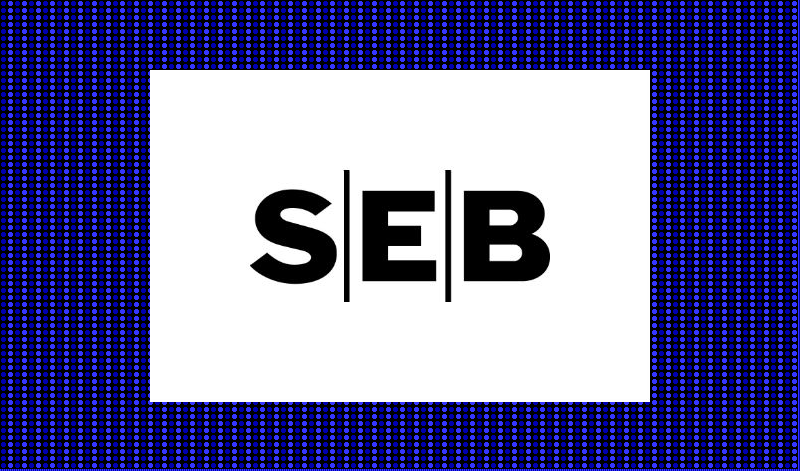 The Dated Brent crude oil price ydy closed at USD 96/b. Wow, that's a high price! This sensation however depends on what you think is "normal". And normal in the eyes of most market participants today is USD 60/b. But this perception is probably largely based on the recent experience of the market. The average Brent crude oil price from 2015-2019 was USD 58.5/b. But that was a period of booming non-OPEC supply, mostly shale oil. But booming shale oil supply is now increasingly coming towards an end. Looking more broadly at the last 20 years the nominal average price was USD 75/b. But in inflation adjusted terms it was actually USD 97/b.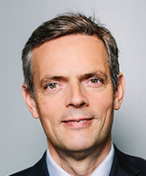 Saudi Arabia's oil minister, Abdulaziz bin Salman, yesterday stated that its production cuts was not about driving the price up but instead it was preemptive versus the highly uncertain global economic development. In that respect it has a very good point. The US 2yr government bond rate has rallied to 5.06% which is the highest since 2006 and just a fraction away of being the highest since December 2000. The Chinese property market is struggling and global PMIs have been downhill since mid-2021 with many countries now at contractive, sub-50 level. Thus a deep concern for the health of the global economy and thus oil demand going forward is absolutely warranted. And thus the preemptive production cuts by Saudi Arabia. But killing the global economy off while it is wobbling with an oil price of USD 110-120/b or higher is of course not a smart thing to do either.
At the same conference in Canada yesterday the CEO of Aramco, Amin H. Nasser, said that he expected global oil demand to reach 110 m b/d in 2030 and that talk about a near term peak in global oil demand was "driven by policies, rather than the proven combination of markets, competitive economics and technology" (Reuters).
With a demand outlook of 110 m b/d in 2030 the responsible thing to do is of course to make sure that the oil price stays at a level where investments are sufficient to cover both decline in existing production as well as future demand growth.
In terms of oil prices we tend to think about recent history and also in nominal terms. Most market participants are still mentally thinking of the oil prices we have experienced during the shale oil boom years from 2015-2019. The average nominal Brent crude price during that period was USD 58.5/b. This is today often perceived as "the normal price". But it was a very special period with booming non-OPEC supply whenever the WTI price moved above USD 45/b. But that period is increasingly behind us. While we could enjoy fairly low oil prices during this period it also left the world with a legacy: Subdued capex spending in upstream oil and gas all through these years. Then came the Covid-years which led to yet another trough in capex spending. We are soon talking close to 9 years of subdued capex spending.
If Amin H. Nasser is ballpark correct in his prediction that global oil demand will reach 110 m b/d in 2030 then the world should better get capex spending rolling. There is only one way to make that happen: a higher oil price. If the global economy now runs into an economic setback or recession and OPEC allows the oil price to drop to say USD 50/b, then we'd get yet another couple of years with subdued capex spending on top of the close to 9 years with subdued spending we already have behind us. So in the eyes of Saudi Arabia, Amin H. Nasser and Abdulaziz bin Salman, the responsible thing to do is to make sure that the oil price stays up at a sufficient level to ensure that capex spending stays up even during an economic downturn.
This brings us back to the question of what is a high oil price. We remember the shale oil boom years with an average nominal price of USD 58.5/b. We tend to think of it as the per definition "normal" price. But we should instead think of it as the price depression period. A low-price period during which non-OPEC production boomed. Also, adjusting it for inflation, the real average price during this period was actually USD 72.2/b and not USD 58.5/b. If we however zoom out a little and look at the last 20 years then we get a nominal average of USD 75/b. The real, average inflation adjusted price over the past 20 years is however USD 97/b. The Dated Brent crude oil price yesterday closed at USD 96/b.
Worth noting however is that for such inflation adjustment to make sense then the assumed cost of production should actually rise along with inflation and as such create a "rising floor price" to oil based on rising real costs. If costs in real terms instead are falling due to productivity improvements, then such inflation adjusted prices will have limited bearing for future prices. What matters more specifically is the development of real production costs for non-OPEC producers and the possibility to ramp up such production. Environmental politics in OECD countries is of course a clear limiting factor for non-OPEC oil production growth and possibly a much more important factor than the production cost it self.
But one last note on the fact that Saudi Arabia's energy minister, Abdulaziz bin Salman, is emphasizing that the cuts are preemptive rather then an effort to drive the oil price to the sky while Amin H. Nasser is emphasizing that we need to be responsible. It means that if it turns out that the current cuts have indeed made the global oil market too tight with an oil price spiraling towards USD 110-120/b then we'll highly likely see added supply from Saudi Arabia in November and December rather than Saudi sticking to 9.0 m b/d. This limits the risk for a continued unchecked price rally to such levels.
Oil price perspectives. We tend to think that the nominal average Brent crude oil price of USD 58.5/b during the shale oil boom years from 2015-19 is per definition the "normal" price. But that period is now increasingly behind us. Zoom out a little to the real, average, inflation adjusted price of the past 20 years and we get USD 97/b. In mathematical terms it is much more "normal" than the nominal price during the shale oil boom years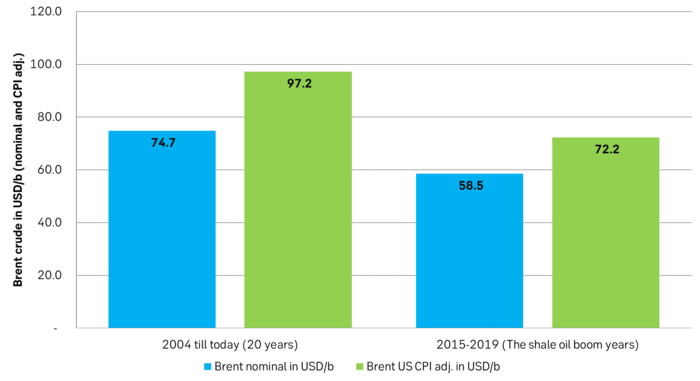 Is global oil demand about to peak 1: OECD and non-OECD share of global population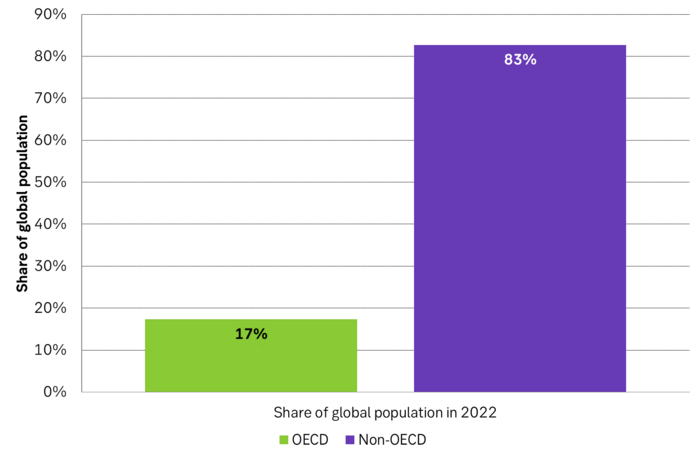 Is global oil demand about to peak 2: Oil demand per capita per year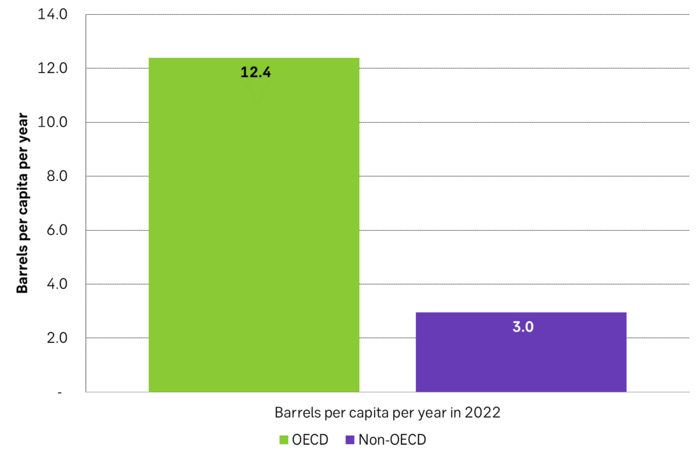 USD 100/b in sight but oil product demand may start to hurt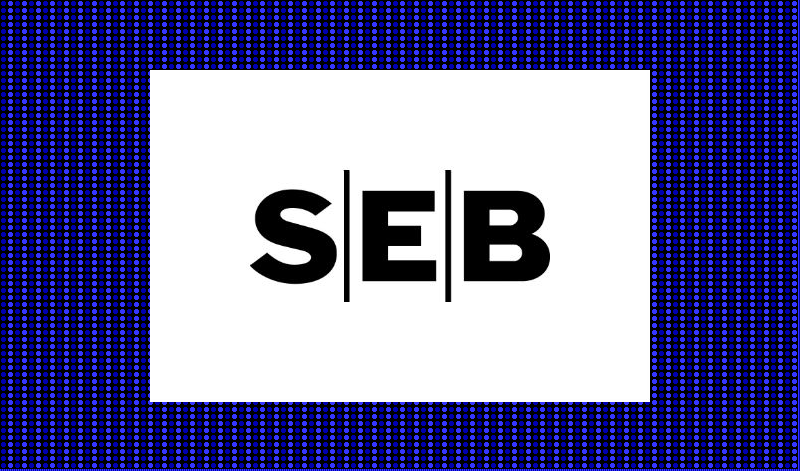 Some crude oil grades have already traded above USD 100/b. Tapis last week at USD 101.3/b. Dated Brent is trading at USD 95.1/b. No more than some market noise is needed to drive it above USD 100/b. But a perceived and implied oil market deficit of 1.5 to 2.5 m b/d may be closer to balance than a deficit. And if so the reason is probably that oil product demand is hurting. Refineries are running hard. They are craving for crude and converting it to oil products. Crude stocks in US, EU16 and Japan fell 23 m b in August as a result of this and amid continued restraint production by Saudi/Russia. But oil product stocks rose 20.3 m b with net draws in crude and products of only 2.7 m b for these regions. Thus indicating more of a balanced market than a deficit. Naturally there has been strong support for crude prices while oil product refinery margins have started to come off. Saudi/Russia is in solid control of the market. Both crude and product stocks are low while the market is either in deficit or at best in balance. So there should be limited down side price risk. But oil product demand is likely to hurt more if Brent crude rises to USD 110-120/b and such a price level looks excessive.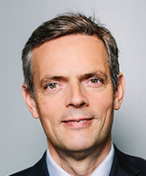 Crude oil prices have been on a relentless rise since late June when it became clear that Saudi Arabia would keep its production at 9 m b/d not just in July but also in August. Then later extended to September and then lately to the end of the year. On paper this has placed the market into a solid deficit. Total OPEC production was 27.8 m b/d in August and likely more or less the same in September. OPEC estimates that the need for oil from OPEC in Q3-23 is 29.2 m b/d which places the global market in a 1.4 m b/d deficit when OPEC produces 27.8 m b/d.
The proof of the pudding is of course that inventories actually draws down when there is a deficit. A 1.4 m b/d of deficit for 31 days in August implies a global inventory draw of 43.4 m b/d. If we assume that OECD countries accounts for 46% of global oil demand then OECD could/should have had a fair share of inventory rise of say 20 m b in August. Actual inventory data are however usually a lagging set of data so we have to work with sub sets of data being released on a higher frequency. And non-OECD demand and inventory data are hard to come by.
If we look at oil inventory data for US, EU16 and Japan we see that crude stocks fell 23 m b in August while product stocks rose 20.3 m b with a total crude and product draw of only 2.7 m b. I.e. indicating close to a balanced market in August rather than a big deficit. But it matters that crude stocks fell 23 m b. That is a tight crude market where refineries are craving and bidding for crude oil together with speculators who are buying paper-oil. So refineries worked hard to buy crude oil and converting it to oil products in August. But these additional oil products weren't gobbled up by consumers but instead went into inventories.
Rising oil product inventories is of course a good thing since these inventories in general are low. And also oil product stocks are low. The point is more that the world did maybe not run a large supply/demand deficit of 1.5 to 2.5 m b/d in August but rather had a more balanced market. A weaker oil product demand than anticipated would then likely be the natural explanation for this. Strong refinery demand for crude oil, crude oil inventory draws amid a situation where crude inventories already are low is of course creating an added sense of bullishness for crude oil.
On the one hand strong refinery demand for crude oil has helped to drive crude oil prices higher amid continued production cuts by Saudi Arabia. Rising oil product stocks have on the other hand eased the pressure on oil products and thus softened the oil product refinery margins.
The overall situation is that Saudi Arabia together with Russia are in solid control of the oil market. Further that the global market is either balanced or in deficit and that both crude and product stocks are still low. Thus we have a tight market both in terms of supplies and inventories. So there should be limited downside in oil prices. We are highly likely to see Dated Brent moving above USD 100/b. It is now less than USD 5/b away from that level and only noise is needed to bring it above. Tupis crude oil in Asia traded at USD 101.3/b last week. So some crude benchmarks are already above the USD 100/b mark.
While Dated Brent looks set to hit USD 100/b in not too long we are skeptical with respect to further price rises to USD 110-120/b as oil product demand likely increasingly would start to hurt. Unless of course if we get some serious supply disruptions. But Saudi Arabia now has several million barrels per day of reserve capacity as it today only produces 9.0 m b/d. Thus disruptions can be countered. Oil product demand, oil product cracks and oil product inventories is a good thing to watch going forward. An oil price of USD 85-95/b is probably much better than USD 110-120/b for a world where economic activity is likely set to slow rather than accelerate following large interest rate hikes over the past 12-18 months.
OPEC's implied call-on-OPEC crude oil. If OPEC's production stays at 27.8 m b/d throughout Q3-23 and Q4-23 then OPECs numbers further strong inventory draws to the end of the year.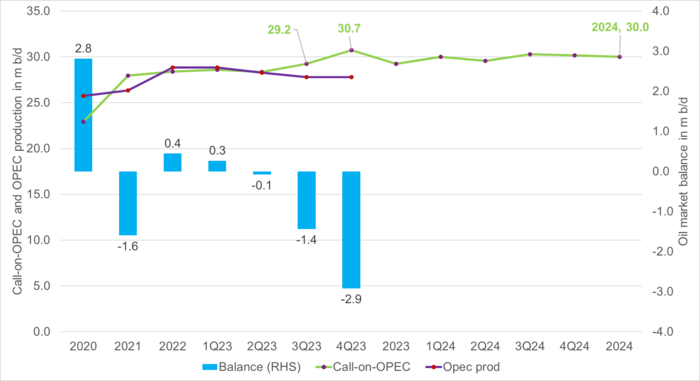 Net long speculative positions in Brent crude and WTI. Speculators have joined the price rally since end of June.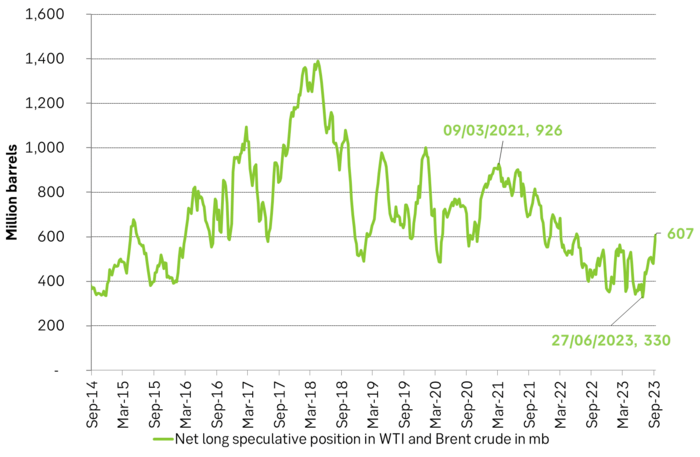 End of month crude and product stocks in m b in EU16, US and Japan. Solid draw in crude stocks but also solid rise in product stocks. In total very limited inventory draw. Refineries ran hard to convert crude to oil products but these then went straight into inventories alleviating low oil product inventories there.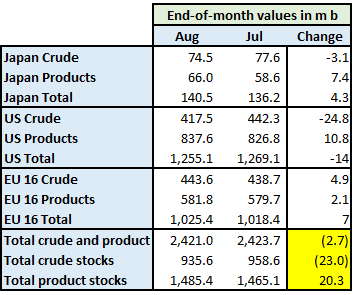 ARA oil product refinery margins have come off their highs for all products as the oil product situation has eased a bit. Especially so for gasoline with now fading summer driving. But also HFO 3.5% cracks have eased back a little bit. But to be clear, diesel cracks and mid-dist cracks are still exceptionally high. And even gasoline crack down to USD 17.6/b is still very high this time of year.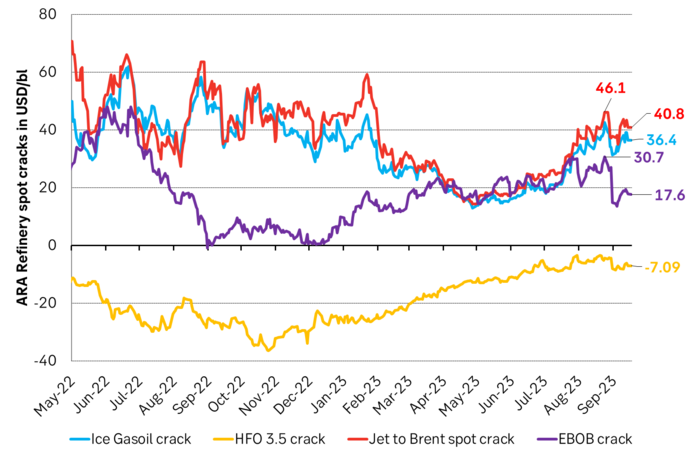 ARA diesel cracks in USD/b. Very, very high in 2022. Almost normal in Apr and May. Now very high vs. normal though a little softer than last year.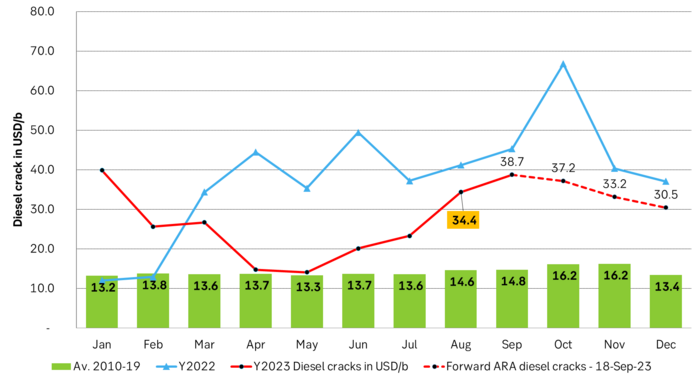 US crude and product stocks vs. 2015-2019 average. Still very low mid-dist inventories (diesel) and also low crude stocks but not all that low gasoline inventories.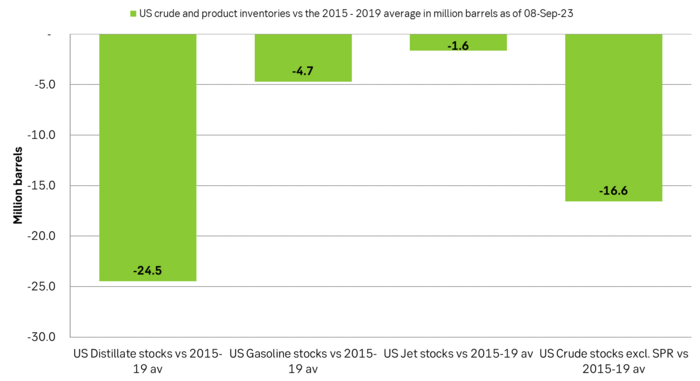 US crude and product stocks vs. 2015-2019 averages. Mid-dist stocks have stayed persistently low while gasoline stocks suddenly have jumped as gasoline demand seems to have started to hurt due to higher prices.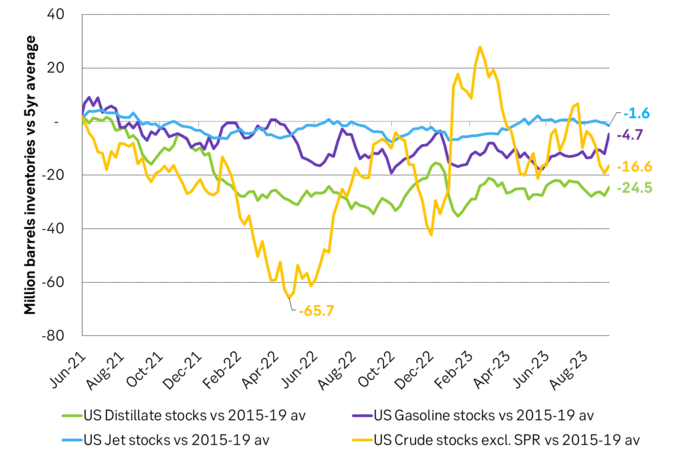 Total commercial US crude and product stocks in million barrels. Rising lately. If large, global deficit they should have been falling sharply. Might be a blip?