Gold – Daily Chart
Only the break of the 2013 resistance line at 1360 will confirm that another up leg is made.
Gold continues its recent ascent, albeit with less vigour than before.
For our short- and medium term outlook to once again become bullish we would like to see at least two daily closes above the 2013 resistance line at 1360 being made this week.
In this case the late September high at 1375.37 should soon also be overcome with the 200 day moving average at 1425 and the August peak at 1434.05 as well as the 2012-13 resistance line at 1466.35 being back on the map.
Immediate upside pressure will be maintained while the gold price remains above the 1329.85 October 19 low on a daily chart closing basis.
Only a, for now less likely, slip to below the next lower 1310 October 22 low would reinstate a short term bearish view.

Gold Daily Chart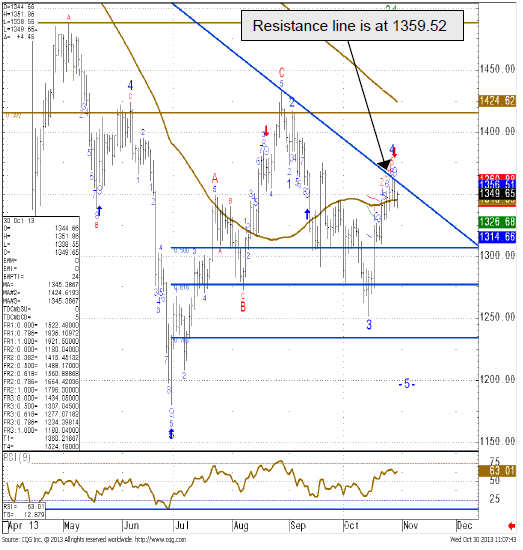 Gold – Weekly Chart
Tries to break through the 2013 resistance line at 1359.52.
Gold Weekly Chart