Extremely tight platinum and palladium markets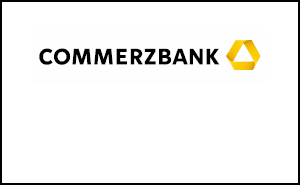 The South African platinum mining industry has been affected by strikes for more than ten weeks now. Because stocks are dwindling, the mining companies concerned are finding it increasingly difficult to fulfil their contractual delivery obligations. The situation as regards palladium is dominated by concerns about how Russia might react if the West were to impose further-reaching sanctions on the country. At the same time, demand on both markets is robust, driven by the automotive industry. The situation appears to be tightening noticeably, which in our opinion suggests that platinum and palladium prices will rise.
Platinum came under pressure from the weak gold price in March and declined noticeably as a result. For a time it dropped below the $1,400 per troy ounce mark to a six-week low. Palladium fared somewhat better and trended sideways while fluctuating significantly. For the first time since August 2011, it actually exceeded the $800 per troy ounce mark for a while, though it was unable to maintain this level (Chart 1). We believe that both precious metal prices are too low from a fundamental viewpoint given the risks to supply. In this Commodity Spotlight we will be assessing the supply situation in South Africa, the world's biggest platinum producer and the world's number two palladium producer, as well as taking a look at Russia, the biggest supplier of palladium.
According to figures from Johnson Matthey, South Africa produced 4.12 million ounces of platinum and 2.35 million ounces of palladium last year, thus accounting for 72% of global platinum mining production and 37% of global palladium mining production (Chart 2). Palladium is generally mined together with platinum. However, a strike has been underway in the South African platinum mining industry since 23 January. The radical AMCU (Association of Mineworkers and Construction Union) called its members out on strike to lend emphasis to its calls for wage hikes. The union, which was established in 1998 and formally registered in 2001, represents the majority of workers in the platinum mining industry and has meanwhile overtaken the more moderate union NUM (National Union of Mineworkers) in terms of membership. The world's three biggest platinum producers are affected: Anglo American Platinum, Impala Platinum and Lonmin, 87% of whose workers are union members. Accounting for 66% of these, the AMCU predominates (Chart 3). Over 70,000 workers went out on strike when called upon to do so. The strike is the biggest to hit the South African mining sector since the Apartheid regime ended in 1994. 350,000 workers took to the streets in 1987 to protest for better working conditions, though this strike was brought to an end after around three weeks and cost the mining companies around ZAR 250 million at the time, according to the NUM.

Union and companies still far apart
The AMCU is calling for producers to increase wages significantly, its core demand being that entry-level salaries be doubled to ZAR 12,500 per month. Originally, the AMCU urged the mining companies to meet its demands immediately, though it has meanwhile shown itself willing to "make some concessions". AMCU has "eased" its core demand in two stages, with the result that it now wishes to see wages doubled within four years. For their part, the companies have offered staggered wage increases over the course of three years – 9% in the first year, 8% in the second and 7.5% in the third. In February, the rate of inflation in South Africa was 5.9%. In other words, the two parties still maintain positions that are very far apart. To date, the state mediator engaged to help (CCMA – Commission for Conciliation, Mediation and Arbitration) has failed to bring the two parties any closer together. In fact, talks were actually suspended for a time because the mediator saw no possibility of agreement.
Politicians exercise restraint ahead of elections
So far, politicians have chosen not to intervene in the strike, clearly because of the upcoming elections in South Africa. Parliamentary elections will be held on 7 May, with presidential elections to follow in the second half of the year. The mine workers make up a major group of voters which neither the governing party ANC (African National Congress) nor the opposition parties wish to alienate. Polls indicate that the ANC is likely to win the elections, though it remains to be seen whether this will subsequently result in the necessary reforms being implemented which would also steer the mining industry into calmer waters. Recently, the South African finance minister played down the strike's negative impact on the local economy, claiming that the current strike is causing less damage than the industrial actions taken two years ago. In 2012, a series of strikes cost gold and platinum producers more than ZAR 16 billion.
High revenue losses for companies and lost earnings for workers
By their own account, the mining companies concerned are losing 9,900 ounces of platinum production every day – 4,000 ounces at Anglo American Platinum, 2,800 ounces at Impala Platinum and 3,100 ounces at Lonmin. Assuming that work generally continues in the mines seven days a week, the producers have thus lost nearly 700,000 ounces of production since the beginning of the strike. The companies claim that they have lost revenues totalling over ZAR 11 billion as a result. So far, workers who are not being paid while they are out on strike have lost earnings of around ZAR 5 billion.
Company stocks dwindling
Although production has been at a standstill since the beginning of the strike, the companies have been able at least partly to fulfil their delivery obligations by drawing on stocks. By their own account, the producers had piled up considerable stocks in the run-up to the strike, which industrial sources estimated would last two months. The situation is not the same in all the companies, however. Anglo American Platinum had for example announced at the end of March that it had used up half of its 430,000 ounces of stocks up to that point, saying that material would be bought on the market if stocks ran out. By contrast, Impala Platinum had already declared "force majeure" in early March and has no longer been able to guarantee deliveries since the beginning of April. Impala is likewise considering buying in material on the market in order to meet its contractual obligations. Lonmin had also downwardly revised its sales forecasts for this year at an early stage.
Negative long-term impact cannot be excluded
Even if the strike can be brought to an end, it will take weeks if not months before platinum production achieves its pre-strike levels again. After all, the damage in shafts and galleries resulting from the lack of use first has to be identified and, most importantly of all, safety has to be restored. In some cases the companies are already talking about irreparable damage and are considering shutting down individual shafts entirely. There are also likely to be some redundancies because the companies claim that they will otherwise no longer be able to operate at a profit. This could spark renewed protests and set in motion a vicious circle which would harm the entire country.
Concers about supply outages in Russia
As far as palladium is concerned, we need to take a look at Russia. According to data from Johnson Matthey, Russia accounted for 42% of worldwide palladium supply in 2013 (primary production and reserve sales together totalling 2.7 million ounces) and for 14% of global platinum production (780,000 ounces), making the country the largest producer of palladium and the second-largest producer of platinum. The situation here is dominated by concerns about the extent to which possible sanctions imposed by the West on Russia could hit this sector and how Russia might react to further-reaching sanctions against its economy. That said, there are no signs so far that deliveries from Russia are at risk. According to the UK's Financial Times, however, Norilsk Nickel, the world's largest palladium producer, is currently negotiating longterm palladium and platinum supply contracts with Chinese and Japanese buyers. Although this might not mean anything, it could perhaps be viewed as a not particularly subtle hint to the West.
Robust demand from the automotive industry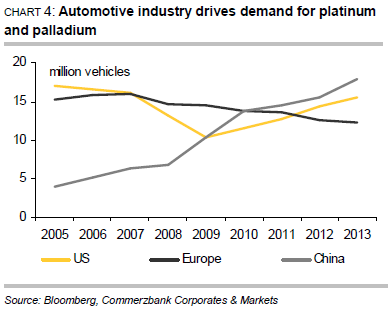 Driven by the automotive industry, demand for both platinum and palladium is robust. March saw the seasonally adjusted annualized vehicle sales rate in the US rise to 16.33 million units, the highest figure since May 2007. At 3.16 million units, car sales in China in January and February combined were a good 11% up on the same period last year. It would therefore seem that the 2014 target of an increase in sales of up to 10%, set by the China Association of Automobile Manufacturers, is achievable. The European auto industry may also have bottomed out, for car sales in February increased year-on-year for the sixth consecutive month (Chart 4).
New palladium ETF on the market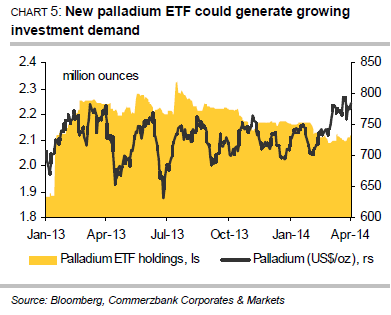 When it comes to investment demand, market participants evidently switched their allegiance from palladium to platinum in the first quarter. While the palladium ETFs tracked by Bloomberg recorded outflows of 51,900 ounces, the platinum ETFs saw inflows of 53,600 ounces. That said, the trend could soon be reversed in the case of palladium (Chart 5), for South African investment bank Absa Capital launched its long-awaited palladium ETF at the end of March. The ETF is listed on the Johannesburg Stock Exchange and solely sourced with palladium from South Africa. If the palladium ETF follows the same course as Absa Capital's platinum ETF, which was launched at the end of April 2013, a great deal of supply could be stripped from the market. Within just four months of its launch, the platinum ETF became the world's biggest platinum ETF and at the end of March had a market share of 37% with over 952,000 ounces. Holdings in all platinum ETFs combined are equivalent to more than five months of global mining production, while holdings in palladium ETFs equate to nearly four months of global production.
Higher prices expected during the course of the year
In our opinion, risks to supply in conjunction with robust demand point to higher platinum and palladium prices. According to data from Johnson Matthey, the supply-demand situation was already tight on both markets last year, the global platinum market showing a supply deficit of 605,000 ounces in 2013 and demand outstripping supply on the global palladium market by 740,000 ounces. Assuming the supply problems are not resolved in the near future and demand remains robust, the situation on both markets will doubtless tighten further. By year's end we continue to envisage a platinum price of $1,600 per troy ounce, while palladium is likely to be trading at $825 per troy ounce.
How renewable fuels are accelerating the decarbonisation of transport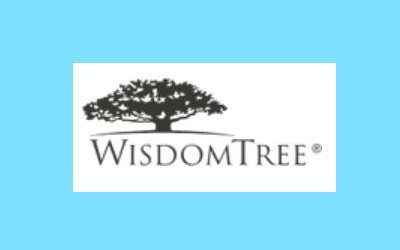 On 16 November 2022, UK's Royal Air Force (RAF) Voyager aircraft, the military variant of the Airbus A330, took to the skies for 90 minutes over Oxfordshire. What looked like a routine test flight in its outward appearance was ultimately deemed ground-breaking. Why? It was a world-first military transporter aircraft flight, and the first of any aircraft type in the UK to be completed using 100% sustainable jet fuel.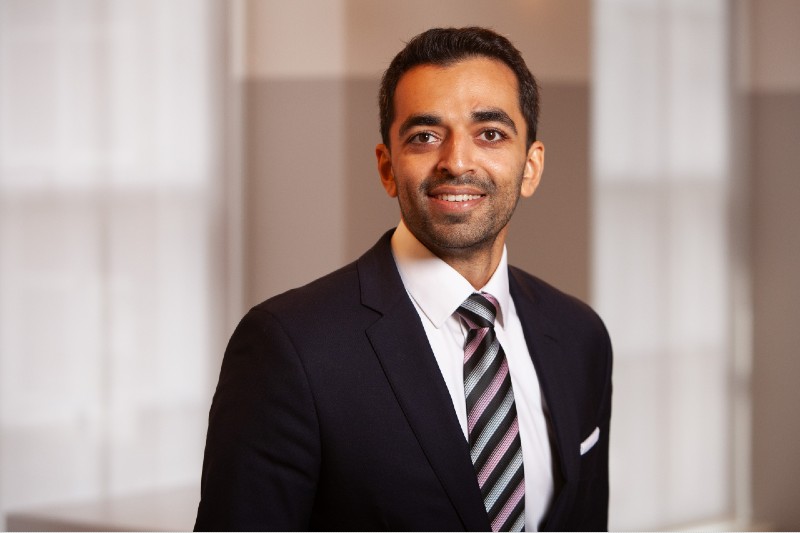 What are renewable fuels?
Renewable hydrocarbon biofuels (also called green or drop-in biofuels) are fuels produced from biomass sources through a variety of biological, thermal, and chemical processes. These products are chemically identical to petroleum gasoline, diesel, or jet fuel.
In other words, renewable fuels are sources of energy chemically identical to fossil fuels but produced from domestic, commercial, or agricultural waste (see Figure 1 below).
Figure 1: Converting waste into energy
Why the excitement?
Renewable fuels, like renewable diesel and sustainable jet fuel, can reduce greenhouse gas emissions by around 80-90% compared to fossil fuels. And because they burn much cleaner, engine filters remain cleaner for longer reducing the need for maintenance. Furthermore, given used cooking oil, vegetable oil, processing waste, and animal fat waste are used as inputs, the production of these fuels reduces biowaste, thereby cutting emissions from landfills.
This makes renewable fuels a key component of the circular economy. Humans have largely operated on the linear model historically when it comes to utilising natural resources. The circular model, in contrast, is much less wasteful and seeks to recycle as much as possible (see Figure 2 below).
Figure 2: The Circular Economy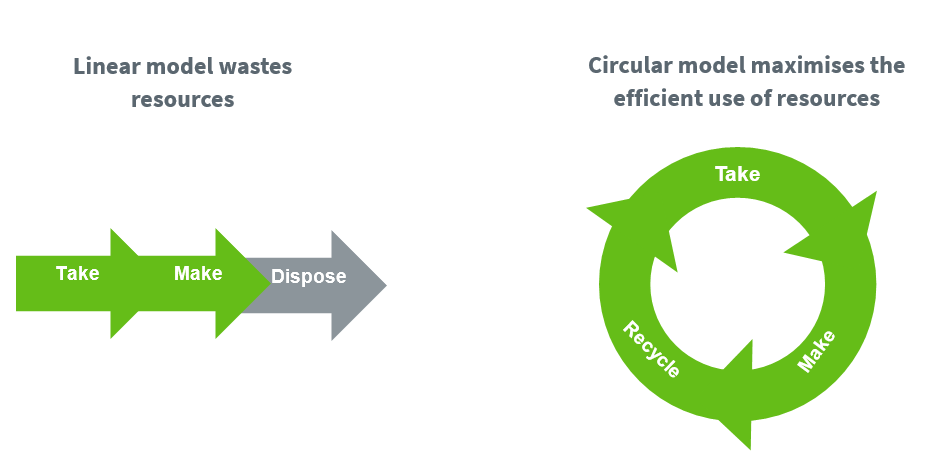 The most exciting thing about renewable fuels is the immediacy with which they can make an impact. The reason why they are referred to as drop-in fuels is that they can replace fossil fuels in internal combustion engines with little or no modification required. So, if supply was abundant enough, forms of transport which cannot be electrified easily like heavy duty trucks, ships, and aeroplanes can be switched across to renewable fuels making a significant improvement to the environmental footprint. According to BP, "A return flight between London and San Francisco has a carbon footprint per economy ticket of nearly 1 tonne of CO2 equivalent. With the aviation industry expected to double to over 8 billion passengers by 2050, it is essential that we act to reduce aviation's carbon emissions."
The challenge
Renewable fuels or biofuels are still in their infancy. This means the obvious hurdle to overcome is cost competitiveness with fossil fuels. Cost estimates vary, but figures from the International Air Transport Association (IATA) provide a useful sense for the ballpark. In May 2022, IATA stated that the average worldwide price of jet fuel is about $4.15 per gallon compared to the US average price of a gallon of sustainable aviation fuel, which is about $8.67.
So, roughly double the price of the incumbent polluting technology. This is not a bad starting point at all. Considering how rapidly the cost of energy storage in batteries has fallen in the last decade, renewable fuels could become competitive quite soon if sufficient investment is made and economies of scale are achieved. IATA also predicts that renewable fuels could make up 2% of all aviation fuels by 2025, which could become a tipping point in their competitiveness.
Businesses are acting
Businesses pursuing their own net zero targets have already started exploring renewable fuels to minimise their waste. Darling Ingredients Inc, which produces its trademark Diamond Green Diesel from recycled animal fats, inedible corn oil, and used cooking oil, was chosen by fast food chain Chick-fil-A in March 2022 to turn its used cooking oil into clean transportation fuel.
Similarly, McDonald's entered into a partnership with Neste Corporation in 2020 to convert its used vegetable oil into renewable diesel and fuel the trucks that make deliveries to its restaurants. According to TortoiseEcofin, both Darling Ingredients and Neste have a net negative carbon footprint given emissions produced by these businesses are lower that the emissions avoided because of their renewable fuels.
A final word
Renewable fuels alone will not tackle climate change. No single solution can. But they can help us make meaningful progress. The Intergovernmental Panel on Climate Change (IPCC) emphasises how crucial it is for the world to halve its greenhouse gas emissions this decade to at least have a chance of limiting global warming to 1.5oC. This means that solutions with an immediate effect have an important role to play. Biofuels can cut emissions from waste in landfills and provide much cleaner alternatives to fossil fuels to help accelerate the world's decarbonisation efforts. They don't require different engines to be of use. They just need funding to reach scale.
Mobeen Tahir, Director, Macroeconomic Research & Tactical Solutions, WisdomTree
SEB Metals Weekly: China Covid exit is bullish for metals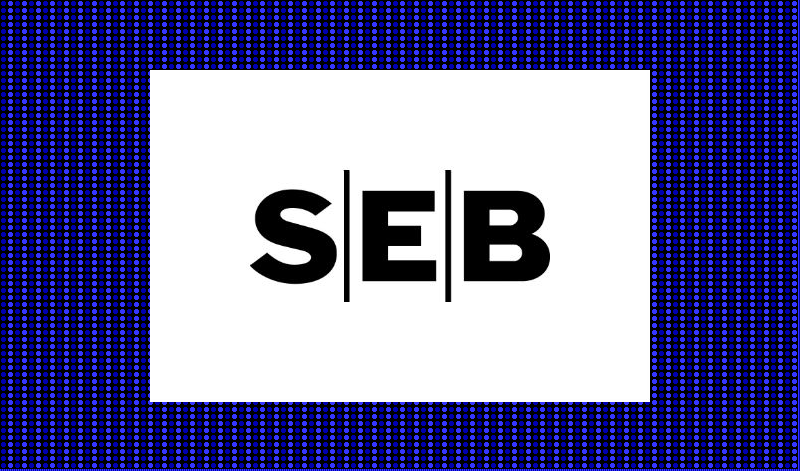 China Covid exit is bullish for metals

Softer inflation, slight macro-optimism, and China taking a rapid exit from Covid restrictions. Markets have become more optimistic. Inflation indices have eased and that has created some hopes that central banks won't lift interest to a level that will kill the economy in 2023. Natural gas prices in Europe have fallen sharply. This has suddenly reduced energy-inflationary pressure and removed the direst downside economic risks for the region. But general market optimism is far from super-strong yet. The S&P 500 index has only gained 1.9% since our previous forecast on 1 Nov 2021, and oil prices are down nearly 10% in a reflection of concerns for global growth. China has however removed all Covid-restrictions almost overnight. It is now set to move out of its three years of Covid-19 isolation and lockdowns at record speed. Industrial metals are up 20% and the Hong Kong equity index is up 40% as a result (since 1 Nov-22). China's sudden and rapid Covid-19 exit is plain and simply bullish for the Chinese economy to the point that mobility indices are already rebounding quickly. SEB's general view is that inflation impulses will fade quickly. No need then for central banks across the world to kill the global economy with further extreme rate hikes. These developments have removed much of the downside price risks for metals in 2023 and we have to a large degree shifted our 2024 forecast to 2023.
Lower transparency, more geopolitics, more borders, and higher prices and exponential spikes. The first decade of this century was about emerging markets, the BRICs, the commodity price boom, the commodity investment boom, and free markets with free flow of commodities and labor with China and Russia hand in hand with western countries walking towards the future. High capex spending in the first decade led to plentiful supply and low prices for commodities from 2011 to 2020. A world of plenty, friends everywhere, free flow of everything, and no need to worry. The coming decade will likely be very different. Supply growth will struggle due to mediocre capex spending over the past 10 years. Prices will on average be significantly higher. There will be frequent exponential price spikes whenever demand hits supply barriers. Price transparency will be significantly reduced due to borders, taxes, sanctions, geopolitical alignments, and carbon intensities. Prices will be much less homogenous. Aluminium will no longer be just one price and one quality. Who made it, where was it made, where will it be consumed and what the carbon content will create a range of prices. Same for most other metals.
Copper: Struggling supply and China revival propel copper prices higher. Unrest in Peru is creating significant supply risks for copper as the country accounts for 10% of the global supply. Chile accounts for 27% of global production. Production there is disappointing with Codelco, the Chilean state-owned copper mining company, struggling to hit production targets. The Cobre Panama mine in Panama is at risk of being closed over a tax dispute between Quantum and the government. Cobre Panama is one of the biggest new mines globally over the past 10 years. The rapid exit from Covid restrictions in China is bullish for the Chinese economy and thus for copper demand and it has helped to propel prices higher along with the mentioned supply issues. The Chinese property market will continue to struggle, and it normally accounts for 20% of global copper demand while China accounted for 55% of global copper demand in 2021. While China is no longer prioritizing the housing market it is full speed ahead for solar, wind, EVs, and electrification in general. So, weakening Chinese copper demand from housing will likely be replaced by the new prioritized growth sectors. Global supply growth is likely going to be muted in the decade to come while demand growth will be somewhere between a normal 3% pa. to a strong 4% pa. to a very strong 5% pa. Copper prices will be high, and demand will hit the supply barrier repeatedly with exponential spikes as the world is working hard to accelerate the energy transition. Copper prices could easily spike to USD 15-16,000/ton nearest years.
Nickel: Tight high-quality nickel market but a surplus for a low-quality nickel. Nickel production is growing aggressively in Indonesia. The country is projected to account for 60-70% of global supply in 2030. This will become a huge and extremely concentrated geopolitical risk for the world's consumers of nickel. Indonesia has an abundance of low-grade C2 nickel. The challenge is to convert low-quality C2 nickel to high-quality C1. We are set for a surplus of C2 nickel but the market for C1 nickel will depend strongly on the conversion capacity for C2 to C1. Low price transparency will also help to send prices flying between USD 20,000/ton and USD 30,000/ton. Strong growth in nickel production in Indonesia should initially call for prices down to USD 20,000/ton. But Indonesia is a price setter. It will account for 50% of global supply in 2023. It doesn't make sense for Indonesia to kill the nickel price. If the nickel price drops, then Indonesia could quickly regulate supply. There should be a premium to nickel due to this. As a result, we expect the nickel price to average USD 24,000/ton in 2023. C2 to C1 conversion capacity may be strained and there should also be a monopoly premium due to the size of Indonesia. Converting C2 to C1 is however extremely carbon intensive and that could be an increasing issue in the years to come.
Zinc: Super-tight global market. European LME inventories are ZERO and zinc smelters there are still closed. European zinc smelters account for 16% of global zinc smelter capacity. Most of this was closed over the past year due to extremely high energy prices. European LME zinc stockpiles are now down to a stunning zero! The global zinc market is extremely tight. Reopening of European zinc smelting seems unlikely in H1-23 with a continued super-tight market as a result both in Europe and globally.
Aluminium: Price likely to be in the range of USD 2400 – 3200/ton and line with coal prices in China. Aluminium prices have historically been tightly tied to the price of coal. But coal prices have been all over the place since the start of 2021 with huge price differences between Amsterdam, Australia, and domestic Chinese coal prices which are now largely state-controlled. China banning imports of Australian coal, the Chinese energy crisis in 2021, and Russia's invasion of Ukraine in 2022 are ingredients here. This sent aluminium prices flying high and low. Coal prices in China today imply a price of aluminium between USD 2400/ton and 3150/ton with the LME 3mth aluminium price nicely in between at USD 2590/ton. The global coal market should now become more orderly as China now again is accepting Australian coal. Energy costs have fallen sharply in Europe and some producers in the Netherlands have talked about possible restarts of production. China is likely to reduce its exports of primary aluminium. Energy security of supply is high on the agenda in China, and it makes no sense to emit lots of CO2 in China and indirectly export energy in the form of primary aluminium. Growth in non-China aluminium demand in the years to come will have to be covered by non-China producers which have the potential to force prices higher and away from coal as the price driver. While LME has one price for the 3mth aluminium price we'll likely get larger and larger price differences across the world in the form of possibly extreme price premiums for example in the EU and the US.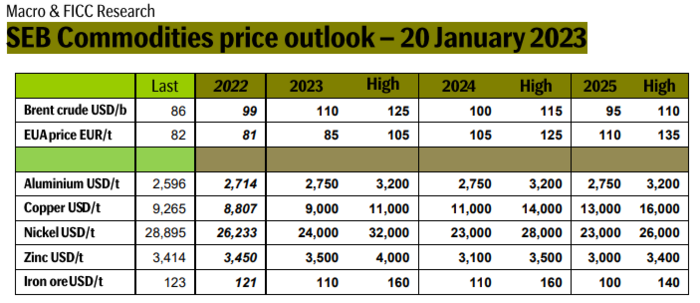 Solid demand growth and strained supply to push Brent above USD 100/b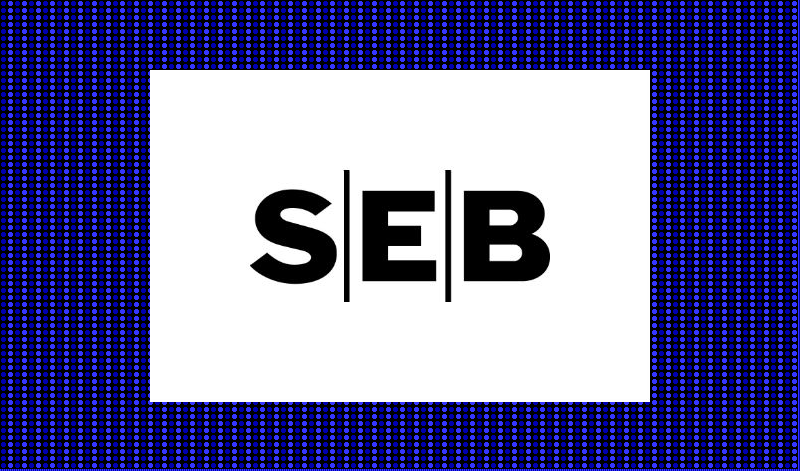 Brent crude had a strong end of the year as it traded at the highest level since 1 December. It is a slow start to the new year due to bank holidays and Dated Brent trades close to USD 85/b. It averaged USD 99.9/b in 2022. We expect it to average more than USD 100/b on average for the coming year amid strained supply and rebounding demand. Chinese oil demand is set to recover strongly along with re-openings while non-OECD will continue to move higher. At the moment oil looks absurdly cheap as it is cheaper than natural gas in both EU and Japan and also cheaper than coal in Australia.
Some price strength at the end of the year. The Dated Brent crude oil price index gained 2.3% on Friday with a close at USD 84.97/b. It was the highest close since 1 December. This morning it is trading slightly lower at USD 84.8/b but the market is basically void of action due to bank holidays.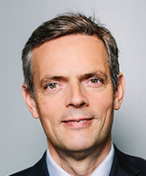 Gloom and doom but IEA, OPEC and US EIA project global crude oil demand to rise between 1 m b/d and 2.2 m b/d YoY in 2023. They also expect call-on-OPEC to rise between 0.3 m b/d and 1.0 m b/d. The US EIA projects demand to increase 1 m b/d in 2023 on the back of a growth of 1.3 m b/d in non-OECD where demand in India rises by 0.2 m b/d and China by 0.6 m b/d. In China this is of course to a large degree due to re-opening after Covid-19 lock-downs. But it is still a good reminder of the low base of oil demand in non-OECD versus OECD. India last year consumed 5 m b/d which only amounts to 1.3 b/capita/year versus a world average of 4.5 b/capita/year and European demand of 10 b/capita/year. Even China is still below the world average as its demand in 2022 stood at 15.2 m b/d or 4.0 b/capita/yr. Non-OECD oil demand thus still has a long way to go in terms of oil demand and that is probably one of the things we'll be reminded of in 2023 as Covid-19 lock-downs disappear entirely.
Solid demand growth in the face of strained supply. Important to remember is that the world has lost a huge amount of fossil supply from Russia due to the war in Ukraine. First in terms of natural gas where supply to the EU and thus to the world has declined by some 2.5 m boe/d versus pre-war levels. Secondly in terms of crude and products. The latter is of course a constant guessing game in terms of how much Russian crude and product exports has declined. The US EIA however projects that crude oil production in the Former Soviet Union will be down 2 m b/d in 2023 versus pre-Covid levels and down 1.3 m b/d YoY from 2022 to 2023. We are thus talking up to 4.5 m boe/d of lost supply from Russia/FSU. That is a huge loss. It is the reason why coal prices are still trading at USD 200 – 400/ton versus normal USD 85/ton as coal is an alternative to very expensive natural gas.
Overall for 2023 we are looking at a market where we'll have huge losses in supply of fossil energy supply from Russia while demand for oil is set to rebound solidly (+1.0 – 2.2 m b/d) along with steady demand growth in non-OECD plus a jump in demand from China due to Covid-19 reopening. Need for oil from OPEC is set to rise by up to 1.0 m b/d YoY while the group's spare capacity is close to exhausted.
We expect Brent crude to average more than USD 100/b in 2023. Despite all the macro economic gloom and doom due to inflation and rising interest rates we cannot help having a positive view for crude oil prices for the year to come due to the above reasons. The Dated Brent crude oil price index averaged USD 99.9/b in 2022. We think Brent crude will average more than USD 100/b in 2023. Oil is today absurdly cheap at USD 85/b. It is cheaper than both coal in Australia and natural gas both in Japan and the EU. This is something you hardly ever see. The energy market will work hard to consume more what is cheap (oil) and less of what is expensive (nat gas and coal).
Latest forecasts by IEA, OPEC and US EIA for oil demand growth and call-on-OPEC YoY for 2023. Solid demand growth and rising need for oil from OPEC.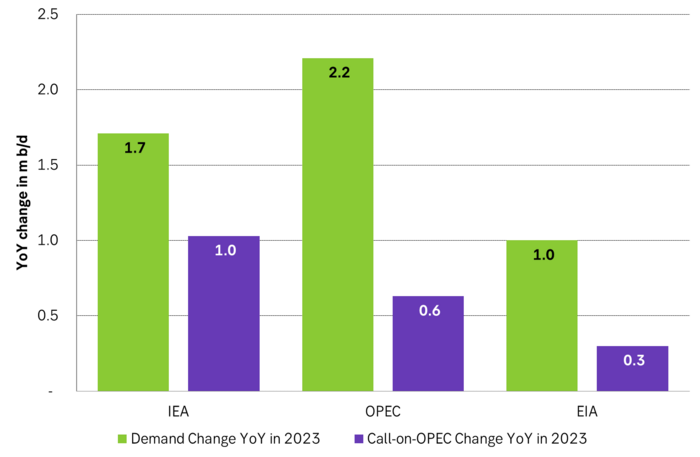 Oil demand projections from the main agencies and estimated call-on-OPEC. More demand and higher need for oil from OPEC

EIA STEO projected change in oil demand for different countries and regions YoY to 2023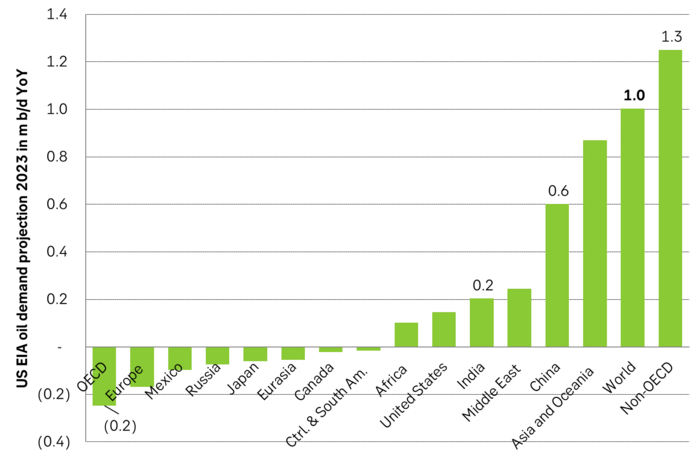 US EIA Dec STEO forecast for FSU oil production. Solid decline projected for 2023.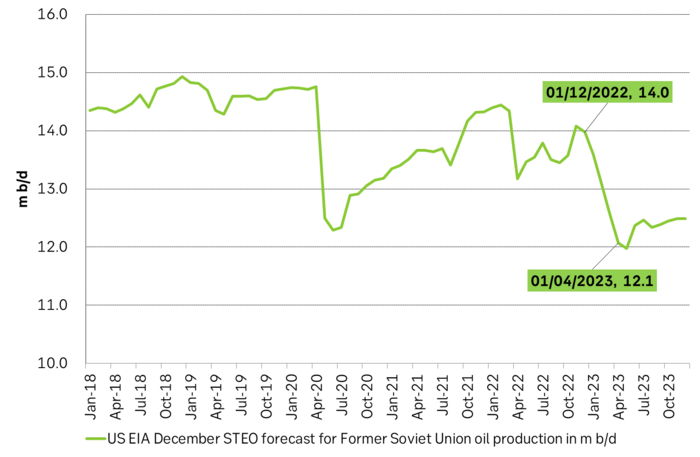 US commercial crude and product stocks still below normal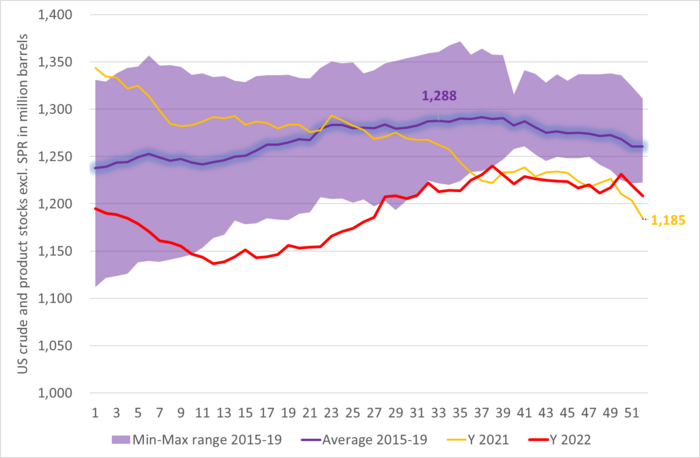 Total US crude and product stocks including SPR. Declining, declining, declining.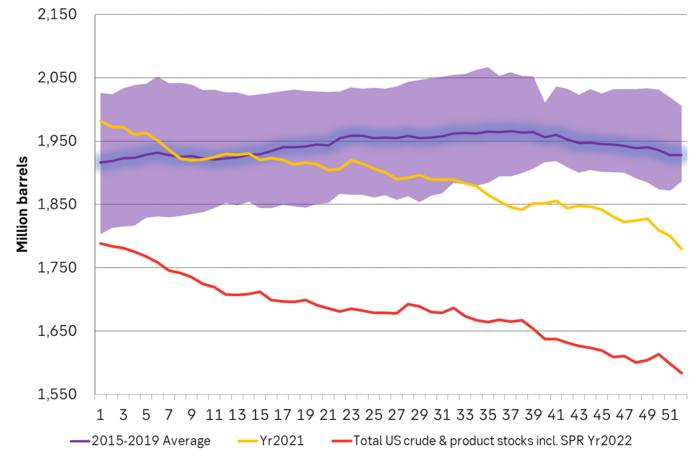 US crude and product inventories both excluding and including Strategic Petroleum Reserves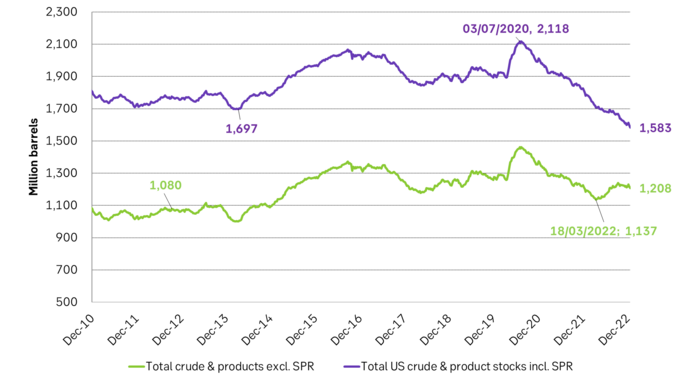 US oil sales from US SPR is now coming to an end. Will make the market feel much tighter as it really is.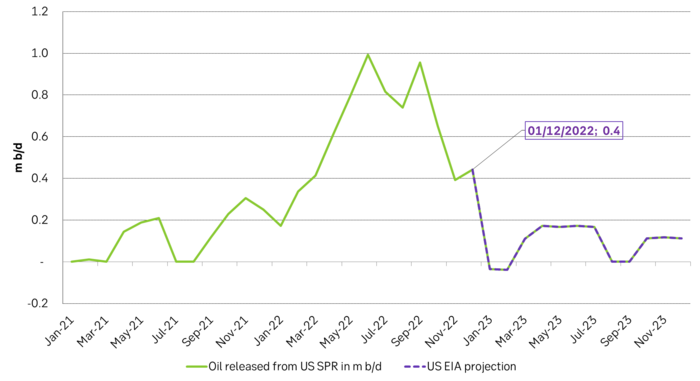 Brent crude oil is absurdly cheap as it today trades below both Australian coal and natural gas in both Japan and the EU. Coal and natural gas prices should trade lower while oil should trade higher.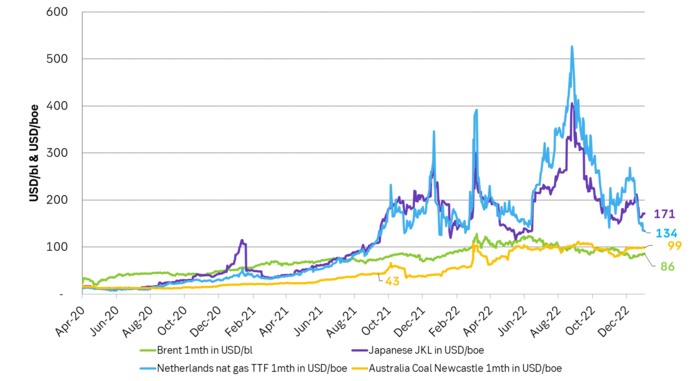 EU diesel prices versus natural gas prices. Could start to move towards a more natural price-balance in terms of substitution.