Branding natural resources a primary asset
I WISH I WERE A CENTRAL BANK
▬ printing money & buying gold and mining shares ▬
BRANDING NATURAL RESOURCES A PRIMARY ASSET
Since long, I have pleaded the case for mining and exploration shares in my reports, convinced as I am that they are a welcome addition to every investment portfolio. This belief and conviction are based on my long term vision that dates back originally from 1983 when I decided to specialize in gold and resource shares and later, again from 2002 when I recognized the new upward cycle of the metals and mining industries. It made me come back to the industry after the long period that metal prices went through many years of depression. I restarted writing on gold, other metals and mining and exploration companies again as I had done for many years before and modesty permits me to say that my timing could not have been better.
However, despite the impressive rise of the gold price, taking along the prices of the other metals, and maintaining the very comfortable level of $1650-1700, the overall prices of mining shares have not been keeping pace with the gold price. To many, an annoying, disappointing and frustrating observation and experience. In my recent issues, I have stated several times that the shares of mining and exploration companies deserve a higher appreciation from the international investment audience. For those investors that shy away from the risks involved in exploration, the shares of the producers are one of the safest ways to add a good gold content to investment portfolios.
Although to a lesser extent, that counts also for companies that are producing silver. It may not be a real precious metal anymore but it certainly is a special enough metal to keep following. I have always liked silver as a cheaper alternative for gold. Some people call it therefore "a poor man's gold" but as I consider silver to be a very mature kind of commodity with its own specific qualities, uses and values, I rather speak of it as "a rich man's silver". So let's talk about the producers of gold and silver in one breath.
With the price levels that we have enjoyed over the last few years, the big producers nearly all have experienced a solid growth in their production numbers. And not only that. By expanding their original mines, bringing others on stream and acquisitions of smaller producers, they have enjoyed increasing cash flows and profits which enabled them to further grow and become stronger. Not surprisingly, their driving force was primarily fuelled by their vision that the rising prices would sustain, a view that was quite in contrast with the view of banks, both central, commercial and private. It still is! The 'regular' investment world still does not consider gold and other metals and the related resource companies as a viable enough investment for their portfolios. The chart of the gold price as it developed since 2001 shows that they have been missing some boats…….
Yet, it is not so difficult to understand this reluctant attitude. Gold has never been seen as a serious investment by banks, brokers, investment advisors, financial planners and tax consultants. Even in the last 10 years when the strong metals markets have drawn a lot of attention from the media, they hardly ever have stimulated their clients, the institutional and private investors, to put money in resource oriented vehicles. When you ask those non-believers what their reasons are for not advocating these choices, you usually don't hear much more than "they don't bring any yield", "it is too risky" and "those companies are too small". I just fail to understand these excuses.
And, when given the opportunity, I kindly counter by saying that I remember many periods from the past, when new kinds of industries like computer technology, bio technology, healthcare and high tech were so warmly embraced by international investment communities. Was there any yield then, weren't there huge risks and were those companies so big? Not really, and sure enough, in the end they have brought investors billions of losses.
Honesty requires me to add that there is one more factor that didn't and still doesn't help to distribute enthusiasm for resource investments: where most gold and silver producers have really done well business-wise, the performance of their shares in the markets has been very disappointing in general. This definitely provides another and viable excuse to the non-believers for not being in the resource markets. Yet, I see many reasons why many of those non-resource investors should build an interest to add resources stocks to their holdings. Especially in these times, where political, monetary, economical, industrial uncertainties prevail and will continue to do so. I see a great underlying value that seems to be hardly recognized outside and even within the industry.
Back to talking about the producers……… I am not really advocating the shares of the big producers. Major companies like the top-10 producers, Barrick Gold, Newmont Mining, AngloGold Ashanti, Gold Fields, Newcrest, Kinross, Goldcorp, Yamana Gold, Agnico-Eagle Mines, Polyus Gold, have become very complex and are excellently suited for large institutional portfolios. Safe, stable and sound. But at their levels of operations, it has become harder to achieve very spectacular results, unless the gold and silver prices will indeed dramatically increase as several commentators predict for the next few years.
There is more juice in the section of emerging producers. I will give you some names that you probably are not so familiar with, companies that have succeeded in achieving substantial production levels and are looking forward to considerable growth over the next few years: Alacer Gold, Alamos Gold, AuRico Gold, Aurizon Mines, DRD Gold, Eldorado Gold, Endeavour Silver, First Majestic Silver, Focus Minerals, Great Panther Silver, IAMGOLD, Nevsun Resources, Nordgold, Pan American Silver, Randgold Resources, Resolute Mining, SEMAFO, Silver Standard, Silver Wheaton, Silvercorp, SilverCrest Mines, Timmins Gold are all companies that are likely to add a very promising gold and silver component to every investment portfolio.
One category behind those and developing nicely to become part of the previous category, are companies that have commenced production and are on their way to become established and sizeable producers in the next few years: Allied Nevada Gold, Argonaut Gold, Aurcana, Aureus Mining, Brigus Gold, Centamin, CGA Mining, Elgin Mining, Gold Resource Corp, Golden Minerals, Mandalay Resources, McEwen Mining, New Gold, Perseus Mining, Richmont Mines, U.S. Silver & Gold.
All these producers have one big and nice thing in common: they enjoy comfortable cash flows and sizeable profit margins. Even if gold will retreat to the $1400 level that is mentioned frequently by the more pessimistic market watchers. Which I don't think will happen. I have to add here that most of these 'downers' are not disagreeing with the outlooks that are painted by the real confident believers in gold and silver.
Over the last few weeks we have been able to read several projections of the gold price, talking about levels that are considerably higher than the level we see today.
Noteworthy was renowned market guru Jim Sinclair's Tweet of August 22 in which he said "prices of $3500-$4000 and $4500 are now in the market's focus". My down-toearth observation was that Jim's figure was only "more than a 100%-plus rise" to which I added in my Tweet that "I opt for half of that….".
For me, it is a clear case. Gold is due to go higher, considerably higher and I don't really care a lot whether it will be to $3,000, $4,000, $5000 or higher. I would be in favour of a not too dramatic rise because I would like the politicians, the bankers and the industrialists to be able to find the controls to all the kinds of crises that we have nowadays. If gold would see reasons to go to the $5,000-$10,000 range, I am not so sure I would like the circumstances that we would face in our daily lives then.
On the way up, we have crossed many roads but I am sure we have passed this sign:
It should not surprise you that against the background of the above scenario, I reiterate and will continue to plead the case for resource stocks, not only the shares of the companies that are in the category of gold and silver producers but certainly also of the companies that are developing towards the development and production stage now.
There are quite many companies that have not taken a production decision yet but they are definitely proceeding to that vital point of maturity. In next month's issue, I will include a review of interesting companies that are within a reasonable time of reaching an actual start of production or taking their long-awaited production decision. The current group of Supporting Companies already includes some serious candidates!
Next week, I will be off to Denver Colorado where I will visit the Precious Metals Summit "where the smart money goes prospecting" and "featuring explorers and developers with high-growth potential" and the Denver Gold Forum that has become a most significant platform for the global precious metals industry to present themselves to qualified investors from around the world. I will attend many company presentations and have series of meetings with the companies' management. I am pretty sure that they will enable me to make some more interesting and promising discoveries. It will be a pleasure to tell you more about them in my future issues. Sometimes I do wish that I were a Central Bank, the idea of being able to print enough money to buy as much gold, silver, platinum, palladium and mining and exploration shares as I want, is very appealing……!
Henk J. Krasenberg
[hr]
European Gold Centre
European Gold Centre analyzes and comments on gold, other metals & minerals and international mining and exploration companies in perspective to the rapidly changing world of economics, finance and investments. Through its publications, The Centre informs international investors, both institutional and private, primarily in Europe but also worldwide, who have an interest in natural resources and investing in resource companies.
The Centre also provides assistance to international mining and exploration companies in building and expanding their European investor following and shareholdership.
Henk J. Krasenberg
After my professional career in security analysis, investment advisory, porfolio management and investment banking, I made the decision to concentrate on and specialize in the world of metals, minerals and mining finance. From 1983 to 1992, I have been writing and consulting about gold, other metals and minerals and resource companies.
The depressed metal markets of the early 1990's led me to a temporary shift. I pursued one of my other hobbies and started an art gallery in contemporary abstracts, awaiting a new cycle in metals and mining. That started to come in the early 2000's and I returned to metals and mining in 2002 with the European Gold Centre.
With my GOLDVIEW reports, I have built an extensive institutional investor following in Europe and more of a private investor following in the rest of the world. In 2007, I introduced my MINING IN AFRICA publication, to be followed by MINING IN EUROPE in 2010 and MINING IN MEXICO in 2012.
For more information: www.europeangoldcentre.com
De globala sockerpriserna kan stiga när den indiska produktionen sjunker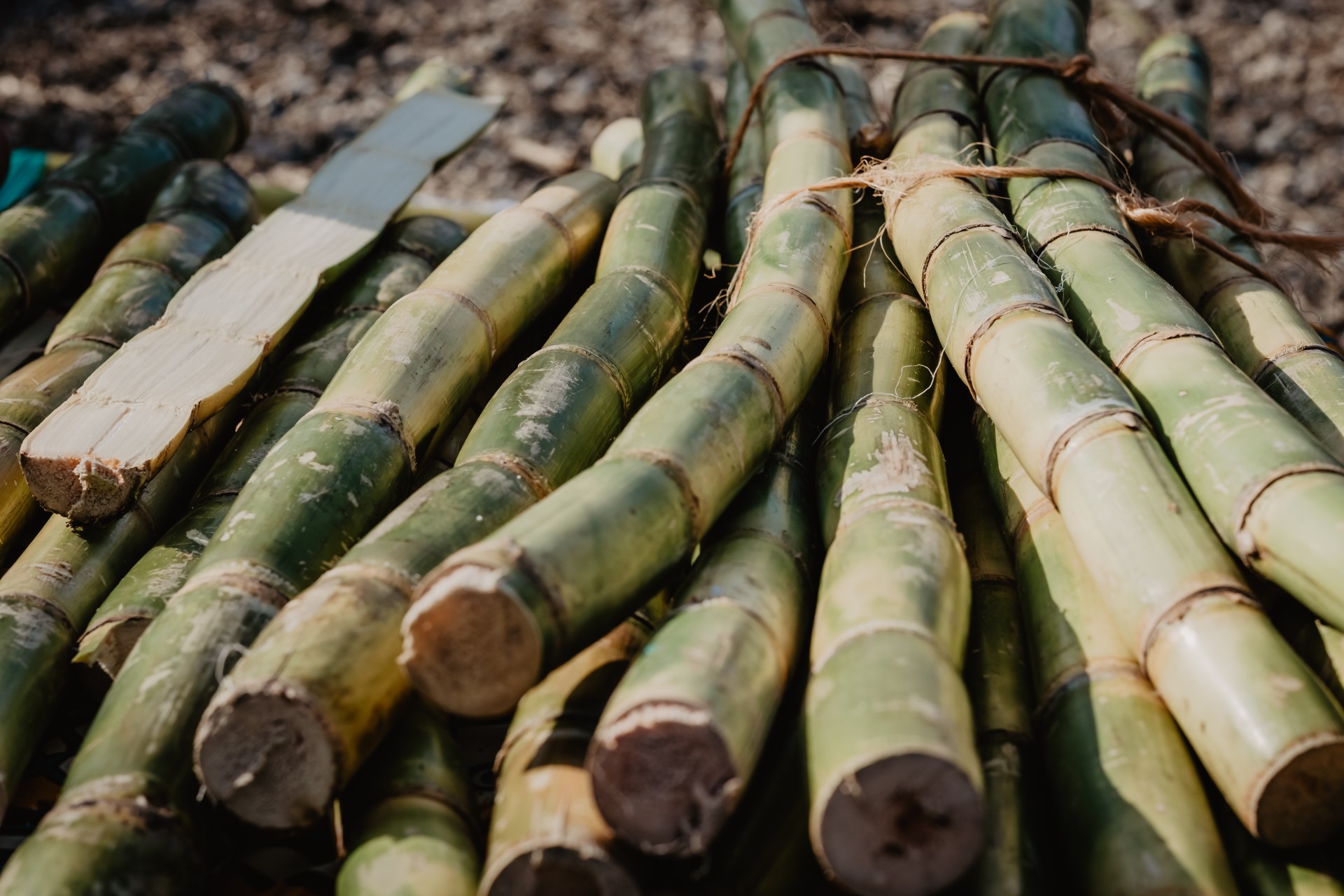 Sockerpriserna över hela världen kan skjuta i höjden ytterligare på grund av en nedgång i produktionen i Indien, världens största sockerproducent – och exportrestriktioner som införts av den indiska regeringen.
De globala sockerpriserna har redan stigit till nära sin högsta nivå på mer än ett decennium. Ett pound råsocker handlas för närvarande till nästan 26 amerikanska cent. Det är en kraftig uppgång från de cirka 17 amerikanska cent per pound som denna råvara handlades till i maj 2013.
Den indiska regeringen har begränsat exporten för den pågående sockerproduktionscykeln, som sträcker sig från oktober till september varje år, till 6,1 miljoner ton. Om något nytt tillstånd för export beviljas kommer det att ske i december 2023 efter att ha räknat in primärproduktionsuppskattningar för den nya säsongen från oktober 2023 till september 2024.
Kommer när produktionen minskar i Kina och Thailand 
Enligt All India Sugar Trade Associations har 5,7 miljoner ton av den tillåtna kvoten redan exporterats, och resten förväntas vara utsänd senast den 25 maj. Den förväntade exportbegränsningen när taket har nåtts innebär att ytterligare indiska försändelser kommer att skickas ut först 2024. Denna frånvaro av en nyckelleverantör på den globala marknaden kommer då vid en tidpunkt då produktionen också har minskat i länder som Kina och Thailand.
Indien exporterade rekordhöga 11,2 miljoner ton socker under säsongen 2021-2022, med sändningar som skickades till länder som Indonesien, Malaysia, Bangladesh, Sudan, Somalia och Förenade Arabemiraten. Indien förväntades producera omkring 38,5 miljoner ton 2022-2023, men denna uppskattning sänktes till 36,8 miljoner ton av Indian Sugar Mills Association (ISMA) den 26 april 2023.
Dessa siffror inkluderar socker som används för etanolproduktion, vilket indikerar att den faktiska produktionsuppskattningen av sötningsmedlet bara är 32,8 miljoner ton. Detta skall ställas mot en årlig inhemsk konsumtion på cirka 27,5 miljoner ton. Minskningen av produktionen är till stor del ett resultat av väderrelaterade störningar i Maharashtra, en viktig stat som odlar sockerrör. Preliminära siffror visar att produktionen där har minskat med omkring 15 procent i den nuvarande produktionscykeln.
Begränsat utbud tvingar sockerbruken att stänga
Den 15 april uppgick Indiens sockerproduktion till 31,1 miljoner ton för innevarande säsong som började i oktober 2022, en nedgång på 5,4 procent jämfört med året innan. Många sockerbruk har stängt tidigt på grund av begränsad tillgång till sockerrör.
Sockerrör som odlas i Indien har en odlingscykel på 12 till 18 månader. Sockerrören planteras mestadels mellan januari och mars och skördas från december till mars året därpå.
Skörden kräver jämnt fördelat och lägligt monsunregn under juni och juli, följt av en torr period för mognad. Detta traditionella vädermönster har blivit oberäkneligt på grund av klimatförändringarna.
Nedgången i sockerproduktionen i Indien har ökat oron för stigande priser under sommarmånaderna som sträcker sig ungefär från april till juni, då efterfrågan toppar på grund av den ökade konsumtionen av kalla drycker och glass.
Det har förekommit spekulationer om att den indiska regeringen till och med skulle kunna begränsa exporten under den tilldelade kvoten på 6,1 miljoner ton. Tidningen Mint rapporterade den 8 maj om en ny plan för att stoppa transporter på cirka 85 000 ton som ännu inte lämnat de indiska kusterna.
Tillgångskrisen i Indien kommer när de globala sockerpriserna är på uppgång. De nådde sin högsta nivå sedan 2011 i slutet av april, då råsockret handlades till 27 amerikanska cent per pound. De har sedan dess mattats marginellt, men inflationstrycket är fortfarande aktivt.
I maj steg FAOs sockerprisindex med 17,6 procent från mars, den högsta nivån sedan oktober 2011, på grund av minskade produktionsförväntningar och resultat i Indien, Kina, Thailand och EU orsakade av torra väderförhållanden.
En långsam start på sockerrörsskörd i Brasilien, tillsammans med högre internationella råoljepriser, vilket kan öka efterfrågan på sockerrörsbaserad etanol, flaggades också som en av faktorerna.
Meir Commodities, ett sockerhandelsföretag i Mumbai, förväntar sig ett globalt underskott på cirka tre miljoner ton för säsongen 2023-2024 med tanke på bristen från leverantörer som Indien och Thailand.
Vänta, vänta och vänta är vad den tekniska analysen på oljepriset säger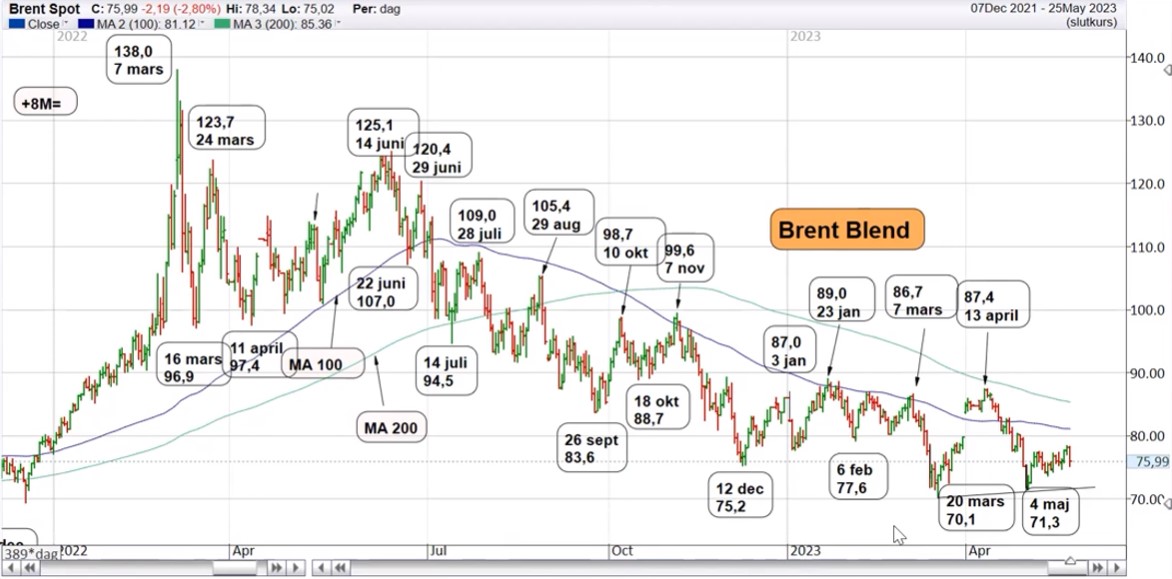 Ingemar Carlsson har gjort en teknisk analys på oljepriset, närmare bestämt för Brent-olja, och den är i ärlighetens namn inte vidare spännande för den visar bara på att man ska vänta. Det har varken den senaste tiden eller nu kommit någon tydlig köp- eller säljsignal.
Petrolia Noco kommer att ha en betydande oljeproduktion från 2025
Det norska oljebolaget Petrolia Noco har idag en obetydlig oljeproduktion men kommer att ha en betydelsefull sådan från 2025. Bolagets aktier är idag noterade på NOTC, men kommer under nästa år att flytta noteringen till Euronext Growth Oslo. Bolagets CFO Erik von Krogh presenterar verksamheten.