As the new week begins, the gold price has gained by more than 2% for a time to reach a good $1,320 per troy ounce, thus exceeding the psychologically important $1,300 mark again for the first time since the end of June. That said, it is still a good $230 off the technically important 200-day moving average. In euro terms, the yellow precious metal is trading above the €1,000 per troy ounce threshold again for the first time in over four weeks. Because gold ETFs have seen further – albeit moderate – outflows, the latest price movement is likely to have been facilitated above all by speculative financial investors.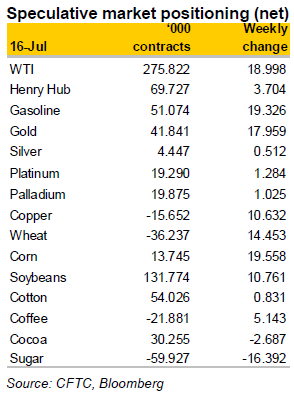 In the week to 16 July, they expanded their net long positions by 18 thousand to 41.8 thousand contracts. This was done almost exclusively by covering short positions which were slashed by 21% from their record high in the previous week to 82.1 thousand contracts. At the same time, this constituted the sharpest weekly reduction since the end of November. The increase in gold prices after the reporting date suggests that short positions have been further reduced in the meantime.
The other precious metals have also made gains in gold's slipstream. Silver in particular climbed by a disproportionately high 2.5%, thereby regaining the $20 per troy ounce mark. In contrast to gold, silver saw hardly any changes in terms of speculative market positioning, with net long positions here being only marginally increased to 4.4 thousand contracts.