The LME metals were static to down-a-bit, as warehouse stocks were static to up-a-bit bar copper, whose inventories dropped almost 8% and are well below those of its fellows in both actual and days supply terms. We see:

Taken literally, we expect aluminium to recover quite sharply. It has advanced almost 20% from its $1700 low of late 2013, but is a shadow of the +$3000 it hit in 2008-09. Unlike iron ore or coal, the producers have cutback to match a slower market and nobody speaks of expansion. Copper continues to bemuse. There are new projects a-plenty and much life left in established ones. Codelco of Chile, the world's largest in the metal, has voted major CAPEX to expand over the next five years. Rio Tinto (see Majors) is treading water with Oyu Tolgoi in Mongolia, but that project will see daylight. Las Bambas in Peru has fallen to the Chinese and will produce from 2016. Freeport has settled terms with the Indonesian government, so its concentrates will again, flow. Thus no shortage of forward supplies.
Opinion is split on a looming shortage or surplus. We opt for the latter and price movements are moving that way.
Nickel remains an enigma. Stocks indicate a continuing surplus, yet the price has rebounded strongly since the turn of the year, up almost 40%. Some major new projects have bitten the dust eg African Eagle. Glencore, Anglo and BHPB have lost their appetites, too, yet the forward price is level with spot. Indonesia has played silly beggars with the market for over a year over taxing concentrate exports but looks to be settling with the major miners.
WIM says: We see nickel down for choice and with it share prices.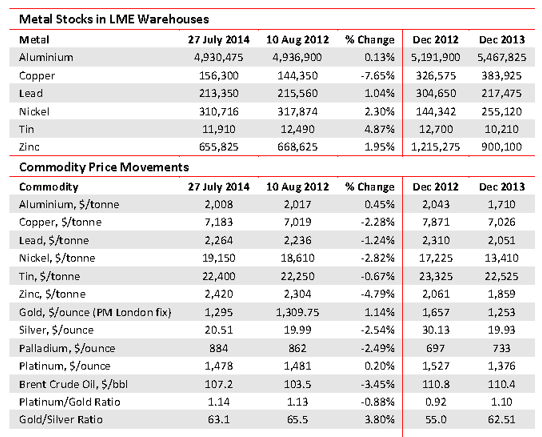 About David Hargreaves
David Hargreaves is a mining engineer with over forty years of senior experience in the industry. After qualifying in coal mining he worked in the iron ore mines of Quebec and Northwest Ontario before diversifying into other bulk minerals including bauxite. He was Head of Research for stockbrokers James Capel in London from 1974 to 1977 and voted Mining Analyst of the year on three successive occasions.
Since forming his own metals broking and research company in 1977, he has successfully promoted and been a director of several public companies. He currently writes "The Week in Mining", an incisive review of world mining events, for stockbrokers WH Ireland. David's research pays particular attention to steel via the iron ore and coal supply industries. He is a Chartered Mining Engineer, Fellow of the Geological Society and the Institute of Mining, Minerals and Materials, and a Member of the Royal Institution. His textbook, "The World Index of Resources and Population" accurately predicted the exponential rise in demand for steel industry products.