SEB – Jordbruksprodukter, vecka 4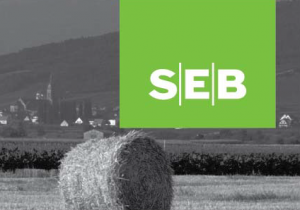 Den senaste veckan har priserna på jordbruksprodukter stigit kraftigt, med Chicagovete i täten på +8%. Marknaden har haft lätt att trycka på köpknappen och tagit fasta på rykten om förestående exportstopp från Ryssland och från Argentina. Trots blixtsnabb officiell dementi från Argentinas jordbruksdepartement, vände inte marknaden ner. Det förefaller som om det är sentimentet som styr, snarare än fundamenta och då kan det också ganska snabbt vända ner igen.
Osäkerheten om torkan i Argentina och dess effekt på skörden är fortfarande ett orosmoment, liksom hur länge La Niña-förhållandena kommer att hålla i sig. Det finns också viss väderbaserad oro i botten för ryktet att Ryssland skulle ställa in exporten.
Positiva nyheter, främst att det regnat i början av veckan över hela norra Argentina har marknaden tagit ganska lätt på. El Rural skriver att det är för sent att så majs, men att bönder sår sen soja i den fuktiga marken.
Börsen ICE Futures Canada, den Winnipeg-baserade jordbruksbörsen som ägs av Intercontinental Exchange, lanserade i måndags futureskontrakt och optioner på kvarnvete, durumvete och korn med leveranspunkter i Kanada. Merparten av vete och korn produceras i Kanadas västra provinser, såsom Manitoba, Saskatchewan, Alberta och British Columbia och sedan 1943 har the Canadian Wheat Board (CWB) haft ett legalt monopol på all köp och försäljning av dessa jordbruksprodukter.
Bill C-18, som infördes av den konservativ/liberala regeringen i Kanada i slutet av oktober förra året kommer att avsluta CWB:s monopolställning och tillåta vete, durumvete och korn från västra Kanada att handlas fritt för första gången på nästan 70 år. Den nya lagen kommer inte att avskaffa CWB, men den kommer att fråntas sin position som den enda köparen av vete från kanadensiska lantbrukare.
Slutligen, värt att tänka på är IMF:s prognos för råvarumarknadens utveckling under 2012 som släpptes i tisdags. Man förutspår att råvarupriserna (utom olja) kommer att falla med i genomsnitt 14%, med de största prisfallen på jordbruksprodukter.
La Niña
Det råder väl inget tvivel om att det är La Niña-fenomenet som står i centrum för skörden i Argentina och södra Brasilien. Fenomenet påverkar också vädret i Nordamerika. Det är därför det är extra torrt där också. Som vi har berättat tidigare har fenomenet nått sin kritiska nivå vid årsskiftet och har fortsatt att försvagas de senaste två veckorna. I diagrammet nedan ser vi utvecklingen av Southern Oscillation Index ("SOI") på daglig basis. Ett värde >8 innebär att det råder La Niña.
Det finns en rad modeller för att göra prognoser på framtida ENSO-förhållanden. Nedan ser vi en "plym" av sådana prognoser framåt i tiden. Vi ser att La Niña väntas hålla i sig fram till hösten. Då ska vi kanske också notera att tillförlitligheten på ENSO-prognoser sträcker sig ungefär 6 månader framåt i tiden. Det finns alltså risker för La Niña-orsakad torka under sommaren.
Hur påverkar ett övergående La Niña vetepriset?
Vi har gjort en studie av hur vetepriset (Chicago) förändras mellan den sista december och den sista juli varje år. Vi ser en bild på dessa prisförändringar i procent nedan.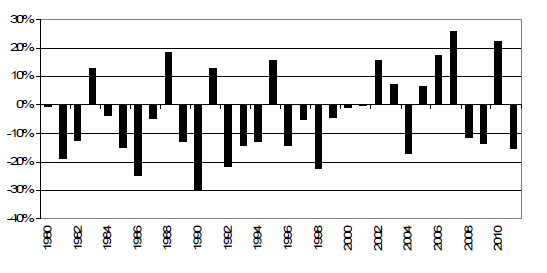 Genomsnittet är en prisnedgång på 4% (en mycket stor anledning att sälja terminer på vintern, för övrigt). Om vi sedan väljer ut de "vårar" när det varit La Niña-förhållanden vid årsskiftet, hur har det gått då? Det visar sig att man då får enbart får fram vårar med prisnedgångar, som vi ser i diagrammet nedan.
Den genomsnittliga prisnedgången på dessa 7 år sedan 1980 till och med 2011 är 11%. Just vid årsskiftet hade vi ett Southern Oscillation Index på nästan 25 och ett värde > 8 indikerar ett aktivt La Niña-fenomen. Vi vet dessutom att detta enligt prognosen kommer att klinga av under våren. Det är med andra ord upplagt för prisfall i vete. Vetepriset står på ungefär samma nivå nu som det gjorde vid årsskiftet. Man kan säkerligen finna motsvarande prognos om prisfall för sojabönor och majs för samma år (i år).
Vete
Chicagovetet har stigit med 8% på en vecka för gammal skörd, men bara 4% för ny skörd. Ny skörd på Matif steg med bara 2%. Chicagovetet är den jordbruksråvara som har stigit mest alla den senaste veckan.
Bakom uppgången låg rykten – dels om att Argentina skulle införa exportstopp på soja och majs, dels på att Ryssland ska införa exportstopp på vete igen per den 1 mars. Argentinas jordbruksdepartement dementerade snabbt, men inget hördes från Ryssland. Nyhetsbyråer rapporterar att Kazakstan är ute och försöker köpa 8 mt till de statliga reservlagren.
Den tidigare uppgiften var att de tänkte köpa 5mt. Misstanken uppstår då att de vet att exporten inte kommer att bli så stor. Mellan september och december exporterades 4.1 mt. Samtidigt kom privata firmors estimat på majsskörden i Argentina, som ligger långt under USDAs estimat från januari-WASDE. Dock finns det mycket vete i världen och mer verkar det som för varje månad som går. En snabb blick i förra veckans rapporter verkar konstatera samma sak.
Enligt IGC (International Grains Council) har uppskattningen av den globala veteproduktionen under 2011 justerats upp med 7 miljoner ton, jämfört med november-rapporten, till rekordhöga 690 miljoner ton. Ökningen avspeglar bättre än förväntade skördar på det södra halvklotet, speciellt i Argentina och Australien, men också betydande ökningar i Kina och Kazakstan. Ungefär hälften av den justeringen beror på ökad användning i foder, då konkurrenskraftiga priser (jämfört med majs) har lett till högre efterfrågan.
Globala utgående lager i slutet av 2011/12 revideras också upp och förväntas nu uppgå till 204 miljoner ton, vilket är strax under rekordet på 206 miljoner ton 1999/00. Lagren förväntas öka kraftigt i de stora exportländerna Kazakstan och Ukraina, medan de i EU och USA förväntas vara oförändrade. En stor del av ökningen tillskrivs också Kina och blir därför i stort sett oåtkomliga för den globala marknaden.
Den globala arealen för veteproduktion 2012 förväntas öka 1.7% till 225 miljoner hektar, den största sedan 1998. Huvuddelen av denna ökning förväntas bli i USA och OSS, till följd av attraktiva inhemska och internationella priser, där prognosen baseras på normala väderförhållanden. Bortsett från torka i delar av USA och Ukraina rapporteras det om att utsikterna för höstvetet på norra halvklotet anses vara god.
Den franska analysfirman Strategie Grains uppskattar globala utgående lager till rekordhöga 211 miljoner i slutet av 2012/13, samma siffra som Ag Canada har i sin rapport. Enligt USDA är rekordsiffran för globala utgående lager 210.7 miljoner ton och sattes 1999/00 medan IGC har en något lägre uppskattning av den siffran med 206 miljoner ton. Strategie grains prognos baseras på ökade skördar i Kina, Ryssland, USA och Europa.
Veteskörden i Europa för 2012 förväntas uppgå till 133,3 miljoner ton och även om den har justerats ned med 200 000 ton från förra månadens estimat till följd av minskad sådd i Tyskland, regionens näst största producent efter Frankrike, så är det fortfarande en ökning med 3% jämfört med 2011/12. Räknar man dessutom in durumvetet blir det en förväntad skörd på 142.2 miljoner ton. Ryssland förväntar sig att 2012 års skörd kommer att bli lika bra som förra årets, om inte bättre. För Ukraina ser det sämre ut pga den svåra torkan i höstas som varade i 3 1/2 månad från september till december.
Nedan ser vi kursdiagrammet för marskontraktet på Matif, som verkligen brutit uppåt. Nästa motstånd ligger på 217 euro, men under gårdagen fanns det gott om säljare på 210 euro, som blev toppen på dagens handel.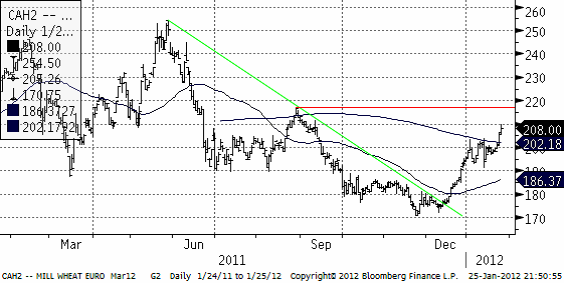 Det är något märkligt att Matif går ännu mer in i backwardation genom att det är gammal skörd som handlas upp. Det talas om att det kooperativ som köper tillbaka gamla sålda terminer, samtidigt som bönder i Europa fortsätter och kanske i än större utsträckning håller på fysiska lager.
Ur ett teknisk analysperspektiv noterar vi att förra veckans uppgång (över 191.50-motståndet), men under motståndet på 217.50, har skapat förutsättningarna för vad som kallas för en "bull trap", där man lockas att köpa, men sedan vänder marknaden tvärt nedåt. Tekniska momentumindikatorer rör sig i motsatt riktning just nu, och det talar för att en vändning nedåt kan komma i priset.
Nedan ser vi terminskurvan för Chicagovete och Matif nu och för en vecka sedan. De "feta" kurvorna är de aktuella. De "smala" är förra veckans.
Matif har som vi berört gått ännu mer in i backwardation pga gammal skörd handlats upp.
Nedan ser vi vetepriset på CBOT omräknat till svenska kronor per bushel (27 kilo) de senaste tio åren. I den nedre delen ser vi omsättningen i antal kontrakt.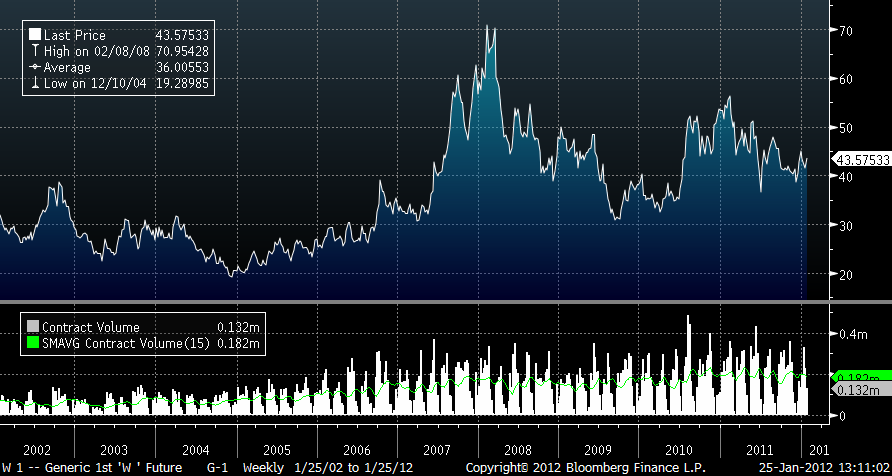 Det ryktades under tisdagen om ryskt exportstopp från 1 mars, vilket skulle kunna ligga bakom prisuppgången på gammal skörd.
I sin WASDE-rapport i januari estimerade USDA rysk veteexport till 19.5 mt för marknadsföringsåret juli 2011 till juni 2012. Det var en liten höjning från decemberprognosen som låg på 19 mt. Det förefaller helt klart att man sålt slut på allt vete i de södra delarna av landet och att man nu kämpar med logistiken för att få ut det som finns längre in i landet. Putin har satt exportgränsen till 25 mt, så än finns en stor marginal till det taket.
Frågan är varför ett exportstopp ändå skulle införas?
Det har snöat kraftigt i delar av Ryssland, men det finns motstridiga uppgifter om huruvida snön fallit på jordbruksmark eller inte. Det förefaller som om det gjort det, till viss, men ganska liten del. Nedan ser vi en radarbild på snöfall över södra Ryssland och att snön missat viktiga regioner som Voronetz och Tambov.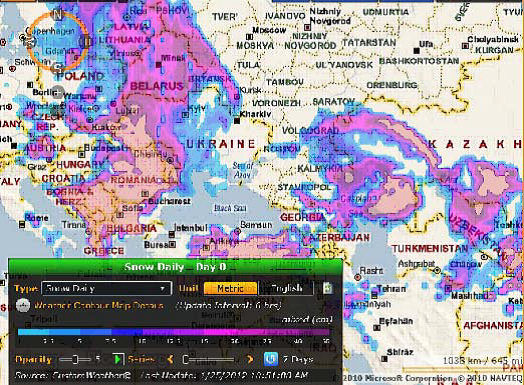 Nedan ser vi ackumulerad nederbörd i staden Kursk, som ligger nära jordbruksområdena. Vi ser att det mycket riktigt varit torrt under hösten och att det kan finnas en viss oro. Den röda grafen var den som ledde fram till torkan och missväxten under sommaren 2010 och det året började med mycket nederbörd, så än går inte att säga hur året kommer att bli.
Samtidigt som det finns oro för Ryssland, ser det mycket positivt ut i Australien. Australian Bureau of Statistics rapporterade igår onsdag att lagren i Australien är de största sedan år 2006. Förra året uppgick lagren (per årsskiftet) till 18.2 mt. I år var lagren 24.6 mt, efter att australiensiska bönder bärgat den andra rekordskörden på raken. Skörden väntas uppgå till 28.3 mt 2011-2012 och slår därmed förra årets rekord på 27.9 mt enligt Australian Bureau of Agricultural and Resource Economics and Sciences. Australien är världens näst största exportland efter USA. Enligt ABARES kan exporten nå 21.6 mt.
En delförklaring till de strora lagren är att carryover per den 30 september var 8.3 mt. I år väntas den bli ännu något större.
Om man nu ska sammanfatta läget, så anser vi att sentimentet just nu helt klart verkar vara ganska "triggerhappy" på köpknappen. Man tar fasta på rykten. Det verkar finnas en stor oro för vädret, sannolikt med 2007 och 2010 i färskt minne. Samtidigt, eftersom det inte handlar om fakta, kan vändningen bli lika tvär nedåt igen. Den kraftiga backwardation som finns på Matif – som signalerar brist på fysisk vara – samtidigt som det knappast finns en fysisk brist i Europa (extremt få GASCtenders vunna och mycket spannmål kvar hos bönderna), är gammal skörd solklart säljvärd. Tror man på högre priser – köp terminerna med längre löptid billigare i så fall.
Vi fortsätter att tro på en nedgång i vetepriset under året och tycker att man i första hand ska sälja av gammal skörd på den uppgång vi nu sett.
Maltkorn
Maltkornet har fortsatt att handlas upp och priset för novemberleverans tangerar nu 250 euro per ton. Motstånd finns strax ovanför, på ca 255 euro.
Argentinska La Nacion rapporterar om landet har fått den högsta maltkornsskörden på 10 år. Skörden uppgår till 3.65 miljoner ton och arealen för maltkornsproduktion har ökat med nästan 50% jämfört med 2010/11. En av de viktigaste orsakerna till denna ökning är att producenterna försöker hitta ett alternativ till vete och en tidig maltkornsskörd ger också möjligheten att så sojabönor efteråt.
Även fast skörden sedan länge är avklarad i Europa verkar det fortfarande råda en viss osäkerhet om tillgången på maltkorn då väderförhållandena under 2011 har lett till betydande kvalitetsproblem.
Den skandinaviska skörden drabbades bl a av höga koncentrationer av fusarium vilket ger kvalitetsstörningar i mältnings- och bryggningsprocessen genom skumbildning, så kallad "gushing", och andra länder, t.ex Frankrike, har haft stora problem med proteinhalter. För hög proteinhalt ger grumligt öl.
Potatis
Priset på potatis har fortsatt att försvagas och när nu nära att bryta 55-dagars glidande medelvärde, vilket vore en negativ teknisk signal.
Majs
Ur ett teknisk analysperspektiv noterar vi att majspriset är uppe vid 55-dagars glidande medelvärde, som utgör ett slags motstånd (många tittar på just den indikatorn). Nedan ser vi decemberkontraktet på CBOT:
Det gick ett rykte under tisdagen den 24 januari att Argentina skulle införa ett exportstopp på majs, men detta dementerades snabbt av jordbruksministeriet, men prisuppgången stannade ändå kvar. FAO estimerar skörden av majs i Argentina till 21.4 mt, där USDA senast estimerade 26 mt. Privata firmor ligger ännu lägre, på 17-18 mt. Orsaken är som bekant, torkan som varit och som permanent skadat majsskörden. Sojan verkar kunna repa sig, men alltså inte majsen.
Nedan ser vi ackumulerad nederbörd i Cordoba, Argentina. Den blåa grafen visar ackumulerad nederbörd sedan september förra året. Den lilla röda snutten är den senaste väderleksprognosen, som har ungefär 12 mm nederbörd för den 30 januari till den 1 februari. Vi ser att nederbörden som föll i början av den här veckan var en ganska kraftig sådan, betydligt mer än vad som var förutspått.
Det är alltså trots den nederbörd som kom i början på veckan, ändå något lite för lite nederbörd så här års mot vad det borde vara ett normalår. Detta är ett orosmoment, främst för sojan eftersom tärningen redan är mer eller mindre kastad för majsen.
Sojabönor
Priset på novemberkontraktet SX2 ligger precis under ett motstånd på 1215 cent. Det finns flera motstånd strax ovanför, men formationen liknar en omvänd head-and-shoulders, vilket alltså har en potentiellt "bullish" innebörd. Det finns utrymme upp till 1245 och en uppgång över den nivån skulle ge ytterligare skjuts uppåt.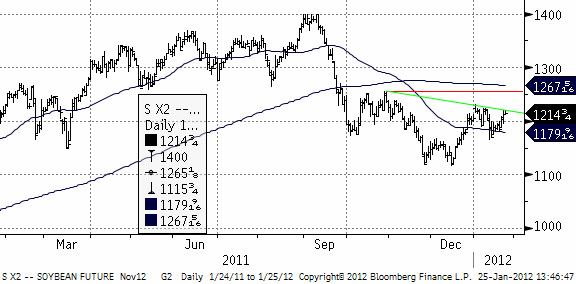 Vi ser i nedanstående diagram som visar kvoten mellan majs- och sojapris att majsen tappat i pris i förhållande till sojabönor, men det finns ingen direkt brist av sojabönor i världen.
Om regnen kommer till Argentina som väntat vid månadsskiftet bör hektarskörden kunna stabiliseras. Det är snarare majsmarknaden som är svag än sojamarknaden som är stark. Det finns gott om tekniska motstånd på ovansidan och det är knappast troligt att en ny bullmarknad skulle orka ta sig rakt igenom dem.
Raps
Tekniskt har novemberkontraktet just brutit ett kortsiktigt motstånd och torde röra sig uppåt de närmaste dagarna för att testa motståndet på 420 euro. En uppgång över 420 euro vore en mycket stark köpsignal, annars skulle en uppgång mot 420 euro också kunna vara ett bra tillfälle att sälja om priset inte bryter igenom.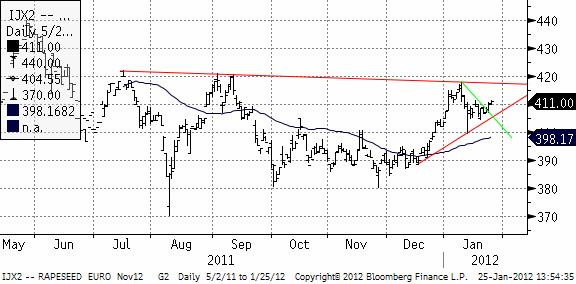 Höstens torra väder i Ukraina kommer också att påverka årets rapsskörd och man räknar med att produktionen kommer att falla 19% till 1.13 miljoner ton vilket skulle vara den lägsta på 5 år enligt data från USDA. EU´s importbehov av raps förväntas bli mycket hög. Den globala produktionen av raps och canola uppskattas uppgå till totalt 61.5 miljoner ton 2012/13, en ökning med 3.4% och den första ökningen på 3 år. Utifrån väderproblemen i Ukraina, en betydligt mindre sådd av höstraps i EU och sjunkande lager, så kommer det att krävas ytterligare ökning av den kanadensiska canola produktionen för att möta efterfrågan under 2012.
Enligt Ag Canada kommer ytterligare areal att tas i bruk för canola produktion och förväntas nå rekordhöga 8.0 miljoner hektar, vilket skulle vara tillräckligt för att få en all-time high skörd på 15 miljoner ton.
Mjölk
Nedan ser vi priset på marskontraktet på flytande mjölk (kontakt avräknat mot USDA:s prisindex). Rekylen från toppnoteringen vid 18 dollar studsade på 16.50 och de senaste dagarna har priset pendlat mellan 16.50 och 17 med förhållandevis stora
Gris
Priset på lean hogs är uppe i sälj-zonen igen. Med så många typer av tekniska motstånd ansamlade vid och strax ovanför där priset ligger idag, är sannolikheten låg att priset tar sig rakt igenom. Vi rekommenderar att man säljer vid den här nivån. Statistik från Kina visar att grispopulationen sjönk i december för första gången på 10 månader. Samtidigt rapporteras som utbrott av African Swine Fever (ASF) på flera håll i världen, bland annat i olika regioner samtidigt i Ryssland.
Vi intar ändå, baserat på den tekniska analysen, en negativ hållning och rekommendationen blir:
1 vecka: negativ
3 månader: negativ
Nedan ser vi februarikontraktet
Priset i Europa har betett sig på samma sätt. Nedan ser vi det vid var tid kortaste terminskontraktet (närmast spot):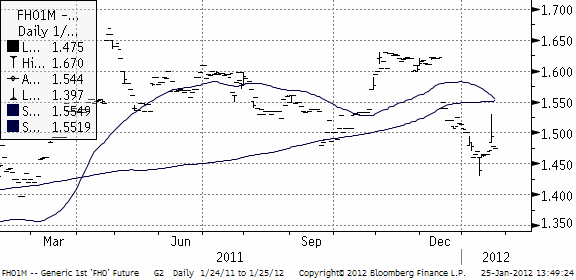 Valutor
EURSEK – försöker korrigera nedgången
Vi har en neutral rekommendation på både en veckas sikt och tre månaders.
EURUSD – i rekyl fortfarande
Kursen har rekylerat upp till 55-dagars glidande medelvärde, som borde utgöra ett visst motstånd.
Rekommendation: Neutral på en veckas sikt. Negativ på tre månader.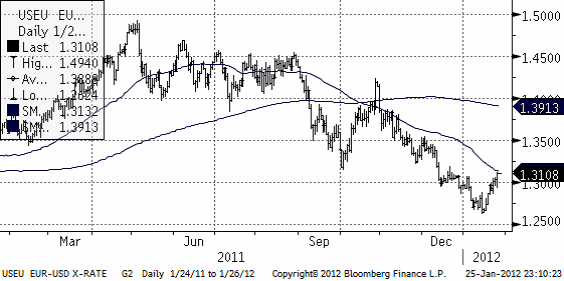 USDSEK – söker efter en botten i korrektionen nedåt
Dollarn föll inte mycket mot kronan efter FOMC-mötet på onsdagskvällen, trots att räntan kommer att ligga kvar på ultralåg nivå till åtminstone 2014, enligt Ben B. Ändå ligger kursen under 55-dagars glidande medelvärde och ny ordentlig uppgång och test av 7-kronors-nivån kan vi inte vänta så länge kursen ligger under medelvärdet.
Vi har en neutral rekommendation på en veckas sikt, men är positive på tre månader.
[box]SEB Veckobrev Jordbruksprodukter är producerat av SEB Merchant Banking och publiceras i samarbete och med tillstånd på Råvarumarknaden.se[/box]
Disclaimer
The information in this document has been compiled by SEB Merchant Banking, a division within Skandinaviska Enskilda Banken AB (publ) ("SEB").
Opinions contained in this report represent the bank's present opinion only and are subject to change without notice. All information contained in this report has been compiled in good faith from sources believed to be reliable. However, no representation or warranty, expressed or implied, is made with respect to the completeness or accuracy of its contents and the information is not to be relied upon as authoritative. Anyone considering taking actions based upon the content of this document is urged to base his or her investment decisions upon such investigations as he or she deems necessary. This document is being provided as information only, and no specific actions are being solicited as a result of it; to the extent permitted by law, no liability whatsoever is accepted for any direct or consequential loss arising from use of this document or its contents.
About SEB
SEB is a public company incorporated in Stockholm, Sweden, with limited liability. It is a participant at major Nordic and other European Regulated Markets and Multilateral Trading Facilities (as well as some non-European equivalent markets) for trading in financial instruments, such as markets operated by NASDAQ OMX, NYSE Euronext, London Stock Exchange, Deutsche Börse, Swiss Exchanges, Turquoise and Chi-X. SEB is authorized and regulated by Finansinspektionen in Sweden; it is authorized and subject to limited regulation by the Financial Services Authority for the conduct of designated investment business in the UK, and is subject to the provisions of relevant regulators in all other jurisdictions where SEB conducts operations. SEB Merchant Banking. All rights reserved.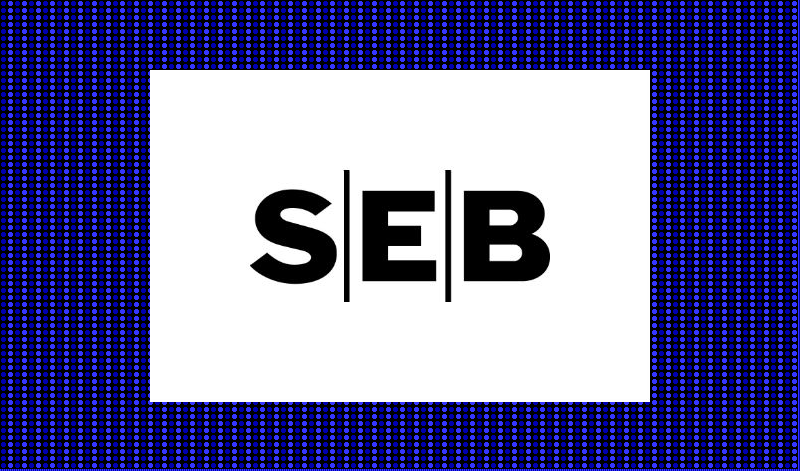 All eyes are now back at OPEC+ after the recent fall in oil prices along with weakening crude curve structures and weakening economic statistics. OPEC+ will have to step up the game and give solid guidance of what it intends to do in 2024. If Saudi Arabia is to carry the burden alone (with only a little help from Russia) it will likely need to keep its production at around 9.0 m b/d on average for 2024 and drop it down towards 8.5 m b/d in Q1-24. This may be too much to ask from Saudi Arabia and it may demand some of the other OPEC members to step up and join in on the task to regulate the market in 2024. More specifically this means Iraq, Kuwait and UAE. The oil market will likely be quite nervous until a firm message from Saudi/Russia/OPEC+ is delivered to the market some time in December.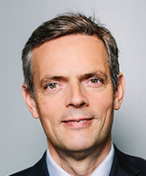 Saudi Arabia may get some help from President Joe Biden though as his energy secretary adviser, Amos Hochstein, has stated that the US will enforce sanctions on Iran on more than 1 m b/d.
Brent crude fell 4.6% ydy to USD 77.4/b and over the last three trading sessions it has lost USD 5.1/b. This morning it is trading only marginally higher at USD 77.6/b which is no vote of confidence. A good dose of rebound this morning would have been a signal that the sell-off yesterday possibly was exaggerated and solely driven by investors with long positions flocking to the exit. So there's likely more downside to come.
In general there is a quite good relationship between net long speculative positions in Brent crude and WTI versus the global manufacturing cycle. Oil investors overall typically have an aversion of holding long positions in oil when the global economy is slowing down. As of yet there are few signs that the global economic cycle is about to turn. Rather the opposite seems to be the case. Global manufacturing fell in October and yesterday we saw US industrial production fall 0.6% MoM while continued jobless claims rose more than expected and to the highest level in two years. This matches well with the logic that the strong rise in interest rates since March 2022 is inflicting pain on the economy with more pain ahead as the effect comes with a lag.
Most estimates are that the global oil market is running a solid deficit in Q4-23. The IEA has an implied deficit in the global oil market of 1 m b/d in Q4-23 if we assume that OPEC will produce 28 m b/d vs. a call-on-OPEC at 29 m b/d. But prices in the oil market is telling a different story with weakening crude curves, weakening refining margins and a sharp sell-off in oil prices.
For 2024 the general forecasts are that global economic growth will slow, global oil demand growth will slow and also that the need for oil from OPEC will fall from 28.7 m b/d to 28.4 m b/d (IEA). This is a bearish environment for oil. The average Brent crude oil price so far this year is about USD 83/b. It should essentially be expected to deliver lower in 2024 with the negatives mentioned above.
Two things however will likely counter this and they are interconnected. US shale oil activity has been slowing with falling drilling rig count since early December 2022 and that has been happening at an average WTI price of USD 78/b. The result is that total US liquids production is set to grow by only 0.3 m b/d YoY in Q4-24. This allows OPEC+ to support the oil price at USD 80-90/b through 2024 without fear of loosing a significant market share to US oil production. Thus slowing US liquids production and active price management by OPEC+ goes hand in hand. As such we do expect OPEC+ to step up to the task.
So far it has predominantly been Saudi Arabia with a little help from Russia which together proactively have managed the oil market and the oil price through significant cuts. Saudi Arabia produced 10.5 m b/d in April but then cut production rapidly to only 9.0 m b/d which is what it still produces. Its normal production is about 10 m b/d.
What has made the situation more difficult for Saudi Arabia is the combination of solid growth in non-OPEC supply in 2023 (+2.1 m b/d YoY; IEA) but also a substantial revival in production by Venezuela and Iran. The two produced 660 k b/d more in October than they on average did in 2022. So the need for oil from Saudi Arabia is squeezed from both sides.
All eyes are now back at OPEC+ after the recent fall in oil prices along with weakening crude curve structures and weakening economic statistics.
OPEC+ will have to step up the game and give solid guidance of what it intends to do in 2024. If Saudi Arabia is to carry the burden alone (with only a little help from Russia) then it will likely need to keep its production at around 9.0 m b/d on average for 2024 and drop it down towards 8.5 m b/d in Q1-24. This may be too much to ask from Saudi Arabia and it may demand some of the other OPEC members to step up and join in on the task to regulate the market in 2024. More specifically this means Iraq, Kuwait and UAE.
The oil market will likely be quite nervous until a firm message from Saudi/Russia/OPEC+ is delivered to the market some time in December.
Saudi Arabia may get some help from President Joe Biden though as his energy secretary adviser, Amos Hochstein, has stated that the US will enforce sanctions on Iran on more than 1 m b/d.
More from Venezuela and Iran means smaller pie for Saudi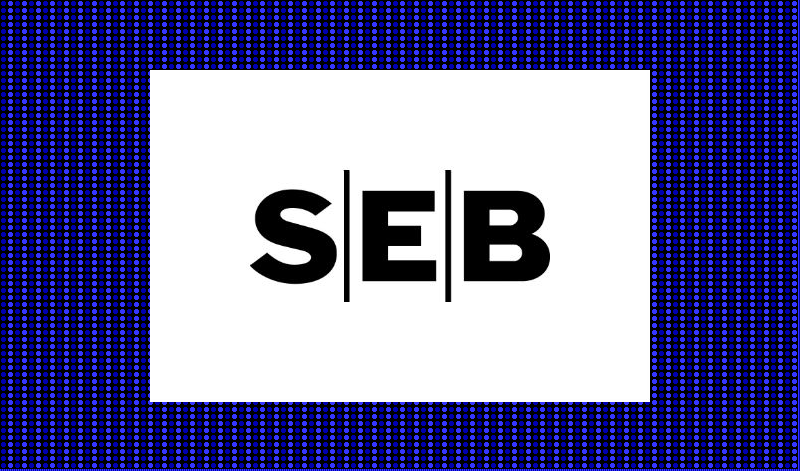 Production in Venezuela and Iran is on the rise and is set to rise further in the coming months and in 2024. Combined their production could grow by 0.8 m b/d YoY to 2024 (average year to average year). The IEA projected in its latest OMR (Oct-2023) that call-on-OPEC will fall to 28.3 m b/d in 2024, a decline of 0.5 m b/d. This combination would drive implied call-on-Saudi from 10.4 m b/d in 2023 to only 9.1 m b/d in 2024 and as low as 8.6 m b/d in Q1-24 if Saudi Arabia has to do all the heavy lifting alone. Wider core OPEC cooperation may be required.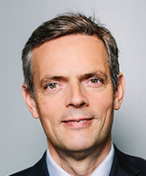 The IEA is out in the news today projecting peak oil demand this decade with global demand standing at no more than 102 m b/d towards the end of this decade. If so it would imply a call-on-Non-OPEC of only 66.4 m b/d in 2028 assuming that OPEC in general will demand a market share of 30 m b/d + NGL of 5.6 m b/d. The IEA (Oct-23) projects non-OPEC production to average 68.8 m b/d in 2024. That's already 2.4 m b/d more than what would be sustainable over time if global oil demand is set to peak later this decade. Oil producers in general cannot have a production growth strategy in a peak oil demand world.
The US has decided to lift sanctions towards Venezuela for six months (18 April) as a measure to tempt it to move towards more democratic processes. And if it does, then the lifting of sanctions could continue after the 6 months. A primary opposition election took place this weekend with lawmaker Maria Corina Machado currently holding 93% of the vote count. Venezuela will next year hold a presidential election but fair play seems unlikely with Maduro in charge. The lifting of sanctions allows Venezuela's PdV to resume exports to all destinations. Bans on new, foreign investments in the oil and gas sector are also lifted though Russian entities and JV's are still barred.
Venezuela produced 0.8 m b/d in September and indicates that it can lift production by 0.2 m b/d by year and with more rigs and wells by 0.5 m b/d to 1.3 m b/d in the medium term.
Oil production in Iran has been on a steady rise since its low-point of 2.0 m b/d in 2020. Last year it produced 2.5 m b/d. In September it produced 3.1 m b/d, but Iran's oil minister says production now is at 3.3 m b/d. Iran's rising production and exports is not about the US being more lenient in its enforcement of sanctions towards Iran. It is more about Iran finding better ways to circumvent them but even more importantly that China is importing more and more oil from Iran.
Production by Iran and Venezuela is recovering. YoY production from the two could rise by close to 0.8 m b/d in 2024. This will lead to a decline in call-on-Saudi oil. 
The IEA estimated in its latest OMR report that call-on-OPEC will fall from 28.8 m b/d in 2023 to 28.3 m b/d in 2024. If all OPEC members except Saudi Arabia produces the same amount in 2024 as in 2023, then the need for Saudi Arabia's oil (call-on-Saudi) will fall from a healthy 10.4 m b/d in 2023 to a still acceptable 9.9 m b/d in 2024. Its normal production is roughly 10 m b/d.
If however production by Iran and Venezuela rise by a combined 0.5 m b/d YoY in 2024, then call-on-Saudi will fall to 9.4 m b/d which is not so good but still manageable. But if Iran's oil minister is correct when he says that its current production now is at 3.3 m b/d, then it is not far fetched to assume that Iran's oil production may average maybe 3.4-3.5 m b/d in 2024. That would yield a YoY rise of 0.6 m b/d just for Iran. If we also assume that Venezuela manages to lift its production from 0.8 m b/d this year to 1.0 m b/d in 2024, then the combined growth from the two is closer to 0.8 m b/d. That would push call-on-Saudi down to only 9.1 m b/d which is not good at all. It would require Saudi Arabia to produce at its current production of 9.0 m b/d all through 2024.
The IEA further estimates that call-on-OPEC will average 27.7 m b/d in Q1-24. If we assume Iran @ 3.4 m b/d and Venezuela @ 1.0 m b/d then call-on-Saudi in Q1-24 will only be 8.6 m b/d. I.e. Saudi Arabia will have to cut production further to 8.6 m b/d in Q1-24. At that point Saudi Arabia will likely need or like other core OPEC members like Iraq, Kuwait and UAE as well as Russia to join in.
Implied call-on-Saudi. Call-on-OPEC is set to decline from 28.8 m b/d to 28.3 m b/d to 2024. If all OPEC members produced the same in 2024 as in 2023 then call-on-Saudi would fall by 0.5 m b/d to 9.9 m b/d. But if Venezuela and Iran increases their combined production by 0.8 m b/d YoY in 2024 then call-on-Saudi falls to 9.1 m b/d.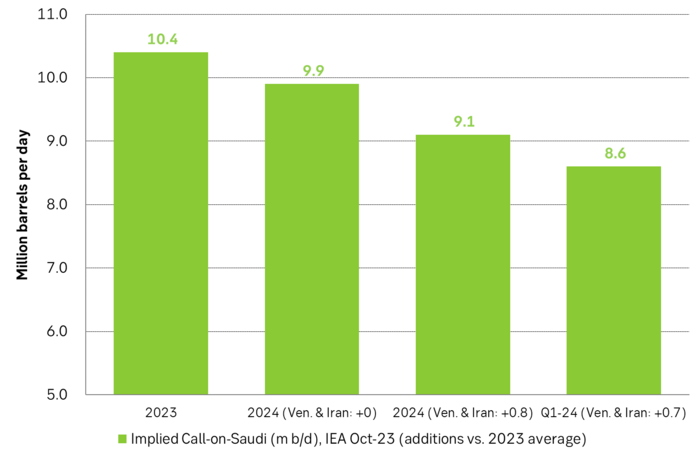 If we look a little broader on this topic and also include Libya, Nigeria and Angola we see that this group of OPEC members produced 11.4 m b/d in 2010, 10.1 m b/d in 2017 and only 5.1 m b/d at the low-point in August 2020. The decline by these OPEC members has of course the other OPEC and OPEC+ members to stem the rising flood of US shale oil production. The production from this unfortunate group of OPEC-laggards is however now on the rise reaching 7.5 m b/d in September. With more from Iran and Venezuela it could rise to 8.0 m b/d in 2024. Production from Nigeria and Angola though still looks to be in gradual decline while Libya looks more sideways. So for the time being it is all about the revival of Iran and Venezuela.
The unfortunate OPEC-laggards had a production of 11.4 m b/d in 2010. But production then fell to only 5.1 m b/d in August 2020. It helped the rest of OPEC's members to manage the huge increase in US shale oil production. Production from these countries are now on the rebound. Though Nigeria and Angola still seems to be in gradual decline.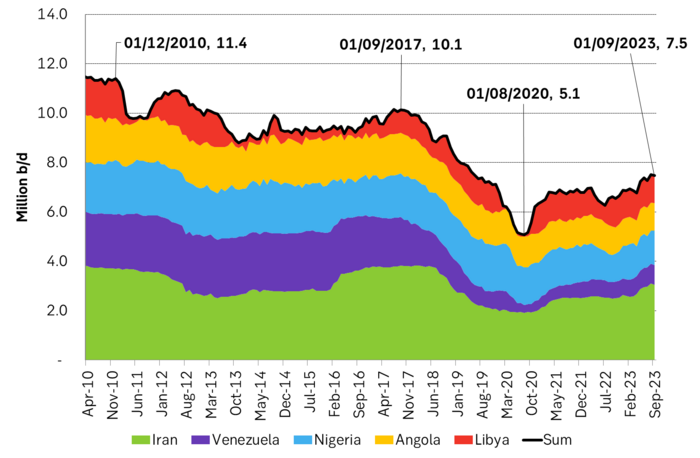 What everyone needs to be attentive to is that call-on-OPEC and even more importantly call-on-Saudi can only erode to a limit before Saudi/OPEC/Russia will have to take action. Especially if the forecast for needed oil from OPEC/Saudi for the nearest 2-3 years is in significant decline. Then they will have to take action in the sense that they stop defending the price and allows the price to fall sharply along with higher production. And yet again it is US shale oil producers who will have to take the brunt of the pain. They are the only oil producers in the world who can naturally and significantly reduce their production rather quickly. I.e. the US shale oil players will have to be punished into obedience, if possible, yet one more time.
We don't think that it is any immediate risk for this to happen as US shale oil activity is slowing while global oil demand has rebounded following Covid-lockdowns. But one needs to keep a watch on projections for call-on-OPEC and call-on-Saudi stretching 1-2-3 years forward on a continuous basis.
In its medium term oil market outlook, Oil2023, the IEA projected a fairly healthy development for call-on-OPEC to 2028. First bottoming out at 29.4 m b/d in 2024 before rising gradually to 30.6 m b/d in 2028. The basis for this was a slowing though steady rise in global oil demand to 105.7 m b/d in 2028 together with stagnant non-OPEC production due to muted capex spending over the past decade. But this projection has already been significantly dented and reduced in IEA's latest OMR from October where call-on-OPEC for 2024 is projected at only 28.3 m b/d.
In a statement today the IEA projects that global oil demand will peak this decade and consume no more than 102 m b/d in the late 2020ies due to (in large part) rapid growth in EV sales. This would imply a call-on-OPEC of only 26.9 m b/d in 2028. It is not a viable path for OPEC to produce only 26.9 m b/d in 2028. Especially if production by Iran and Venezuela is set to revive. I.e. OPEC's pie is shrinking while at the same time Iran and Venezuela is producing more. In this outlook something will have to give and it is not OPEC.
One should here turn this on its head and assume that OPEC will produce 30 m b/d in 2028. Add OPEC NGLs of 5.6 m b/d and we get 35.6 m b/d. If global oil demand in 2028 stands at only 102 m b/d then call-on-Non-OPEC equates to 66.4 m b/d. That is 3.1 m b/d less than IEA's non-OPEC production projection for 2028 of 69.5 m b/d but also higher than non-OPEC production projection of 68.8 m b/d (IEA, Oct-23) is already 2.4 m b/d too high versus what is a sustainable level.
What this of course naturally means is that oil producers in general cannot have production growth as a strategy in a peak-oil-demand-world with non-OPEC in 2024 already at 2.4 m b/d above its sustainable level.
The US is set to growth its hydrocarbon liquids by 0.5 m b/d YoY in 2024. But in a zero oil demand growth world that is way, way too much.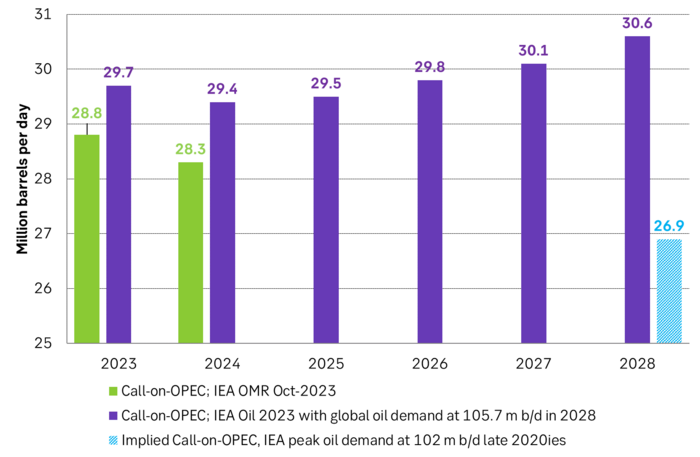 Reloading the US 'oil-gun' (SPR) will have to wait until next downturn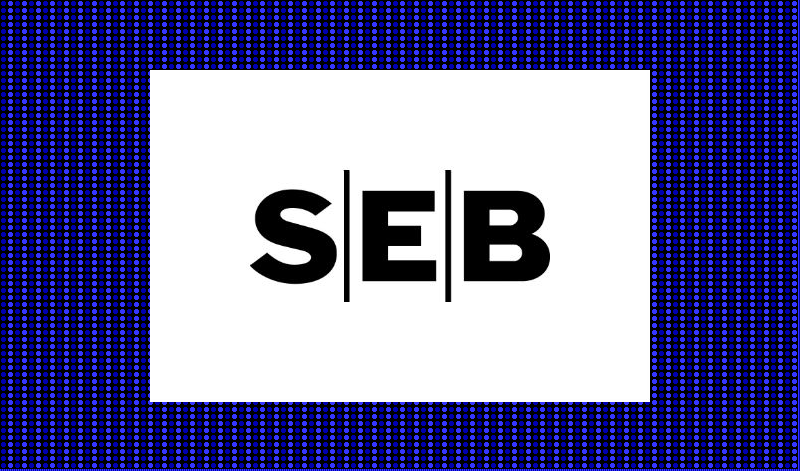 Brent crude traded down 0.4% earlier this morning to USD 91.8/b but is unchanged at USD 92.2/b at the moment. Early softness was probably mostly about general market weakness than anything specific to oil as copper is down 0.7% while European equities are down 0.3%. No one knows the consequences of what a ground invasion of Gaza by Israel may bring except that it will be very, very bad for Palestinians, for Middle East politics for geopolitics and potentially destabilizing for global oil markets. As of yet the oil market seems to struggle with how to price the situation with fairly little risk premium priced in at the moment as far as we can see. Global financial markets however seems to have a clearer bearish take on this. Though rallying US rates and struggling Chinese property market may be part of that.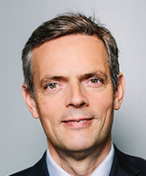 The US has drawn down its Strategic Petroleum Reserves (SPR) over the latest years to only 50% of capacity. Crude oil prices would probably have to rally to USD 150-200/b before the US would consider pushing another 100-200 m b from SPR into the commercial market. As such the fire-power of its SPR as a geopolitical oil pricing tool is now somewhat muted. The US would probably happily re-load its SPR but it is very difficult to do so while the global oil market is running a deficit. It will have to wait to the next oil market downturn. But that also implies that the next downturn will likely be fairly short-lived and also fairly shallow. Unless of course the US chooses to forgo the opportunity.
The US has drawn down its Strategic Petroleum Reserves (SPR) to only 50% of capacity over the latest years. Most of the draw-down was in response to the crisis in Ukraine as it was invaded by Russia with loss of oil supply from Russia thereafter.
The US has however no problems with security of supply of crude oil. US refineries have preferences for different kinds of crude slates and as a result it still imports significant volumes of crude of different qualities. But overall it is a net exporter of hydrocarbon liquids. It doesn't need all that big strategic reserves as a security of supply any more. Following the oil crisis in the early 70ies the OECD countries created the International Energy Agency where all its members aimed to have some 100 days of forward oil import coverage. With US oil production at steady decline since the 70ies the US reached a peak in net imports of 13.4 m b/d in 2006. As such it should have held an SPR of 1340 million barrels. It kept building its SPR which peaked at 727 m b in 2012. But since 2006 its net imports have been in sharp decline and today it has a net export of 2.9 m b/d.
Essentially the US doesn't need such a sizable SPR any more to secure coverage of its daily consumption. As a result it started to draw down its SPR well before the Russian invasion of Ukraine in February 2022. But then of course it fell fast and is today at 351 m b or about 50% of capacity.
The US is the largest oil consumer in the world. As such it is highly vulnerable to the price level of oil. The US SPR today is much more of a geopolitical tool than a security of supply tool. It's a tool to intervene in the global oil market. To intervene in the price setting of oil. The US SPR is now drawn down to 50% but it still holds a sizable amount of oil. But it is little in comparison to the firepower of OPEC. Saudi Arabia can lower its production by 1 m b/d for one year and it will have eradicated 365 million barrels in global oil inventories. And then it can the same the year after and then the year after that again.
The US has now fired one big bullet of SPR inventory draws. It really helped to balance the global oil market last year and prevented oil prices from going sky high. With 350 m b left in its SPR it can still do more if needed. But the situation would likely need to be way more critical before the US would consider pushing yet another 100-200 m b of oil from its SPR into the global commercial oil market. An oil price of USD 150-200/b would probably be needed before it would do so.
With new geopolitical realities the US probably will want to rebuild its SPR to higher levels as it is now an important geopolitical tool and an oil price management tool. But rebuilding the SPR now while the global oil market is running a deficit is a no-go as we see it.
An oil market downturn, a global recession, a global oil market surplus where OPEC no longer want to defend the oil price with reduced supply is needed for the US to be able to refill its SPR again unless it wants to drive the oil price significantly higher.
But this also implies that the next oil price downturn will likely be short-lived and shallow as the US will have to use that opportunity to rebuild its SPR. It's kind off like reloading its geopolitical oil gun. If it instead decides to forgo such an opportunity then it will have to accept that its geopolitical maneuverability in the global oil market stays muted.
Net US oil imports in m b/d and US Strategic Petroleum Reserves (SPR) in million barrels. The US doesn't need strategic petroleum reserves for the sake of security of supply any more. But it is a great geopolitical energy-tool to intervene in the price setting of oil in the global market place.