The US EIA yesterday released its monthly drilling productivity report as well as its DUC report (showing the number of drilled and completed wells). The reports show that US shale oil production will grow at a marginal annualized pace of 1.3 m bl/d in March while it has been growing at 1.5 m bl/d on average since July 2017. Using the latest drilling data update from the US EIA in combination with its recent STEO forecast for US crude production for 2018 we get a likely US crude oil production of 10.8 to 10.9 m bl/d for 2018 assuming US shale oil will grow between 110 to 130 k bl/d/mth in 2018. Rig count, well completions, DUCs and volume productivity are all rising. In productivity adjusted terms the well completions in January 2018 stood 35% above the average monthly completions in 2014.
Our 2018 US crude oil production forecast of 10.7 m bl/d which six months ago was seen upon as outrageously high now suddenly looks like it is going to be on the weak side instead. We still see the global oil supply/demand balance in deficit for 2018 if OPEC & Co stays on course. Oil production in Venezuela dropped 70 k bl/d/mth in February to 1.55 m bl/d (down 480 k bl/d y/y) which is an even steeper drop than we have assumed. This helps to counter the strong rise in US crude oil production and thus keep our projected sup/dem balance for 2018 at around 0.3 go 0.4 m bl/d deficit.
Chart 1: US shale oil production to reach 6.8 m bl/d in March
Chart 2: Drilling was unchanged m/m but completions rose 34 wells in Jan to 1,125.
Chart 3: Real drilling productivity is still much higher than US EIA headline productivity due to DUC build-up
Chart 4: Completed US shale oil wells per month at an all-time high and 35% above the real 2014 level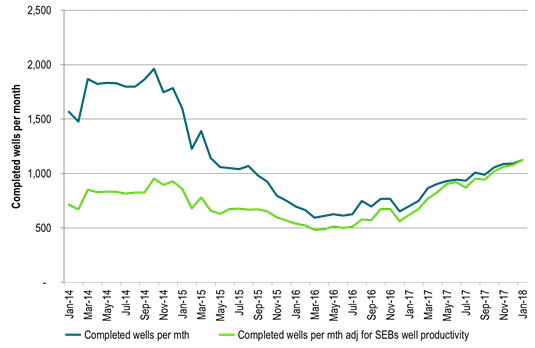 Chart 5: Rig count has moved sideways since August 2017 as players have focused on completions
Chart 6: Price signal has pointed higher. Now rig count has started to pick up in response. +5.7 rigs/week ytd.
Chart 7: US oil rig count rose 26 last week and implied shale oil rigs by 21. Past six weeks average = +5.7 rigs/week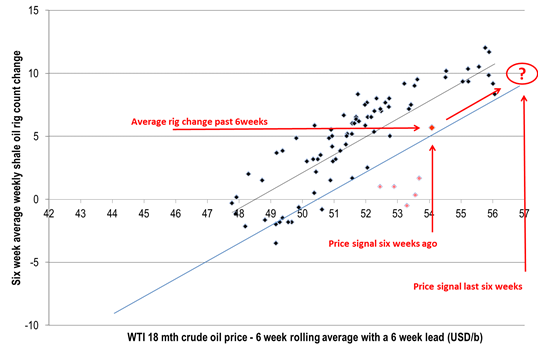 Kind regards
Bjarne Schieldrop
Chief analyst, Commodities
SEB Markets
Merchant Banking