Brent crude fell back 1.1% yesterday to $74.73/bl while it intraday was down as much as 2.4% to $73.74/bl following the forceful message from Russia and Saudi Arabia on Saturday that they have already geared up production and will deliver whatever is needed by the market. The simple story is that OPEC+ cut production through 2017 till today, drew down inventories to "normal levels" and lifted the oil price to a satisfactory level of $70-80/bl and now they are done. In other words the orchestrated steady draw down of inventories is over as well as the continuous rise in the oil price. At least until OPEC+ has exhausted its spare capacity. Oil market conditions in July however look like they might be quite strained anyhow.
The oil market conditions in July do however look like they are going to be tight. Russia, Saudi Arabia and some of the other OPEC+ members are likely going to increase production by some 0.7 to 1.0 m bl/d. Saudi Arabia looks like it is going to produce some 10.5 to 10.6 m bl/d in July vs. 10.0 m bl/d in May. This will however to a large degree be eaten up by increased domestic summer heating demand. On the supply side we have however lost 350 k bl/d in Canada and 400 k bl/d in Libya while Venezuela continues to decline. The WTI August contract has jumped to a one dollar premium to the September contract reflecting the tight situation. US Cushing crude stocks where WTI is priced has declined five weeks in a row to low levels and will likely continue to decline through July and August as US refineries are running close to flat out. Thus at least for July the market looks like it is going to be tight and that is why oil prices are bid and take little notice of elevated risk aversion in equities and bonds.
Saudi Arabia increased its production by 0.3 m bl/d to 10.3 m bl/d in June according to Energy Aspects and is set to lift it to 10.5 or 10.6 m bl/d in July. The June production lift is however already in the market and thus most likely reflected in the oil price. Russia is likely to lift its production by some 02 m bl/d to 11.2 m bl/d and UAE, Kuwait and Iraq are likely to add some more as well. So all in all versus May there will be internal production increases by some 0.7 to 1 m bl/d. A significant amount of the increase from Saudi Arabia is however eaten up by higher domestic consumption due oil fired power production for air conditioning through the hot summer.
These additions are however countered by declines of 400 k bl/d in Libya (don't know how long) and 350 k bl/d in Canada (through July) as well as further likely declines in Venezuela.
An oil transformer/upgrader with a 350 k bl/d capacity in Fort McMurray, Alberta, Canada blew up on Wednesday 20th. This will halt supply of 350 k bl/d of high quality low sulphur crude normally flowing to the US and Cushing Oklahoma.
In Libya, General Haftar who is controlling the eastern side of the country has now handed all oil assets in that region to the National Oil Company (NOC) in Benghazi (east) thus defying the internationally recognized NOC in Tripoli (west). The recent loss of 400 k bl/d of supply in Libya may thus be a more permanent situation. The NOC in Benghazi has earlier tried in vain to export oil out of Libya without channelling the proceeds to the NOC in Tripoli. And now it looks like they are trying again. The effect is likely going to be a production in Libya of around 0.5 m bl/d rather than 1.0 m bl/d which it has produced a while now.
US refineries will now run close to max capacity all through July and August which will help to draw down US crude oil inventories. US Cushing Oklahoma crude stocks have already been drawing down for five weeks in a row and this trend now seems likely to continue through July and August.
Ch1: US Cushing crude oil stocks are ticking lower
Ch2: WTI crude price premium for front month contract over the second month jumping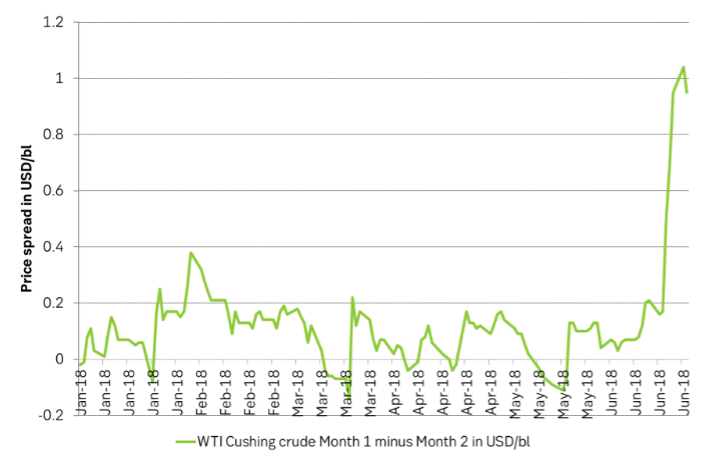 Ch3. Libya's crude oil production may move down to around 0.5 m bl/d as General Haftar has handed the oil assets in the east to the authorities in Benghazi which are not recognized by the international community