SEB Jordbruksprodukter, 27 maj 2013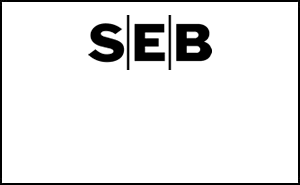 Förra veckan fick vi en rekyl uppåt i såväl spannmål som soja. Rapsfröet höll sig kvar efter uppgången veckan innan. Olika rapporter om något sänkta estimat, lite kallare väder på vissa ställen, lite varmare väder på andra och översvämningar nådde marknaden. Dessa detaljer kan dock inte förändra den stora bilden av att det blir en mycket stor skörd av spannmål i år, samtidigt som inköpschefsindex i Kina kom in på sin lägsta nivå på sju månader. Pristrenden i stort är nedåtriktad.
Idag måndag är det Memorial Day i USA och därmed lite mindre handel på marknaderna. Det innebär inte att priset inte kan röra sig.
Odlingsväder
Torkan i USA har fortsatt att minska i USA. Både andelen som är torrare än normalt och framförallt den andel som är drabbad av de värsta formerna av torka har minskat med en procentenhet sedan förra veckan.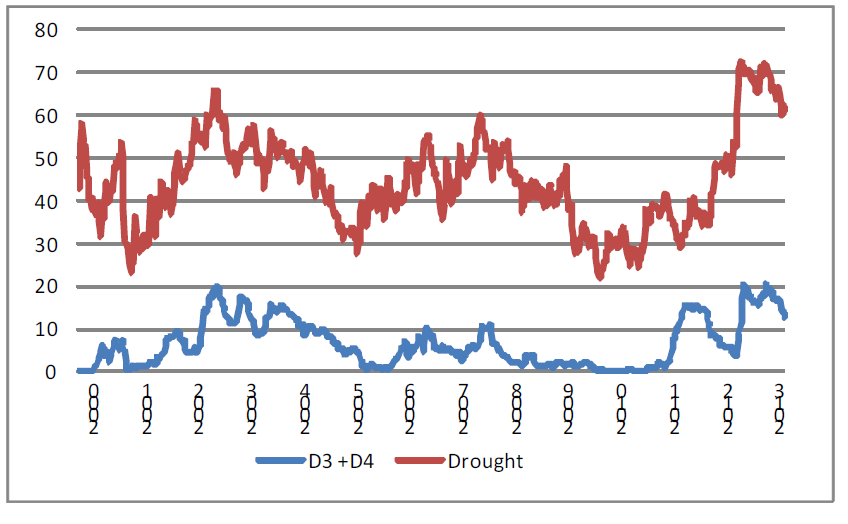 Företaget Black Earth Farming har nyligen rapporterat att odlingsvädret är gynnsamt i deras del av Ryssland, men att det är varmare längre söderut. Nedan ser vi en kartbild över västra Asien av prognostiserad temperaturavvikelse från det normala.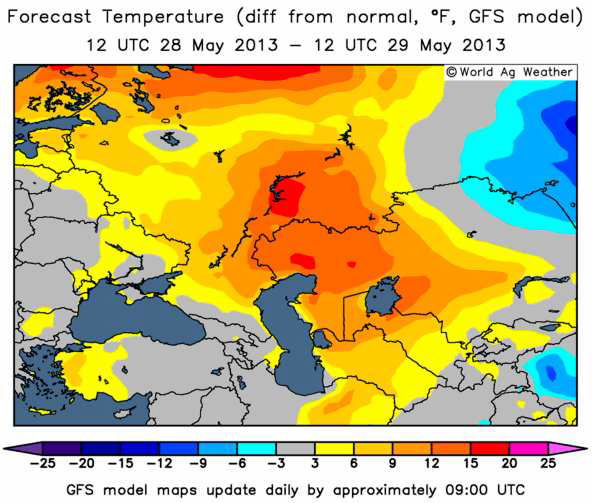 USA fick ordentligt med regn i veckan. Europa är ganska vått med översvämningar till och med i Italien. Västerut, mot Frankrike är temperaturen mycket lägre än normalt. Ryssland har fått nederbörd och normal temperatur, men längre söderut är det som vi sett i kartbilden ovan mycket varmare än normalt. Nya Zeeland har fått regn, i synnerhet över Nordön, men Australien och Argentina och Braslien var i huvudsak torra.
Vete
Priset på novemberterminen på Matif inledde veckan med att falla, men rekylerade sedan upp igen. Det är ett mönster man känner igen. Det som brukar följa efter är en förnyad nedgång. Jag förväntar mig att 200 euro testas redan i början av den kommande veckan.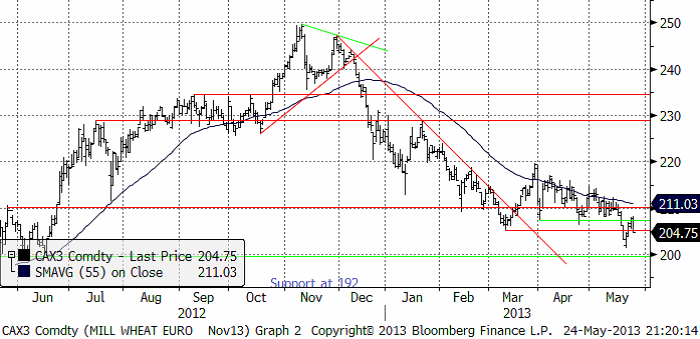 Decemberkontraktet på CBOT rekylerade uppåt. Ibland ser man (magiskt nog) att 55-dagars glidande medelvärde utgör ett stöd eller ett motstånd, t ex vid uppgången i mars. Vi tror att det hände nu också. 700 cent ska testas igen och det tror vi händer den här veckan. Det finns en möjlighet att 700 cent bryts den här veckan.
Nedan ser vi förändringen i terminskurvorna fredag till fredag.
Måndagens Crop Progress rapport från USDA visar att tillståndet för det amerikanska höstvetet fortsätter att försämras. För de 18 stater som rapporterar så klassas 31% som "good/excellent", ner 1% från förra veckan och väl under förra årets 58% vid samma tid. Höstvete klassat som "poor/very poor" uppgår till 41%, en ökning med 2% från förra veckan och väl över förra årets 14% vid samma tid. Andelen höstvete klassat som "poor/very poor" i de HRW producerande staterna fortsätter att öka, samtidigt som tillståndet för höstvete i de SRW producerande staterna fortsätter att förbättras. Andelen höstvete som har gått i ax fortsätter dock att ligga under genomsnittet, både i de HRW och i de SRW producerande staterna, som en följd av den kalla våren. Per den 19 maj hade 43% gått i ax, vilket är att jämföra med förra årets 80% vid samma tid och det femåriga genomsnittet på 62% vid denna tidpunkt.

Sådden av vårvete i de 6 största staterna gjorde framsteg i veckan som gick och avancerade till 67%, upp rejält från 43% en vecka innan men fortfarande väl efter förra årets 98% och det femåriga genomsnittet på 76%.
Den största producenten, North Dakota, ligger sist med endast 50% av sådden avklarad, jämfört med dess femåriga genomsnitt på 67% vid den här tiden.

Strategie Grains justerar ner sitt estimat för EU:s veteproduktion 2013/14 med 200 000 ton till 129.8 mt, till följd av lägre areal i Tyskland och Frankrike. Räknar man även in Kroatien, som blir medlem av unionen i juli, så beräknas den totala produktionen att uppgå till 130.9 mt.
Under hela veckan har vi hört rykten om att Kina skulle vara i marknaden för köp av amerikanskt vete. Torsdagens amerikanska exportsiffror, som kom in på 952 600 ton inkl 239 400 t gammal skörd – väl över det estimerade intervallet på 400 000-700 000 ton – innehöll inga försäljningar till Kina men fick priserna på vete att stiga.
I fredags däremot så bekräftade USDA att 180 000 ton SRW vete sålts till Kina för leverans 2013/14 och nu på morgonen rapporterar kinesiska State Administration of Grain att ett kinesiskt företag under förra veckan har köpt ca 600 000 – 650 000 ton amerikanskt vete för leverans mellan juli och september, vilket skulle vara andra gången för i år som Kina gör ett så stort köp av vete från USA.
USDA rapporterar också försäljning av 115 000 ton sojabönor och 360 000 ton majs, bägge med destination Kina.
Jag betraktar dessa saker som saker att hålla koll på. Med den stora skörd som väntas för spannmål i stort är det svårt att se att detaljer som detta skulle kunna förändra trenden nedåt i priserna.
Slutsatsen är att vi behåller vår säljrekommendation på vete.
Maltkorn
Maltkornet höll sig någorlunda starkt i veckan, men om vetet fortsätter ner, får vi nog se ett nedställ på maltkornet också. Trenden är tydligt nedåtriktad.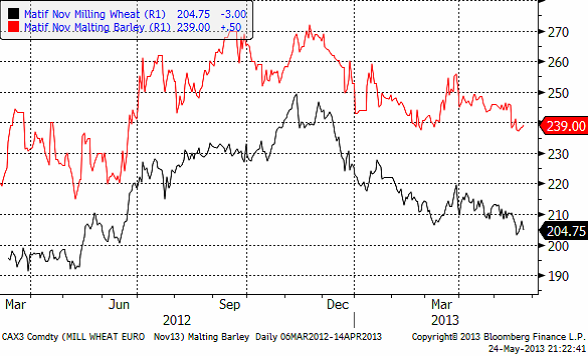 Majs
Majspriset (december 2013) föll under bottennoteringen från april. Allt fler mäklarfirmor börjar avrapportera 400 cent som "rätt pris" för kommande skörds majs. Att priset då ändå inte hamnar i fritt fall, är ett observandum, trots allt. Med det sagt, tror jag ändå att vi får en nedgång i veckan som kommer.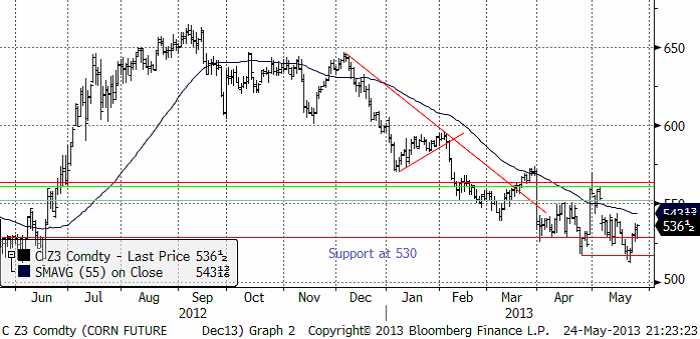 Till förra helgen hade amerikanska lantbrukare lyckats ta sig till 71% färdigsått genom att på en vecka så en yta som är 2 x Irlands yta. Har de lyckats fortsätta den här takten har de kommit ikapp och kanske rentav hamnat på en nivå som är normal för den här tiden på året.
Som nämnt ovan, visade måndagens Crop Progress att lantbrukarna har dragit nytta av det varma och torra vädret och därmed gjort stora framsteg i sin sådda av majs. Per den 19 maj så var sådden i de 18 största majsproducerande staterna avklarad till 71%, en rekordökning med 43% från 28% en vecka tidigare men något lägre än det femåriga genomsnittet på 79% vid den här tiden. Vårens kalla och blöta väder över majsbältet har gjort att årets sådd ligger markant efter förra årets sådd, då 95% var i marken vid den här tiden. Å andra sidan låg förra årets sådd långt före genomsnittet på grund av att våren då var torr och varm vilket till slut ledde till att grödorna drabbades av den värsta torkan på 50 år.
Den mest markanta ökningen i rapporten står den största producenten Iowa för med 71% av sådden avklarad, upp från 15% veckan innan. Även Illinois, den näst största producenten, noterade en rejäl ökning från 17% till 74%.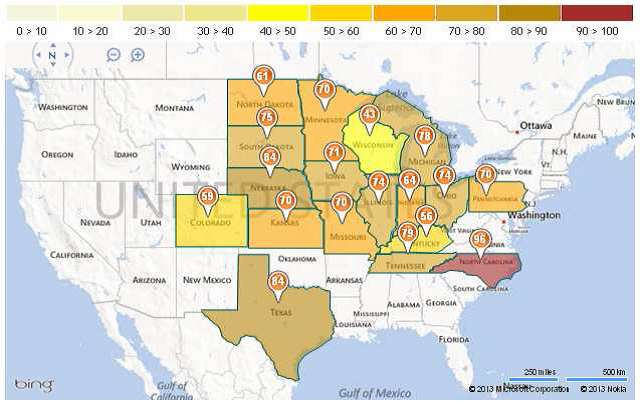 I Argentina är skörden klar till 65%, vilket är lite snabbare än förra årets 59%.
Slutsatsen är att vi behåller vår säljrekommendation på majs.
Sojabönor
Sojabönorna visade fortsatte att visa oväntad styrka. Priset har stigit upp från 1200 cent upp till 1247 cent när priset "borde" ha fallit. Vid 1250 finns dock ett starkt tekniskt motstånd, där särskilt många bönder bör ha hängt upp sina säljordrar. Vi tror att uppgången hejdas här.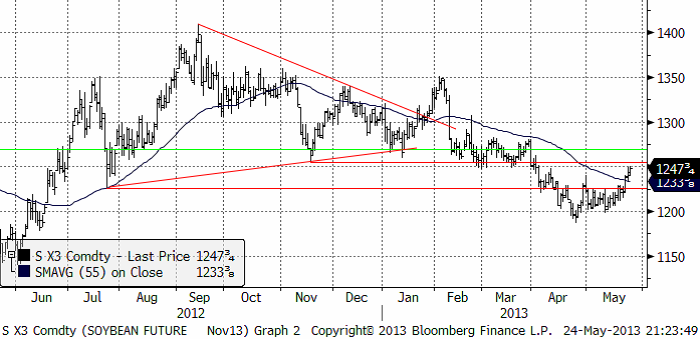 Sådden ligger som tidigare, fortfarande efter vad som är normalt, som vi ser i diagrammet nedan.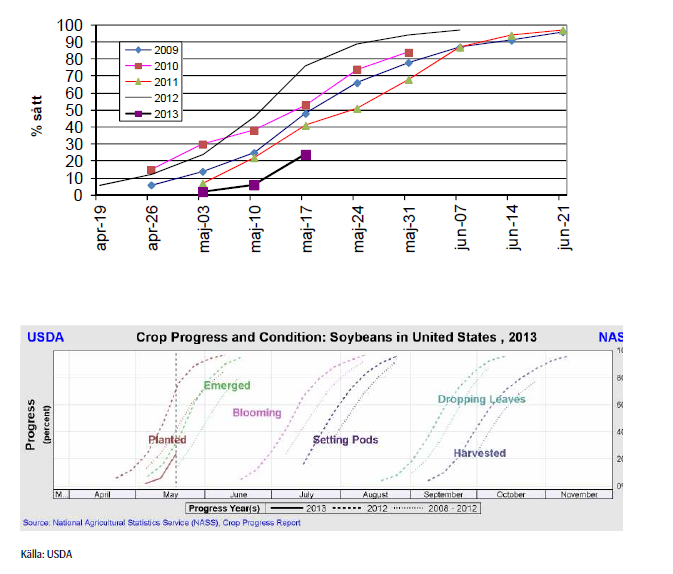 Som nämnt ovan visar måndagens Crop Progress att sådden av sojabönor, som vanligtvis sås senare än majs, fortskrider i sakta mak och nu är avklarad till 24%, vilket kan jämföras med 71% vid den här tiden förra året och det femåriga genomsnittet på 42%.
I Iowa, den största producenten, är sådden endast avklarad till 16% – vilket är långt efter det femåriga genomsnittet på 59% vid denna tid – samtidigt som sådden hos den näst största producenten, Illinois, nu är påbörjad och avklarad till 19%, ett rejält uppsving från veckan innan men fortfarande efter det femåriga genomsnittet på 35%.
I veckan som gick sänkte Argentinas jordbruksdepartement skördeprognosen från 51.3 mt till 50.6 mt. USDA:s senaste estimat ligger på 51 mt och som jämförelse kan nämnas att Rosario och Buenos Aires Grain Exchange båda ligger lägre på 48.5 mt. I Argentina är skörden av sojabönor nästan klar med 93% avrapporterat.
Slutsatsen är att vi behåller och upprepar vår säljrekommendation på sojabönor.
Raps
Rapspriset (November 2013) höll sig, som jag skrev förra veckan under 420 euro och rörde sig "sidledes". Frågan är om detta är en konsolidering inför en uppgång mot 430 euro eller om priset kommer att vända ner mot 415 euro igen? Det är svårt att säga, men den tekniska bilden indikerar att en nedgång är den mer sannolika rörelsen.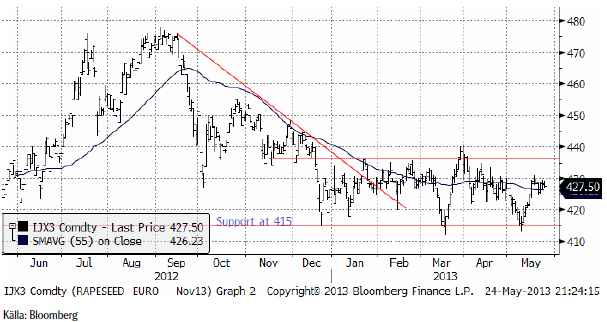 På grund av det kalla och våta vädret väntas Frankrikes skörd av rapsfrö bli den lägsta på 7 år, 1 mt lägre än förra året (4.5 mt istället för 5.5 mt). Även i Kanada sänktes produktionsestimat. Den här veckan av Ag Canada som förra månaden hade ett estimat på 15.5 mt och nu tror på 14.1 mt.
Skulle det tekniska stödet på 415 euro brytas, är detta en rejäl säljsignal. Jag tror att rapspriset kommer att falla. Dels för att sojabönorna bör ha en lång tid av fallande priser framför sig och dels för att rapsen är ovanligt dyr i förhållande till sojabönor.
Mjölk
Nya Zeelands mjölkproduktion var 16.8% lägre i mars jämfört med mars förra året enligt industrigruppen Dcanz. Detta orsakades av den torka som drabbat landet. I och med de myckna regnen över Nordön på Nya Zeeland anses den dock vara över nu och därmed är haussen i mjölkpriset över på den internationella marknaden. Priset på Fonterras GlobalDariyTrade har fallit med ca 15% från toppnoteringen. Eurex, som följer den europeiska marknaden för smör och skummjölkspulver ligger dock fortfarande kvar på högre nivå.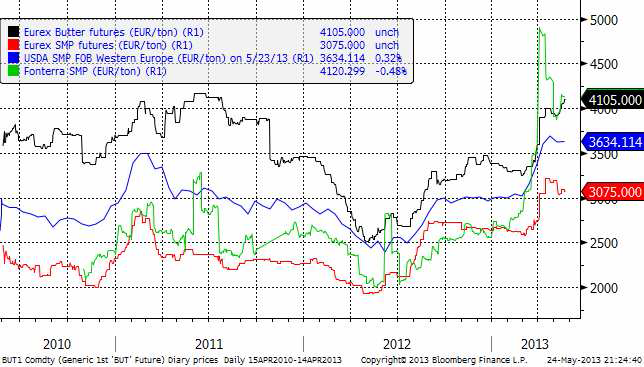 Nedan ser vi kvoten mellan mjölkpriset i USA och majspriset. När "råvaruboomen" började i början på "00" – talet försvann lönsamheten från mjölkbranschen. Tecknen hopar sig nu om att toppen på råvaruboomen är över. Det betyder att lönsamheten för mjölkproducenter är över – tillsammans med krisen för grisbönderna. Större trendförändringar inträffar ofta på ett omärkbart sätt, utan att folk inser att en förändring har skett.
Det var på samma sätt för tio år sedan när råvaruboomen började. De här mega-trendernas källa ligger i demografi och idéer, inte i QE eller annat finansiellt. För över 100 år sedan beskrev man skeendet i USA med en liknelse av Niagara-fallet. Det är skummet man ser, men det är det strömmande vattnet under som utgör kraften.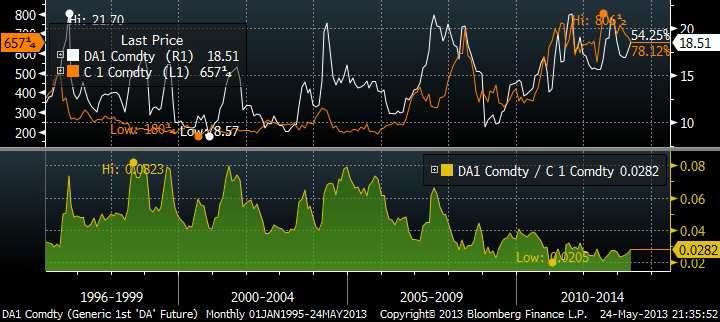 [box]SEB Veckobrev Jordbruksprodukter är producerat av SEB Merchant Banking och publiceras i samarbete och med tillstånd på Råvarumarknaden.se[/box]
Disclaimer
The information in this document has been compiled by SEB Merchant Banking, a division within Skandinaviska Enskilda Banken AB (publ) ("SEB").
Opinions contained in this report represent the bank's present opinion only and are subject to change without notice. All information contained in this report has been compiled in good faith from sources believed to be reliable. However, no representation or warranty, expressed or implied, is made with respect to the completeness or accuracy of its contents and the information is not to be relied upon as authoritative. Anyone considering taking actions based upon the content of this document is urged to base his or her investment decisions upon such investigations as he or she deems necessary. This document is being provided as information only, and no specific actions are being solicited as a result of it; to the extent permitted by law, no liability whatsoever is accepted for any direct or consequential loss arising from use of this document or its contents.
About SEB
SEB is a public company incorporated in Stockholm, Sweden, with limited liability. It is a participant at major Nordic and other European Regulated Markets and Multilateral Trading Facilities (as well as some non-European equivalent markets) for trading in financial instruments, such as markets operated by NASDAQ OMX, NYSE Euronext, London Stock Exchange, Deutsche Börse, Swiss Exchanges, Turquoise and Chi-X. SEB is authorized and regulated by Finansinspektionen in Sweden; it is authorized and subject to limited regulation by the Financial Services Authority for the conduct of designated investment business in the UK, and is subject to the provisions of relevant regulators in all other jurisdictions where SEB conducts operations. SEB Merchant Banking. All rights reserved.
The cuts are for real and are already bullishly impacting the market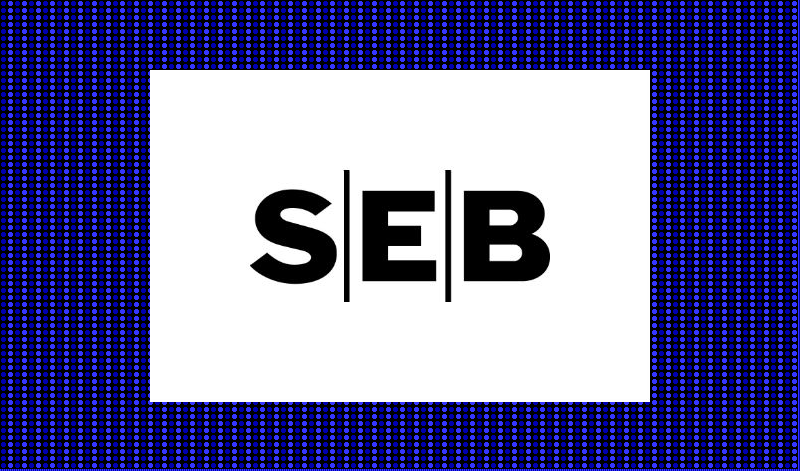 Thumbs down was first reaction by financial market. The market gave the decision from the latest OPEC+ meeting an unexpectedly bearish reception. Yes, it was an unusual type of decision as well as the form of the communication. It was individual, 'voluntary' cuts rather than a wide OPEC+ based decision with cuts divided pro-rate across the group. The communication of these cuts were not done by the OPEC secretariat as is usual but rather by the individual energy ministers who committed to cuts. All this gave the decision an airy feel with the sense that 'voluntary' meant kind of 'maybe' instead of real commitments. Further that the group is no longer tied properly together with no solid unanimous decision. It all summed up to 'thumbs down' by the financial market and the price fell.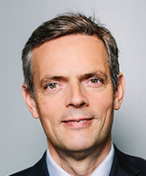 The cuts are real and 'voluntary' doesn't mean 'maybe'. These 'voluntary' committed cuts are no less firm commitments and no less real than the current voluntary cut by Saudi Arabia which continues to hold its production at 9.0 m b/d vs a normal 10 m b/d. These are real cuts: Russia -200 k b/d, Iraq: 223 k b/d, UAE 163 k b/d, Kuwait 135 k b/d, Kazakhstan 82 k b/d, Algeria 51 k b/d and Oman 42 k b/d. Total 896 k b/d. Compliance is of course always an issue. But broadly we expect these cuts to be delivered.
US oil inventories may continue to show marginal, bearish tendencies in December. These cuts will kick in from January 2024 and as such they will not impact oil inventories before then. So weekly US oil inventory data can continue to deliver marginally bearish data points through December along a trend for a while now where we have seen that total commercial crude and product stocks inches closer and closer towards the 2015-19 seasonal average.
The new cuts by OPEC+ is already physically impacting the market with tighter availability of crude cargoes for January programs. But that doesn't mean that the new committed cuts by OPEC+ from January 2024 isn't already impacting the physical oil market and oil prices. They are. Sales of physical oil cargoes by OPEC+ for January crude shipment programs are already in full swing. Refineries around the world are already now in the process of purchasing physical crude cargoes for Q1-24. Offerings of crude cargoes for Q1-24 by OPEC+ were immediately reduced the moment OPEC+ decided to reduce supply by 900 k b/d from January onward. Forward physical crude buyers are thus already experiencing a tighter supply in their forward purchases. And as such oil prices are already impacted.
Cuts are a backstop against deteriorating crude prices sub-USD 80/b and not a recipe for USD 100/b. The fresh 900 k b/d cut is not a recipe to drive the oil price to USD 100/b. In our eyes it is more of an effort to prevent the oil price from deteriorating further below USD 80/b. It is a backstop. And as such we think it is probably a sufficient backstop.
The bottoming of the global manufacturing cycle will be the 'big, fat cigar' for OPEC+. It is pointless for OPEC+ to try to drive the oil price to USD 100/b without a solid tailwind from an accelerating global economy. Their best option is to try to stabilize the oil price around USD 80/b and then savor the joyride once the global economic cycle bottoms out and starts to accelerate. Long positions in oil will then rise rapidly and physical demand (oil demand growth) will accelerate. Both underpinning oil prices. OPEC+ can then lean back and smoke a big, fat cigar! The big, big question is of course when that will happen? Will we first have an ugly, economic setback in 2024/25 due to the strong rise in interest rates over the past 1-2 years? Or will inflation evaporate completely over the coming quarters because it is a complete creation of the exceptional Covid-19 events which are now reversing back towards normal? Financial markets are struggling to decide which one of these it will be. Ugly trough before global acceleration of global acceleration right away if inflation evaporates completely?
A macro economist I worked with during the global financial crises argued strongly then that the first sign of bottoming and acceleration would be found by looking at the manufacturing PMI of South Korea since they produce a swath of industrial sub-components which the global industrial engine needs. Much has changed since 2008/09 and true or false I don't know as I'm not a macro economist. But here it is:
Manufacturing PMIs. South Korea has bottomed and lifted to the 50-line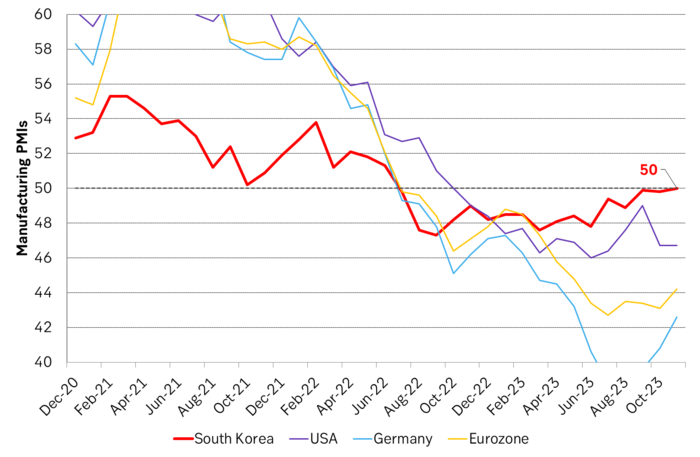 SEB Metals price forecast update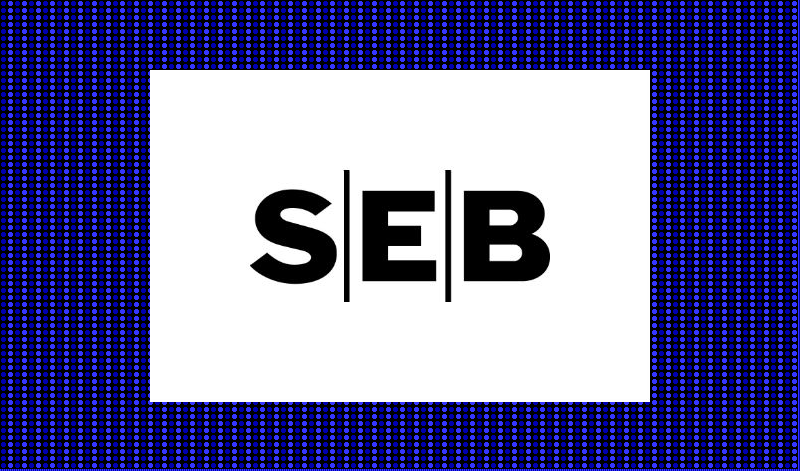 Softer economic growth in 2024 calls for somewhat softer metals prices in 2024. Industrial metals prices as well as other commodity prices exploded during Covid-19 as governments around the world unleashed stimuli in the magnitude of 10x of what was done during the global financial crisis in 2008/09. Consumers shifting spending from services to consumer goods added to the boom. Bloomberg's industrial metals price index was up 91% in March 2022 versus January 2020 because of this. Global manufacturing PMI peaked in May 2021 and has been fading since and below the 50-line from September 2022 with latest reading at 48.8. Industrial metals prices have faded since their peak in March 2022 but are still 30% higher than they were in January 2020. Even zinc, the worst performing metal, is still 9% above where it was in January 2020. As such one could possibly argue that industrial metals have not yet fully faded from their Covid-19 stimulus boom. One possible explanation could be inflation where US inflation is up 19% over the period. But this still leaves industrial metals up 11% in real terms. Another possible explanation is the big jump in energy prices over the period. While coal and gas prices have fallen back a lot, they are still quite high. The coal price in western Europe is 110% above where it was at the start 2020 and 50% above its 2010-2019 average. Most industrial metals are highly energy intensive to produce with digging and crushing of rocks, smelting, and refining of ore. The current aluminium price of USD 2215/ton is for example well aligned with coal prices. In addition to this there has also been significant closures of zinc and aluminium smelting capacity in Europe which probably have supported prices for these metals.
Global economic growth is forecasted to slow from 3.5% in 2022, to 3.0% in 2023 and then again to 2.9% in 2024 as the big jump in interest rates induce economic pain with a lag. Aligned with this we expect lower industrial metals prices in 2024 than in 2023 though only marginally lower for most of the metals. But the field of metals is wide, and the price action is thus adverse. Copper is likely the metal with the most strained supply and with huge needs in the global energy transition.
Aluminium: Prices will likely be depressed versus marginal costs in 2024. Aluminium from Russia is flowing unhindered to the market. Most is going to China for reprocessing and potentially re-exported while some is going to Turkey and Italy. It is all flowing into the global pool of aluminium and as such impacting the global market balance. The LME 3mth aluminium price is currently well aligned with coal prices and both have traded mostly sideways since June this year. Aluminium premiums in the EU have however fallen 30-40% since mid-June in a sign of weakness there. The global market will likely run a surplus in 2024 with depressed prices versus the marginal cost of production.
Copper: Softer fundamentals in 2024 but with accelerating tightness on the horizon. Copper is currently trading at USD 8470/ton and close to 37% above its early Jan 2020 level. The market is expected to run a slight surplus in 2024 followed by accelerating tightness the following years. Downside price risk for 2024 is thus warranted along with softer global growth. The power of Unions is however getting stronger in Latin America with demands for higher salaries. Strikes have broken out in Peru with production at the Las Bambas copper mine at only 20%. Further strikes and disruptions could quickly put the market into deficit also in 2024.
Nickel: Indonesia pursuing market share over price pushing the price down the cost curve. Indonesia's nickel production is growing rapidly. Its production reached 1.6 million ton in 2022 (+54% YoY) and accounted for close to 50% of total global supply in 2022. Its share looks set to reach 70% by 2030. Lower prices will stimulate demand and will also force higher cost producers to shut down thus making room for the wave of new supply from Indonesia. Prices will be sluggis the nearest years as Indonesia aims for market share over price.
Zinc: Price has stabilized around USD 2500/t. Weakness in global construction will drive prices lower at times in 2024. The 3mth LME zinc price has fallen from a peak of USD 4499/ton in April 2022 to only USD 2248/ton in May 2023. Since then, it has recovered steadily to USD 2500/ton.  Demand could struggle in 2024 as construction globally will likely struggle with high interest rates. But mine closures is a natural counter effect of low prices and will put a floor under prices.
Price outlook

Bjarne Schieldrop
Cheif Commodities Analyst
SEB Commodity Research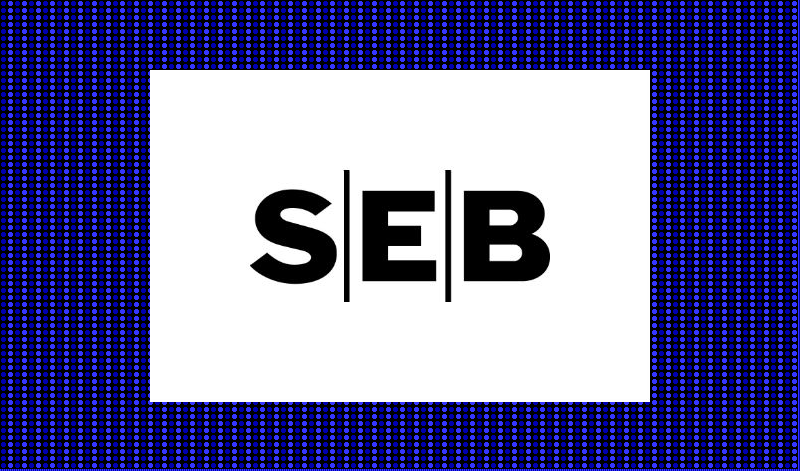 All eyes are now back at OPEC+ after the recent fall in oil prices along with weakening crude curve structures and weakening economic statistics. OPEC+ will have to step up the game and give solid guidance of what it intends to do in 2024. If Saudi Arabia is to carry the burden alone (with only a little help from Russia) it will likely need to keep its production at around 9.0 m b/d on average for 2024 and drop it down towards 8.5 m b/d in Q1-24. This may be too much to ask from Saudi Arabia and it may demand some of the other OPEC members to step up and join in on the task to regulate the market in 2024. More specifically this means Iraq, Kuwait and UAE. The oil market will likely be quite nervous until a firm message from Saudi/Russia/OPEC+ is delivered to the market some time in December.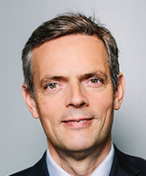 Saudi Arabia may get some help from President Joe Biden though as his energy secretary adviser, Amos Hochstein, has stated that the US will enforce sanctions on Iran on more than 1 m b/d.
Brent crude fell 4.6% ydy to USD 77.4/b and over the last three trading sessions it has lost USD 5.1/b. This morning it is trading only marginally higher at USD 77.6/b which is no vote of confidence. A good dose of rebound this morning would have been a signal that the sell-off yesterday possibly was exaggerated and solely driven by investors with long positions flocking to the exit. So there's likely more downside to come.
In general there is a quite good relationship between net long speculative positions in Brent crude and WTI versus the global manufacturing cycle. Oil investors overall typically have an aversion of holding long positions in oil when the global economy is slowing down. As of yet there are few signs that the global economic cycle is about to turn. Rather the opposite seems to be the case. Global manufacturing fell in October and yesterday we saw US industrial production fall 0.6% MoM while continued jobless claims rose more than expected and to the highest level in two years. This matches well with the logic that the strong rise in interest rates since March 2022 is inflicting pain on the economy with more pain ahead as the effect comes with a lag.
Most estimates are that the global oil market is running a solid deficit in Q4-23. The IEA has an implied deficit in the global oil market of 1 m b/d in Q4-23 if we assume that OPEC will produce 28 m b/d vs. a call-on-OPEC at 29 m b/d. But prices in the oil market is telling a different story with weakening crude curves, weakening refining margins and a sharp sell-off in oil prices.
For 2024 the general forecasts are that global economic growth will slow, global oil demand growth will slow and also that the need for oil from OPEC will fall from 28.7 m b/d to 28.4 m b/d (IEA). This is a bearish environment for oil. The average Brent crude oil price so far this year is about USD 83/b. It should essentially be expected to deliver lower in 2024 with the negatives mentioned above.
Two things however will likely counter this and they are interconnected. US shale oil activity has been slowing with falling drilling rig count since early December 2022 and that has been happening at an average WTI price of USD 78/b. The result is that total US liquids production is set to grow by only 0.3 m b/d YoY in Q4-24. This allows OPEC+ to support the oil price at USD 80-90/b through 2024 without fear of loosing a significant market share to US oil production. Thus slowing US liquids production and active price management by OPEC+ goes hand in hand. As such we do expect OPEC+ to step up to the task.
So far it has predominantly been Saudi Arabia with a little help from Russia which together proactively have managed the oil market and the oil price through significant cuts. Saudi Arabia produced 10.5 m b/d in April but then cut production rapidly to only 9.0 m b/d which is what it still produces. Its normal production is about 10 m b/d.
What has made the situation more difficult for Saudi Arabia is the combination of solid growth in non-OPEC supply in 2023 (+2.1 m b/d YoY; IEA) but also a substantial revival in production by Venezuela and Iran. The two produced 660 k b/d more in October than they on average did in 2022. So the need for oil from Saudi Arabia is squeezed from both sides.
All eyes are now back at OPEC+ after the recent fall in oil prices along with weakening crude curve structures and weakening economic statistics.
OPEC+ will have to step up the game and give solid guidance of what it intends to do in 2024. If Saudi Arabia is to carry the burden alone (with only a little help from Russia) then it will likely need to keep its production at around 9.0 m b/d on average for 2024 and drop it down towards 8.5 m b/d in Q1-24. This may be too much to ask from Saudi Arabia and it may demand some of the other OPEC members to step up and join in on the task to regulate the market in 2024. More specifically this means Iraq, Kuwait and UAE.
The oil market will likely be quite nervous until a firm message from Saudi/Russia/OPEC+ is delivered to the market some time in December.
Saudi Arabia may get some help from President Joe Biden though as his energy secretary adviser, Amos Hochstein, has stated that the US will enforce sanctions on Iran on more than 1 m b/d.