SEB Råvarubrev 4 april 2017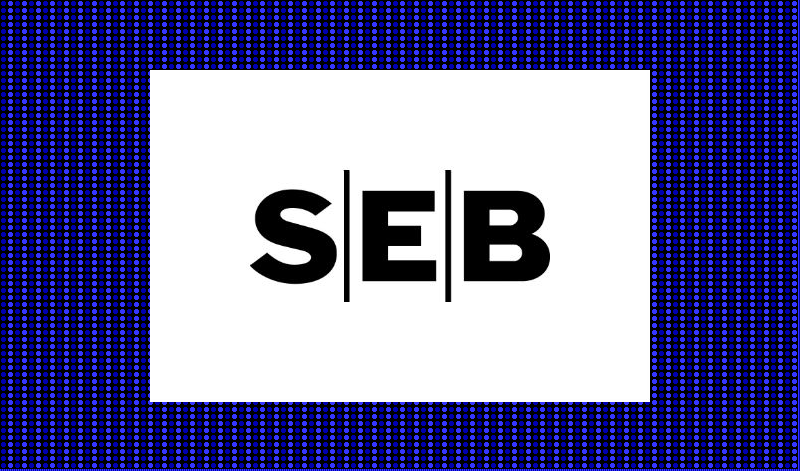 Nedåtpressen ökar på industrimetallerna.
MARKNADEN I KORTHET
Marknaden har sedan förra veckan fortsatt att ställa ned förväntningarna på de effekter som "Trumponomics" kan tänkas ha på den reala ekonomin. Fokus har också åter förflyttats till europeiska politiska risker nu när det franska presidentvalet rycker närmare. Dock har det fortsatt att levererats stark inköpschefsstatistik. Noterbart är också att överraskningsindex av typen Citibank's ekonomiska överraskningsindex stigit till nivåer där överraskningarna snart bör komma att bli negativa dvs. förväntningarna börjar bli för höga. Lägre än förväntad inflation noterades i både Tyskland och Eurozonen som helhet vilket fått räntor och euro (dock inte mot den svenska kronan) på fall.
Råvaror: Oljepriset har fortsatt att rekylera högre uppbackat av diverse rykten om en förlängning av OPEC'S produktionsbegränsningar. Situationen i Venezuela har ytterligare eskalerat och det verkar som om den sista striden mellan president och parlament nu närmar sig. Samtidigt har man problem med att leverera tillräckligt med olja för att uppfylla de tidigare avtalen med bl.a. Kina där man bytt nya lån mot framtida oljeleveranser vilket betyder att man har allt mindre att sälja på den öppna marknaden. Industrimetallerna verkar denna gång betydligt mer påverkade av den stigande dollarn än tidgare. Viktig nivå för zink vid $2644, ska upptrenden bestå bör vi inte bryta denna nivå. Noterbart är också att guldet och dollarn förnärvarande stiger i tandem. Majs fick en rejäl skjuts efter förra veckans planteringsplaner som visade på mindre än förväntade arealer.
Valuta: Dollarkorrektionen ser nu ut att vara över. EUR/USD slutade förra veckan med att skapa ett mycket negativt mönster. USD/SEK underblåses av både en stigande dollar och en fallande krona. Dock stiger inte USD/JPY vilket är ett litet varningstecken, marknaden köper normalt sett yen vid ökad oro.
Börser: Sedan förra veckan så har de större börserna mer eller mindre trampat vatten. Dock kan vissa utmattningstecken skönjtas varför risken för ytterligare nedställ har ökat något. Framför allt DAX & €stoxx50 uppvisar möjliga toppformationer.
Räntor: Långa räntor fortsätter att falla då "Trumpflation" fortsätter att ifrågasättas. Positioneringen för stigande amerikanska 10-åriga räntor är en av världens största konsensuspositioneringar vilket kortsiktigt ökar risken för en stopp-loss driven rörelse mot lägre räntor.
OBSERVATIONER I SAMMANDRAG
Olja – primärt mål med uppgången uppfyllt.
Koppar – ser allt svagare ut.
Guld – fortsätter stiga tillsammans med dollarn.
Majs – minskade arealer pressade upp priset.
USD/SEK – motvind blev medvind!
Aluminium – dags för en korrektion?
En placering i certifikat och warranter är förknippat med risker. Du kan förlora hela ditt investerade kapital. Läs mer om riskerna i SEB:s offentliggjorda Grundprospekt för certifikat- och warrantprogram på seb.se/cert eller seb.se/mini
OLJA BRENT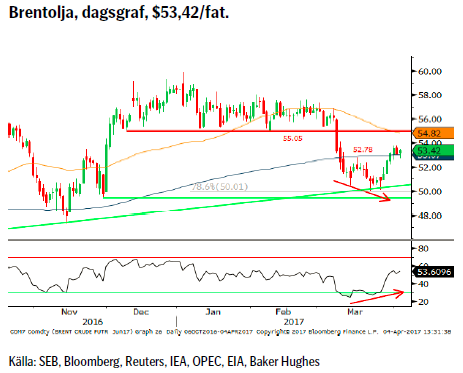 Produktionen i Permian-området, som ju också är det enda skifferoljeområdet där produktionen ökat under förra året, har ökat så mycket att man nu börjar få problem med att få oljan därifrån, vilket på kort sikt riskerar att bromsa borrandet i området. Antalet borriggar i Eagle Ford-området har dock börjat öka varför vi inom några månader bör se mer olja komma ut från det området. En ny rapport från Wood Mackenzie visar på att inte bara skifferproducenterna lyckats med att kraftigt få ned sina produktionskostnader, utan att också djuphavsolja nu står inför en liknande utveckling. I rapporten sägs att i vissa fall har man fått ned kostnaden till cirka $50 per fat så tittar vi framåt så bör vi snart se uppstart av nya djuphavsprojekt.
Konklusion: Uppgången lockar sannolikt snart nya säljare.
OBSERVATIONER
+ Pipeline-kapaciteten från Permian området skapar flaskhalsar vilket riskerar att hämma produktionsökningen.
+ Rykten om en förlängd OPEC överenskommelse.
+ Iran indikerar vilja att förlänga sitt produktionstak.
+ Ryssland har nu kapat ~185k fat av de utlovade 300k.
+ Produktionen i Venezuela fortsätter att försämras.
+ Tekniskt så är det positivt att vi nu är tillbaka över 55d mv och $55,05 är nu ett mycket viktigt motstånd.
– Nigeria – den senaste överenskommelsen med de militanta grupperna i Nigerdeltat verkar än så länge hålla.
– Libysk produktion/export åter upp något.
– Än så länge bara "luddiga" uttalanden om en eventuell förlängning av OPEC-avtalet.
– Stora investeringar i skifferolja från de stora oljebolagen.
– Amerikansk produktion uppe på 9,1 mfpd (extrapolerar vi ökningstakten slås ett nytt rekord runt 30/6).
– Globala lager faller långsammare än förväntat.
– Brasilien, Kanada o Kazakstan ökar produktionen.
– Antalet borriggar fortsätter kontinuerligt att öka.
– Tekniskt sett så har nu reaktionen högre levererat.
Tillgängliga certifikat:
BULL OLJA X1, X2, X4, X5, & X10 S
BEAR OLJA X1, X2, X4, X5 & X10 S
KOPPAR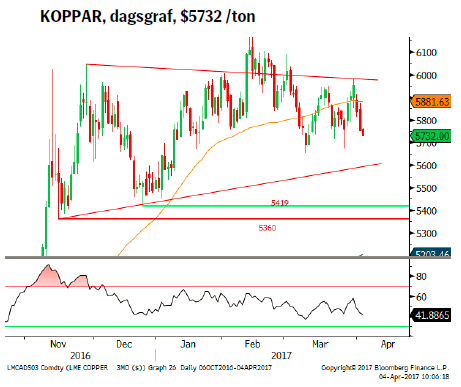 Som vi tidigare noterat så var pressen uppåt inte speciellt stark trots de produktionsstörningar vi tidigare hade. Framför allt har mycket kopparskrot täckt det underskott som skapades och dessa lager är ju finns inte i någon tillförlitlig statistik. Dessutom fortsätter metaller att pressas av den tillnyktring avseende möjligheterna för Trump att få igenom sin politik. Dessutom så verkar det som den stigande dollarn denna gång får ett större genomslag på basmetallpriserna. Många aktörer är denna vecka på Cesco World Copper Conference i Chile.
Konklusion: Åter bortstött från det tidigare triangeltaket vilket indikerar mer svaghet.
OBSERVATIONER
+ Starkt positiv statistik (IFO) för tysk tillverkningsindustri.
+ Positiv utveckling av kinesisk bostadsmarknad.
+ Risk för förnyad strejk vid Cento Verre-gruvan i Peru.
+ Tekniskt sett ska det finnas stöd primärt vid $5671 och $5652.
– Exportlicensen på plats för Freeport's Grasberggruva.
– LME-lagren ökade något under mars.
– Slut på strejkerna.
– Tillnyktringen över Trump's infrastrukturinvesteringar.
– Den spekulativa nettopositionen ökade något den senaste rapporteringsperioden. Dessa "svaga" nya långa riskerar att stoppas ut vid ett brott under $5671.
– Vd:n för Kinas näst största smältverk ser lägre priser i år.
– Southern Copper (världens 5:e största producent) räknar med att öka sin produktion kommande år med 2/3.
– Ur en teknisk synvinkel så har vi fortfarande ett mönster av fallande toppar.
– Tekniskt sett så är bortstötningen från det forna triangeltaket oroväckande.
Tillgängliga certifikat:
BULL KOPPAR X1 & X4 S
BEAR KOPPAR X2 & X4 S
GULD
Noterbart är att trots dollarns uppgång den senaste veckan så har guldet också fortsatt sin uppgång efter att ha avslutat korrektionen i mitten av mars. Som vi tidigare pekat på så riskerar den långsamma höjningstakten från Fed att förlänga perioden med negativa korta realräntor och att en sådan miljö är gynnsam för guldet. Marknaden är inte heller positionerad för en uppgång så ett brott över de senaste topparna kan mycket väl trigga mer köpande och i sådana fall ytterligare uppgångspotential.
Konklusion: Politisk oro i Europa och negativa korta realräntor skapar medvind för guldpriset.
OBSERVATIONER
+ Fallande obligationsräntor.
+ Spekulativa långa positioner ökade något förra veckan, men befinner sig fortfarande på en låg nivå.
+ Fed's "mjuka" höjning.
+ Neddragningen vid Grasberg-gruvan i Indonesien (i huvudsak koppar men även en del guld).
+ Fortsatt stor efterfrågan på fysiskt guld i Asien.
+ Ökat inflationstryck gör "fysiska" tillgångar attraktivare.
+ Fallande produktion (peak-gold 2015).
+ Tekniskt så skapar stigande bottnar och ett platt tak en möjlig s.k. tryckkokare.
+ Tekniskt är vi antagligen på väg mot en gyllene korsning dvs. när 55d passerar upp över 233d mv.
– Fed's kommande räntehöjningar.
– Om dollarn skulle stiga kraftigt.
– Om inflationen skulle börja falla igen.
– Tekniskt motstånd vid 233d mv.
Tillgängliga certifikat:
BULL GULD X1, X2, X4, X5 & X10 S
BEAR GULD X1, X2, X4, X5 & x10 S
MAJS
Sådd och lagerrapporten i fredags fick köparna att unisont trycka på köpknappen. Arealen som planeras sås med majs var mindre än vad analytikerna förväntat sig (en minskning låg dock i korten då bönder pga. låga priser styr över produktion till sojabönor som har lägre produktionskostnader). Lagren fortsatte dock att öka och förblir därför rekordstora. Hursomhelst så tolkades statistiken positivt och priset steg följaktligen kraftigt.
Konklusion: Amerikanska bönder minskar sina majsarealer.
OBSERVATIONER
+ Sådd och lagerrapporten den 31/3 tolkades positivt.
+ Den spekulativa positioneringen vände till netto ned under den förra rapportperioden som dock inte täcker fredagens statistik så risken är stor att vi redan haft en vändning från kort till lång.
+ Det låga priset har fått en del amerikansk areal att gå från majs till sojabönor som har en lägre produktionskostnad.
+ Starka produktionsdata för etanol (EIA).
+ Risken för en ny El Nino är i stigande.
+ Tekniskt sett blev fredagen en s.k. vändningsdag men för en positivare bild behöver vi bryta över trendlinje samt 55 & 233d mv.
– Det amerikanska jordbruksdepartementet uppreviderade global produktion i sin senaste WASDE rapport då både areal och avkastning i stor del av världen har ökat.
– Risk finns för att Trump administrationen kan komma att minska kraven på etanolinblandning i bensinen.
– Conab har reviderat upp skördarna, första och andra, för Brasilien.
– Den sydafrikanska skörden närmar sig och larvangreppen, som gjort skada i omgivande länder, verkar vara begränsade varför skörden ser lovande ut.
– Tekniskt så är nu 55 & 233d mv ett utmanande motstånd.
Tillgängliga certifikat:
BULL MAJS X1 & X4 S
BEAR MAJS X1 & X4 S
USD/SEK
Den allt svagare euron slår pressar framför allt upp dollarn men även guld i euro har fått en rejäl skjuts. Med kronan som har svårt att stärka sig så gör även det att USD/SEK också ser ut att få lite hävstång i uppgången. Stark PMI statistik under måndagen lyckades bara förstärka kronan under några timmar, sen var vi tillbaka vid utgångsläget. Det beteendet är inte något styrketecken för kronan. Det kan också vara dags att börja fundera över säsongsmönstret som ju säger att maj ska vara en historiskt bra dollarmånad.
Konklusion: Positiv utveckling men en avslutad korrektion kan inte fastslås med mindre än att vi passerar 9.09-området.
OBSERVATIONER
+ En allt svagare euro stärker dollarn.
+ Utdelningssäsongen tenderar att ge en något svagare SEK.
+ Fortsatta höjningar från Fed.
+ Riksbanken motsätter sig en kraftigare kronförstärkning.
+ Fortsatt bra amerikansk statistik.
+ Korträntedifferensen mellan USA och Sverige bör fortsätta att öka något.
+ Dollarcykeln, 8/16-årscykeln, pekar mot en ny topp under 2017 eller nåddes den redan i december 2016?
+ Tekniskt sett finns det breda och förhoppningsvis starka stöd från 8,75 och en bit nedåt, vilka visade sig vara giltiga.
+ Tekniskt positivt att vi klivit tillbaka upp över 55d mv.
– Bakslagen för Trump och tillnyktringen om "Trumponomics".
– ECB förväntas börja normalisera räntan i september.
– Stigande svensk/europeisk inflation men är den uthållig eller bara en tillfällig oljeeffekt?
– Det amerikanska skuldtaket måste höjas då vi strax når $20 biljoner i statsskuld. Följs här: http://www.usdebtclock.org/
– Amerikanska aktier börjar se dyra ut jämfört med Europeiska. Tekniskt sett är det möjligtvis en oavslutad korrektion då vi inte föll under 8,6970.
Tillgängliga certifikat:
BULL USDSEK X1 & X4 S
BEAR USDSEK X4 S
ALUMINIUM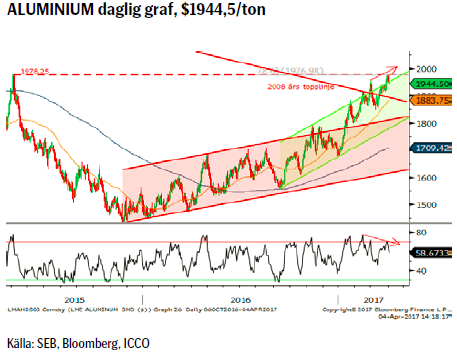 Aluminiumet har befunnit sig och befinner sig i en klart stigande trend men denna har på slutet visat vissa svaghetstecken i form av allt tätare små korrektioner. De aviserade möjliga produktionsbegränsningarna nästa vinter bör nu var väl inkorporerade i dagens pris varför den faktorn bör ha spelat ut sin roll. Med stigande dollar och frågetecken för Trump's möjligheter att få igenom sin politik så bör även aluminiumet vara sårbart på dessa nivåer. USA's handelsdepartement drar Kina inför WTO över prisdumpning av aluminiumfolie.
Konklusion: Eventuella åtgärder nästa vinter räcker inte för att lyfta priset ytterligare i närtid.
OBSERVATIONER
+ Den globala produktionen föll med 2,2 % i februari (m/m).
+ De stängningar pga. luftföroreningar som kan komma att ske under nästa vintersäsong riskerar att dra undan mycket produktion vilket riskerar att skapa ett underskott.
+ LME lagren fortsätter att falla.
+ Tekniskt så är marknaden i en tydlig stigande trend.
– Det är högst troligt att de kinesiska smältverken kommer att köra för högtryck under kvartal tre för att mildra effekterna av de eventuella påtvingade neddragningarna.
– Tekniskt så är marknaden kraftigt överköpt och vid ett viktigt motstånd varför en nedsidesreaktion inte skulle vara någon överraskning.
– Tekniskt finns nu en negativ divergens (pris högre toppar och indikator lägre toppar) på plats.
Tillgängliga certifikat:
BULL ALUMINIUM X1 & X4 S
BEAR ALUMINIUM X1 & X4 S
INFORMATION OM REKOMMENDATIONER
Denna publikation är ett marknadsföringsmaterial för SEBs certifikat-produkter. I och med den nya Marknadsmissbruksförordningen vilken trädde i kraft den tredje juli 2016 har vi inte längre möjlighet att inkludera investeringsrekommendationer rörande certifikat-produkterna.
UTVECKLING SENASTE VECKAN SAMT SEDAN ÅRETS BÖRJAN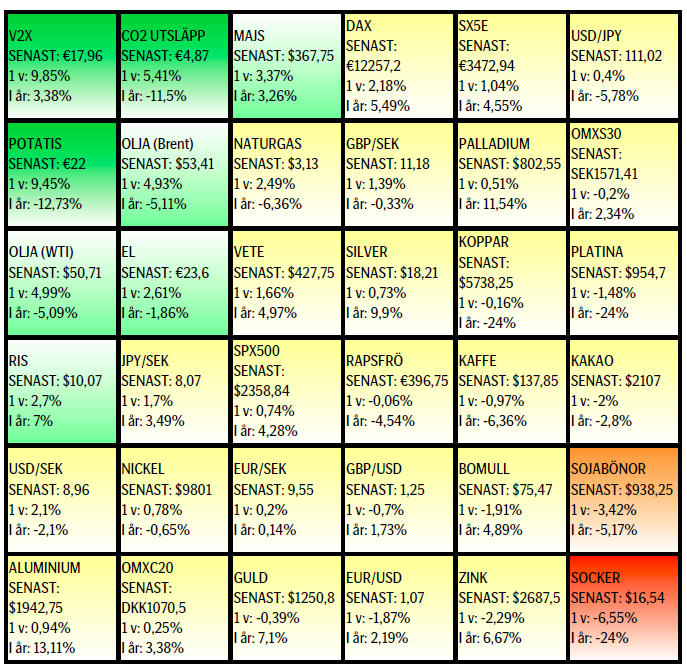 [box]SEB Veckobrev Veckans råvarukommentar är producerat av SEB:s Commodities Sales desk och publiceras i samarbete och med tillstånd på Råvarumarknaden.se[/box]
KÄLLOR
Bloomberg, Reuters, SEB
VILLKOR
För varje enskilt certifikat/mini future finns Slutliga Villkor som anger de fullständiga villkoren. Slutliga Villkor finns tillgängligt på kurssidan för respektive certifikat/mini future på www.seb.se, Börs & finans, fliken Strukturerade placeringar.
RISKER
En sammanfattning av de risker som är förknippade med Börshandlade certifikat generellt finns i Produktbroschyren för respektive certifikat eller mini future som är tillgängligt på seb.se/cert respektive seb.se/mini. För en fullständig bild av riskerna behöver du ta del av SEB:s offentliggjorda Grundprospekt för Certifikat- och Warrantprogram som är publicerat på www.seb.se/cert respektive seb.se/mini.
DISCLAIMER
Detta marknadsföringsmaterial, framtaget av SEB:s Commodities Sales desk, har upprättats enbart i informationssyfte.
Även om innehållet är baserat på källor som SEB bedömt som tillförlitliga ansvarar SEB inte för fel eller brister i informationen. Den utgör inte oberoende, objektiv investeringsanalys och skyddas därför inte av de bestämmelser som SEB har infört för att förebygga potentiella intressekonflikter. Yttranden från SEB:s Commodities Sales desk kan vara oförenliga med tidigare publicerat material från SEB, då den senare hänvisas uppmanas du att läsa den fullständiga rapporten innan någon åtgärd vidtas.
Dokumentationen utgör inte någon investeringsrådgivning och tillhandahålls till dig utan hänsyn till dina investeringsmål. Du uppmanas att självständigt bedöma och komplettera uppgifterna i denna dokumentation och att basera dina investeringsbeslut på material som bedöms erforderligt. Alla framåtblickande uttalanden, åsikter och förväntningar är föremål för risker, osäkerheter och andra faktorer och kan orsaka att det faktiska resultatet avviker väsentligt från det förväntade. Historisk avkastning är ingen garanti för framtida resultat. Detta dokument utgör inte ett erbjudande att teckna några värdepapper eller andra finansiella instrument. SEB svarar inte för förlust eller skada – direkt eller indirekt, eller av vad slag det vara må – som kan uppkomma till följd av användandet av detta material eller dess innehåll.
Observera att det kan förekomma att SEB, dess ledamöter, dess anställda eller dess moder- och/eller dotterbolag vid olika tillfällen innehar, har innehaft eller kommer att inneha aktier, positioner, rådgivningsuppdrag i samband med corporate finance-transaktioner, investment- eller merchantbanking-uppdrag och/eller lån i de bolag/finansiella instrument som nämns i materialet.
Materialet är avsett för mottagaren, all spridning, distribuering mångfaldigande eller annan användning av detta meddelande får inte ske utan SEB:s medgivande. Materialet riktar sig inte till personer vars medverkan kräver ytterligare prospekt, registrerings- eller andra åtgärder än vad som följer av svensk rätt. Det åligger var och en att iaktta sådana restriktioner. Materialet får inte distribueras i eller till land där distribution kräver ovan nämnda åtgärder eller strider mot reglering i sådant land. Materialet riktar sig således inte till fysiska eller juridiska personer hemmahörande i USA eller i något annat land där publicering eller tillhandahållande av materialet är förbjudet eller strider mot tillämpliga bestämmelser i landet.
Oaktat detta får SEB tillåta omfördelning av materialet till utvald tredje part i enlighet med gällande avtal. Materialet får inte spridas till fysiska eller juridiska personer som är medborgare eller har hemvist i ett land där sådan spridning är otillåten enligt tillämplig lag eller annan bestämmelse.
Skandinaviska Enskilda Banken AB (publ) är ett publikt aktiebolag och står under tillsyn av Finansinspektionen samt de lokala finansiella tillsynsmyndigheter i varje jurisdiktionen där SEB har filial eller dotterbolag.
[If demand] "comes around as forecast, Hallelujah, we can produce more"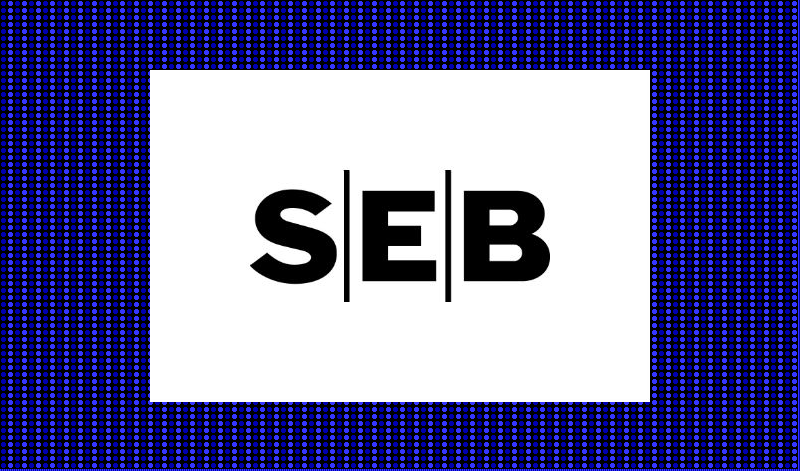 Saudi Arabia's oil minister, Prince Abdulaziz bin Salman, last week stated at a conference in Calgary: "I believe it when I see it. When reality comes around as it's been forecast, Hallelujah, we can produce more" (Reuters, John Kemp). So Saudi Arabia wants to and will produce more once it is confident that there really is demand for additional crude. Saudi Arabia has good reason to be concerned for global oil demand. It is not the only one struggling to predict global demand amid the haze and turmoil in the global oil market following the Russian invasion of Ukraine and sanctions towards Russian crude and product stocks. Add a shaky Chinese housing market and the highest US rates since 2001. Estimates for global oil demand in Q4-23 are ranging from 100.6 m b/d to 104.7 m b/d with many estimates in between. Current crude and mid-dist inventories are low. Supply/demand is balanced to tight and clearly very tight for mid-dists (diesel, jet fuel, gasoil). But amid current speculative bullishness it is important to note that Saudi Arabia can undo the current upwards price journey just as quickly as it created the current bull-market as it drop in production from 10.5 m b/d in April to only 9.0 m b/d since July. Quickly resolving the current mid-dist crisis is beyond the powers of Saudi Arabia. But China could come to the rescue if increased oil product export quotas as it holds spare refining capacity.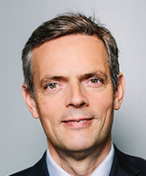 The oil market is well aware that the main reasons for why oil has rallied 25% over the past months is reduced production by Saudi Arabia and Russia, global oil demand holding up better than feared together with still declining US shale oil activity. US oil drilling rig count fell by 8 rigs last week to 507 rigs which is the lowest since Feb 2022.
The big question is how strong is global oil demand and how will it hold up or even maybe increase in the coming quarters? And here the spread of estimates are still all over the place. For Q4-23 we have the following range of estimates for global oil demand in m b/d: 100.6; 101.8; 103.1; 103.2 and 104.7 from main oil market research providers. This wide spread of estimates is mindbogglingly and head-scratching both for analysts and for oil producers. It leads to a wide spread in estimates for Call-on-OPEC. Some say the current market is in a 2-3 m b/d deficit while others calculate that the global oil market today is nicely balanced.
The sanctions towards Russian crude and oil product exports with a ban on imports to the EU and UK has led to a large reshuffling of the global oil market flows which again has created a haze through which it is hard to gauge the correct state of the global oil market.
We have previously argued that there may be a significant amount of "pent-up-demand" following the Covid-years with potential for global oil demand to surprise on the upside versus most demand forecasts. But there are also good reasons to be cautious to demand given Chinese property market woes and the highest US interest rates since 2001!
The uncertainty in global oil demand is clearly at the heart of Saudi Arabia's production cuts since April this year. Saudi Arabia's Energy Minister, Prince Abulaziz bin Salman, last week stated at a conference in Calgary: "I believe it when I see it. When reality comes around as it's been forecast, Hallelujah, we can produce more" (Reuters, John Kemp).
So if it turns out that demand is indeed stronger than Saudi Arabia fears, then we should see increased production from Saudi Arabia. Saudi could of course then argue that yes, it is stronger than expected right now, but tomorrow may be worse. Also, the continued decline in US oil drilling rig count is a home-free card for continued low production from Saudi Arabia.
Both crude stocks and mid-dist stocks (diesel, jet fuel, gasoil) are still significantly below normal and the global oil market is somewhere between balanced, mild deficit or large deficit (-2-3 m b/d). The global oil market is as such stressed due to low inventories and potentially in either mild or large deficit on top. The latter though can be undone by higher production from Saudi Arabia whenever it chooses to do so.
What is again getting center stage are the low mid-dist stocks ahead of winter. The war in Ukraine and the sanctions towards Russian crude and product stocks created chaos in the global oil product market. Refining margins went crazy last year. But they are still crazy. The global refining system got reduced maintenance in 2020 and 2021 due to Covid-19 and low staffing. Following decades of mediocre margins and losses, a lot of older refineries finally decided to close down for good during Covid as refining margins collapsed as the world stopped driving and flying. The global refining capacity contracted in 2021 for the first time in 30 years as a result. Then in 2022 refining margins exploded along with reviving global oil demand and the invasion of Ukraine. Refineries globally then ran as hard as they could, eager to make money, and reduced maintenance to a minimum for a third year in a row. Many refineries are now prone for technical failures following three years of low maintenance. This is part of the reason why mid-dist stocks struggle to rebuild. The refineries which can run however are running as hard as they can. With current refining margins they are pure money machines.
Amid all of this, Russia last week imposed an export ban for gasoline and diesel products to support domestic consumers with lower oil product prices. Russia normally exports 1.1 m b/d of diesel products and 0.2 m b/d of gasoline. The message is that it is temporary and this is also what the market expects. Russia has little oil product export storage capacity. The export ban will likely fill these up within a couple of weeks. Russia will then either have to close down refineries or restart its oil product exports.
The oil market continues in a very bullish state with stress both in crude and mid-dists. Speculators continues to roll into the market with net long positions in Brent crude and WTI increasing by 29 m b over the week to last Tuesday. Since the end of June it has increased from 330 m b to now 637 m b. Net-long speculative positions are now at the highest level in 52 weeks.
The market didn't believe Saudi Arabia this spring when it warned speculators about being too bearish on oil and that they would burn their fingers. And so they did. After having held production at 9 m b/d since July, the market finally believes in Saudi Arabia. But the market still doesn't quite listen when Saudi says that its current production is not about driving the oil price to the sky (and beyond). It's about concerns for global oil demand amid many macro economic challenges. It's about being preemptive versus weakening demand. The current oil rally can thus be undone by Saudi Arabia just as it was created by Saudi Arabia. The current refinery stress is however beyond the powers of Saudi Arabia. But China could come to the rescue as it holds spare refining capacity. It could increase export quotas for oil products and thus alleviate global mid-dist shortages. The first round effect of this would however be yet stronger Chinese crude oil imports.
Brent crude and ARA diesel refining premiums/margins. It is easy to see when Russia invaded Ukraine. Diesel margins then exploded. The market is not taking the latest Russian export ban on diesel and gasoline too seriously. Not very big moves last week.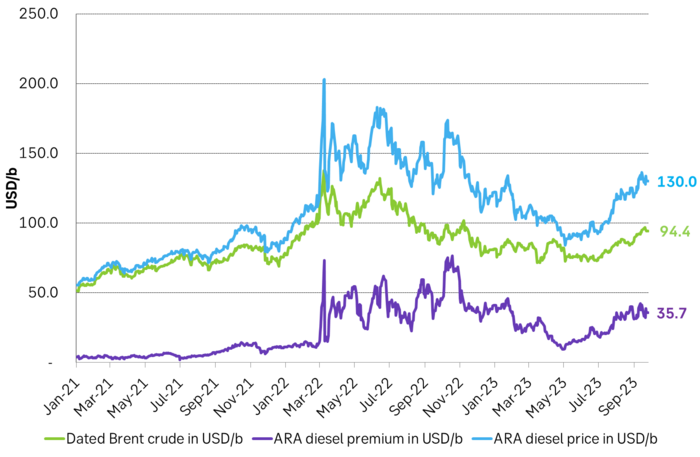 ARA mid-dist margins still exceptionally high at USD 35-40/b versus a more normal USD 12-15/b. We are now heading into the heating season, but the summer driving season is fading and so are gasoline margins.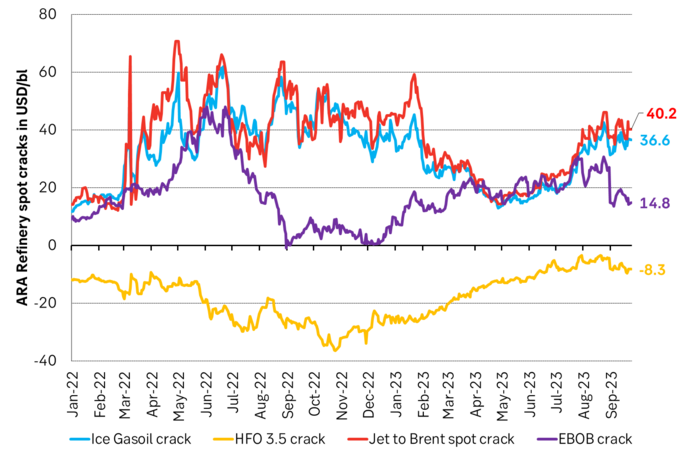 ARA mid-dist margins still exceptionally high at USD 35-40/b versus a more normal USD 12-15/b. Here same graph as above but with longer perspective to show how extreme the situation is.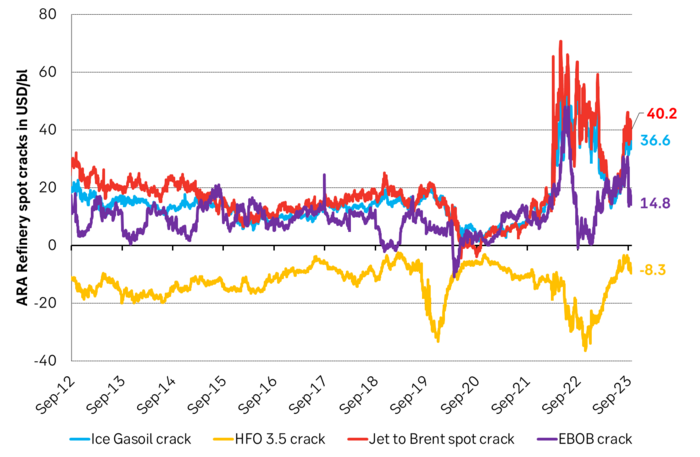 US crude and product stocks vs. the 2015-19 average. Very low mid-dist stocks.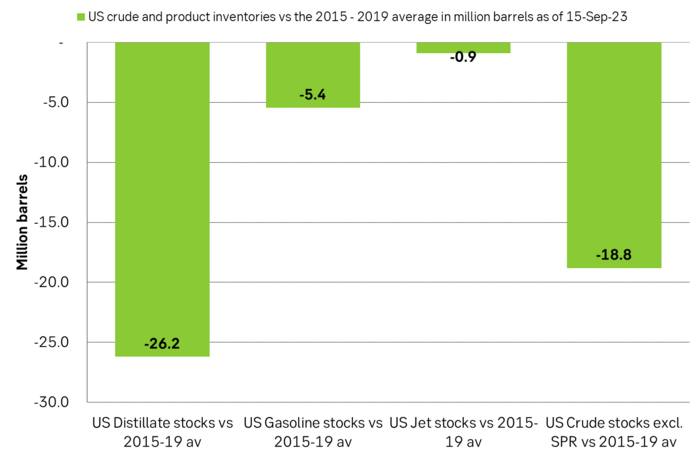 Speculators are rolling into long positions. Now highest net long spec in 52 weeks.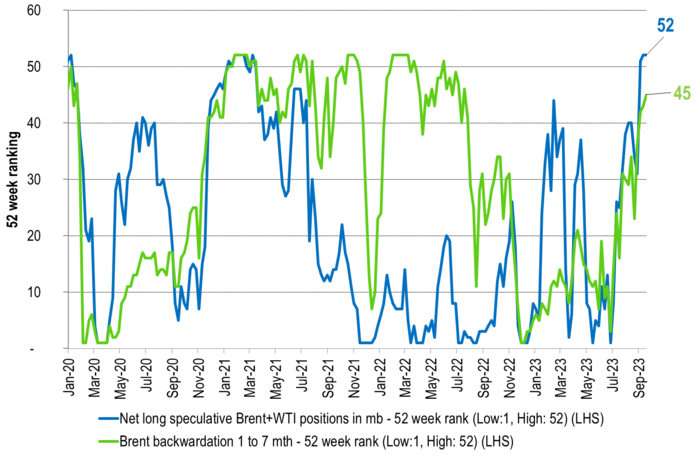 The "normal" oil price is USD 97/b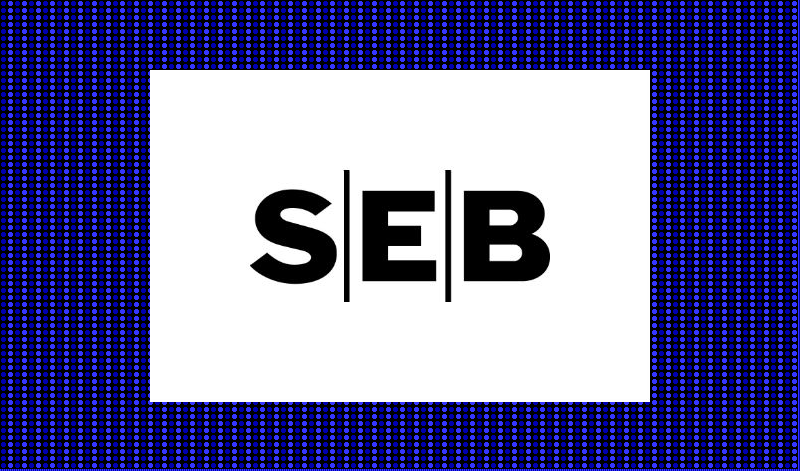 The Dated Brent crude oil price ydy closed at USD 96/b. Wow, that's a high price! This sensation however depends on what you think is "normal". And normal in the eyes of most market participants today is USD 60/b. But this perception is probably largely based on the recent experience of the market. The average Brent crude oil price from 2015-2019 was USD 58.5/b. But that was a period of booming non-OPEC supply, mostly shale oil. But booming shale oil supply is now increasingly coming towards an end. Looking more broadly at the last 20 years the nominal average price was USD 75/b. But in inflation adjusted terms it was actually USD 97/b.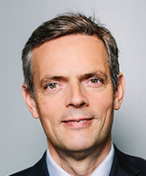 Saudi Arabia's oil minister, Abdulaziz bin Salman, yesterday stated that its production cuts was not about driving the price up but instead it was preemptive versus the highly uncertain global economic development. In that respect it has a very good point. The US 2yr government bond rate has rallied to 5.06% which is the highest since 2006 and just a fraction away of being the highest since December 2000. The Chinese property market is struggling and global PMIs have been downhill since mid-2021 with many countries now at contractive, sub-50 level. Thus a deep concern for the health of the global economy and thus oil demand going forward is absolutely warranted. And thus the preemptive production cuts by Saudi Arabia. But killing the global economy off while it is wobbling with an oil price of USD 110-120/b or higher is of course not a smart thing to do either.
At the same conference in Canada yesterday the CEO of Aramco, Amin H. Nasser, said that he expected global oil demand to reach 110 m b/d in 2030 and that talk about a near term peak in global oil demand was "driven by policies, rather than the proven combination of markets, competitive economics and technology" (Reuters).
With a demand outlook of 110 m b/d in 2030 the responsible thing to do is of course to make sure that the oil price stays at a level where investments are sufficient to cover both decline in existing production as well as future demand growth.
In terms of oil prices we tend to think about recent history and also in nominal terms. Most market participants are still mentally thinking of the oil prices we have experienced during the shale oil boom years from 2015-2019. The average nominal Brent crude price during that period was USD 58.5/b. This is today often perceived as "the normal price". But it was a very special period with booming non-OPEC supply whenever the WTI price moved above USD 45/b. But that period is increasingly behind us. While we could enjoy fairly low oil prices during this period it also left the world with a legacy: Subdued capex spending in upstream oil and gas all through these years. Then came the Covid-years which led to yet another trough in capex spending. We are soon talking close to 9 years of subdued capex spending.
If Amin H. Nasser is ballpark correct in his prediction that global oil demand will reach 110 m b/d in 2030 then the world should better get capex spending rolling. There is only one way to make that happen: a higher oil price. If the global economy now runs into an economic setback or recession and OPEC allows the oil price to drop to say USD 50/b, then we'd get yet another couple of years with subdued capex spending on top of the close to 9 years with subdued spending we already have behind us. So in the eyes of Saudi Arabia, Amin H. Nasser and Abdulaziz bin Salman, the responsible thing to do is to make sure that the oil price stays up at a sufficient level to ensure that capex spending stays up even during an economic downturn.
This brings us back to the question of what is a high oil price. We remember the shale oil boom years with an average nominal price of USD 58.5/b. We tend to think of it as the per definition "normal" price. But we should instead think of it as the price depression period. A low-price period during which non-OPEC production boomed. Also, adjusting it for inflation, the real average price during this period was actually USD 72.2/b and not USD 58.5/b. If we however zoom out a little and look at the last 20 years then we get a nominal average of USD 75/b. The real, average inflation adjusted price over the past 20 years is however USD 97/b. The Dated Brent crude oil price yesterday closed at USD 96/b.
Worth noting however is that for such inflation adjustment to make sense then the assumed cost of production should actually rise along with inflation and as such create a "rising floor price" to oil based on rising real costs. If costs in real terms instead are falling due to productivity improvements, then such inflation adjusted prices will have limited bearing for future prices. What matters more specifically is the development of real production costs for non-OPEC producers and the possibility to ramp up such production. Environmental politics in OECD countries is of course a clear limiting factor for non-OPEC oil production growth and possibly a much more important factor than the production cost it self.
But one last note on the fact that Saudi Arabia's energy minister, Abdulaziz bin Salman, is emphasizing that the cuts are preemptive rather then an effort to drive the oil price to the sky while Amin H. Nasser is emphasizing that we need to be responsible. It means that if it turns out that the current cuts have indeed made the global oil market too tight with an oil price spiraling towards USD 110-120/b then we'll highly likely see added supply from Saudi Arabia in November and December rather than Saudi sticking to 9.0 m b/d. This limits the risk for a continued unchecked price rally to such levels.
Oil price perspectives. We tend to think that the nominal average Brent crude oil price of USD 58.5/b during the shale oil boom years from 2015-19 is per definition the "normal" price. But that period is now increasingly behind us. Zoom out a little to the real, average, inflation adjusted price of the past 20 years and we get USD 97/b. In mathematical terms it is much more "normal" than the nominal price during the shale oil boom years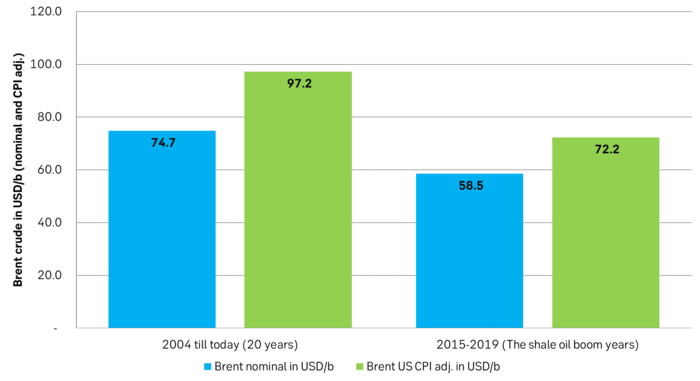 Is global oil demand about to peak 1: OECD and non-OECD share of global population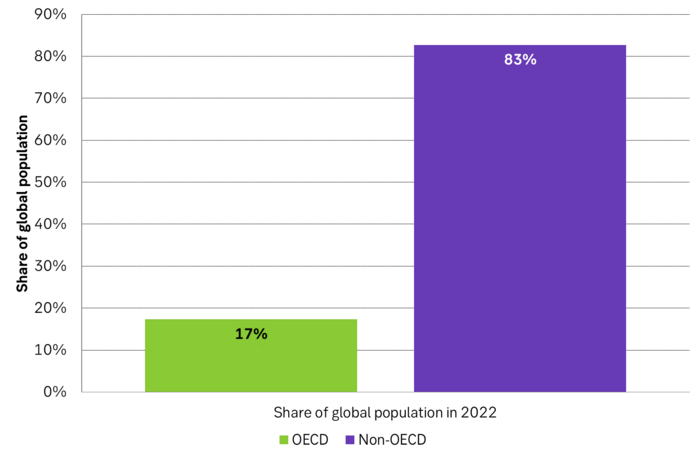 Is global oil demand about to peak 2: Oil demand per capita per year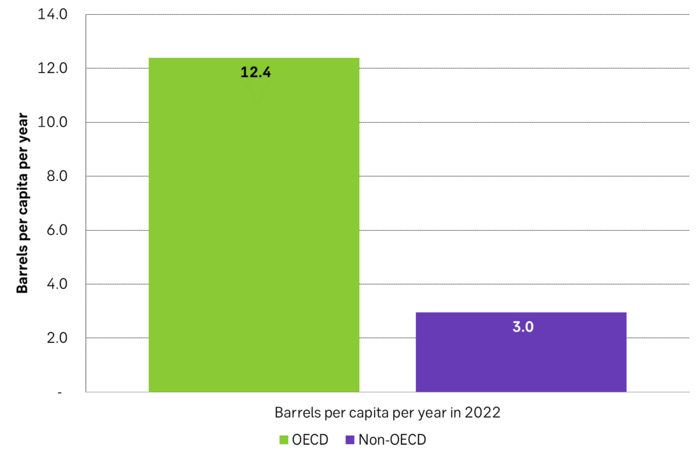 USD 100/b in sight but oil product demand may start to hurt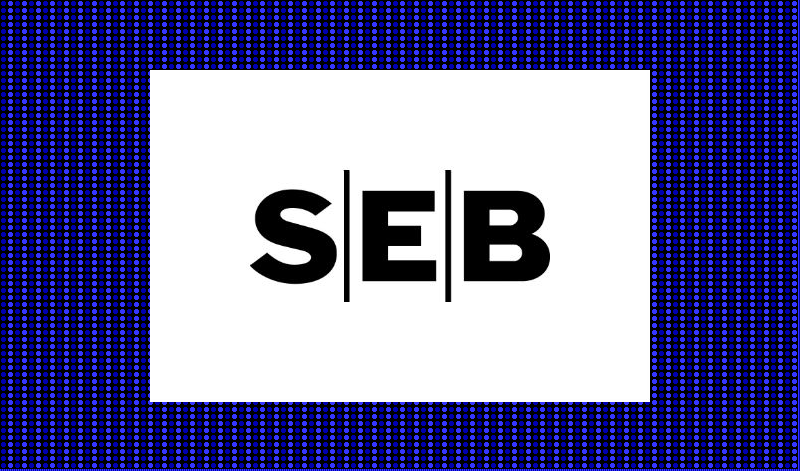 Some crude oil grades have already traded above USD 100/b. Tapis last week at USD 101.3/b. Dated Brent is trading at USD 95.1/b. No more than some market noise is needed to drive it above USD 100/b. But a perceived and implied oil market deficit of 1.5 to 2.5 m b/d may be closer to balance than a deficit. And if so the reason is probably that oil product demand is hurting. Refineries are running hard. They are craving for crude and converting it to oil products. Crude stocks in US, EU16 and Japan fell 23 m b in August as a result of this and amid continued restraint production by Saudi/Russia. But oil product stocks rose 20.3 m b with net draws in crude and products of only 2.7 m b for these regions. Thus indicating more of a balanced market than a deficit. Naturally there has been strong support for crude prices while oil product refinery margins have started to come off. Saudi/Russia is in solid control of the market. Both crude and product stocks are low while the market is either in deficit or at best in balance. So there should be limited down side price risk. But oil product demand is likely to hurt more if Brent crude rises to USD 110-120/b and such a price level looks excessive.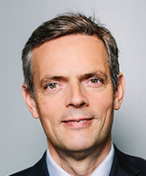 Crude oil prices have been on a relentless rise since late June when it became clear that Saudi Arabia would keep its production at 9 m b/d not just in July but also in August. Then later extended to September and then lately to the end of the year. On paper this has placed the market into a solid deficit. Total OPEC production was 27.8 m b/d in August and likely more or less the same in September. OPEC estimates that the need for oil from OPEC in Q3-23 is 29.2 m b/d which places the global market in a 1.4 m b/d deficit when OPEC produces 27.8 m b/d.
The proof of the pudding is of course that inventories actually draws down when there is a deficit. A 1.4 m b/d of deficit for 31 days in August implies a global inventory draw of 43.4 m b/d. If we assume that OECD countries accounts for 46% of global oil demand then OECD could/should have had a fair share of inventory rise of say 20 m b in August. Actual inventory data are however usually a lagging set of data so we have to work with sub sets of data being released on a higher frequency. And non-OECD demand and inventory data are hard to come by.
If we look at oil inventory data for US, EU16 and Japan we see that crude stocks fell 23 m b in August while product stocks rose 20.3 m b with a total crude and product draw of only 2.7 m b. I.e. indicating close to a balanced market in August rather than a big deficit. But it matters that crude stocks fell 23 m b. That is a tight crude market where refineries are craving and bidding for crude oil together with speculators who are buying paper-oil. So refineries worked hard to buy crude oil and converting it to oil products in August. But these additional oil products weren't gobbled up by consumers but instead went into inventories.
Rising oil product inventories is of course a good thing since these inventories in general are low. And also oil product stocks are low. The point is more that the world did maybe not run a large supply/demand deficit of 1.5 to 2.5 m b/d in August but rather had a more balanced market. A weaker oil product demand than anticipated would then likely be the natural explanation for this. Strong refinery demand for crude oil, crude oil inventory draws amid a situation where crude inventories already are low is of course creating an added sense of bullishness for crude oil.
On the one hand strong refinery demand for crude oil has helped to drive crude oil prices higher amid continued production cuts by Saudi Arabia. Rising oil product stocks have on the other hand eased the pressure on oil products and thus softened the oil product refinery margins.
The overall situation is that Saudi Arabia together with Russia are in solid control of the oil market. Further that the global market is either balanced or in deficit and that both crude and product stocks are still low. Thus we have a tight market both in terms of supplies and inventories. So there should be limited downside in oil prices. We are highly likely to see Dated Brent moving above USD 100/b. It is now less than USD 5/b away from that level and only noise is needed to bring it above. Tupis crude oil in Asia traded at USD 101.3/b last week. So some crude benchmarks are already above the USD 100/b mark.
While Dated Brent looks set to hit USD 100/b in not too long we are skeptical with respect to further price rises to USD 110-120/b as oil product demand likely increasingly would start to hurt. Unless of course if we get some serious supply disruptions. But Saudi Arabia now has several million barrels per day of reserve capacity as it today only produces 9.0 m b/d. Thus disruptions can be countered. Oil product demand, oil product cracks and oil product inventories is a good thing to watch going forward. An oil price of USD 85-95/b is probably much better than USD 110-120/b for a world where economic activity is likely set to slow rather than accelerate following large interest rate hikes over the past 12-18 months.
OPEC's implied call-on-OPEC crude oil. If OPEC's production stays at 27.8 m b/d throughout Q3-23 and Q4-23 then OPECs numbers further strong inventory draws to the end of the year.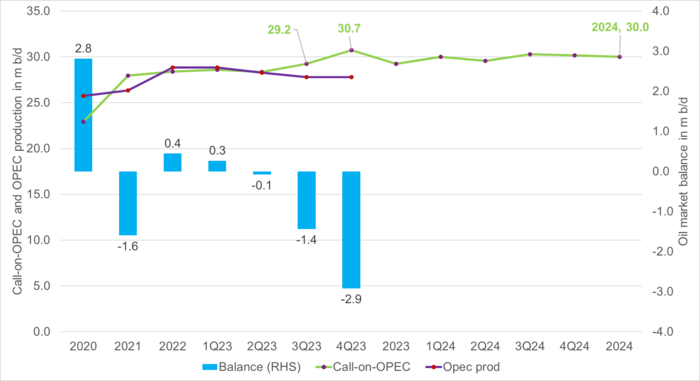 Net long speculative positions in Brent crude and WTI. Speculators have joined the price rally since end of June.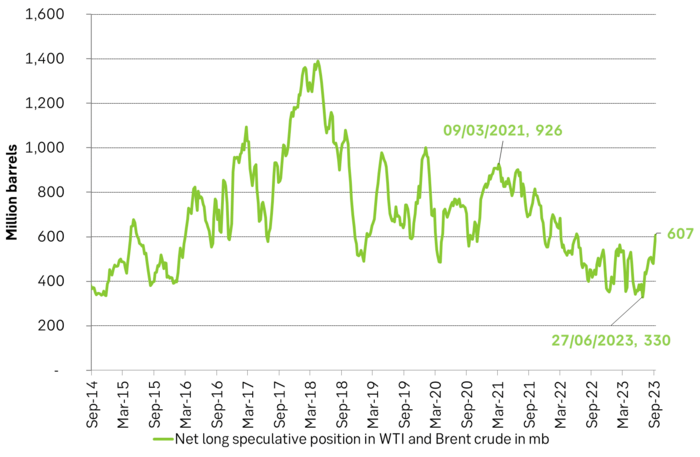 End of month crude and product stocks in m b in EU16, US and Japan. Solid draw in crude stocks but also solid rise in product stocks. In total very limited inventory draw. Refineries ran hard to convert crude to oil products but these then went straight into inventories alleviating low oil product inventories there.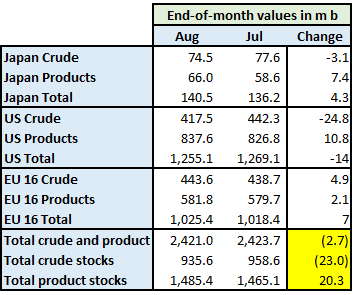 ARA oil product refinery margins have come off their highs for all products as the oil product situation has eased a bit. Especially so for gasoline with now fading summer driving. But also HFO 3.5% cracks have eased back a little bit. But to be clear, diesel cracks and mid-dist cracks are still exceptionally high. And even gasoline crack down to USD 17.6/b is still very high this time of year.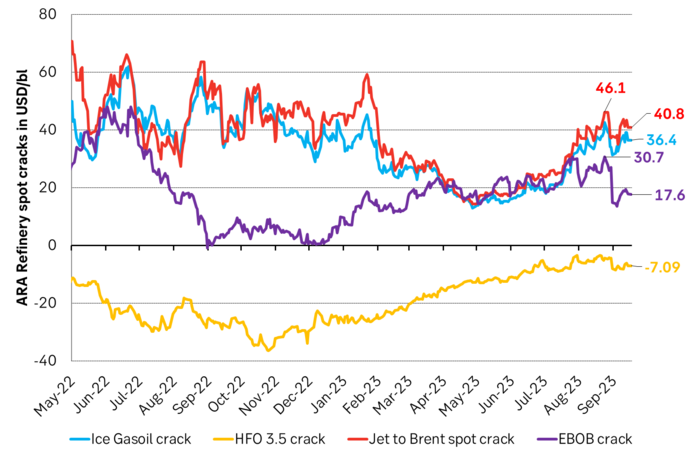 ARA diesel cracks in USD/b. Very, very high in 2022. Almost normal in Apr and May. Now very high vs. normal though a little softer than last year.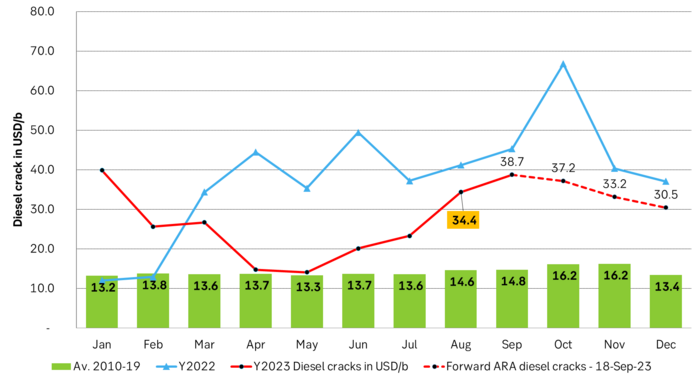 US crude and product stocks vs. 2015-2019 average. Still very low mid-dist inventories (diesel) and also low crude stocks but not all that low gasoline inventories.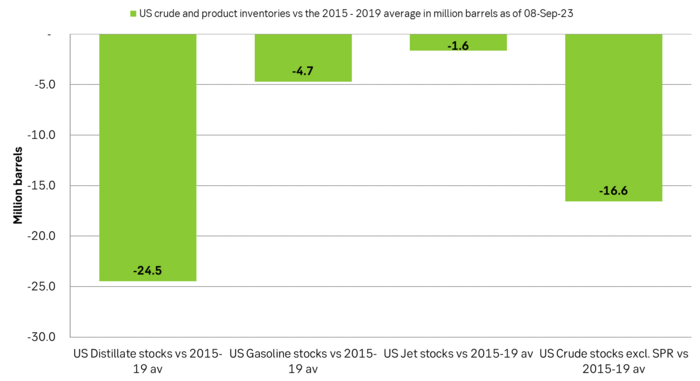 US crude and product stocks vs. 2015-2019 averages. Mid-dist stocks have stayed persistently low while gasoline stocks suddenly have jumped as gasoline demand seems to have started to hurt due to higher prices.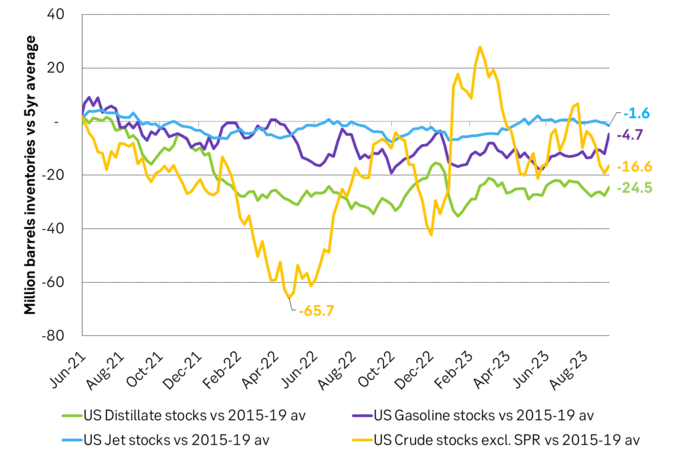 Total commercial US crude and product stocks in million barrels. Rising lately. If large, global deficit they should have been falling sharply. Might be a blip?