Price action – Higher on Nigeria strike, Fortis pipeline outage, lower oil rig count, softer USD and positive equities
Brent crude is gaining 0.9% this morning as it climbs to $63.8/b along with a 0.2% softer USD index and positive equity gains. A part of the positive oil price drive today is the Nigerian oil union declaring a strike as they protest against unfair labour practices thus posing a risk to Nigeria's production of 1.7 mb/d. The Fortis pipeline carrying xxx kb/d is still off-line with the operator declares force majeure as it expects repairs of the hairline will take some 2-4 weeks. The key concern is that there might be a wider problem stretching along the whole pipeline. If the reason for the current crack is the higher sulphur content in the Buzzard crude flowing in the Fortis crude stream and sulphide corrosion as a consequence of this then the outage of the pipe could be much, much longer. The pipe carries some 450 kb/d and thus a major share of the physical supply into the Brent spot market. A decline of 2 US oil rigs last week adds some support on the margin.
Crude oil comment – US crude oil 2018 production forecast by EIA still too low
Later today we'll have the monthly update from the US EIA on shale oil drilling productivity in the US. We expect the EIA to revise its productivity as well as its production higher. Their last productivity report had data points to Dec 2017. We expect the EIA to show that the strong production growth of on average 91 kb/d/mth from July to December this year stays intact at around 90 kb/d/mth also in January and also that well completions continued to rise also in November as they have done every month since January this year.
We do not think that the EIA update later today will necessarily hit the Brent crude oil price bearishly. More likely we expect the Brent to WTI price spread to widen further on the back of such news.
The US EIA last Tuesday adjusted its 2018 forecast for US crude oil production upwards from 9.95 mb/d to an average of 10.02 mb/d thus growing 0.78 mb/d y/y to 2018. The increase in forecast of 70 kb/d was the third upwards revision in three months. We still think that the US EIA is significantly behind the curve in terms of its projections for US crude oil production for 2018. As such we expect the US EIA to continue to revise its projection for 2018 higher in the months to come until it reaches at least an average crude oil production of around 10.4 mb/d for 2018.
US shale oil production growth is currently running at some 90 kb/d/mth. That is the exit shale oil growth rate for 2017 while the average growth rate from July to December has been 91 kb/d/mth. The implied marginal, annualized production growth rate is thus currently running at 1.1 mb/d/yr. The US EIA is however assuming that US shale oil production will only grow by some 37 kb/d/mth in 2018. That is 40% lower than the current growth rate in shale oil production. From Dec-17 to Dec-18 the EIA projects that US lower 48 (ex GoM) will grow by only 440 kb/d. If we instead apply the current 90 kb/d/mth growth rate through 2018 then L48 ex GoM would grow by 1.1 mb/d from Dec-17 to Dec-18.
If we extrapolate the current shale oil production growth rate through 2018 it would lead US crude oil production to exit 2018 at 11 mb/d versus EIA's forecast of 10.34 mb/d. If we include NGLs, Bio-fuels and refinery gains it would lift total US liquids production to close to 18 mb/d in December 2018 and drive total US liquids production growth to 1.7 mb/d y/y Dec-17 to Dec-18.
US shale oil well completions is still rising (+35 wells m/m in October), the drilled but uncompleted numbers of wells is still rising and oil prices have been on a constant trend upwards since mid-June . So if anything the current trend is for stronger US shale oil production growth month/month in the months ahead and not at all the sudden drop-off in shale oil production growth which the EIA predicts for 1Q18 where they expect a monthly average growth rate of only 23 kb/d/mth.
We think that one of the key reasons for why the US EIA has a too low production growth target for 2018 is due to the build-up in the DUC (Drilled but uncompleted wells) inventory which gives an impression of declining shale oil volume productivity. This decline in volume productivity is in our view not real. In our calculations we see US shale oil volume drilling productivity has continued to tick higher even though now mostly sideways. But at least we do not see productivity in decline as the official headline numbers indicate.
There is a lot of focus on a shift in investor focus from rewarding production growth and now instead demanding profits. This could possibly change shale oil producer behaviour and as such lead to softer US shale oil production growth than indicated above.
In our view such a shift should primarily hit drilling rather than completions as the shale oil companies have a huge stack of uncompleted wells which they can convert to oil and money in 2018. They can ease back on the drilling and continue to ramp up completions. Completions have been trailing drilling for a full year now. If shale oil companies pull back on investments then this should switch around in 2018 to a situation where drilling is lower than completions while spending on completions continues at a high level and drilling at a lower. Completions in 2018 could run some 20% above the Jan to Oct average completion level of 2017.
In terms of capex spending we had news last week that Keane Group, one of the largest pure-play providers of US shale completion services yesterday announced that they will order three new frac fleets on top of their existing 26. The order is a response to robust 2018 US shale oil investments announced latest weeks. Completions are the thing for 2018 which means more shale oil production.
Ch1: US shale oil production growth is exiting 2017 at a rate of about 90 kb/d/mth (1.1 mb/d on a marginal annualized rate)
It is now growing as strongly as it did through 2012 and 2013
Ch2: If US shale oil production grows in 2018 as it exits 2017 (~90 kb/d/mth) then total US crude production will grow by 1.1 mb/d y/y to 10.4 mb/d y/y
Ch3: The Production Weighting Price (PWP) of a new shale oil well with a 6 week lead has moved higher since Sep
If history is anything to go by then US shale oil action will increase in response. Drilling and or completions
Ch4: US oil rig count moved down 4 last week but implied shale oil rigs increased by 2
US oil rig count is up by 22 over the last 5 weeks which is 17 rigs shy of the level in August
Ch5: The mirage of declining shale oil productivity created from the large build-up in DUCs (uncompleted wells)
The official US shale oil productivity was running higher than our estimate during the DUC draw down in 2016.
It is running way below our productivity estimate in 2017 during a huge build up in the DUC inventory during 2017.
As the DUC inventory eventually draws down the official productivity will again be running above our estimate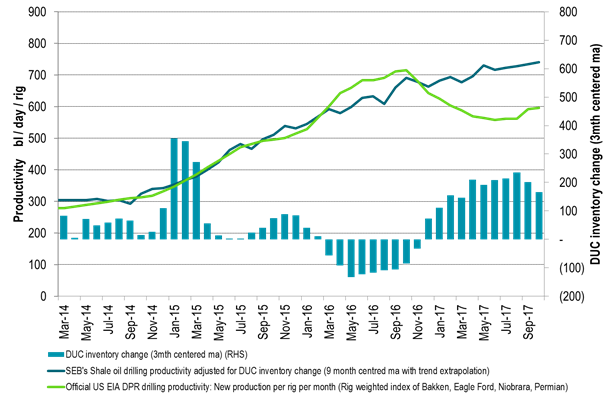 Ch6: A lot of uncompleted wells to complete in 2018!!
The DUC inventory was still BUILDING in October (the last data point)
So drilling new wells can decline a lot in 2018 while completions can increase some 20% y/y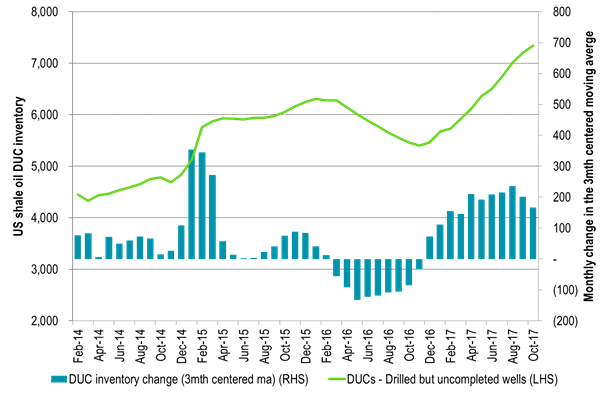 Ch7: No top-down sign that US shale oil resources are deteriorating as losses in existing production stays on scale to production level
No top-down sign as of yet of run-away losses in existing production versus production level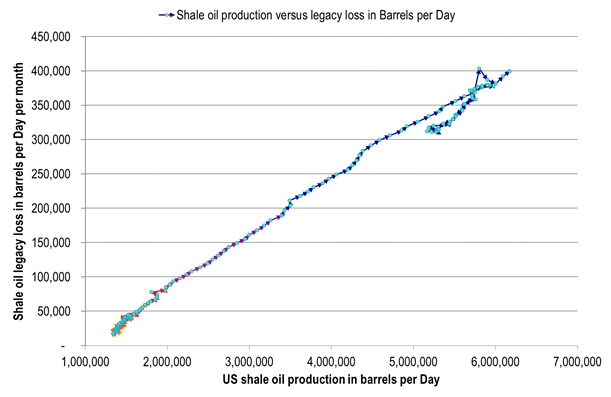 Ch8: US EIA crude oil production forecast likely to be lifted further up towards 10.4 mb/d
EIA lifting it forecast 3 mths in a row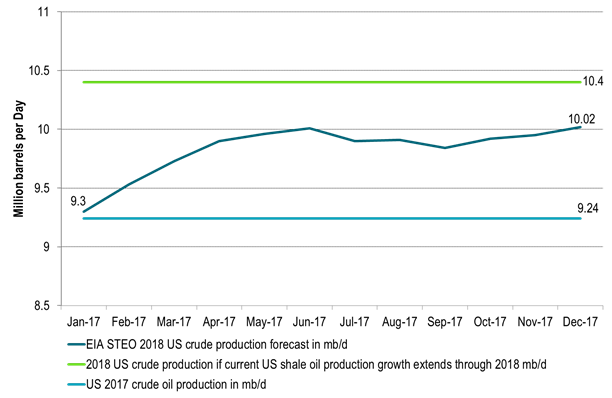 Ch9: Volume wise there are good shale oil days in both Colorado and Bakken North Dakota these days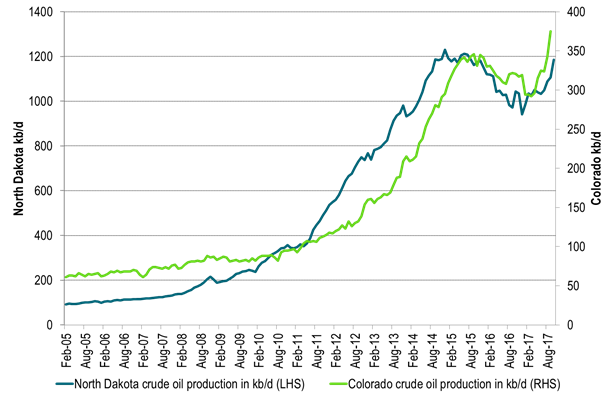 Ch10: Annualized 1-3 mth Brent backwardation fully funded roll-yield of 10% pa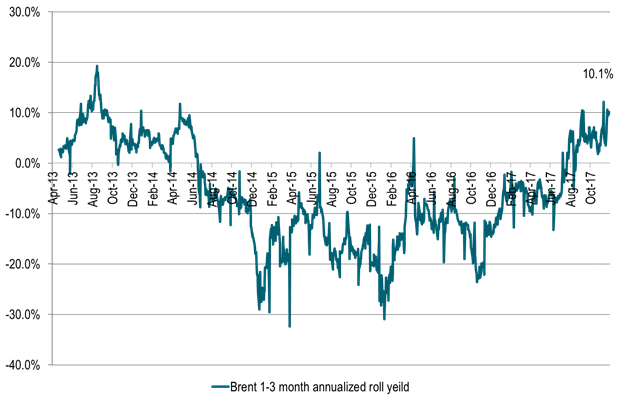 Ch11: The positive roll-yield in Brent continues to suck in more long spec into both Brent and WTI front end crude'
Kind regards
Bjarne Schieldrop
Chief analyst, Commodities
SEB Markets
Merchant Banking