SEB – Råvarukommentarer vecka 32 2012

Sammanfattning:
Råvara Rekommendation
Råolja – Köp OLJA S
Guld – Köp BULL GULD X4 S (hög risk) eller GULD S (låg risk)
Platina – Köp PLATINA S
Silver – Kan bli intressant att köpa LONG SILVE D S eller SILVER S
Koppar – Köp KOPPAR S
Zink – Ingen rekommendation
Kaffe – Neutral, köp eventuellt KAFFE S på rekyl
Socker – Köp SHORT SOCKE A S
Vete – Köp VETE S
Majs – Köp MAJS S
Sojabönor – Köp SOJABO S
Inledning
De två senaste veckornas lugn på marknaden för jordbruksprodukter vara över. På fredag klockan 14:30 publicerar USDA sin WASDE-rapport för augusti.
I onsdags hölls ett ministermöte om matsäkerhet i Ryssland. Det sades att skörden blir 75-80 mt. Vi tror, som vi tycker, på goda grunder, att den blir mycket lägre (all spannmål i Ryssland). Det sades också att det inte finns någon anledning till exportbegränsningar. Det finns anledning att ifrågasätta det också.
Den 7 augusti tillkännagav den australiensiska centralbankschefen Glenn Stevens sin analys av Kinas ekonomi. Han sade "China's growth has moderated to a more sustainable pace, but does not appear to be slowing further. Conditions in other parts of Asia have recovered from the effects of last year's natural disasters, though the ongoing trend is unclear and could be dampened by the effects of slower growth outside the region." Australien är ett land som exporterar mycket till Kina. Centralbankschefer generellt sett har tillgång till information och utbyte med andra centralbanker, i det här fallet i länder som driver råvaruefterfrågan. Detta gör uttalandet viktigt. Det stödjer också vår bild av en mjuklandning i Kina och att stimulanserna börjar ge positiv effekt.
Inflationen i Kina steg 1.8% jämfört med förra året, enligt data publicerade idag torsdag av Kinas nationella statistikbyrå. Den avtagande inflationen ger ytterligare utrymme för Kinas ledare att stimulera efterfrågan och tillväxten i landet.
Tagna tillsammans ger detta stöd för råvarumarknaden, framförallt för olja och basmetaller, och Ryssland och WASDE ger stöd för jordbruksprodukterna.
Råolja – Brent
Certifikatet OLJA S har stigit med 4% sedan förra veckobrevet. Det är något blygsammare än BULL OLJA X4 S, som stigit med 23%. Brentoljan i sig har gått upp med 6% i dollartermer, men eftersom USDSEK har backat har OLJA S inte nått upp till hela den uppgången.
Generellt är det störningar på utbudssidan snarare än efterfrågan som drivit upp priset den senaste månaden. Tillväxten är fortsatt svag. Det finns störningar på utbudssidan, där det främst är viktigt att notera:
Produktionen i Nordsjön som redan minskat mycket förväntas justeras ned ytterligare i september till 2.3 miljoner fat/dag (jämfört med 2.9 miljoner i Q1-12)
Det pågående embargot mot Iran
Oroligheterna i Syrien (och andra ställen) medför ökad geopolitisk prisrisk
Orkansäsongen i Mexikanska golfen har inletts
Men – Saudiarabien vill inte att priset ska stiga ytterligare och bedöms ha tillräcklig tillgänglig reservkapacitet för att hålla priset i schack. OPEC rapporterade idag att Irak för första gången sedan år 2002 producerade mer än 3 mbbl / dag.
När det gäller lagersituationen, och ser till USA, ser vi att Amerikanska råoljelager föll markant förra veckan -6.5och följdes upp med ytterligare än större nedgång denna vecka (-3.7 mfat). Trots det är de sammantagna lagren i USA fortsatt historiskt höga, vilket är den stora orsaken till skillnaden mellan Brent och WTI.
Vad gäller efterfrågan, noterar vi att det fortsatt saknas lösning på den europeiska skuldkrisen. En del framsteg, som senast att Tyskland ställer sig bakom "ECB´s Bond buying plan" men i praktiken har inte mycket skett. Alltså ingen omedelbar lösning i sikte vilket dämpar marknadernas förväntningar på en återgång till god tillväxt.
Det förefaller svårt att hålla nuvarande prisnivå i en miljö där tillväxten inte tar fart och Saudiarabien fortsatt är villig att agera mot högre pris. Sammantaget har prisuppgången har varit både snabb och kraftig. Om inte utbudsstörningarna förvärras avsevärt eller tillväxtutsikterna ökar snabbt och avsevärt så väger nedsidesrisken tyngre. För den riskvillige kan en kort position rekommenderas men se upp för om 113 bryts (ca) då man bör överväga en snabb exit då det tekniskt skulle öpnna för ytterligare väsentlig uppgång. Om man inte får marknaden med sig ned är det också extra viktigt att hålla koll på att marknaden återigen handlas med stark backwardation, vilket är mycket positivt för motsatt (long position) i en "Bull market" men också försiktigt positivt för longs i en neutral miljö. Nedan ser vi kursdiagrammet på spotkontraktet på Brent. 90 – 100 dollar tycks Brent vara köpvärt. SEB:s prognos är 115 dollar per fat under det fjärde kvartalet i år. 115 dollar är ett tekniskt motstånd.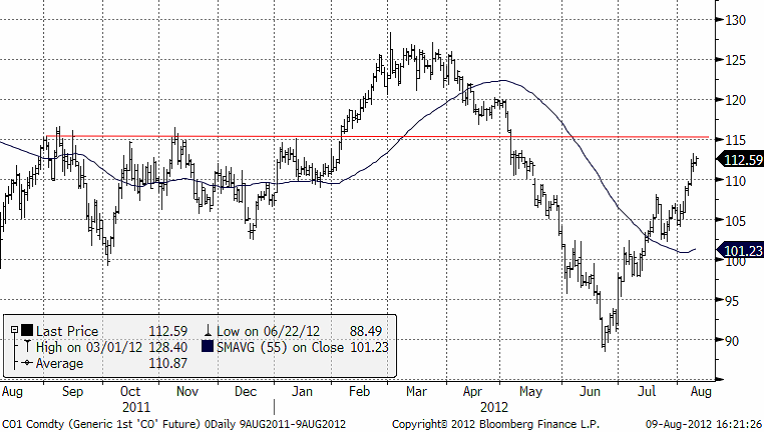 Råvarucertifikat får sin avkastning inte endast från stigande priser, utan också på att över tiden tillgodogöra sig rabatter på terminer i förhållande till spot. Vi ser i diagrammet nedan att terminer är billigare än spot på Brent. Som nämnt ovan, har backwardation ökat, vilket vi ser i den aktuella kurvan (orange) jämfört med för en vecka sedan (grön).
Genom att över tiden köpa billigt och sälja till spot (dyrt), samlar man på sig vinster. Råvarucertifikat gör just detta genom sin konstruktion. De hämtar sin avkastning från terminskontrakt, som "rullas" in i längre kontrakt när tiden gjort att det gamla kontraktet är nära förfall. Att köpa t ex OLJA S, och sitta på det, kan därför ge ganska hög avkastning, även om priset på råolja väntar med att stiga.
Med det sagt, skulle det kunna komma en rekyl nedåt när nu brentoljan närmar sig 115 dollar.
Guld
GULD S är oförändrat sedan förra veckan. Ett lite högre guldpris i dollar neutraliseras av att dollarn har fallit lika mycket mot kronan. BULL GULD X4 S, som har 4 ggr hävstång på rörelser i guldpriset såsom noterat i dollar, men bara 1:1 känslighet för svagare dollar, steg med 4 % sedan förra veckan.
Guldet har stigit med 2 % den senaste veckan. Inledningsvis steg guldpriset men den något starkare dollarn bidrog till att prisökningen vi såg i början av veckan stannade av för att sedan återhämta sig igen.
Guldet fortsätter emellertid att handla över den viktiga 1600 USD nivån. Den europeiska skuldkrisen som förväntas bli långvarig och problematisk ger stöd åt efterfrågan på guld som en säker tillgång och även som diversifiering till andra tillgångslag. Fysiska guldfonder såg inflöden under veckan och världens största fysiska fond, SPDR, såg inflöden på 6 ton.
Enligt den tekniska analysen ses ingen ny riktningsdrivande information eftersom guldet sedan förra veckan fortsatt handla i och runt 55 dagars glidande medelvärde.
Ännu en gång såg vi sänkta utsikter för grekiskt kreditbetyg. Standard & Poor's sänkte utsikterna för Greklands kreditbetyg från stabila till negativa men landet behåller betyget CCC. Landet riskerar emellertid en nedgradering om man inte lyckas få nästa utbetalning av räddningspaketet. Enligt källor inom EU kommer beslutet om nästa utbetalning på 31 mdr euro att dröja till Eurogruppens möte den 8 oktober. Stödet är en del av det räddningspaket på totalt 173 mdr euro till Grekland som beslutades i våras. Utbetalningen skulle egentligen ha skett redan i juni, men har senarelagts till följd av den försening som det grekiska valet medförde och krav på ytterligare besparingar för åren 2013 och 2014.
Eurokrisen och inte minst händelseutvecklingen i Grekland och Spanien kommer att ligga fortsatt högt på den ekonomiska nyhetsagendan. Centralbanker på båda sidor Atlanten har flaggat för nya krisåtgärder. Hittills har det varit främst ord, hot och löften medan de konkreta handlingarna varit få.
Ännu viktigare för eurons framtid är datumet den 12 september. I Tyskland kommer man att besluta om den Europeiska Stabilitetsmekanismen (ESM) är förenlig med tysk grundlag. Ett nej är inte så sannolikt då detta skulle få förödande konsekvenser, samtidigt kan ett ja med förbehåll också skapa stor osäkerhet och en försvagning av euron. Många faktorer talar för ett stabilt till något högre guldpris inom den närmsta tiden, samtidigt som en starkare dollar till följd av den europeiska krisen kan lägga sordin på
uppgången.
Guldet fick stöd av veckans statistisk från Kina där inflationen för juli föll för fjärde månaden i rad när prisökningstakten minskade till 1.8 procent jämfört med samma månad föregående år. Guldet reagerade genast positivt på förhoppningar om ökad stimulans även i Kina.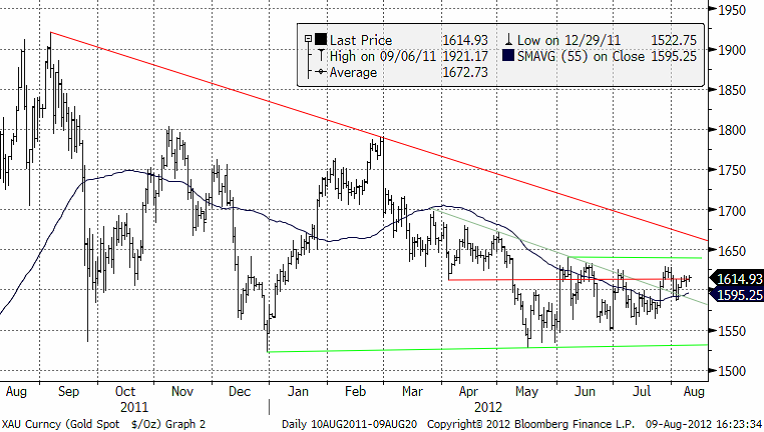 Den som är lite modig kan försöka sig på att köpa ett certifikat med hög hävstång och hög förlustrisk om priset vänder ner. Ett sådant är BULL GULD X4 S. Det ger 4 gångers utväxling på prisuppgångar (och till nackdel om priset istället faller). Den som är mindre modig och mer saktmodig kanske, kanske föredrar GULD S, vars värdeförändringar i kronor är desamma som värdeförändringen på en guldtacka i svenska kronor.
Platina
Ädelmetallen platina har fått stöd av de negativa nyheter som kommit från Sydafrika där det statliga energiföretaget Eskom planerar ett energiproduktionsbortfall på 11,5 procent. Detta ger bränsle åt rädslan att landets platinaproduktion som är oerhört energikrävande kommer att minska betydligt.
Platina används inom bilindustrin som katalysator i avgasrenare samt inom smyckeindustrin. Över 80 procent av världens platinafyndigheter finns i Sydafrika. Nedan ser vi kursdiagrammet som rört sig upp mot och nu testar den kortsiktiga motståndslinjen. Om den bryts finns nästa motstånd vid 1500 dollar.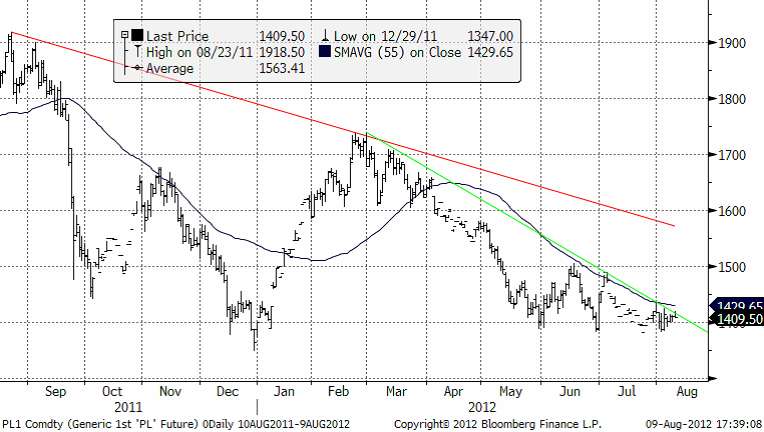 Spreaden mellan guld och platina talar för ett högre platinapris eftersom platinapriset på senare tid tappat i relation till guldet, som vi ser i nedanstående diagram. I den nedre delen ser vi PLA (palatinapriset) dividerat med GC (guldpriset). Platina ser ut att ha potential att "slå" guld med minst 5%, kanske 10% på några månaders sikt.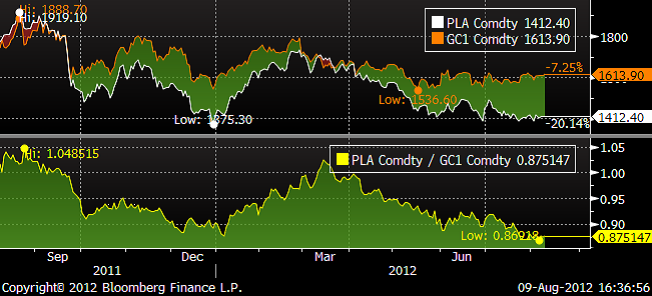 Vill man ta position i platina har SEB ett certifikat utan hävstång (Hävstång = 1) som heter PLATINA S. Vi föredrar platina som placering framför guld just nu.
Silver
Silver ser ut att ha etablerat en botten på 26 dollar och ser ut att konsolidera sig inför en eventuell förestående prisuppgång. Om / när trendlinjen i diagrammet nedan bryts signalerar det att nedåttrenden är bruten . Nästa motstånd är 30 dollar. När den bryts erhålls en köpsignal. Vi tycker att man ska undvika att vara kort silver, utan istället försöka komma in på den långa sidan.
LONG SILVE D S har en hävstång på 3.25 gånger i skrivande stund. Förra veckan steg den med 11%, betydligt mer än den linjära SILVER S, som steg med bara 2%.
Koppar
Förra veckans besvikelse, efter uteblivna besked om stimulanser både från FED och ECB fick priserna på basmetaller att falla tillbaka med 2-3 %. Vändningen kom sent i fredags (3:e augusti) efter den amerikanska arbetsstatistiken. Den amerikanska ekonomin skapade 160,000 nya jobb i juli mot väntat 100 000. Det räckte för att gjuta liv i marknaden och förra veckans förlorade mark hämtades igen. Det böljar fram och tillbaka i takt med stämningsläget på de finansiella marknaderna. Basmetaller handlas mer eller mindre i sidledes trender i avvaktan på nya makroekonomiska impulser.
Tillståndet i den kinesiska ekonomin är viktigast för kopparn. Veckan bjöd på statistik i form av inflation och industriproduktion. Till helgen kommer också importstatistiken. Industriproduktionen kom in lägre än väntat på 9,2 % (9,5 % i juni) samtidigt som Inflationen sjönk för fjärde månaden i rad till 1,8 % (2,1 i juni). Produktionen växer långsammare (efterfrågetillväxten på koppar avtar sannolikt något), vilket naturligtvis är negativt, men de är nog viktigare att inflationen också sjunker. Det ger utrymme för stimulanser, just det som marknaden väntar på.
Risken finns att kopparimporten inte kommer vara så stark under juli då LME-priserna kontra Shanghai inte varit tillräckligt attraktiva. LME anses behöva komma ned till $ 7100-7200 innan kineserna köper. 3- månaderspriset ligger idag torsdag på $7542/ton (motsvarande $3,42/Lbs för Comex-kontraktet).
Med nuvarande makrosentiment lär de dock inte jaga marknaden. Som vi tidigare påpekat ser vi tekniskt sett ett stöd kring $7000. Det är osäkert vilken effekt de eventuella stimulansåtgärderna från USA och Europa kommer att ge på basmetaller. Viktigast är stimulanser i Kina och i synnerhet för kopparn, för vilken Kina inte har de geologiska förutsättningarna att blir självförsörjande. Kina är en "kronisk" importör av kopparenheter. Därför finns det all anledning att hålla ett extra öga på kommande importsiffror.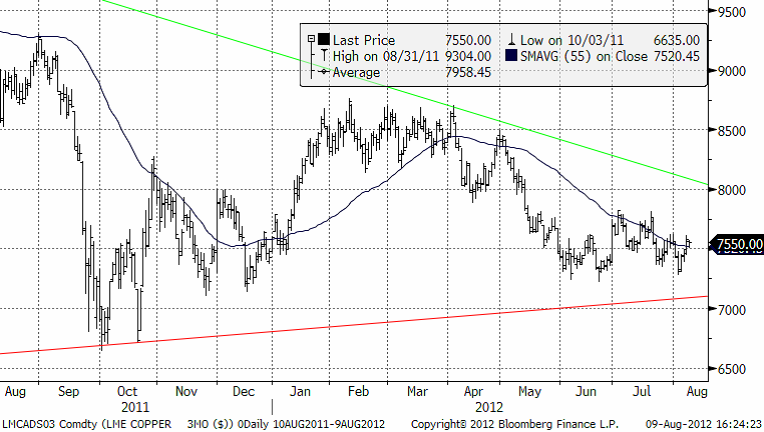 KOPPAR S steg förra veckan med 2%. LONG KOPPA D S med hävstång 2.66 gånger, steg med 7% förra veckan. Koppar bör som sagt få stöd av den ljusare bilden av Kinas ekonomi.
Zink
Zinkpriset ligger på bottennivåer i det prisintervall som etablerats sedan 2009. Produktionskostnaden för zink ligger på dessa nivåer. I råvarumarknaden brukar man kalla detta för råvarans "fundamentala golv". Vi ser därför inte några stora kursfallsrisker i zink. 1800 dollar ser ut att även tekniskt vara ett stöd för priset.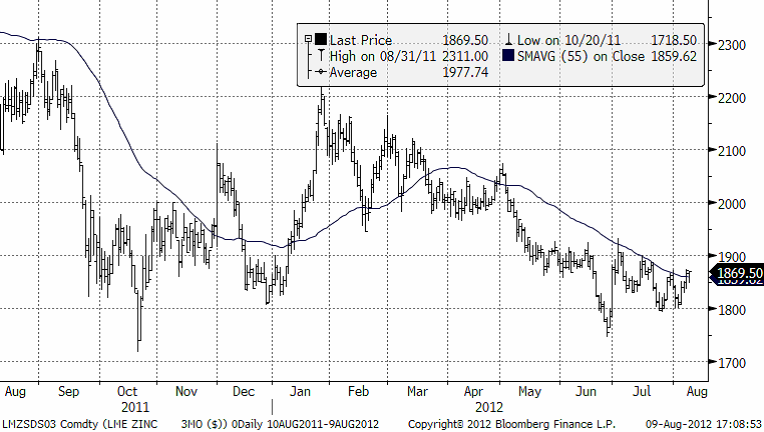 Vi är positiva till zink, men inte lika mycket så som för koppar.
Förväntningarna på WASDE-rapporten
Nedan ser vi marknadens förväntningar på WASDE-statistiken som publiceras på fredag klockan 14:30 svensk tid. Alla siffror är i miljoner bushels. Marknaden kommer att fokusera på majs och sojabönor och på vilken sida siffrorna hamnar i förhållande till de väntade, kommer att avgöra åt vilket håll priserna på dessa – och vetepriset rör sig.
För jordbruksprodukterna hänvisar vi till publikationen från tidigare idag om jordbruksprodukter.
Prenumerera på SEBs nyhetsbrev om börshandlade certifikat
Hos SEB kan du fylla i dina kontaktuppgifter, så får du automatiskt SEB nyhetsbrevs med placeringsförslag och marknadskommentarer direkt i din inkorg.
[box]SEB Veckobrev Veckans råvarukommentar är producerat av SEB Merchant Banking och publiceras i samarbete och med tillstånd på Råvarumarknaden.se[/box]
Disclaimer
The information in this document has been compiled by SEB Merchant Banking, a division within Skandinaviska Enskilda Banken AB (publ) ("SEB").
Opinions contained in this report represent the bank's present opinion only and are subject to change without notice. All information contained in this report has been compiled in good faith from sources believed to be reliable. However, no representation or warranty, expressed or implied, is made with respect to the completeness or accuracy of its contents and the information is not to be relied upon as authoritative. Anyone considering taking actions based upon the content of this document is urged to base his or her investment decisions upon such investigations as he or she deems necessary. This document is being provided as information only, and no specific actions are being solicited as a result of it; to the extent permitted by law, no liability whatsoever is accepted for any direct or consequential loss arising from use of this document or its contents.
About SEB
SEB is a public company incorporated in Stockholm, Sweden, with limited liability. It is a participant at major Nordic and other European Regulated Markets and Multilateral Trading Facilities (as well as some non-European equivalent markets) for trading in financial instruments, such as markets operated by NASDAQ OMX, NYSE Euronext, London Stock Exchange, Deutsche Börse, Swiss Exchanges, Turquoise and Chi-X. SEB is authorized and regulated by Finansinspektionen in Sweden; it is authorized and subject to limited regulation by the Financial Services Authority for the conduct of designated investment business in the UK, and is subject to the provisions of relevant regulators in all other jurisdictions where SEB conducts operations. SEB Merchant Banking. All rights reserved.
SEB Metals price forecast update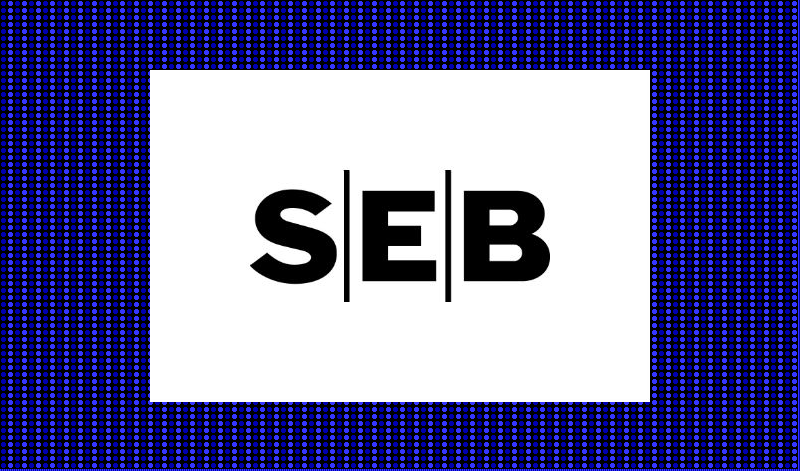 Softer economic growth in 2024 calls for somewhat softer metals prices in 2024. Industrial metals prices as well as other commodity prices exploded during Covid-19 as governments around the world unleashed stimuli in the magnitude of 10x of what was done during the global financial crisis in 2008/09. Consumers shifting spending from services to consumer goods added to the boom. Bloomberg's industrial metals price index was up 91% in March 2022 versus January 2020 because of this. Global manufacturing PMI peaked in May 2021 and has been fading since and below the 50-line from September 2022 with latest reading at 48.8. Industrial metals prices have faded since their peak in March 2022 but are still 30% higher than they were in January 2020. Even zinc, the worst performing metal, is still 9% above where it was in January 2020. As such one could possibly argue that industrial metals have not yet fully faded from their Covid-19 stimulus boom. One possible explanation could be inflation where US inflation is up 19% over the period. But this still leaves industrial metals up 11% in real terms. Another possible explanation is the big jump in energy prices over the period. While coal and gas prices have fallen back a lot, they are still quite high. The coal price in western Europe is 110% above where it was at the start 2020 and 50% above its 2010-2019 average. Most industrial metals are highly energy intensive to produce with digging and crushing of rocks, smelting, and refining of ore. The current aluminium price of USD 2215/ton is for example well aligned with coal prices. In addition to this there has also been significant closures of zinc and aluminium smelting capacity in Europe which probably have supported prices for these metals.
Global economic growth is forecasted to slow from 3.5% in 2022, to 3.0% in 2023 and then again to 2.9% in 2024 as the big jump in interest rates induce economic pain with a lag. Aligned with this we expect lower industrial metals prices in 2024 than in 2023 though only marginally lower for most of the metals. But the field of metals is wide, and the price action is thus adverse. Copper is likely the metal with the most strained supply and with huge needs in the global energy transition.
Aluminium: Prices will likely be depressed versus marginal costs in 2024. Aluminium from Russia is flowing unhindered to the market. Most is going to China for reprocessing and potentially re-exported while some is going to Turkey and Italy. It is all flowing into the global pool of aluminium and as such impacting the global market balance. The LME 3mth aluminium price is currently well aligned with coal prices and both have traded mostly sideways since June this year. Aluminium premiums in the EU have however fallen 30-40% since mid-June in a sign of weakness there. The global market will likely run a surplus in 2024 with depressed prices versus the marginal cost of production.
Copper: Softer fundamentals in 2024 but with accelerating tightness on the horizon. Copper is currently trading at USD 8470/ton and close to 37% above its early Jan 2020 level. The market is expected to run a slight surplus in 2024 followed by accelerating tightness the following years. Downside price risk for 2024 is thus warranted along with softer global growth. The power of Unions is however getting stronger in Latin America with demands for higher salaries. Strikes have broken out in Peru with production at the Las Bambas copper mine at only 20%. Further strikes and disruptions could quickly put the market into deficit also in 2024.
Nickel: Indonesia pursuing market share over price pushing the price down the cost curve. Indonesia's nickel production is growing rapidly. Its production reached 1.6 million ton in 2022 (+54% YoY) and accounted for close to 50% of total global supply in 2022. Its share looks set to reach 70% by 2030. Lower prices will stimulate demand and will also force higher cost producers to shut down thus making room for the wave of new supply from Indonesia. Prices will be sluggis the nearest years as Indonesia aims for market share over price.
Zinc: Price has stabilized around USD 2500/t. Weakness in global construction will drive prices lower at times in 2024. The 3mth LME zinc price has fallen from a peak of USD 4499/ton in April 2022 to only USD 2248/ton in May 2023. Since then, it has recovered steadily to USD 2500/ton.  Demand could struggle in 2024 as construction globally will likely struggle with high interest rates. But mine closures is a natural counter effect of low prices and will put a floor under prices.
Price outlook

Bjarne Schieldrop
Cheif Commodities Analyst
SEB Commodity Research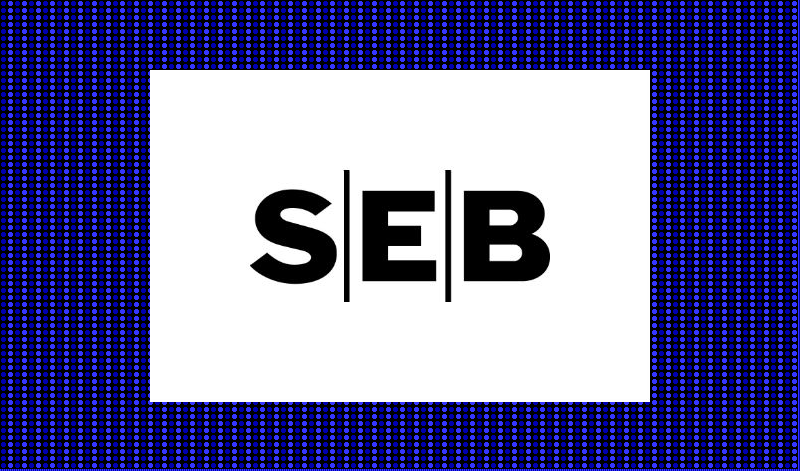 All eyes are now back at OPEC+ after the recent fall in oil prices along with weakening crude curve structures and weakening economic statistics. OPEC+ will have to step up the game and give solid guidance of what it intends to do in 2024. If Saudi Arabia is to carry the burden alone (with only a little help from Russia) it will likely need to keep its production at around 9.0 m b/d on average for 2024 and drop it down towards 8.5 m b/d in Q1-24. This may be too much to ask from Saudi Arabia and it may demand some of the other OPEC members to step up and join in on the task to regulate the market in 2024. More specifically this means Iraq, Kuwait and UAE. The oil market will likely be quite nervous until a firm message from Saudi/Russia/OPEC+ is delivered to the market some time in December.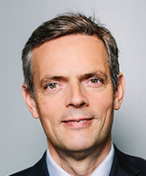 Saudi Arabia may get some help from President Joe Biden though as his energy secretary adviser, Amos Hochstein, has stated that the US will enforce sanctions on Iran on more than 1 m b/d.
Brent crude fell 4.6% ydy to USD 77.4/b and over the last three trading sessions it has lost USD 5.1/b. This morning it is trading only marginally higher at USD 77.6/b which is no vote of confidence. A good dose of rebound this morning would have been a signal that the sell-off yesterday possibly was exaggerated and solely driven by investors with long positions flocking to the exit. So there's likely more downside to come.
In general there is a quite good relationship between net long speculative positions in Brent crude and WTI versus the global manufacturing cycle. Oil investors overall typically have an aversion of holding long positions in oil when the global economy is slowing down. As of yet there are few signs that the global economic cycle is about to turn. Rather the opposite seems to be the case. Global manufacturing fell in October and yesterday we saw US industrial production fall 0.6% MoM while continued jobless claims rose more than expected and to the highest level in two years. This matches well with the logic that the strong rise in interest rates since March 2022 is inflicting pain on the economy with more pain ahead as the effect comes with a lag.
Most estimates are that the global oil market is running a solid deficit in Q4-23. The IEA has an implied deficit in the global oil market of 1 m b/d in Q4-23 if we assume that OPEC will produce 28 m b/d vs. a call-on-OPEC at 29 m b/d. But prices in the oil market is telling a different story with weakening crude curves, weakening refining margins and a sharp sell-off in oil prices.
For 2024 the general forecasts are that global economic growth will slow, global oil demand growth will slow and also that the need for oil from OPEC will fall from 28.7 m b/d to 28.4 m b/d (IEA). This is a bearish environment for oil. The average Brent crude oil price so far this year is about USD 83/b. It should essentially be expected to deliver lower in 2024 with the negatives mentioned above.
Two things however will likely counter this and they are interconnected. US shale oil activity has been slowing with falling drilling rig count since early December 2022 and that has been happening at an average WTI price of USD 78/b. The result is that total US liquids production is set to grow by only 0.3 m b/d YoY in Q4-24. This allows OPEC+ to support the oil price at USD 80-90/b through 2024 without fear of loosing a significant market share to US oil production. Thus slowing US liquids production and active price management by OPEC+ goes hand in hand. As such we do expect OPEC+ to step up to the task.
So far it has predominantly been Saudi Arabia with a little help from Russia which together proactively have managed the oil market and the oil price through significant cuts. Saudi Arabia produced 10.5 m b/d in April but then cut production rapidly to only 9.0 m b/d which is what it still produces. Its normal production is about 10 m b/d.
What has made the situation more difficult for Saudi Arabia is the combination of solid growth in non-OPEC supply in 2023 (+2.1 m b/d YoY; IEA) but also a substantial revival in production by Venezuela and Iran. The two produced 660 k b/d more in October than they on average did in 2022. So the need for oil from Saudi Arabia is squeezed from both sides.
All eyes are now back at OPEC+ after the recent fall in oil prices along with weakening crude curve structures and weakening economic statistics.
OPEC+ will have to step up the game and give solid guidance of what it intends to do in 2024. If Saudi Arabia is to carry the burden alone (with only a little help from Russia) then it will likely need to keep its production at around 9.0 m b/d on average for 2024 and drop it down towards 8.5 m b/d in Q1-24. This may be too much to ask from Saudi Arabia and it may demand some of the other OPEC members to step up and join in on the task to regulate the market in 2024. More specifically this means Iraq, Kuwait and UAE.
The oil market will likely be quite nervous until a firm message from Saudi/Russia/OPEC+ is delivered to the market some time in December.
Saudi Arabia may get some help from President Joe Biden though as his energy secretary adviser, Amos Hochstein, has stated that the US will enforce sanctions on Iran on more than 1 m b/d.
More from Venezuela and Iran means smaller pie for Saudi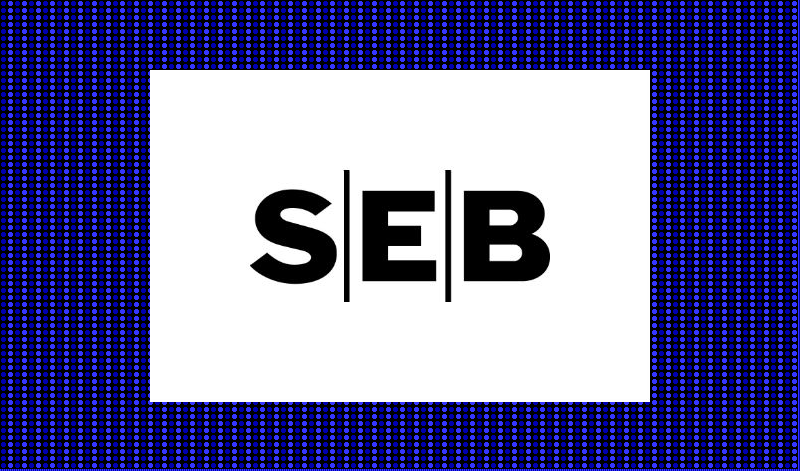 Production in Venezuela and Iran is on the rise and is set to rise further in the coming months and in 2024. Combined their production could grow by 0.8 m b/d YoY to 2024 (average year to average year). The IEA projected in its latest OMR (Oct-2023) that call-on-OPEC will fall to 28.3 m b/d in 2024, a decline of 0.5 m b/d. This combination would drive implied call-on-Saudi from 10.4 m b/d in 2023 to only 9.1 m b/d in 2024 and as low as 8.6 m b/d in Q1-24 if Saudi Arabia has to do all the heavy lifting alone. Wider core OPEC cooperation may be required.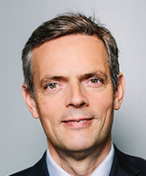 The IEA is out in the news today projecting peak oil demand this decade with global demand standing at no more than 102 m b/d towards the end of this decade. If so it would imply a call-on-Non-OPEC of only 66.4 m b/d in 2028 assuming that OPEC in general will demand a market share of 30 m b/d + NGL of 5.6 m b/d. The IEA (Oct-23) projects non-OPEC production to average 68.8 m b/d in 2024. That's already 2.4 m b/d more than what would be sustainable over time if global oil demand is set to peak later this decade. Oil producers in general cannot have a production growth strategy in a peak oil demand world.
The US has decided to lift sanctions towards Venezuela for six months (18 April) as a measure to tempt it to move towards more democratic processes. And if it does, then the lifting of sanctions could continue after the 6 months. A primary opposition election took place this weekend with lawmaker Maria Corina Machado currently holding 93% of the vote count. Venezuela will next year hold a presidential election but fair play seems unlikely with Maduro in charge. The lifting of sanctions allows Venezuela's PdV to resume exports to all destinations. Bans on new, foreign investments in the oil and gas sector are also lifted though Russian entities and JV's are still barred.
Venezuela produced 0.8 m b/d in September and indicates that it can lift production by 0.2 m b/d by year and with more rigs and wells by 0.5 m b/d to 1.3 m b/d in the medium term.
Oil production in Iran has been on a steady rise since its low-point of 2.0 m b/d in 2020. Last year it produced 2.5 m b/d. In September it produced 3.1 m b/d, but Iran's oil minister says production now is at 3.3 m b/d. Iran's rising production and exports is not about the US being more lenient in its enforcement of sanctions towards Iran. It is more about Iran finding better ways to circumvent them but even more importantly that China is importing more and more oil from Iran.
Production by Iran and Venezuela is recovering. YoY production from the two could rise by close to 0.8 m b/d in 2024. This will lead to a decline in call-on-Saudi oil. 
The IEA estimated in its latest OMR report that call-on-OPEC will fall from 28.8 m b/d in 2023 to 28.3 m b/d in 2024. If all OPEC members except Saudi Arabia produces the same amount in 2024 as in 2023, then the need for Saudi Arabia's oil (call-on-Saudi) will fall from a healthy 10.4 m b/d in 2023 to a still acceptable 9.9 m b/d in 2024. Its normal production is roughly 10 m b/d.
If however production by Iran and Venezuela rise by a combined 0.5 m b/d YoY in 2024, then call-on-Saudi will fall to 9.4 m b/d which is not so good but still manageable. But if Iran's oil minister is correct when he says that its current production now is at 3.3 m b/d, then it is not far fetched to assume that Iran's oil production may average maybe 3.4-3.5 m b/d in 2024. That would yield a YoY rise of 0.6 m b/d just for Iran. If we also assume that Venezuela manages to lift its production from 0.8 m b/d this year to 1.0 m b/d in 2024, then the combined growth from the two is closer to 0.8 m b/d. That would push call-on-Saudi down to only 9.1 m b/d which is not good at all. It would require Saudi Arabia to produce at its current production of 9.0 m b/d all through 2024.
The IEA further estimates that call-on-OPEC will average 27.7 m b/d in Q1-24. If we assume Iran @ 3.4 m b/d and Venezuela @ 1.0 m b/d then call-on-Saudi in Q1-24 will only be 8.6 m b/d. I.e. Saudi Arabia will have to cut production further to 8.6 m b/d in Q1-24. At that point Saudi Arabia will likely need or like other core OPEC members like Iraq, Kuwait and UAE as well as Russia to join in.
Implied call-on-Saudi. Call-on-OPEC is set to decline from 28.8 m b/d to 28.3 m b/d to 2024. If all OPEC members produced the same in 2024 as in 2023 then call-on-Saudi would fall by 0.5 m b/d to 9.9 m b/d. But if Venezuela and Iran increases their combined production by 0.8 m b/d YoY in 2024 then call-on-Saudi falls to 9.1 m b/d.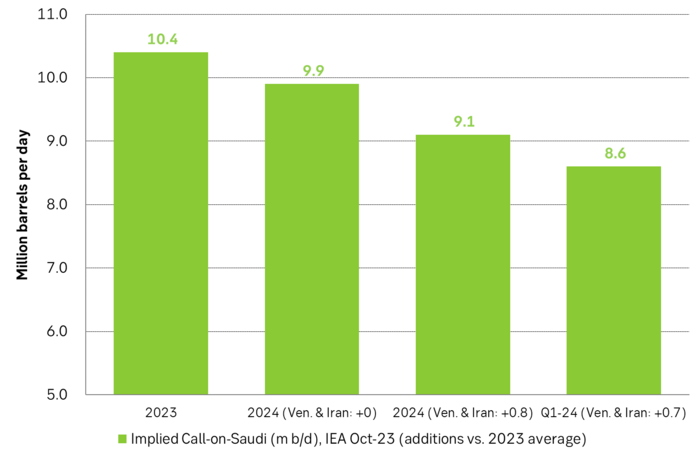 If we look a little broader on this topic and also include Libya, Nigeria and Angola we see that this group of OPEC members produced 11.4 m b/d in 2010, 10.1 m b/d in 2017 and only 5.1 m b/d at the low-point in August 2020. The decline by these OPEC members has of course the other OPEC and OPEC+ members to stem the rising flood of US shale oil production. The production from this unfortunate group of OPEC-laggards is however now on the rise reaching 7.5 m b/d in September. With more from Iran and Venezuela it could rise to 8.0 m b/d in 2024. Production from Nigeria and Angola though still looks to be in gradual decline while Libya looks more sideways. So for the time being it is all about the revival of Iran and Venezuela.
The unfortunate OPEC-laggards had a production of 11.4 m b/d in 2010. But production then fell to only 5.1 m b/d in August 2020. It helped the rest of OPEC's members to manage the huge increase in US shale oil production. Production from these countries are now on the rebound. Though Nigeria and Angola still seems to be in gradual decline.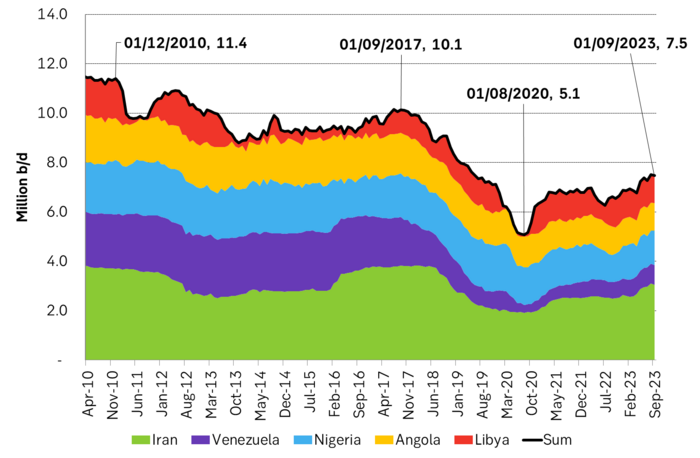 What everyone needs to be attentive to is that call-on-OPEC and even more importantly call-on-Saudi can only erode to a limit before Saudi/OPEC/Russia will have to take action. Especially if the forecast for needed oil from OPEC/Saudi for the nearest 2-3 years is in significant decline. Then they will have to take action in the sense that they stop defending the price and allows the price to fall sharply along with higher production. And yet again it is US shale oil producers who will have to take the brunt of the pain. They are the only oil producers in the world who can naturally and significantly reduce their production rather quickly. I.e. the US shale oil players will have to be punished into obedience, if possible, yet one more time.
We don't think that it is any immediate risk for this to happen as US shale oil activity is slowing while global oil demand has rebounded following Covid-lockdowns. But one needs to keep a watch on projections for call-on-OPEC and call-on-Saudi stretching 1-2-3 years forward on a continuous basis.
In its medium term oil market outlook, Oil2023, the IEA projected a fairly healthy development for call-on-OPEC to 2028. First bottoming out at 29.4 m b/d in 2024 before rising gradually to 30.6 m b/d in 2028. The basis for this was a slowing though steady rise in global oil demand to 105.7 m b/d in 2028 together with stagnant non-OPEC production due to muted capex spending over the past decade. But this projection has already been significantly dented and reduced in IEA's latest OMR from October where call-on-OPEC for 2024 is projected at only 28.3 m b/d.
In a statement today the IEA projects that global oil demand will peak this decade and consume no more than 102 m b/d in the late 2020ies due to (in large part) rapid growth in EV sales. This would imply a call-on-OPEC of only 26.9 m b/d in 2028. It is not a viable path for OPEC to produce only 26.9 m b/d in 2028. Especially if production by Iran and Venezuela is set to revive. I.e. OPEC's pie is shrinking while at the same time Iran and Venezuela is producing more. In this outlook something will have to give and it is not OPEC.
One should here turn this on its head and assume that OPEC will produce 30 m b/d in 2028. Add OPEC NGLs of 5.6 m b/d and we get 35.6 m b/d. If global oil demand in 2028 stands at only 102 m b/d then call-on-Non-OPEC equates to 66.4 m b/d. That is 3.1 m b/d less than IEA's non-OPEC production projection for 2028 of 69.5 m b/d but also higher than non-OPEC production projection of 68.8 m b/d (IEA, Oct-23) is already 2.4 m b/d too high versus what is a sustainable level.
What this of course naturally means is that oil producers in general cannot have production growth as a strategy in a peak-oil-demand-world with non-OPEC in 2024 already at 2.4 m b/d above its sustainable level.
The US is set to growth its hydrocarbon liquids by 0.5 m b/d YoY in 2024. But in a zero oil demand growth world that is way, way too much.