SEB Jordbruksprodukter, 17 februari 2014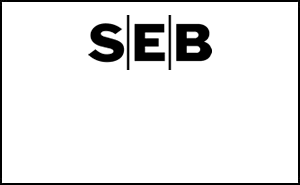 WASDE-rapporten har vi redan gått igenom separat tidigare i veckan. Den gav inte marknaden information som ändrar den tidigare bilden. Om något var den positiv för vete men varken-eller för majs och soja.
Mjölkmarknaden var lite starkare i veckan med prisuppgångar på såväl terminer på SMP som smör på Eurex.
Grispriset i USA fortsätter att stiga, eftersom PED-virusets spridning forsätter att öka och inte nått kulmen än. Priserna i Europa, som påverkas av Rysslands importstopp, fortsätter att vara låga, på samma nivå som veckan innan, vid 1.50 euro per Kg.
I veckan kommer USDA:s Outlook conference.
Nya EU-regler
Sedan i torsdags ska alla OTC-terminstransaktioner inom EU rapporteras till ett centralt transaktionsregister. SEB Commodities ombesörjer detta utan kostnad för sina kunders transaktioner med SEB. SEB har också en särskild tjänst där kunder kan få hjälp med hela sin rapportering av börshandlade terminer och optioner såväl som OTC, som de handlat med vilken mäklare eller bank som helst, alltså inte bara med SEB. Rapporteringskravet följer av EU-reglerna i EMIR. Den som är intresserad av att läsa mer om EMIR kan göra det på Finansinspektionens hemsida, eller på ESMA:s hemsida. ESMA är EU:s centrala finansinspektion.
EU har redan beslutat att ersätta EMIR med MiFIR / MiFID2, som beräknas träda i kraft om strax under 3 års tid. MiFID2:s regler är tyvärr baserade på den politiskt motiverade (medvetna) missuppfattningen att det var spekulation som skapade råvaruboomens höga priser på framförallt mat år 2008. EU kommissionen har av allt att döma betalat ut enorma summor till bistånds- och miljöorganisationer för att torgföra den uppfattningen, som står i bjärt kontrast till en överväldigande majoritet av vetenskapliga studier av orsakssambanden.
Vi som studerar råvarumarknaden ser att MiFID2-reglerna kommer att innebära högre transaktionskostnader för prissäkring inom lantbrukssektorn, mycket sämre möjligheter att prissäkra bort risk som beror på rörligt pris, och därmed högre kapitalkostnader inom jordbruket. Högre kostnader inom EU:s lantbruk innebär utslagning av finansiellt svagare producenter och handelsföretag, mindre produktion och därmed högre priser på mat. Det innebär också att marknadens aktörer kommer att söka substitut, såväl till EU-baserade råvarubörser som till de instrument-typer som omfattas av MiFID2. Bland annat omfattas inte "fysiska" leveranskontrakt om de syftar till prissäkring.
En missuppfattning att EMIR innebär att terminer och optioner blir "olagliga" att handla fick spridning i veckan som gick. Tolkningen stämmer inte. Däremot innebär EMIR-reglerna en rapporteringsplikt, som i sig innebär en ökad kostnad för prissäkring för marknadens aktörer som helhet. EMIR skapades för att på EU-nivå få bättre information om derivatmarknaden för att bättre kunna bedöma den risk för spridning av bankkonkurser som bilaterala derivatavtal skulle kunna utgöra en spridningsväg för, och därmed ett hot mot hela det finansiella systemet inom EU. För råvarumarknaden är EMIR onödig, eftersom råvarutransaktioner aldrig har och aldrig kommer att kunna innebära ett hot mot EU-ländernas finansiella stabilitet, men Europaparlamentet, Rådet och Kommissionen har fattat det här beslutet ändå.
Odlingsväder
Det har varit väldigt kallt i USA, som bekant. Det har också varit torrt i Brasiliens östra och centrala delar, men regnen rör sig norrut och nådde Sao Paulo i torsdags. Det är egentligen bara de kaffeodlande delstarterna Minas Gerais och Espirito Santo som varit riktigt torr och dit bör regnen nå inom kort om de inte nått dit redan. Mato Grosso har klarat sig väl och skörden av soja har kommit så långt att risken för skador är över.
Vete
Matifs novemberkontrakt har fortsatt stiga och stängde i fredags på 188 euro per ton. Vid 190 euro borde ett batteri av säljordrar vänta, så vi tror att uppgången kommer att stöta på patrull. Kanske blir det en vecka med konsolidering eller kanske en begynnande rekyl nedåt.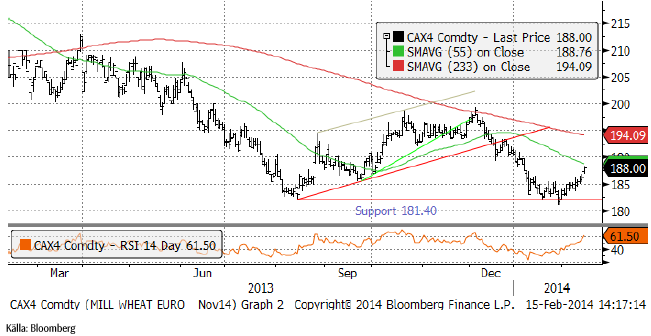 Nedanför ser vi Chicagovetet (Dec 14), som stängde fredagen på 621 cent. Uppgången sker från låg nivå och känns inte övertygande.
Nedan ser vi terminskurvorna för Chicagovete och Matif, båda uttryckte i euro per ton. Backwardation har ökat på båda sidor av Atlanten.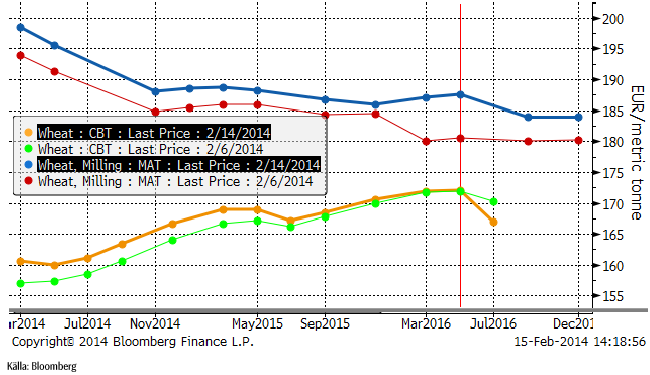 Förra veckan visade vi att vetekontrakten för decemberleverans i Chicago var rekordbilliga i förhållande till majs för decemberleverans. Kvoten mellan priserna (vete / majs) var då 1.29. Vi förutsåg korrekt att priset på vete var "billigt". I fredags hade kvoten gått upp till 1.35. Vetet har alltså stigit 6% i förhållande till majs. Nu ser inte relationen fullt så avvikande ut längre. På 1.35 är den fortfarande låg, men inte så låg att den motiverar en position längre.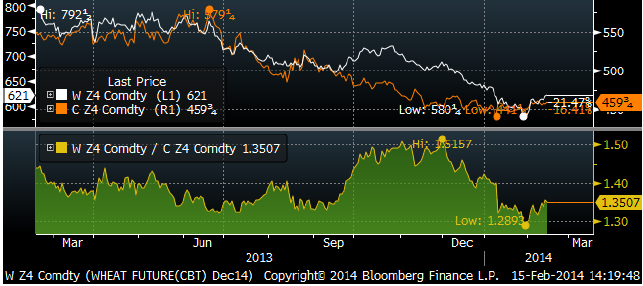 USDA gick i veckan ut och sade att Indien inte kommer att exportera något vete alls i år. I fredags publicerade dock Indiens jordbruksdepartement en prognos för årets skörd, som börjar snart. Landets produktion väntas öka till 95.6 mt från 93.5 mt förra året. Risproduktionen väntas också öka med 1 mt till 106.2 mt.
Det var betydligt lugnare i veckan hos köparländerna i Mellanöstern och i Nordafrika. Jordanien köpte 100 kt. Det har skett en "burnout", där köparländerna redan har köpt vad de skulle. Man kan tänka sig att det krävs en extra realisation på vete för att de ska lockas att komma tillbaka som köpare, vilket gör att den tekniska stödnivån på 180 euro per ton är svagare nu än tidigare. Vi har skrivit om detta tidigare.
Strategie Grains sänkte sin prognos för veteskörden i EU-28 i år med 0.3 mt till 137.5 mt. Strategie Grains menar att övervintringen i de baltiska länderna varit dålig och att arealen i Polen är mindre än väntat. Strategie Grains har högre estimat än USDA, som tidigare i veckan angav en produktion på 142.87 mt. Förra årets skörd (i höstas) låg enligt USDA på 133.88 mt, så årets skörd ser alltså ut att bli ca 10 mt högre än förra året.
Australiensiska ABARE höjde skördeestimatet i veckan med 800 kt till 27 mt.
Black Earth Farming med 230,000 ha under odling vinstvarnade i veckan pga lägre skörd än väntat avseende bland annat vete.
Vi tror att prisuppgången stannar av i veckan som kommer och fortsätter med neutral rekommendation.
Maltkorn
November 2014 – kontraktet på maltkorn håller sig stabilt vid 220 euro per ton.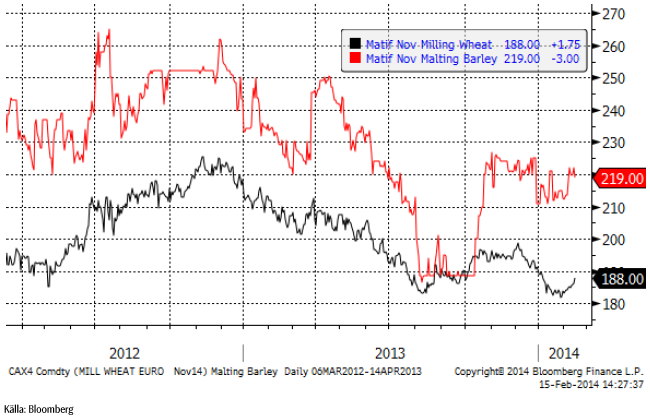 Majs
Tekniskt har majs bildat en triangelformation och utbrott från den ger antingen en teknisk köpsignal (om uppåt) eller säljsignal (om nedåt).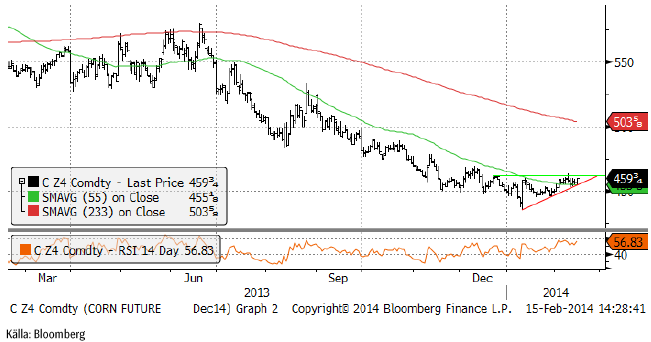 WASDE-rapporten gav inga indikationer alls om priset var lågt eller högt. Men man kan kanske med den som vägledning se vad som hänt sedan dess. USDA sänkte den Argentinska skörden med 1 mt till 24 mt på den torka som ägde rum i julas. Man behöll skörden för Brasilien på 70 mt, men i veckan kom CONAB med sitt första estimat för den andra, lilla skörden "safrinha". De estimerar den till 42.8 mt, vilket gör att den totala skörden sammanlagt summerar till 75.5 mt. Det är 5.5 mt mindre än förra året, men 5.5 mt mer än USDA estimerar. Samtidigt som detta signelarar att globala utgående lager blir större än USDA väntat sig vad gäller majs, signalerar det också att den mark som inte odlats majs på i Brasilien, använts till något annat, förmodligen då sojabönor. Slutsatsen av denna nya information är negativ för majs och negativ för sojabönor.
Efter att ha haft en köprekommendation tycker vi nu, dels med tanke på den tekniska bilden och dels med tanke på en ytterligare uppjustering av global produktion från Brasilien, att det är bäst att inte ha någon position alls, i vart fall inte en köpt.
Sojabönor
Sojabönorna handlades upp i veckan på såväl stark export från USA som hög "crush" i USA. CONAB justerade också ner skörden i Brasilien. Trots detta har tiden i praktiken runnit ut för skador på den Brasilianska skörden. 12% är redan skördat och takten accelererar nu enligt känt mönster. Tekniskt har priset kommit upp till "gamla bottennoteringar" från perioden augusti till december. Det gör att 1150 nu är ett starkt motstånd. Man kan vänta sig att priset får problem att gå högre och att vi istället kan få en förlängning på fredagens svaga stängning.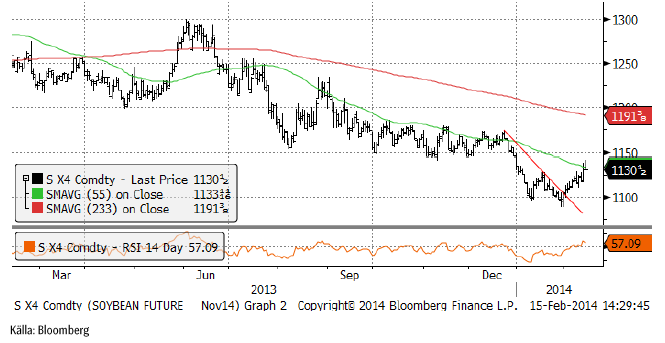 Sojamjölet håller sig kvar i intervallet 340 – 360 dollar per short ton. Nu är priset i den övre delen av intervallet, vilket säkerligen lockar fram säljare.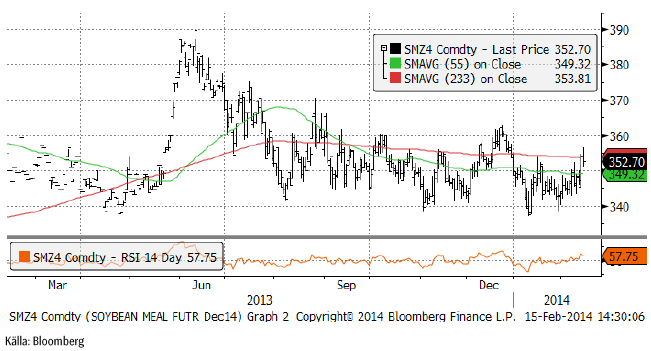 Sojaoljan testade återigen 40 dollar, men även den här gången var det säljarna som vann. Det är ett negativt tecken.
Exportstatistiken (inspections) kom in högre än veckan innan och ligger på en nivå som är helt ohållbar.
I torsdags rapporterade USDA att Kina avbeställt 265,000 ton sojabönor från USA. Kina har istället köpt sojabönor från Brasilien, där skörden accelererar. Antalet fartyg som lastas eller väntar på att lastas i brasilianska hamnar föll till 63 i onsdags, ner från 94 den 7 februari. Kinas import nådde nytt rekord i januari (liksom det gjorde för en hel rad råvaror).
Vi fortsätter med säljrekommendation på sojabönor.
Raps
November 2014-kontraktet på raps fortsatte att följa Chicago och inte Winnipeg. Priset verkar dock inte vilja gå över 361.75 euro per ton och såldes på kraftigt vid försök att handla upp priset över den nivån såväl i torsdags som i fredags. Vi har de senaste månaderna sett att det finns kraftfulla aktörer i marknaden för rapsfrö, som kan bestämma sig för att köpa eller sälja på en viss nivå och då går priset inte genom deras ordrar som verkar kunna svälja hur mycket som helst. Om det är en sådan säljare som bestämt sig för att sälja vid ca 361.75, är det svårt att tro att priset ska över den nivån.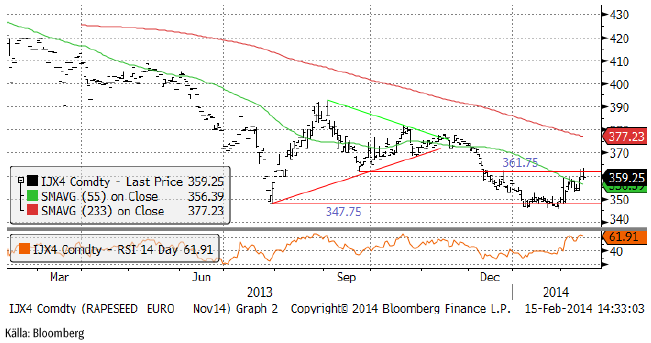 Prisfallet på canola i Winnipeg tog ny fart i veckan som gick. Skillnaden i pris för novemberleverans (efter ny skörd) är nu 70 euro eller nästan 24%. Med tanke på att det är lång, mycket lång tid, till november, förefaller det här vara en helt orimlig prisskillnad. Den som kan, borde sälja raps och köpa canola. Skillnaden ökade naturligtvis även mot sojabönor i Chicago.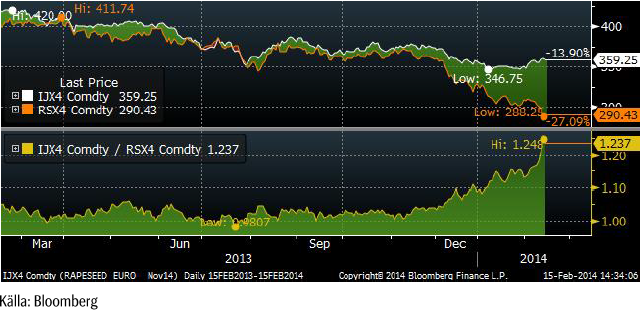 Vi fortsätter med säljrekommendation och upprepar den!
Potatis
Potatis av gammal skörd har halverats sedan oktober och föll i fredags ner till 11.70 euro per 100 Kg.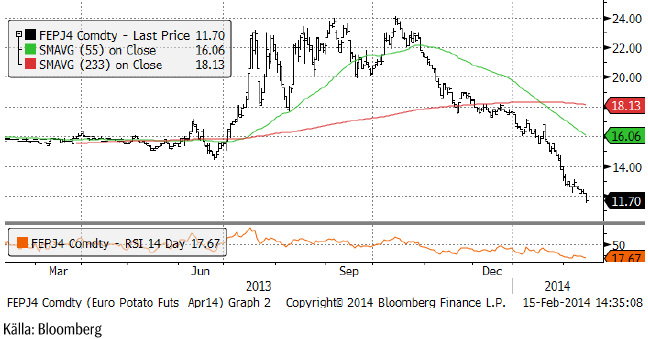 Kontraktet för den kommande skörden börjar nu handlas allt mer. Nedan ser vi kurdiagrammet för april 2015-kontraktet. Det handlas nu 10 eurocent högre än förra veckan, på 14.50 istället för 14.40.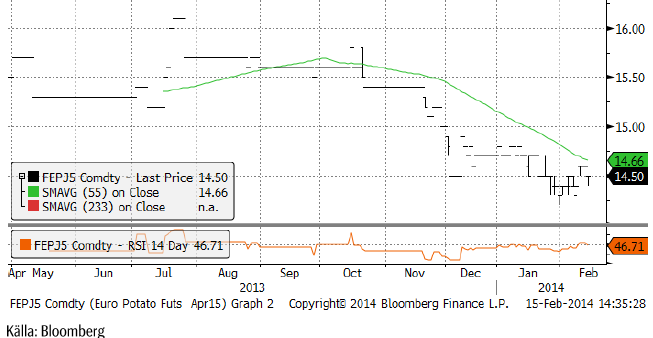 Gris
Lean hogs maj-kontrakt steg från förra veckans 103.9 till 104.05 cent i fredags. Orsaken är att PED-virusets spridning fortfarande ökar. Veckan som slutade den 26 januari, rapporterade AASV 265 nya fall av PED. I augusti och september låg nivån på 32 nya fall per vecka. Det är därför som de längre kontrakten för sommarmånaderna fortsätter att handlas upp i pris. USDA sänkte sitt estimat för fläskproduktionen i år från 23.6 miljarder pund till 23.4 i veckan. Efterfrågan är fortsatt hög i USA och USDA sänkte också export-estimatet med 0.8%.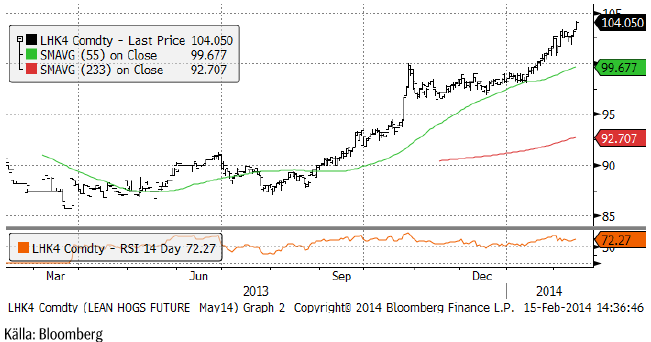 Spotkontraktet på EUREX Hogs har legat still på 1.50 euro i veckan som gått. Priset har rasat successivt sedan toppen i augusti / september på drygt 1.85 euro per Kg.
Mjölk
Prisfallet på smör tog en paus förra veckan och en liten prisuppgång noterades. Samtidigt steg spotkontraktet på SMP till en ny rekordnotering, 3330 euro per ton. Sammantaget innebär det en prisuppgång på mjölkråvara, basis smör och SMP.
Nedan ser vi prisutvecklingen på Eurex smör och pulver (de feta linjerna), samt på USDA:s notering av SMP (FOB Västeuropa), Chicagopriset i euro per ton, liksom Fonterras pris i diagrammet.
Nedan ser vi prisutvecklingen på spotkontraktet på SMP (det vid var tid kortaste till förfall) på Eurex i euro per ton. Historiken sträcker sig tillbaka till sommaren 2010 när Eurex startade sin handel i SMP.
Det svenska avräkningspriset, där källan är Arla, är något lägre, som vi ser i diagrammet nedan. Det betyder att skillnaden mellan pulver+smör och mjölkråvara fortsätter att vara stor. Med den eftersläpning vi vet att den svenska noteringen har, kan man förvänta sig att det svenska priset kommer att gå upp och / eller att Eurex-priset kommer att gå ner. Det borde vara ett bra tillfälle att sälja terminer om man är mjölkproducent.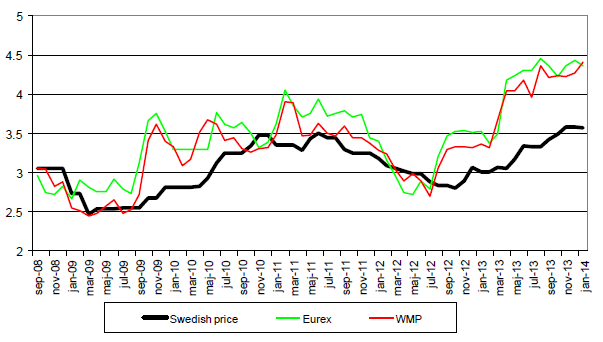 Nedan ser vi terminspriserna man får i svenska kronor från terminspriserna på SMP och smör på Eurex, omräknat till kronor per kilo mjölkråvara. Notera att hela den här prisnivån alltid ska ligga över avräkningspriset på mjölkråvara med ca 50 öre, som är en uppskattning av kostnaden för att förädla mjölkråvara till SMP och smör.
Som vi ser är genomsnittspriset som det är möjligt att säkra in över 4 kr både de närmaste sex månaderna och för det närmaste året.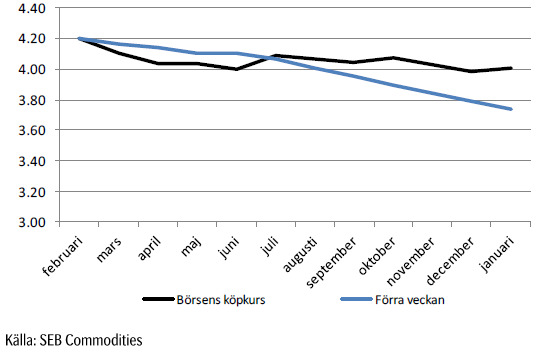 Socker
Marskontraktet på råsocker har fortsatt att rekylera, samtidigt som aktörer i Brasilien sagt att det blivit permanenta skador på växande sockerrör pga torkan. Indien gjorde slag i saken och införde exportstöd, i strid med WTO-reglerna och trots protester från Thailand och Brasilien. I fredags publicerade Indiens jordbruksdepartement en prognos för årets skörd. Landets produktion av sockerrör (inte detsamma som socker) väntas öka till från 341.2 mt till 345.9 mt.
Det är svårt att säga om den här rekylen nedåt kommer att följas av ytterligare ett kliv uppåt, men det skulle inte förvåna om det gör det.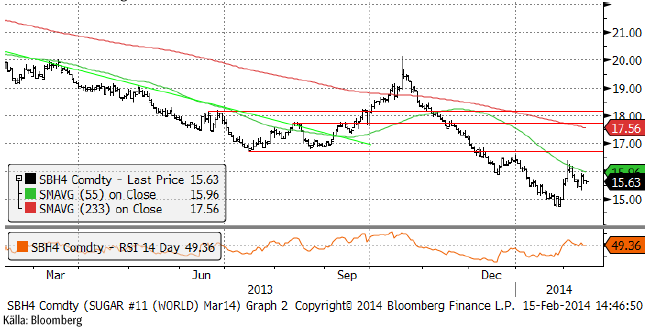 Vi är dock hellre köpta kaffe än socker.
Gödsel
Urean fortsatte att rekylera tillbaka, men är alltjämt i stigande trend och bör få stöd på de här nivåerna.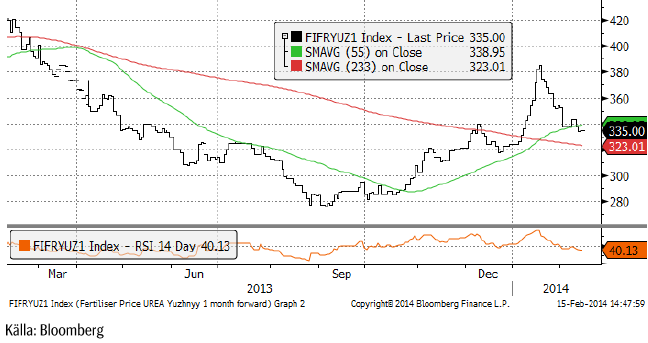 [box]SEB Veckobrev Jordbruksprodukter är producerat av SEB Commodities Sales desk och publiceras i samarbete och med tillstånd på Råvarumarknaden.se[/box]
Detta marknadsföringsmaterial, framtaget av SEB's Commodities Sales desk, har upprättats enbart i informationssyfte.
Även om innehållet är baserat på källor som SEB bedömt som tillförlitliga ansvarar SEB inte för fel eller brister i informationen. Den utgör inte oberoende, objektiv investeringsanalys och skyddas därför inte av de bestämmelser som SEB har infört för att förebygga potentiella intressekonflikter. Yttranden från SEB's Commodities Sales desk kan vara oförenliga med tidigare publicerat material från SEB, då den senare hänvisas uppmanas du att läsa den fullständiga rapporten innan någon åtgärd vidtas.
Dokumentationen utgör inte någon investeringsrådgivning och tillhandahålls till dig utan hänsyn till dina investeringsmål. Du uppmanas att självständigt bedöma och komplettera uppgifterna i denna dokumentation och att basera dina investeringsbeslut på material som bedöms erforderligt. Alla framåtblickande uttalanden, åsikter och förväntningar är föremål för risker, osäkerheter och andra faktorer och kan orsaka att det faktiska resultatet avviker väsentligt från det förväntade. Historisk avkastning är ingen garanti för framtida resultat. Detta dokument utgör inte ett erbjudande att teckna några värdepapper eller andra finansiella instrument. SEB svarar inte för förlust eller skada – direkt eller indirekt, eller av vad slag det vara må – som kan uppkomma till följd av användandet av detta material eller dess innehåll.
Observera att det kan förekomma att SEB, dess ledamöter, dess anställda eller dess moder- och/eller dotterbolag vid olika tillfällen innehar, har innehaft eller kommer att inneha aktier, positioner, rådgivningsuppdrag i samband med corporate finance-transaktioner, investment- eller merchantbankinguppdrag och/eller lån i de bolag/finansiella instrument som nämns i materialet.
Materialet är avsett för mottagaren, all spridning, distribuering mångfaldigande eller annan användning av detta meddelande får inte ske utan SEB:s medgivande. Oaktat detta får SEB tillåta omfördelning av materialet till utvald tredje part i enlighet med gällande avtal. Materialet får inte spridas till fysiska eller juridiska personer som är medborgare eller har hemvist i ett land där sådan spridning är otillåten enligt tillämplig lag eller annan bestämmelse.
Skandinaviska Enskilda Banken AB (publ) är ett [publikt] aktiebolag och står under tillsyn av Finansinspektionen samt de lokala finansiella tillsynsmyndigheter i varje jurisdiktionen där SEB har filial eller dotterbolag.
[If demand] "comes around as forecast, Hallelujah, we can produce more"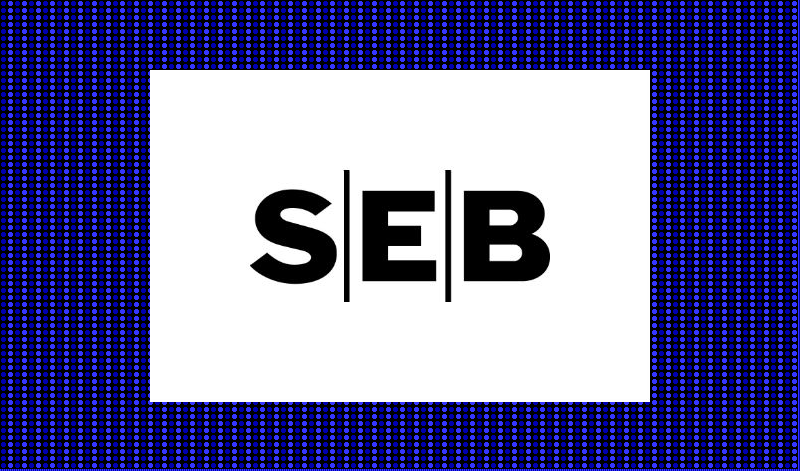 Saudi Arabia's oil minister, Prince Abdulaziz bin Salman, last week stated at a conference in Calgary: "I believe it when I see it. When reality comes around as it's been forecast, Hallelujah, we can produce more" (Reuters, John Kemp). So Saudi Arabia wants to and will produce more once it is confident that there really is demand for additional crude. Saudi Arabia has good reason to be concerned for global oil demand. It is not the only one struggling to predict global demand amid the haze and turmoil in the global oil market following the Russian invasion of Ukraine and sanctions towards Russian crude and product stocks. Add a shaky Chinese housing market and the highest US rates since 2001. Estimates for global oil demand in Q4-23 are ranging from 100.6 m b/d to 104.7 m b/d with many estimates in between. Current crude and mid-dist inventories are low. Supply/demand is balanced to tight and clearly very tight for mid-dists (diesel, jet fuel, gasoil). But amid current speculative bullishness it is important to note that Saudi Arabia can undo the current upwards price journey just as quickly as it created the current bull-market as it drop in production from 10.5 m b/d in April to only 9.0 m b/d since July. Quickly resolving the current mid-dist crisis is beyond the powers of Saudi Arabia. But China could come to the rescue if increased oil product export quotas as it holds spare refining capacity.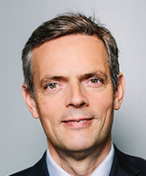 The oil market is well aware that the main reasons for why oil has rallied 25% over the past months is reduced production by Saudi Arabia and Russia, global oil demand holding up better than feared together with still declining US shale oil activity. US oil drilling rig count fell by 8 rigs last week to 507 rigs which is the lowest since Feb 2022.
The big question is how strong is global oil demand and how will it hold up or even maybe increase in the coming quarters? And here the spread of estimates are still all over the place. For Q4-23 we have the following range of estimates for global oil demand in m b/d: 100.6; 101.8; 103.1; 103.2 and 104.7 from main oil market research providers. This wide spread of estimates is mindbogglingly and head-scratching both for analysts and for oil producers. It leads to a wide spread in estimates for Call-on-OPEC. Some say the current market is in a 2-3 m b/d deficit while others calculate that the global oil market today is nicely balanced.
The sanctions towards Russian crude and oil product exports with a ban on imports to the EU and UK has led to a large reshuffling of the global oil market flows which again has created a haze through which it is hard to gauge the correct state of the global oil market.
We have previously argued that there may be a significant amount of "pent-up-demand" following the Covid-years with potential for global oil demand to surprise on the upside versus most demand forecasts. But there are also good reasons to be cautious to demand given Chinese property market woes and the highest US interest rates since 2001!
The uncertainty in global oil demand is clearly at the heart of Saudi Arabia's production cuts since April this year. Saudi Arabia's Energy Minister, Prince Abulaziz bin Salman, last week stated at a conference in Calgary: "I believe it when I see it. When reality comes around as it's been forecast, Hallelujah, we can produce more" (Reuters, John Kemp).
So if it turns out that demand is indeed stronger than Saudi Arabia fears, then we should see increased production from Saudi Arabia. Saudi could of course then argue that yes, it is stronger than expected right now, but tomorrow may be worse. Also, the continued decline in US oil drilling rig count is a home-free card for continued low production from Saudi Arabia.
Both crude stocks and mid-dist stocks (diesel, jet fuel, gasoil) are still significantly below normal and the global oil market is somewhere between balanced, mild deficit or large deficit (-2-3 m b/d). The global oil market is as such stressed due to low inventories and potentially in either mild or large deficit on top. The latter though can be undone by higher production from Saudi Arabia whenever it chooses to do so.
What is again getting center stage are the low mid-dist stocks ahead of winter. The war in Ukraine and the sanctions towards Russian crude and product stocks created chaos in the global oil product market. Refining margins went crazy last year. But they are still crazy. The global refining system got reduced maintenance in 2020 and 2021 due to Covid-19 and low staffing. Following decades of mediocre margins and losses, a lot of older refineries finally decided to close down for good during Covid as refining margins collapsed as the world stopped driving and flying. The global refining capacity contracted in 2021 for the first time in 30 years as a result. Then in 2022 refining margins exploded along with reviving global oil demand and the invasion of Ukraine. Refineries globally then ran as hard as they could, eager to make money, and reduced maintenance to a minimum for a third year in a row. Many refineries are now prone for technical failures following three years of low maintenance. This is part of the reason why mid-dist stocks struggle to rebuild. The refineries which can run however are running as hard as they can. With current refining margins they are pure money machines.
Amid all of this, Russia last week imposed an export ban for gasoline and diesel products to support domestic consumers with lower oil product prices. Russia normally exports 1.1 m b/d of diesel products and 0.2 m b/d of gasoline. The message is that it is temporary and this is also what the market expects. Russia has little oil product export storage capacity. The export ban will likely fill these up within a couple of weeks. Russia will then either have to close down refineries or restart its oil product exports.
The oil market continues in a very bullish state with stress both in crude and mid-dists. Speculators continues to roll into the market with net long positions in Brent crude and WTI increasing by 29 m b over the week to last Tuesday. Since the end of June it has increased from 330 m b to now 637 m b. Net-long speculative positions are now at the highest level in 52 weeks.
The market didn't believe Saudi Arabia this spring when it warned speculators about being too bearish on oil and that they would burn their fingers. And so they did. After having held production at 9 m b/d since July, the market finally believes in Saudi Arabia. But the market still doesn't quite listen when Saudi says that its current production is not about driving the oil price to the sky (and beyond). It's about concerns for global oil demand amid many macro economic challenges. It's about being preemptive versus weakening demand. The current oil rally can thus be undone by Saudi Arabia just as it was created by Saudi Arabia. The current refinery stress is however beyond the powers of Saudi Arabia. But China could come to the rescue as it holds spare refining capacity. It could increase export quotas for oil products and thus alleviate global mid-dist shortages. The first round effect of this would however be yet stronger Chinese crude oil imports.
Brent crude and ARA diesel refining premiums/margins. It is easy to see when Russia invaded Ukraine. Diesel margins then exploded. The market is not taking the latest Russian export ban on diesel and gasoline too seriously. Not very big moves last week.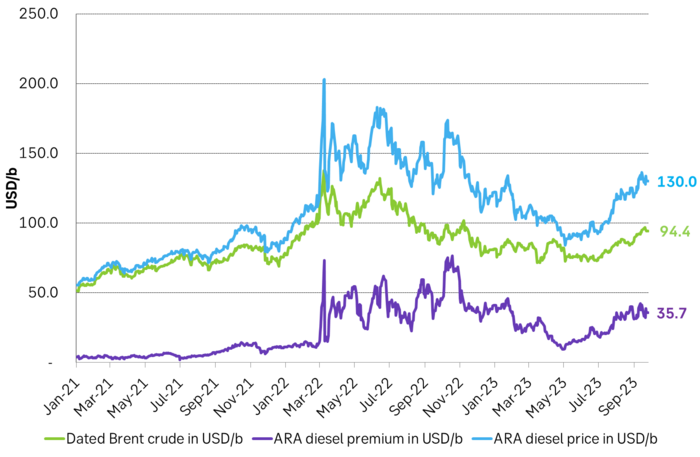 ARA mid-dist margins still exceptionally high at USD 35-40/b versus a more normal USD 12-15/b. We are now heading into the heating season, but the summer driving season is fading and so are gasoline margins.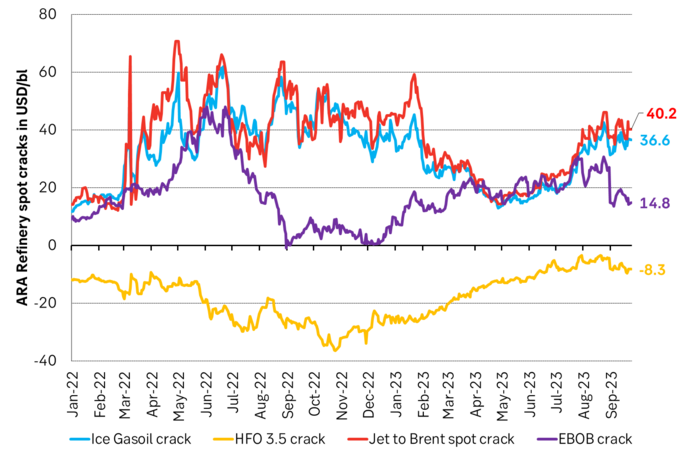 ARA mid-dist margins still exceptionally high at USD 35-40/b versus a more normal USD 12-15/b. Here same graph as above but with longer perspective to show how extreme the situation is.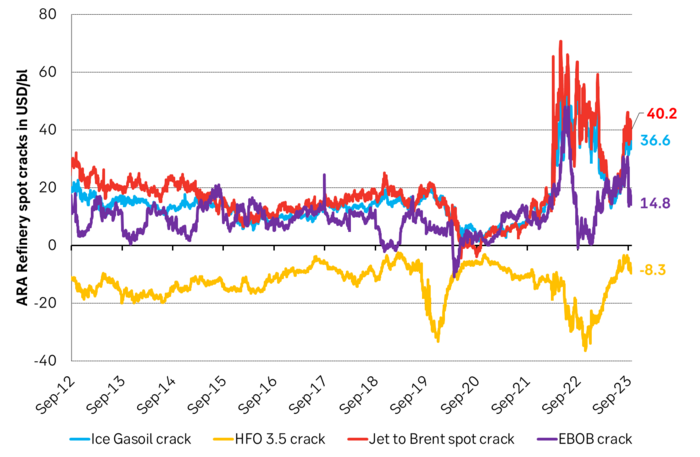 US crude and product stocks vs. the 2015-19 average. Very low mid-dist stocks.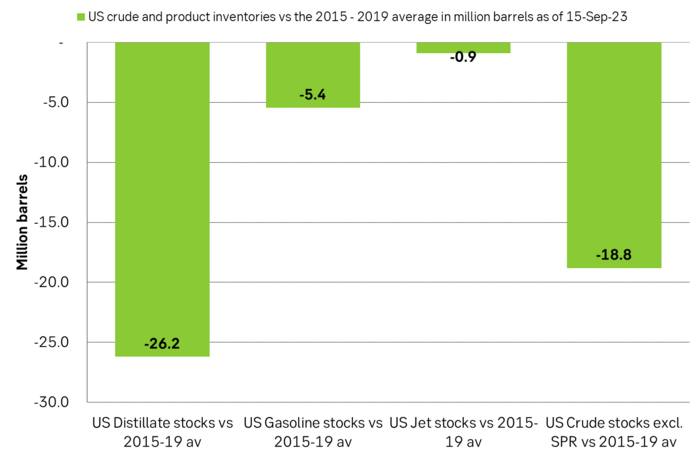 Speculators are rolling into long positions. Now highest net long spec in 52 weeks.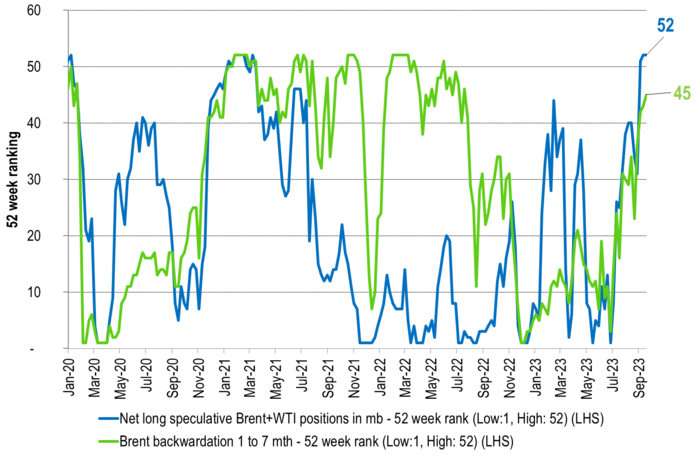 The "normal" oil price is USD 97/b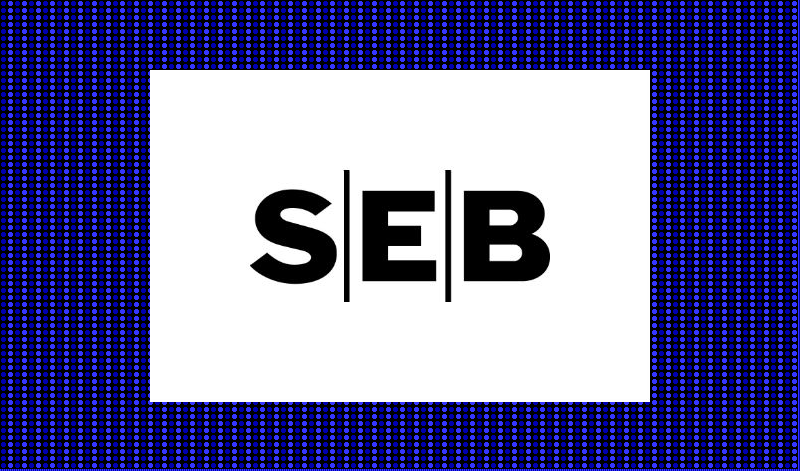 The Dated Brent crude oil price ydy closed at USD 96/b. Wow, that's a high price! This sensation however depends on what you think is "normal". And normal in the eyes of most market participants today is USD 60/b. But this perception is probably largely based on the recent experience of the market. The average Brent crude oil price from 2015-2019 was USD 58.5/b. But that was a period of booming non-OPEC supply, mostly shale oil. But booming shale oil supply is now increasingly coming towards an end. Looking more broadly at the last 20 years the nominal average price was USD 75/b. But in inflation adjusted terms it was actually USD 97/b.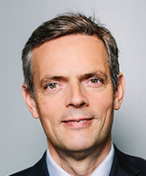 Saudi Arabia's oil minister, Abdulaziz bin Salman, yesterday stated that its production cuts was not about driving the price up but instead it was preemptive versus the highly uncertain global economic development. In that respect it has a very good point. The US 2yr government bond rate has rallied to 5.06% which is the highest since 2006 and just a fraction away of being the highest since December 2000. The Chinese property market is struggling and global PMIs have been downhill since mid-2021 with many countries now at contractive, sub-50 level. Thus a deep concern for the health of the global economy and thus oil demand going forward is absolutely warranted. And thus the preemptive production cuts by Saudi Arabia. But killing the global economy off while it is wobbling with an oil price of USD 110-120/b or higher is of course not a smart thing to do either.
At the same conference in Canada yesterday the CEO of Aramco, Amin H. Nasser, said that he expected global oil demand to reach 110 m b/d in 2030 and that talk about a near term peak in global oil demand was "driven by policies, rather than the proven combination of markets, competitive economics and technology" (Reuters).
With a demand outlook of 110 m b/d in 2030 the responsible thing to do is of course to make sure that the oil price stays at a level where investments are sufficient to cover both decline in existing production as well as future demand growth.
In terms of oil prices we tend to think about recent history and also in nominal terms. Most market participants are still mentally thinking of the oil prices we have experienced during the shale oil boom years from 2015-2019. The average nominal Brent crude price during that period was USD 58.5/b. This is today often perceived as "the normal price". But it was a very special period with booming non-OPEC supply whenever the WTI price moved above USD 45/b. But that period is increasingly behind us. While we could enjoy fairly low oil prices during this period it also left the world with a legacy: Subdued capex spending in upstream oil and gas all through these years. Then came the Covid-years which led to yet another trough in capex spending. We are soon talking close to 9 years of subdued capex spending.
If Amin H. Nasser is ballpark correct in his prediction that global oil demand will reach 110 m b/d in 2030 then the world should better get capex spending rolling. There is only one way to make that happen: a higher oil price. If the global economy now runs into an economic setback or recession and OPEC allows the oil price to drop to say USD 50/b, then we'd get yet another couple of years with subdued capex spending on top of the close to 9 years with subdued spending we already have behind us. So in the eyes of Saudi Arabia, Amin H. Nasser and Abdulaziz bin Salman, the responsible thing to do is to make sure that the oil price stays up at a sufficient level to ensure that capex spending stays up even during an economic downturn.
This brings us back to the question of what is a high oil price. We remember the shale oil boom years with an average nominal price of USD 58.5/b. We tend to think of it as the per definition "normal" price. But we should instead think of it as the price depression period. A low-price period during which non-OPEC production boomed. Also, adjusting it for inflation, the real average price during this period was actually USD 72.2/b and not USD 58.5/b. If we however zoom out a little and look at the last 20 years then we get a nominal average of USD 75/b. The real, average inflation adjusted price over the past 20 years is however USD 97/b. The Dated Brent crude oil price yesterday closed at USD 96/b.
Worth noting however is that for such inflation adjustment to make sense then the assumed cost of production should actually rise along with inflation and as such create a "rising floor price" to oil based on rising real costs. If costs in real terms instead are falling due to productivity improvements, then such inflation adjusted prices will have limited bearing for future prices. What matters more specifically is the development of real production costs for non-OPEC producers and the possibility to ramp up such production. Environmental politics in OECD countries is of course a clear limiting factor for non-OPEC oil production growth and possibly a much more important factor than the production cost it self.
But one last note on the fact that Saudi Arabia's energy minister, Abdulaziz bin Salman, is emphasizing that the cuts are preemptive rather then an effort to drive the oil price to the sky while Amin H. Nasser is emphasizing that we need to be responsible. It means that if it turns out that the current cuts have indeed made the global oil market too tight with an oil price spiraling towards USD 110-120/b then we'll highly likely see added supply from Saudi Arabia in November and December rather than Saudi sticking to 9.0 m b/d. This limits the risk for a continued unchecked price rally to such levels.
Oil price perspectives. We tend to think that the nominal average Brent crude oil price of USD 58.5/b during the shale oil boom years from 2015-19 is per definition the "normal" price. But that period is now increasingly behind us. Zoom out a little to the real, average, inflation adjusted price of the past 20 years and we get USD 97/b. In mathematical terms it is much more "normal" than the nominal price during the shale oil boom years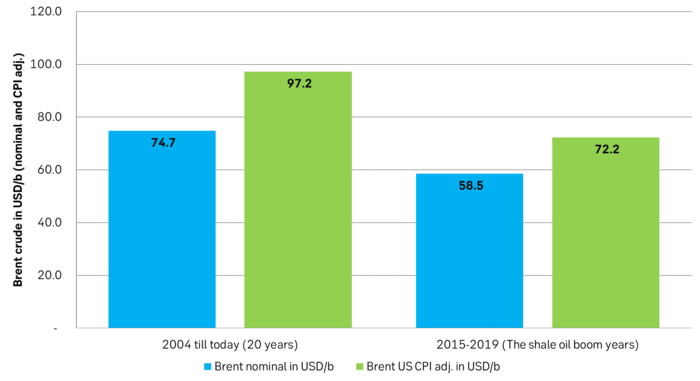 Is global oil demand about to peak 1: OECD and non-OECD share of global population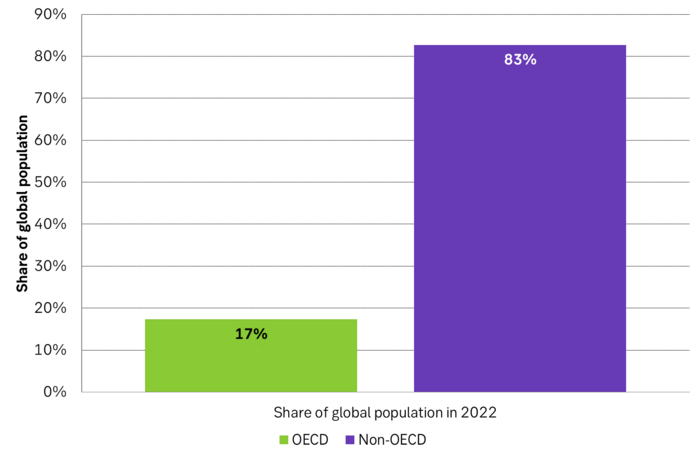 Is global oil demand about to peak 2: Oil demand per capita per year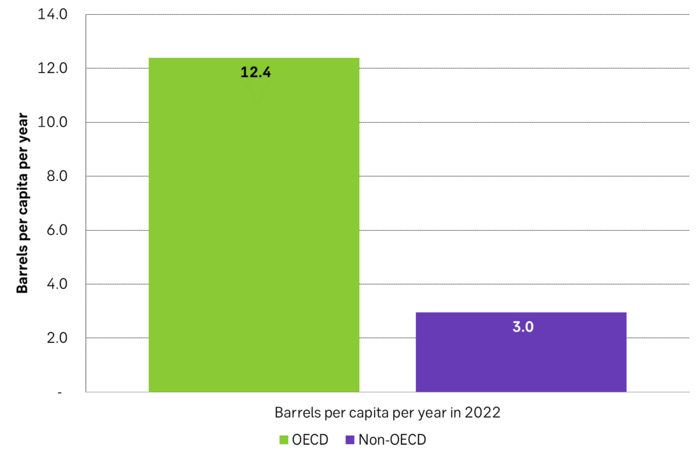 USD 100/b in sight but oil product demand may start to hurt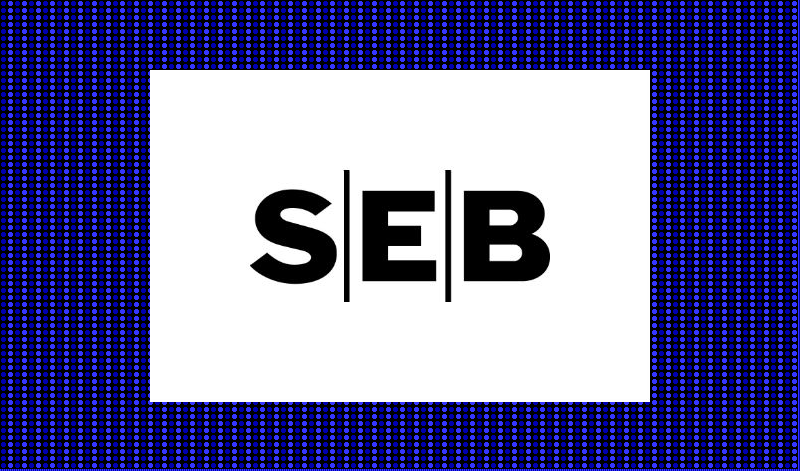 Some crude oil grades have already traded above USD 100/b. Tapis last week at USD 101.3/b. Dated Brent is trading at USD 95.1/b. No more than some market noise is needed to drive it above USD 100/b. But a perceived and implied oil market deficit of 1.5 to 2.5 m b/d may be closer to balance than a deficit. And if so the reason is probably that oil product demand is hurting. Refineries are running hard. They are craving for crude and converting it to oil products. Crude stocks in US, EU16 and Japan fell 23 m b in August as a result of this and amid continued restraint production by Saudi/Russia. But oil product stocks rose 20.3 m b with net draws in crude and products of only 2.7 m b for these regions. Thus indicating more of a balanced market than a deficit. Naturally there has been strong support for crude prices while oil product refinery margins have started to come off. Saudi/Russia is in solid control of the market. Both crude and product stocks are low while the market is either in deficit or at best in balance. So there should be limited down side price risk. But oil product demand is likely to hurt more if Brent crude rises to USD 110-120/b and such a price level looks excessive.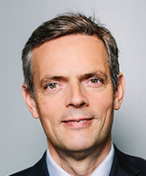 Crude oil prices have been on a relentless rise since late June when it became clear that Saudi Arabia would keep its production at 9 m b/d not just in July but also in August. Then later extended to September and then lately to the end of the year. On paper this has placed the market into a solid deficit. Total OPEC production was 27.8 m b/d in August and likely more or less the same in September. OPEC estimates that the need for oil from OPEC in Q3-23 is 29.2 m b/d which places the global market in a 1.4 m b/d deficit when OPEC produces 27.8 m b/d.
The proof of the pudding is of course that inventories actually draws down when there is a deficit. A 1.4 m b/d of deficit for 31 days in August implies a global inventory draw of 43.4 m b/d. If we assume that OECD countries accounts for 46% of global oil demand then OECD could/should have had a fair share of inventory rise of say 20 m b in August. Actual inventory data are however usually a lagging set of data so we have to work with sub sets of data being released on a higher frequency. And non-OECD demand and inventory data are hard to come by.
If we look at oil inventory data for US, EU16 and Japan we see that crude stocks fell 23 m b in August while product stocks rose 20.3 m b with a total crude and product draw of only 2.7 m b. I.e. indicating close to a balanced market in August rather than a big deficit. But it matters that crude stocks fell 23 m b. That is a tight crude market where refineries are craving and bidding for crude oil together with speculators who are buying paper-oil. So refineries worked hard to buy crude oil and converting it to oil products in August. But these additional oil products weren't gobbled up by consumers but instead went into inventories.
Rising oil product inventories is of course a good thing since these inventories in general are low. And also oil product stocks are low. The point is more that the world did maybe not run a large supply/demand deficit of 1.5 to 2.5 m b/d in August but rather had a more balanced market. A weaker oil product demand than anticipated would then likely be the natural explanation for this. Strong refinery demand for crude oil, crude oil inventory draws amid a situation where crude inventories already are low is of course creating an added sense of bullishness for crude oil.
On the one hand strong refinery demand for crude oil has helped to drive crude oil prices higher amid continued production cuts by Saudi Arabia. Rising oil product stocks have on the other hand eased the pressure on oil products and thus softened the oil product refinery margins.
The overall situation is that Saudi Arabia together with Russia are in solid control of the oil market. Further that the global market is either balanced or in deficit and that both crude and product stocks are still low. Thus we have a tight market both in terms of supplies and inventories. So there should be limited downside in oil prices. We are highly likely to see Dated Brent moving above USD 100/b. It is now less than USD 5/b away from that level and only noise is needed to bring it above. Tupis crude oil in Asia traded at USD 101.3/b last week. So some crude benchmarks are already above the USD 100/b mark.
While Dated Brent looks set to hit USD 100/b in not too long we are skeptical with respect to further price rises to USD 110-120/b as oil product demand likely increasingly would start to hurt. Unless of course if we get some serious supply disruptions. But Saudi Arabia now has several million barrels per day of reserve capacity as it today only produces 9.0 m b/d. Thus disruptions can be countered. Oil product demand, oil product cracks and oil product inventories is a good thing to watch going forward. An oil price of USD 85-95/b is probably much better than USD 110-120/b for a world where economic activity is likely set to slow rather than accelerate following large interest rate hikes over the past 12-18 months.
OPEC's implied call-on-OPEC crude oil. If OPEC's production stays at 27.8 m b/d throughout Q3-23 and Q4-23 then OPECs numbers further strong inventory draws to the end of the year.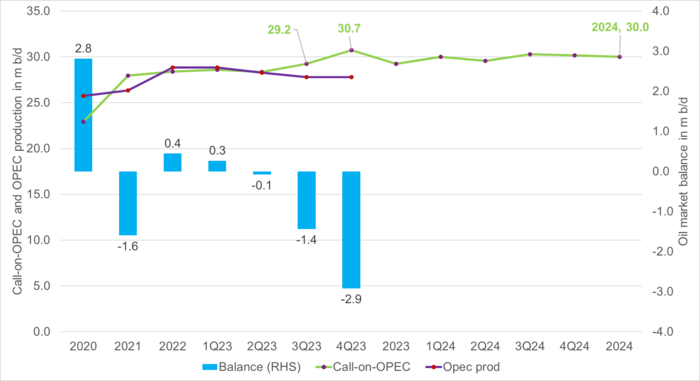 Net long speculative positions in Brent crude and WTI. Speculators have joined the price rally since end of June.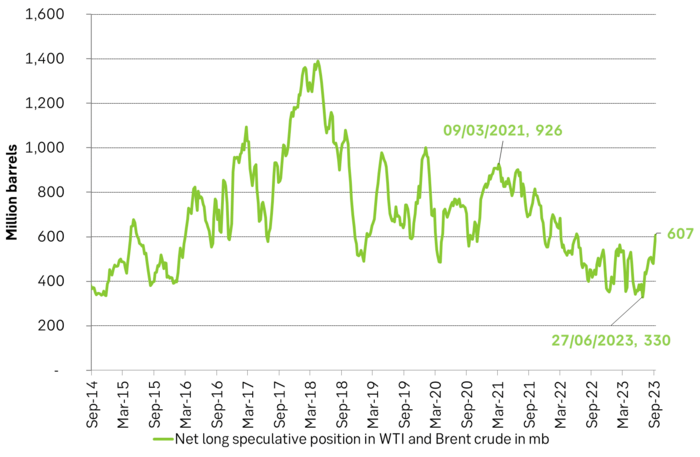 End of month crude and product stocks in m b in EU16, US and Japan. Solid draw in crude stocks but also solid rise in product stocks. In total very limited inventory draw. Refineries ran hard to convert crude to oil products but these then went straight into inventories alleviating low oil product inventories there.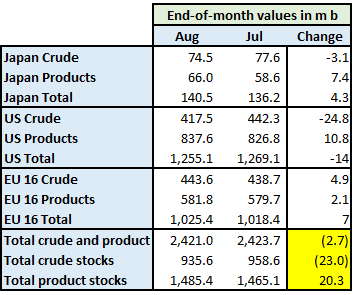 ARA oil product refinery margins have come off their highs for all products as the oil product situation has eased a bit. Especially so for gasoline with now fading summer driving. But also HFO 3.5% cracks have eased back a little bit. But to be clear, diesel cracks and mid-dist cracks are still exceptionally high. And even gasoline crack down to USD 17.6/b is still very high this time of year.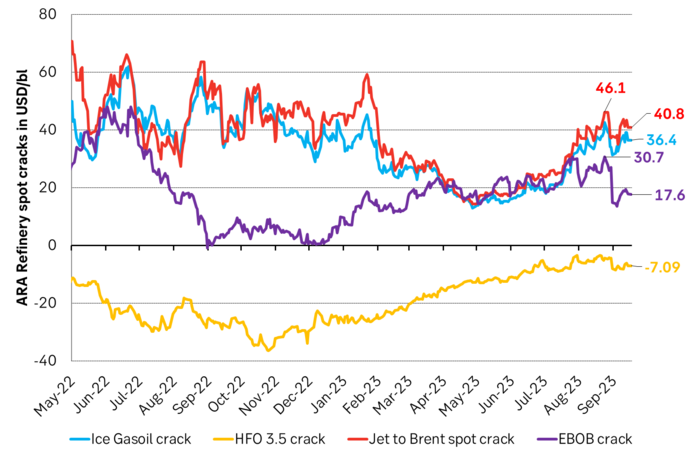 ARA diesel cracks in USD/b. Very, very high in 2022. Almost normal in Apr and May. Now very high vs. normal though a little softer than last year.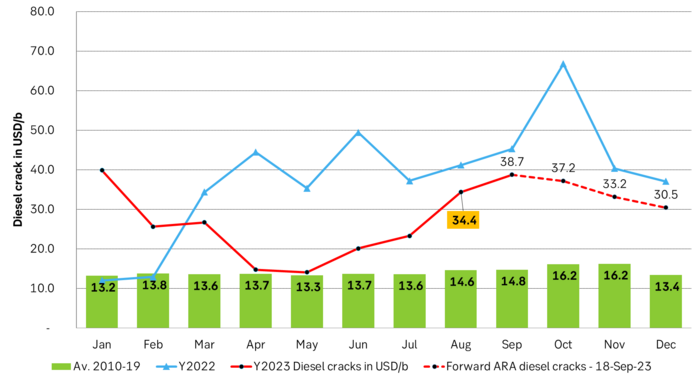 US crude and product stocks vs. 2015-2019 average. Still very low mid-dist inventories (diesel) and also low crude stocks but not all that low gasoline inventories.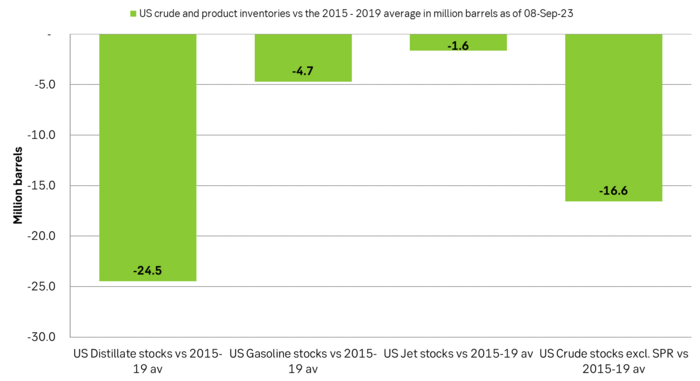 US crude and product stocks vs. 2015-2019 averages. Mid-dist stocks have stayed persistently low while gasoline stocks suddenly have jumped as gasoline demand seems to have started to hurt due to higher prices.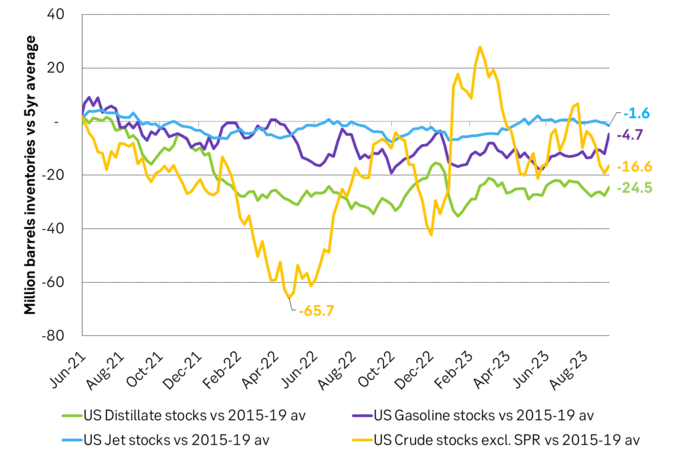 Total commercial US crude and product stocks in million barrels. Rising lately. If large, global deficit they should have been falling sharply. Might be a blip?