OPEC compliance is back in focus as compliance fell in September to 990 kb/d of cust versus a pledge of 1200 kb/d for the cutters. OPEC's meeting on November 30th in Vienna thus coming into focus. Market is concernd for oil market balance in 2018 and is starting to feel at unease over whether OPEC+ will cut all through 2018 or not. We think they need to but we also think they will.
Brent net long managed money reached a record high level the week before last. It fell back only marginally last week. Brent crude is thus at risk to the downside if speculators/investors decides to take yet more money off the table. Thus correction since Brent 1mth reached a new ytd high the week before last may not be over. The general backdrop for Brent does however continue to be positive. The global financial and economic backdrop is positive. Oil inventories continues to decline on the back of strong oil demand growth and cuts by OPEC+ with the result that Brent backwardation should continue to strengthen. Thus even if we see a correction in Brent now driven by speculative money we should see more money heading for Brent long specs going forward. Not less.
From Friday to Friday the Brent Dec-17 contract lost 2.9% closing the week at $55.62/b. The longer dated contract Brent Dec-2020 lost 1.7% with a close of $54.06/b.
Last week's sell-off was clearly a continuation of the sell-off that kicked in when Brent crude front month reached a new year to date high the week before last when it printed $59.49/b.
To us the sell-off seems technically driven as a counter reaction to Brent crude front month reaching a new year to date high. Net long Brent speculative positions reached its highest historical level in the week before last (records back to 2011) while it fell back marginally last week. With such high levels it does not take much for a correction to take place.
The general back-drop last week was positive with global equities gaining 1%, industrial metals gaining 2.4% while natural gas and coal gaining 3.8% (ARA coal Dec-18) and 1% (EU gas Q4-18).
On oil specifics we saw US crude, distillates and gasoline stocks declining 7 mb while global floating storage of crude and products fell 16 mb. In sum there were a lot of supportive winds last week but Brent crude countered it with a continued to sell off as record high specs took money off the table in a technical reaction to the high print of the year in the week before last.
This morning Brent crude has been trading in positive and negative territory but clos to unchanged and undecided.
In focus this morning is OPEC compliance for September which fell back slightly from August. The members with pledges delivered a cut of 990 kb/d of in September versus pledges of 1.2 mb/d. The OPEC producers with no obligations to cut have increased production by 530 kb/d (versus their October production). In effect OPEC's total cuts versus its 2017 October level only amounted to 460 kb/d in September.
This is negative since it not a lot. It is positive since inventories are falling rapidly despite the fact that OPEC in total is not cutting a lot. However, the 990 kb/d held back by the cutters in OPEC in September will move back into the market at some point in time in the future again.
Some concern now is that OPEC's exports will rise since the peak domestic oil demand in OPEC is behind us. In addition refineries will move off-line for autumn maintenance also reducing off-take for crude. OPEC's upcoming meeting on Nov 30th is putting the spot light back on the 2018 balance. Will they or won't they roll cuts beyond 1Q18? In our view it is needed and that view is shared by many. Our view is also that they will roll cuts forward since the magnitude of needed cuts is manageable. However the issue creates unease in the market as we run towards the Nov 30th meeting and proper decision by OPEC (+ Russia etc) some time in 1Q18.
Have we now come to the end of the correction we have seen the last two weeks? Brent speculative positions are still close to record high with room to pull more money off the table. However, the backdrop is still fairly positive as inventories continue to draw down which should be supportive for further strengthening of the backwardation of the Brent crude forward curve which is attractive for long positions.
In our view the Backwardation of the Brent crude forward curve is likely to continue to attract yet more money into additional net long speculative positions. This is because the backwardation hands investors/speculators a positive roll yield even if the Brent front month only trades sideways. And as we see in the rest of financial markets there is lots of money chasing yield in a low yield world. Over the past 20 trading days the Brent backwardation measured on the back of the 1-3 mth Brent time spread has averaged an annualized positive roll yield of +3.9%.
Thus despite the fact that net long Brent spec is close to record high we should see more passive money being allocated to Brent long positions. As long as inventories continue to draw down as they currently do with further strengthening of the Brent backwardation. As long as alternative yields around the world is very low as they are. As long as the general global growth outlook looks positive as it does with strong oil demand growth. Yes then we should see more long specs heading to Brent.
The current sell-off may thus not be too deep. The general backdrop is positive. Inventories are declining. Brent backwardation is likely to strengthen further and yet more passive money is likely going to head the Brent long positions.
Ch1: Brent 1-3 mth annualized roll-yield in the positive – Attracting long specs
Passive money likely to continue to roll into long front end Brent positions with a positive roll yield
Ch2: WTI oil in dollar allocation still well below prior highs
But the WTI curve is in contango so no rush to enter additional longs there
Ch3: Brent net long allocation recently reached record high of close to USD 30 billion
Thus plenty of room for a pull-back as we have seen the last two weeks
But Brent backwardation is likely to lure yet more passive long allocations to Brent front end contracts
Ch4: Brent net long managed money allocations at uncomfortable high levels
Ch5: Brent net long managed money allocations at uncomfortable high levels
Ch6: OPEC cutters delivered close to promissed cuts even though they inched slightly higher in Sep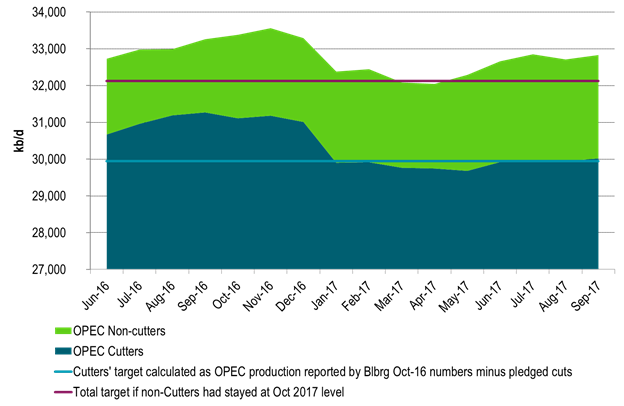 Ch7: OPEC cutters and no-cutters. Net cuts of only 460 kb/d. But cutters deliver close to target
Ch8: OPEC total production. Not cutting all that much. Ytd YoY OPEC's production is down only 115 kb/d
Ch9: Inventories continue to fall in weekly data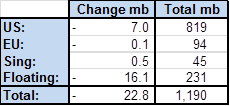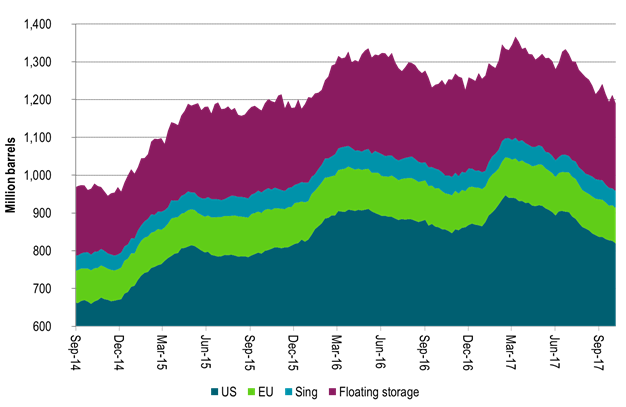 Ch10: Crude forward curves. Sell-off along the curve but Brent still in backwardation
Ch11: US oil rig count down by 2 last week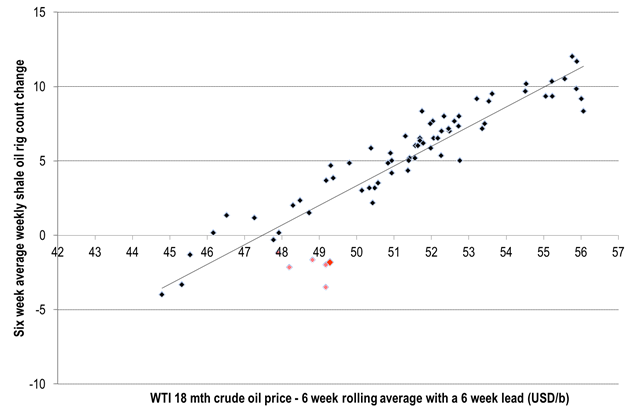 Ch12: US shale oil rigs count change. Price – rig relationship not what it used to be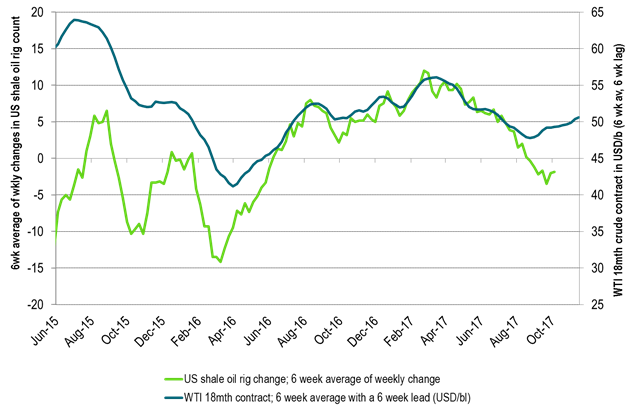 Kind regards
Bjarne Schieldrop
Chief analyst, Commodities
SEB Markets
Merchant Banking