Price action – Gasoline prices dives 4% as smoke clears after Henry. No visible market concerns yet for hurricane Irma which is on the way
Brent crude oil lost 0.8% ydy with a close of $52.34/b with the rest of the forward curve declining the same as Brent crude Dec 2020 closed at $54.79/b. The front end crude curve backwardation is now all gone even though there is slightly less contango in the very front end of the market. US gasoline prices for October delivery are declining 4% this morning as the smoke clears after Hurricane Henry with refineries signalling restarts in the U.S. Gulf. Brent crude down 0.3% at $52.2/b this morning.
Crude oil comment – In Saudi Arabia we trust
Last week the Saudi Prince Turki Al-Faisal told Bloomberg that the Saudi government is going full ahead with the Aramco IPO sometime in 2018. Yesterday Saudi Arabia lifted their Official Selling Prices (OSPs) for all grades to Asia for October delivery. We also saw that Saudi delivered close to its target of 6.5 mb/d in exports in August where the estimate is that it exported 6.6 mb/d. That is the lowest Saudi August crude export since 2010.
Since production cuts set in at the start of the year Saudi Arabia has held medium to heavy sour crude OSPs steady to stronger while they have softened the light, extra light and super light OSPs. Probably to avoid stimulating light sweet crude oil prices too much. I.e. they have probably tried to keep the light crude market loose, not stimulating shale, while tightening the heavier crude markets. Now we see that they are lifting the extra light and super light OSPs back up for Asia exports for October. The OSPs are the mark-up/discount versus the Dubai marker crude oil price. As they lift their OSPs they make their own crudes less attractive for Asian buyers thus directing buyers towards other suppliers like the North Sea, West Africa or the US.
Long story short. Saudi Arabia stands firmly behind their plan for an Aramco IPO in 2018. I.e. there is no way that they are going to let the oil price head into a bearish tailspin before that is done. They are backing this stand up by reducing exports and lifting OSPs. I.e. before the IPO in 2018 there is little downside risk below $50/b in our view.
Of other things we saw that implied US shale oil rig count last week declined by 5 rigs. What we see is that the relationship over the last year between forward WTI price levels and the weekly implied shale oil rig count has started to fall apart. We are now losing shale oil rigs even if the WTI 18mth prices holds above $47/b.
Ch1: Saudi Arabia crude oil exports at 6.6 mb/d in August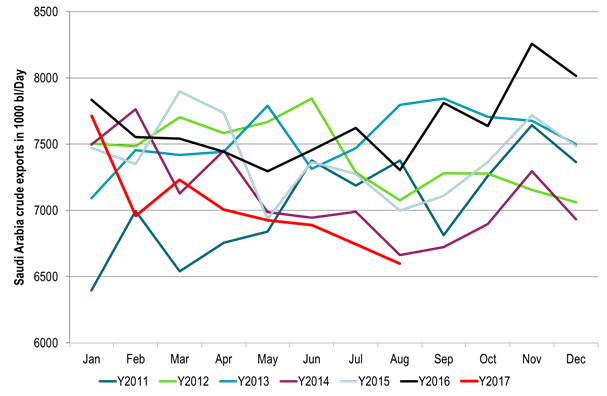 Ch2: Saudi Arabia lifting all OSPs to Asia for October delivery (quoting strong demand)
Ch3: Saudi OSPs lifting back up for light crudes to levels at the start of the year
Ch4: US shale oil rig count versus WTI 18mth prices starting to come in on the low side – losing rigs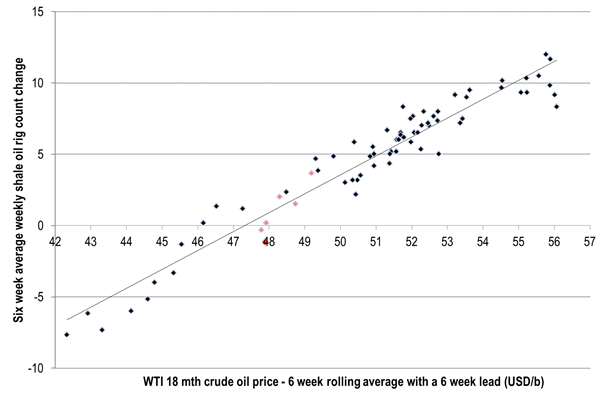 Ch5: US implied shale oil rigs versus WTI 18mth prices – less smoothing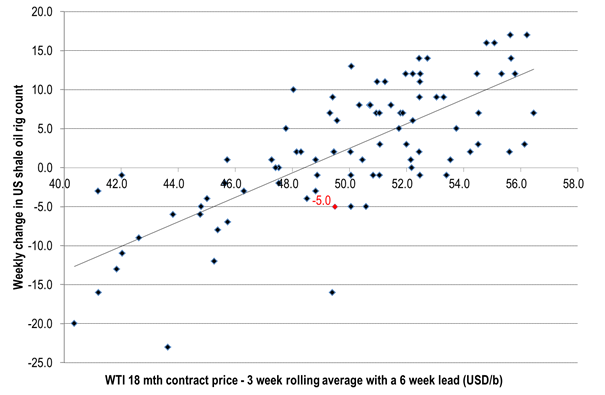 Ch6: US implied shale oil rigs versus WTI 18mth prices – time development – pattern breaking up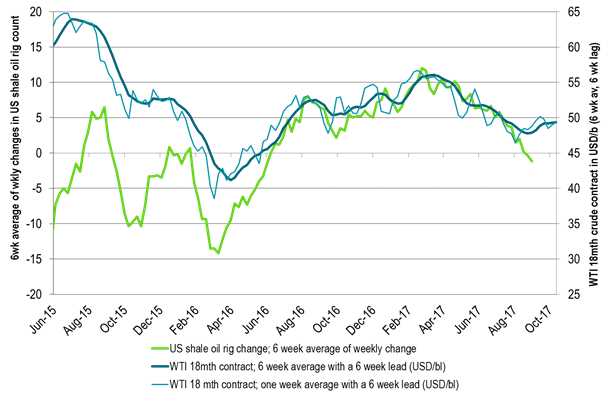 Ch7: Hurricane Irma on the way – too early for market reaction as gasoline prices are falling 4.5% this morning taking no notice of this
Kind regards
Bjarne Schieldrop
Chief analyst, Commodities
SEB Markets
Merchant Banking