Crude stocks have been rising in the US and WTI prices have pushed lower and dragged Brent crude prices with them lower with Brent trading at $79.60/bl this morning. The contango in the WTI crude curve is getting attention this morning. The point to make here is that it is the WTI curve which has moved into contango, not the Brent crude curve. Yes, the backwardation in the Brent crude curve has weakened as well but that we think is a result of weakening of the curve structure in the WTI curve with spread trades between the two benchmarks imposing a weaker structure on the Brent curve as well. I.e. the US WTI contango is rubbing off on the Brent curve as well which we think is not a reflection of an actual weakening structure in the global Brent market. The WTI curve has moved into contango because US production is rising while export pipes are full and thus US inventories are rising.
If we look at the spread of the Dated Brent crude spot price versus the 1mth Brent crude contract it has been rallying since the start of September and now stands at its strongest level since the start of this year. I.e. the global oil market does not look weak in this perspective. This is probably also why the Brent crude price is not just flip-flopping further down but instead still trades close to a healthy $80/bl. The WTI to Brent spread however continues to widen. Naturally.
Ch1: Dated Brent to the Brent 1mth contract at strongest level since early this year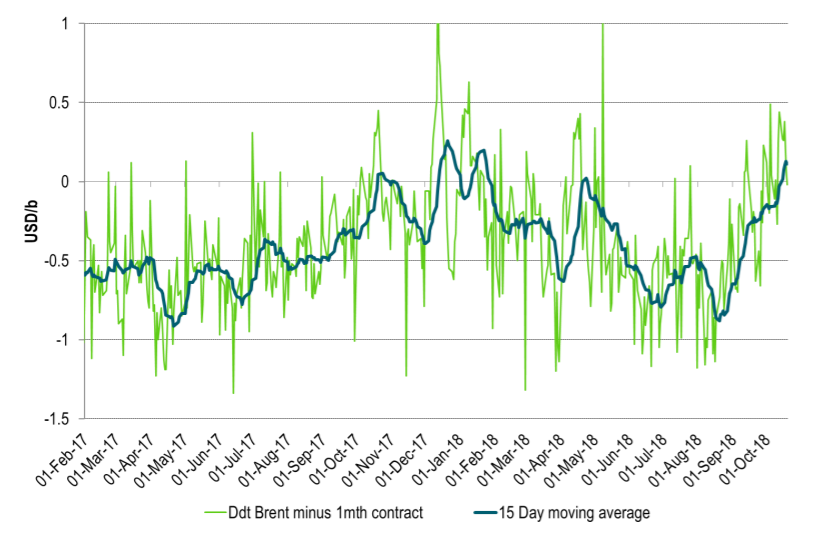 Ch2: Contango in the WTI curve. Weaker Brent crude curve structure as WTI curve weakness is rubbing off on the Brent curve structure through spread trades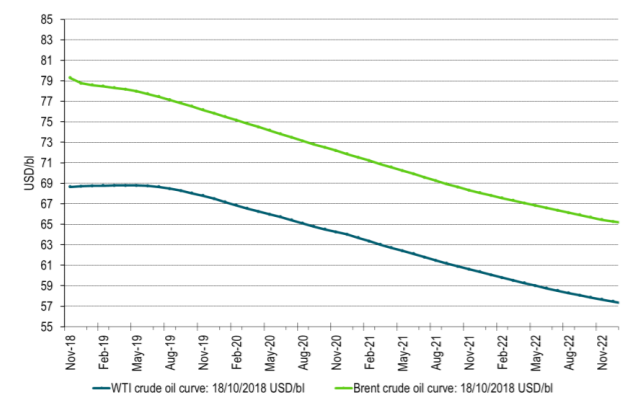 Ch3: Give me Jet, middle distillates and Gasoil. I hate Gasoline! (And maybe also US ultra-sweet shale oil producing so much gasoline). The Gasoline crack to Brent is now zero.
Ch4: Plenty of gasoline but not so much middle distillates. Winter is coming. Give me more middle distillates. But then I may have to produce more gasoline as well. Hm.